This is the second part in our series of reviews of training options for obstacle course racing in Southern California; last time, my friends and I hit up MROC in Oceanside; this time, we move inland to Fallbrook, and went to play with Nicole Kifer at Platinum OCR.  The contrast between the two couldn't be greater.  The first is in a formal and compact gym space behind a mini-mall; Platinum OCR is an outdoor obstacle course and training center built by Nicole and her family on her brother's 7-acre plot of land.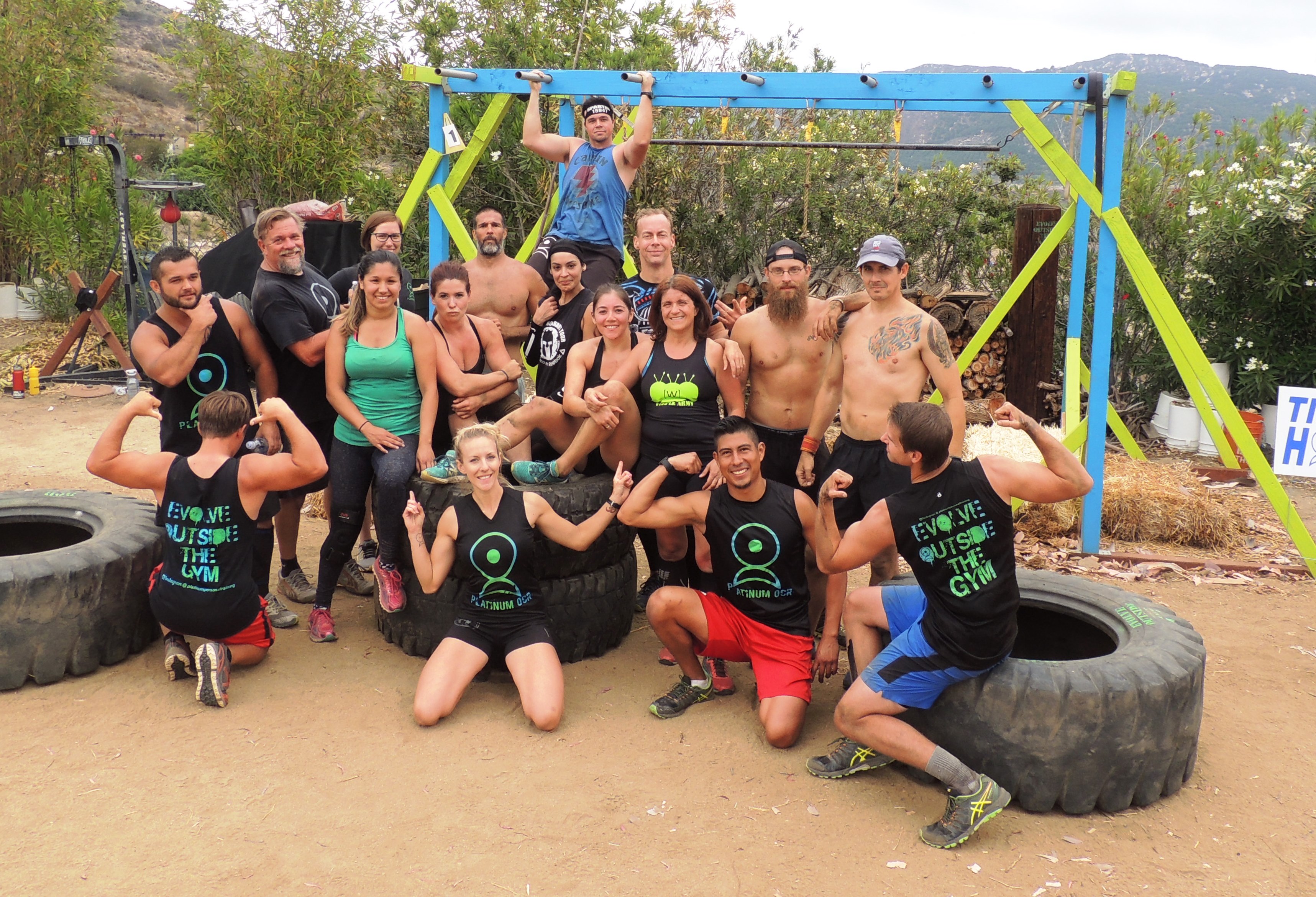 We showed up a few minutes early for the Sunday morning workout and were glad since the penalty for late arrivals is burpees for the rest of the class.  Once introductions were made, warm-ups consisted of a few stretches followed by alternating heavy bucket carries and hill sprints.  Then we got into the meat of the workout; the obstacle course.  We were split into small groups and set out on the trails in 30s intervals so we wouldn't all bunch up together.  Obstacles on this circuit (not all their obstacles were used) included a couple of fun monkey bars / rigs, a bucket carry, spear throw, balance beam, tire jumps, traverse walls of varying difficulty on the side of shipping containers, bear crawls, and a herc hoist, all on a ~1 mile loop.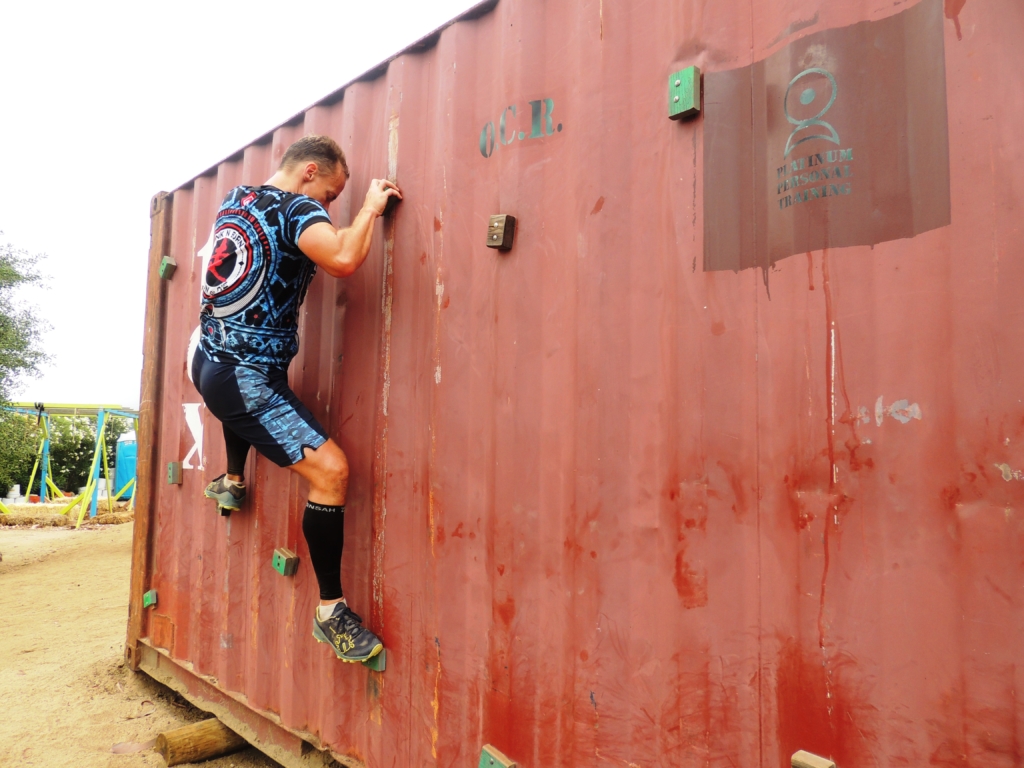 The group in the class were friendly and welcoming and had great energy throughout.  It's easy to see why Platinum OCR has a notable presence at many of the local races.  After the butt-kicking workout there was a second class that you could opt to do as well; unfortunately, this time, we all had to leave for other errands that were calling for our attention.
Jeremey Katopol, head of the OCR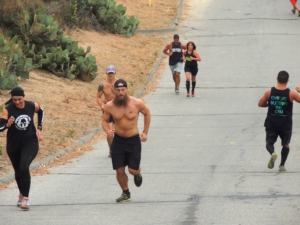 Honey Badgers team and elite Spartan runner, had this to say about the visit.
Fantastic outdoor venue that covers every major obstacle found in most OCR courses. I cannot even begin to stress how much I love that it's outdoors, the trails that connect everything are well maintained and set this course apart as something special. Nicole and her team are extremely welcoming and knowledgeable, and I always look forward to training with/competing against them.
Alex Goncarovs added: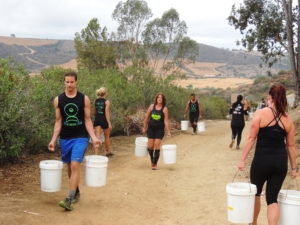 Love the ruggedness and obstacle selection at Platinum OCR. Definitely an authentic mix of training equipment that will help any person prepare for an OCR race. I did feel the workout was a little disjointed, but feel that is hard to judge after only attending one time. The family/attendees were all supportive, friendly and helpful and would be an excellent group of athletes to continue training and racing with.
Melba Garcia had a similar impression.
Family owned and operated Platinum OCR training made me feel just like that, a part of family. Nicole, the trainer was very welcoming and even more encouraging out on the mock course. I felt the course was challenging and I left covered in dirt and fatigued… exactly as I was hoping. They've really got it all there.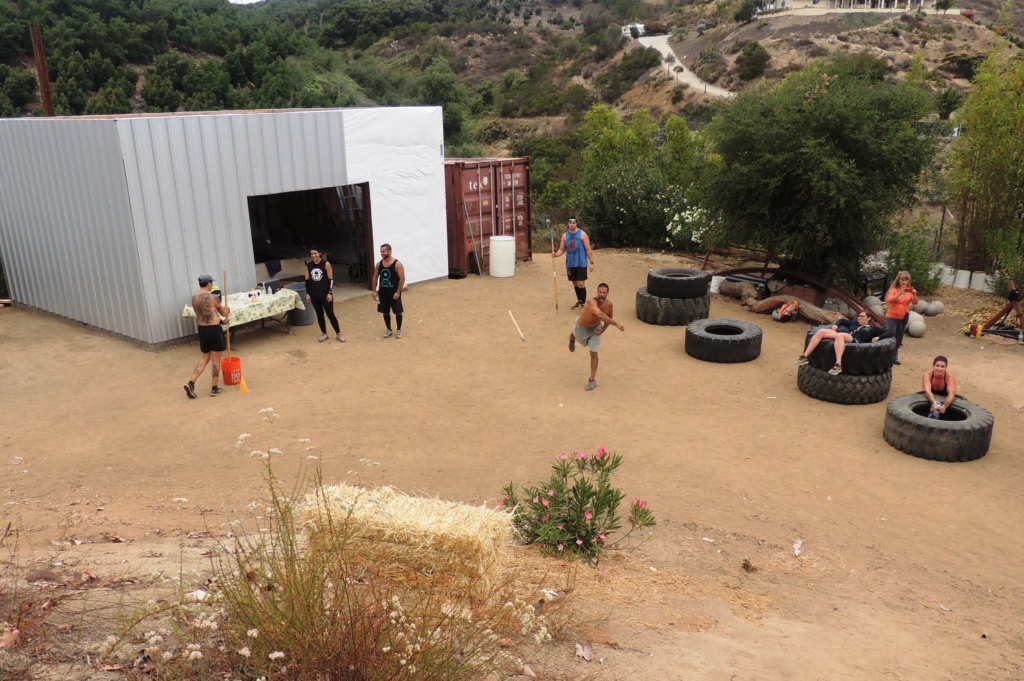 We got in a great workout and got to play on their obstacles, but I really wanted to get to know Nicole and Platinum OCR a little better, so what follows is my email interview with her.
How did you get started with Platinum Personal Training? Share your journey with us.
Growing up I hated sports and exercise because I get exercise-induced migraines.  Yet at 16 my chiropractor told me I need to start doing strength training help my scoliosis.  I fell in love with strength training and how it made me feel not only physically but mentally and emotionally as well.  I thought I wanted to be a therapist but I knew helping people feel better through exercise would be the perfect balance.  I have been personal training for 9 years, and started my own business 4 years ago.  I saw shortcomings working with different training facilities and knew that I could fill those needs by starting my own business.
What certifications do you have?
NASM – Certified Personal Trainer, NASM – Corrective Exercise Specialist, NASM – Fitness Nutrition Specialist, NASM – Reactive Training Specialist, NESTA – Heart Rate Performance Specialist, Spartan SGX
Were you always training people specifically for OCR?  If not, when/why did you pivot in that direction?
In 2012 a late friend had been going on and on about these OCRs and I usually responded with "You PAY to do this?"  At first I thought he was nuts yet the passion in his voice spoke otherwise.  I finally did my first OCR in 2013 and was instantly hooked.  The unique challenge OCRs provide, the outdoors, the dirt, and most importantly, the most supportive community I could imagine is what positively influenced me and my outlook on training.  I realized why OCRs were different— it wasn't all about being fast, but about digging deep and finding a better person within yourself along the way.  I met so many incredible and inspiring people that I knew I couldn't turn back.
You have a great training ground in Fallbrook with lots of challenging obstacles.  Tell us how this developed and evolved, and what the plan is going forward.
After I completed my first OCR, I suddenly looked at my brother's 7 acre property in a different light and saw how we could transform it into an amazing outdoor training facility.  My brother Cody, like me, took some time to be convinced.  Yet we got to work and he started creating trails with a tractor, while I was making unique exercises that would help prepare someone for a race.  After doing the January Spartan Sprint in 2014 with my brother, he loved it and my family and I started making obstacles. I've been doing Sunday Platinum OCR Trainings ever since.  Our goals for moving forward are to continue making new obstacles debt free, continue creating a fun and challenging environment not only for new individuals but the ones who keep coming back for more,  and soon we will offer more classes with different trainers.  We want Platinum OCR to be the best OCR training training facility in California.
What obstacles do you have there?
We have 3 co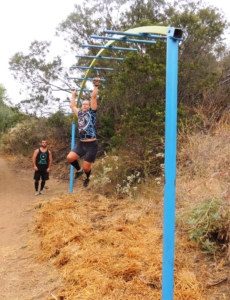 mpletely different sets of monkey bars, herculean hoists and climbing ropes, 2 8ft walls, a very long and awful wire crawl, 2 rappel ropes, 2 different types of traverse walls, a multi-rig, sand bag carries, enough bucket carries to fill a small lake, 3 sets of spear throws, hills and more hills, slosh tube carries, tire drags and tire flips, different sets of balance beams, atlas carries, battle ropes, and much much more.
Platinum OCR usually meets weekly for obstacle training. When are the classes, and how do they vary from class to class and week to week?  Do you meet up for other workouts during the week?
Right now they are run by me on Sunday mornings with 2 different classes:
8-9am is my Skills and Strength Course where people can build strength and learn and practice obstacles while still getting an amazing workout. Teamwork is emphasized in this class.
9:30-10:30am is my Endurance Course, and is a class people can advance to by demonstrating completion of obstacles and skills on the 8am course.  Elites are welcomed, competition is emphasized, and people will be challenged mentally as well as physically.
If these classes get full I create a new time slot later in the day.  The classes are never the same and are always preplanned with passion and purpose.
We meet for group hikes, runs, or rock climbing and we always road trip to OCRs with each other, and many clients train with me personally during the week.
What else would you like us to know?
We are always welcoming new and positive members or groups.  We host workouts and different events for team building and more.  Have a group or team and want to get stronger?  We can help with that.  Or if you're looking to change your life for the better, Platinum OCR is the best place to go. My motto is, "If you're not happy, you're not healthy!"  Come and Evolve Outside the Gym with us and you'll find out why we are all such happy people 🙂
Clearly, Platinum OCR is a great place to train and does a fantastic job of simulating race conditions in the great outdoors.  Nicole definitely knows her stuff and programs fun and challenging workouts for her students that are designed to translate into better results on the course.  It's well worth the drive to Fallbrook, and I for one can't wait to go back to play some more.
---
Find a gym or permanent training facility near you!
What is your favorite training place?