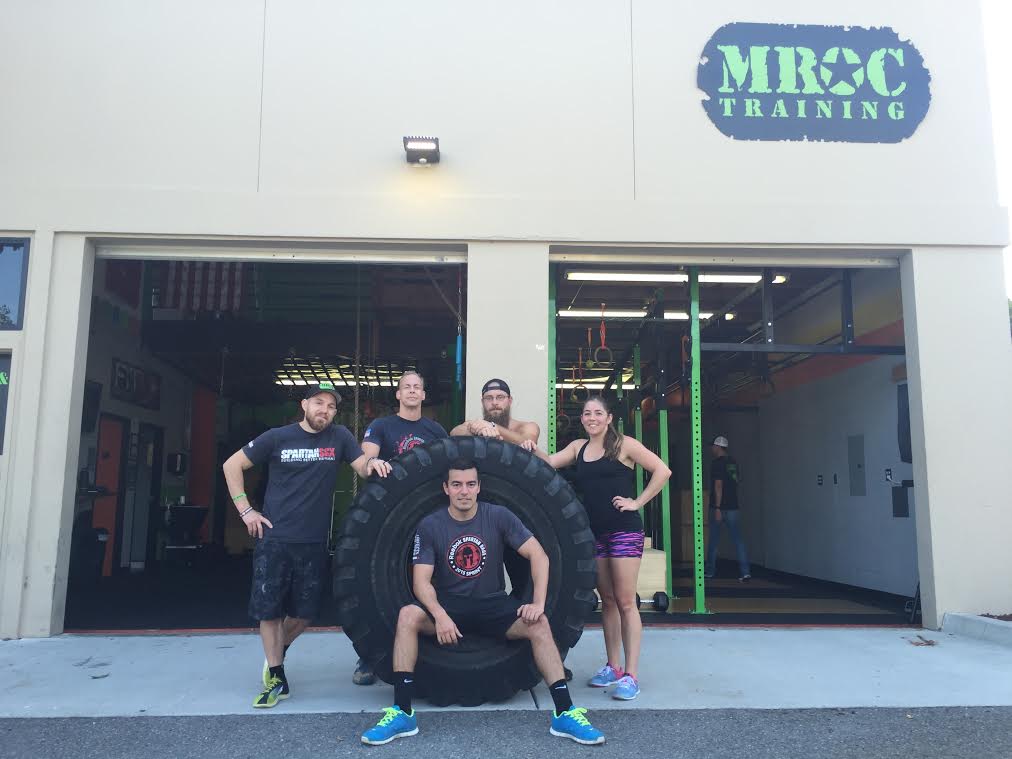 Maybe you've seen the fire jump pictures on Facebook, or have watched a Youtube video of an obstacle course race and are intrigued.  Maybe you've already run a race or two and have been bitten by the bug, and want to do more.  Maybe you're a seasoned athlete who's looking to up their game and move up the very competitive ladder in the sport of obstacle course racing.  Regardless of which category you belong in, you've probably asked or been asked by your friends how to train for these races?  Running around like a madman lifting heavy things and dropping randomly to do burpees probably won't go over well at Planet Fitness.  Many athletes do Crossfit, but they are often unprepared for the number one component of OCR… the running.  Fortunately, there are alternatives; a growing group of gyms and bootcamps that specialize in training for obstacle course racing.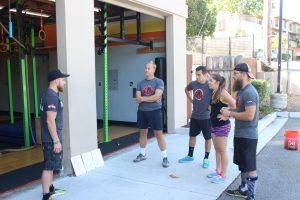 A few friends and I (Melba Garcia, Mario San Roman, and Jeremey Katopol, seasoned OCR athletes of varying levels who workout regularly together) offered up our services to check out some of these programs and facilities, meet and chat with the owners and give you our impressions of them.  This is the first in what I hope will be a series of reviews of such training programs.  As we reside in Southern California, this is where we'll be concentrating, though we hope to get to visit some other places too.  If you aren't in the region, keep them in mind on your next visit; most are happy to host drop-ins.
MROC TRAINING CENTER
This week, we'll start with one of the best places to train for obstacle course racing (or for American Ninja Warrior, as we'll see below) in San Diego County, the MROC (Mud Run and Obstacle Course) Training Center in Oceanside, CA.  I've known owners Mike and Trista Confer for some years now, and have trained with them intermittently; unfortunately, they're a bit too far in SoCal traffic to make a regular training program feasible.
Mike hosted our group for a special workout on a Friday afternoon in what is typically "open gym" time; he programmed in a 30 minute OCR simulation circuit that included elements such as a log hop, herc hoist, traverse wall, cargo net climb, 8' wall climb, bucket carry, jerry can carry, multi-rig elements, bear crawls, weighted thrusters, rope climbs, quintuple steps and short running segments.  Afterward, we were free to hang out and play on the many other obstacles featured at MROC.
Normally this OCR simulation workout is considered playtime and occurs on Saturday mornings.  During the week, most of the workouts concentrate on building a strong base using Crossfit-style WODs mixed with running speed work and Spartan SGX training.
Personally, I love getting to play on the obstacles, and MROC's facility, while small, has a perfect layout to allow the design of such customized circuits.  The flow feels natural, and the obstacles are well-built and tough.
Melba had this to say:
"Being new to the OCR world and even more new to the concept of an OCR style gym my expectations were pretty open for our first visit to MROC. Mike and the guys over there had everything an OCR enthusiast could dream of from a versatile multi rig to a herc hoist out back. Their space is limited but they utilize every square inch of it.

During our visit we went through a mini obstacle course. Mike did a great job of having a little bit of everything on the course and keeping us motivated while running it. The open gym time was nice because there is so much to play on but I could see things possibly getting a little crowded on a busy day.

Overall I had a great experience at MROC. They were friendly, welcoming and I left feeling satisfied with the workout I received. I would certainly go back."
Mario assessed it this way:
"Mike put a workout together for us that included several obstacles from obstacle course races (OCR) with some running mixed in.  There wasn't enough time spent at any one obstacle to train a beginner to improve on it or to challenge someone more experienced, but the workout as a whole can serve to give a diagnostic of someone's readiness level for an OCR.

I love it when a workout or OCR event exhausts me before it's over and I felt that at MROC. There is a "free gym" time when visitors can try out different equipment around MROC. You quickly find out that most of the indoor rigs are geared toward American Ninja Warrior training and have a steep learning curve."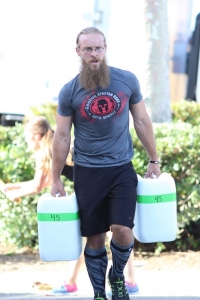 And Jeremey said:
 "The workout was a great strength and mobility training session, absolutely spectacular. The coach was very motivating, and the circuit hit a lot of the crucial aspects of racing that we specifically train for. But as much as I loved it, the open gym was my favorite. Being able to take the time to analyze obstacles and work on them again and again, building muscle memory and perfecting form was a real treat for me. MROC has some amazing equipment and staff, and I highly recommend it."
Naturally, after the workout, we had a few questions for Mike about MROC.
How did MROC get started?
Mike: MROC started as a bi-weekly fitness boot camp that specialized in the strength and conditioning components needed to successfully complete a mud run or obstacle course race. Our goal from the very beginning was to provide people not only with the specificity of race day obstacles but the functional mechanics required to quickly and effectively navigate the unknown. To make people stronger, faster, more adaptable, and confident… that is what we've set out to do, and we've developed a fun and supportive way to do it.
What is your training background, and what certifications do you (and the other trainers at the gym) have?
My training started 14 years ago in the US Marine Corps, specifically as a mixed martial arts instructor. That's where I developed a passion for not only pushing myself but inspiring others. After my military service, I spent a few years working as a personal trainer and semi-private fitness coach, during which time I completed several national certifications that gave me a basic understanding of sports physiology and body mechanics. In 2012, I started studying CrossFit, and since 2014, I've been blending CrossFit specialty programs with the fundamentals of Spartan Group X methodology. I was also among the first 3 Spartan Obstacle Specialists in San Diego.
You tout the foundational strength & speed work during the week, and the OCR simulation classes on Saturday as being the secret sauce behind MROC member's success at the races.  Is there anything else that goes into it, or is that pretty much your recipe for building great OCR athletes?
Our programming is a big part of it, yes, but none of our success would be possible if it weren't for the people who train here and the community they've built.  Don't get me wrong; our workouts are fun and challenging, but it's the team spirit and positive family atmosphere that makes this place so darn magically.  There are nearly 60 of us who train together regularly, and we all inspire each other to work hard and become better athletes.
What advice do you give to those wanting to prep for their first obstacle race?
There's a different training style out there for everyone, but what we've done is focused primarily on teaching people how to move their body efficiently. For us, that begins with core engagement and posture. If you can't do those things right, you're setting up every other movement for failure (or worse, potential injury).  From there we promote a good running base, control of body weight movements, and dynamic weight training.  If you have access to obstacles like we do, use them, but don't spend all your time practicing the spear throw or rope climb if you can't run a mile or do 30 burpees unbroken (without rest).  The basics… master these first.
You also have a lot of ANW-style obstacles.  Do you have a list of these?  Are these primarily used during the open gym times?  Is there anyone there during those times to provide instruction, or is it simply done through "play" mode?
Our facility is an after-hours adult playground.  We have over 30 obstacles at this point, and most of them are interchangeable, multi-use, or custom, so it's hard to give a specific list.  But some of the more popular ones from the TV show are the:
-Ring Toss
-Peg Board
-Warped Wall
-Spider Climb
-Salmon Ladder
-Jumping Spider
-Unstable Bridge
–Quintuple Steps
-Cannonball Alley
-Spinning Door Knobs
We also have a majority of the more popular OCR obstacles (and the ones most commonly failed at a Spartan Race), like the:
-Rings
-8′ Wall
-12′ Net
-Rope Climb
-Spear Throw
-Monkey Bars
-Traverse Wall
-Herculean Hoist
–Tyrolean Traverse
–Buckets, Sandbags, & Tires
We incorporate the OCR obstacles into our weekend OCR Simulation Classes, but the ANW obstacles are specifically for Open Gym, which we have on the weekends from10am to 2 pm. During this time the facility is supervised, but there is no scripted workout of the day or particular routine you have to follow.  Instead, the obstacles are very much yours to train on independently of one another, or you can build your course and time yourself against your friends.  It's a blast, and we have a lot of Ninja Warrior veterans that use the gym for those reasons.
On a similar note, you've started having Ninja competitions at the gym.  Can you tell us about these?  How do they work, and what are you qualifying for?
Yes, we have had a lot of fun hosting Ninja Warrior-style obstacle course challenges, and as long as everyone keeps having fun at them, we'll keep doing them.  Typically we get 30-40 athletes to compete across two stages of competition where, like on the show, only one person is running the course at a time.  Our most recent events were qualifiers for the Ultimate Ninja Athlete Association (UNAA). In short, the UNAA has organized a nation-wide tournament with a $27k prize purse, and our gym was elected to host for Southern California.  We have had some amazing athletes compete at these events, including our most recent female champion, Jessie Graff.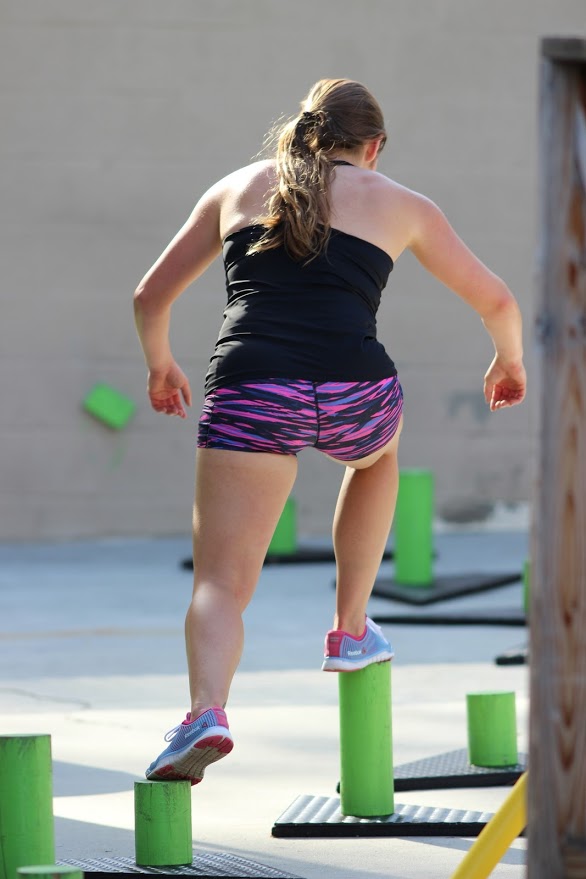 How many ANW athletes (or wannabes) do you have training regularly at MROC?  How about drop-ins?
Since our main focus is strength & conditioning (performance) for OCR athletes, the majority of our members are training for Spartan Races or Battlefrog type events. The ninja's come in on the weekends for Open Gym, and there's too many of them to count.
Overall, MROC is a playground for grown-ups who dream of being ninjas. Whether you're a beginner looking to build a strong foundation, an experienced obstacle course racer looking to improve their performance and enter the elite standings, or an aspiring Ninja Warrior looking to train specific obstacles, the odds are very good that MROC has something for you.  The coaches have a long history of training for OCR and competing at a high level, and have a good understanding of what it takes and how to get you there.
---
Find an OCR/American Ninja Warrior Style Gym in Your Area.
Have you been to MROC? Share your experience in our comments section below!