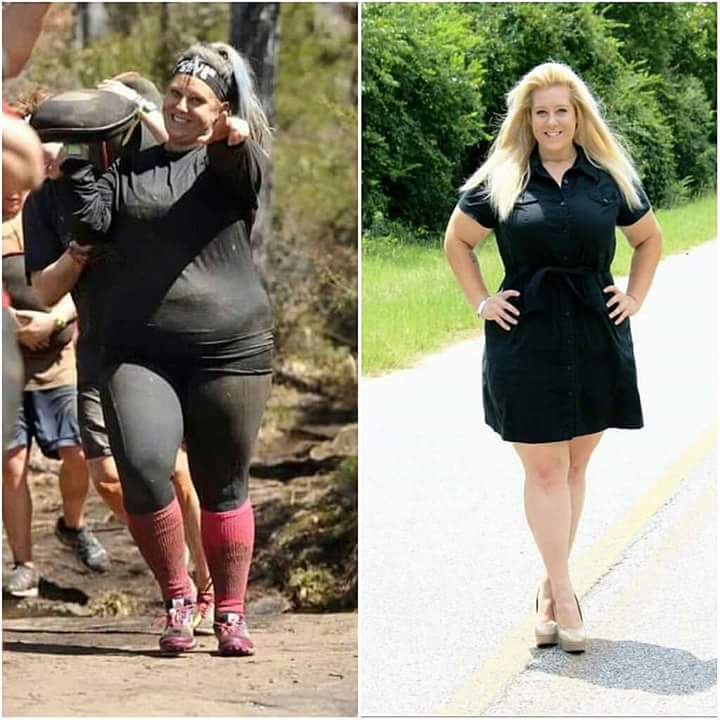 Name
Heathyr Marie Stanics
Age
31
Lives
Warner Robins, GA
Occupation
Insurance Agent
Favorite OCR series
Spartan Race
Favorite obstacle
A-Frame Cargo, the Atlanta Cliffside Hill Climb
Least favorite obstacle
Running! Honestly, the Slip Wall and the Inverted Wall
Ideal race distance
5-8 miles
Favorite previous race venue
Georgia International Horse Park in Conyers, GA, home of the Atlanta Sprint.
2016 OCR goals
To earn my Spartan Double Trifecta and complete my first Savage Race. Although it's fall and the year is over half over, my race season is just kicking into gear.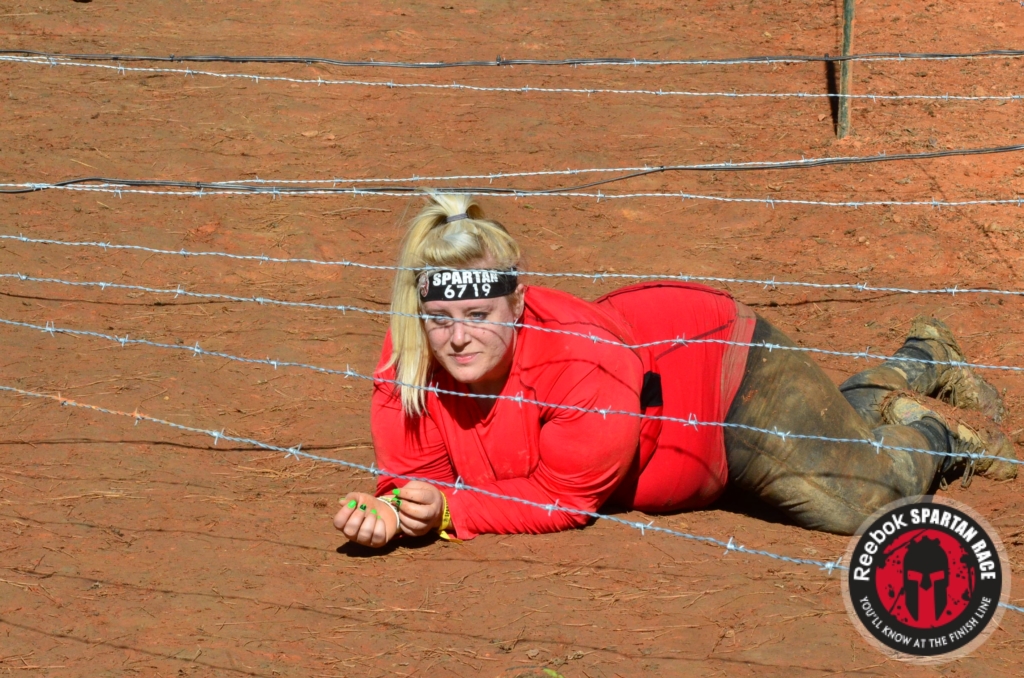 Brief bio
I began my fitness journey in August of 2013 by going to the gym by myself, walking the treadmill, or slowly easing along on the elliptical. I decided to set a goal to give myself something to look forward to. I signed up for a colorful 5k and also started dabbling in yoga because I was so fascinated with inversions. I am now 4 sizes and 60 pounds down from when I began, and I continue to train and work on my physical fitness. You can find me in the gym at least five days a week, and I practice yoga every day. I'm a member of the Spartan Trifecta Tribe, with five total Spartan Races under my belt as of this interview. I also love to post fitness and yoga photos and videos on my Instagram and Facebook page.
Social media
Instagram: @SweetHeathyr
Facebook: Heathyr Marie
Why do you compete in obstacle course racing?
For the physical and mental challenge. I work a desk job, so for 8-10 hours a day, I'm in a cubicle. Granted, I get in the gym at least 5 times a week, but it's just not enough to challenge myself and break up the monotony of everyday life. Plus, they're fun as hell! I've also made some incredible friendships through OCR. This community of people is like no other.
Have you overcome any significant setbacks, such as injury, personal trauma, etc.?
I've been really fortunate to not have any major injuries. a couple of years ago I popped a rib out of place while doing a yoga headstand. Thankfully, my chiropractor was able to pop it back in. But since then, it pops out of place easier than it should.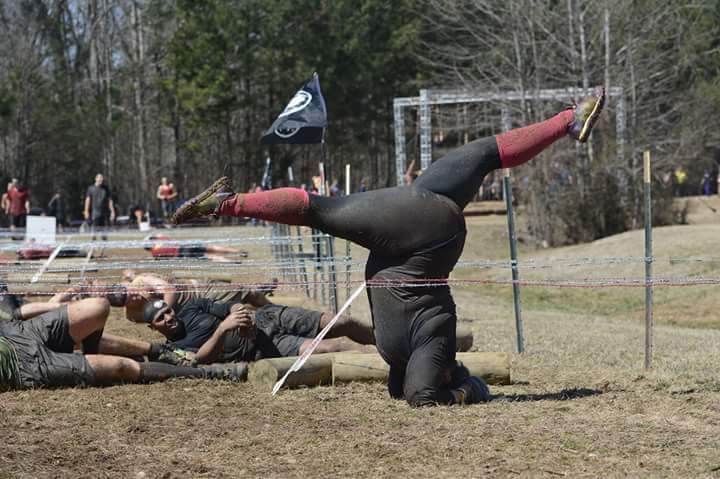 Also, at the Atlanta Sprint in 2015 there was an obstacle towards the end of the race that was after the barbed wire crawl and dunk wall. You needed to climb up a cargo net, then slide down a pole on the opposite side of the platform. Because you were wet and caked in Georgia clay, there was no traction on the pole. I was nervous because I had a hard time reaching the pole because it seemed so far away from the platform, but I sucked it up and took the plunge anyway. Well, without traction, I slid down incredibly fast, and landed right on my butt, cracking my tail bone. I'm grateful it wasn't worse because right after I left that area, rumor has it that several racers had more severe injuries, including a broken leg. With a few months of therapy with my chiropractor once again, my butt is mostly fixed!
You had an eating disorder growing up. How did it affect your life and how were you able to overcome that battle?
Yes, in high school I struggled with both anorexia and bulimia. I was trying to find my "place" and fit in, and as a teenage girl who was bigger than everyone else, I did what I thought was necessary to drop weight fast to be accepted. It was challenging. I'd often go days without eating, or eating just barely enough to not pass out. Then other days I'd binge on sweets and snack, then throw it all up (so gross, I know). This didn't last long, though. I lost weight, but I absolutely hated how it made me feel. I was weighing myself several times a day; crying constantly. I joined Weight Watchers and learned how to control food and educated myself that food was not the enemy. I was able to lose weight in a healthy manner with this method.
What factors caused you to reach nearly 300 pounds?
Back in 2011, I split from my then-fiancé. I knew it was coming to an end, so I turned to food and alcohol for comfort. I was eating fast food every day and drinking wine every single night. Needless to say, I packed on quite a bit of weight as I went through the process of dividing household items while also hearing that no one could ever love me. Fast forward to finally living on my own at age 26 in 2012. I had the freedom to eat and drink anything I pleased, in the privacy of my own home, without judgement from anyone. Dealing with my new found loneliness, and with those words still echoing in my mind about being unlovable, I ate all the carbs and drank all the alcohol. I was pushing 300 pounds and was on the verge of becoming an alcoholic.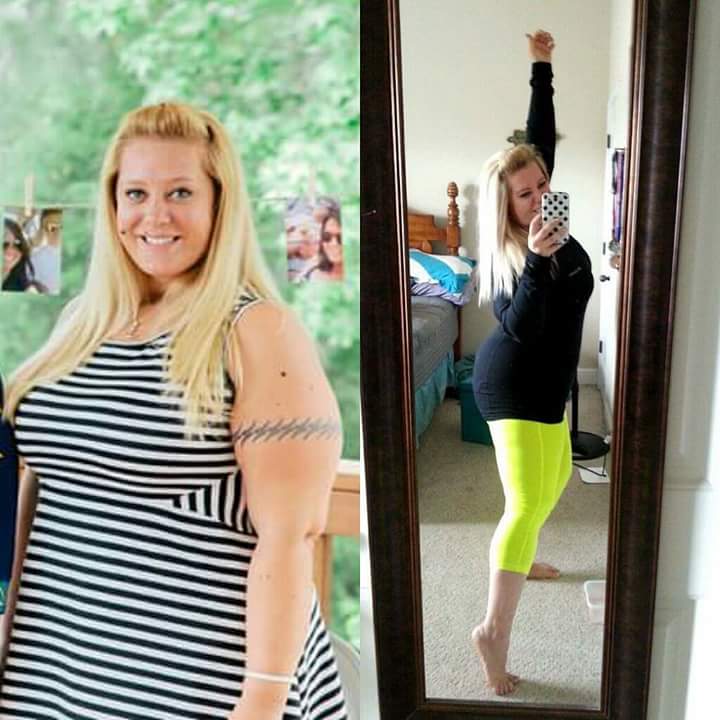 Was there a turning point when you finally realized you needed to make a change?
Yes! After a few months on my own and some very bad attempts at dating again, I reached an all-time low. I was extremely depressed. I had heard the worst from both men AND women about my weight. I'm sure their intentions were less than malicious, but the comments still cut me so deep:
"I'm sure if you lost weight, you'd get a boyfriend in no time."
"You have a pretty face."
"I didn't realize that your stomach was so huge."
I even had a man get up and leave me in the middle of a date. It was the worst feeling in the world. I knew I had to make a change because perception is reality.
So many people lose a bunch of weight after being motivated short-term then again most of it back once the motivation wears off. What steps are you taking to make sure this doesn't happen to you?
This actually happened to me. I wanted to drop weight, and fast. At this point in my life, I didn't care how I did it; I just wanted to feel better about myself. A friend had told me about a doctor that prescribed Phentermine. I did some research on it, but ignored the dangerous warnings about how bad it was for you and your heart. After I started taking it, I dropped 50 pounds within 10 weeks. With that new confidence I decided to join a gym and I stopped taking the Phentermine. Although I was working out a few times a week, after a period of time, I gained the 50 pounds back, plus more.
I eventually had to make a change my way of thinking. Weight loss doesn't happen overnight and there is no "magic pill" to get shed weight. It had taken me years of bad habits to gain so much weight. It was not going to come off quickly. I formed healthy habits by portioning out food, watching what I put in my body, and staying in the gym all week.
Do you struggle with self-image issues despite your weight loss success story? If not, how were you able to overcome that mindset and stay positive?
We all have good days and bad days, but my good days outweigh the bad, no contest. As I got older, I became more appreciative of how different people's bodies looked. There is so much variety! I thought, "how boring would this world be if we all looked the same?" I had a newfound respect for people of all sizes. I didn't know anyone's life story or what circumstances may have caused a person to be bigger or smaller than me. Who cared? I made a mental shift and learned to love my body as I took care of it. I think of it like this: my body is my home. I have to care for it and make sure it's healthy and strong to last me this lifetime.
It sounds like you are very involved on social media. How have you used social media to motivate people to not only love and accept themselves, but also take care of their bodies?
When I started posting my weight loss/ yoga journey on social media, my intention was to simply hold myself accountable. After several months, people began following along. Once I started posting my "before and current" photos, I was getting messages from people asking me how to get started in their own weight loss journey, or how to begin yoga. I always keep my posts body positive. What I like to broadcast is this: Even though I don't look like most yogis or obstacle course racers, my body kicks ass! It allows me to move freely every day. It supports me even if I feel weak. MY body is strong! MY body is flexible. My body can bend and twist, and climb over walls. It can carry 50lb buckets of rocks, and hoist 85-lb sandbags. I'm grateful for this body. My body is a work in progress, always and forever. Even after a few short years into this journey, the journey itself is in its infancy. This journey is LIFE.
What is the single-most rewarding experience you've had with helping someone through social media?
I'm not sure I could pin-point it down to one single experience, but something that happens quite often is the flood of private messages I receive from women asking for help and advice. They always begin the same, which is so humbling it often leaves me in tears. "I saw your post/picture/video and I was inspired to try/start yoga/the gym/running." If I could inspire just ONE person to step out of their comfort zone to try something new because they saw me do it, then it's an added bonus along the lines of my own journey. All of the posting I do on my social media accounts begin to feel narcissistic at times, so when someone take the time to reach out, then I'm reminded that my posts are not done in vain.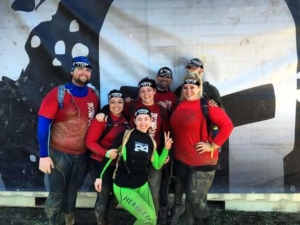 So many women struggle with body image issues. What advice do you have for women of all ages who think they "have to be skinny"?
Skinny is overrated. How about be strong? How about be healthy? Society has put so much of an unattainable pressure on women, that even the women in that we see on magazines as we stand in line at the store, don't even look like themselves! My advice to women who struggle is to love and appreciate all the things your body can do for you. What it looks like makes no difference. Focus on how you FEEL! If eating fresh foods makes you feel good, then stick to it! The wonderful side effect of eating better is weight loss. If working out makes you feel less lethargic, then stick to it! A great side effect of working out is a leaner, more toned body. When you practice good habits around how your body feels, rather than focusing on words like "diet" and the numbers on the scale, your body will change naturally.
How important was diet when it came to turning your life around? Do you have a go-to meal?
Nutrition was so important. At my heaviest, I was eating fast food every day. Even if I packed dinner for work, I'd still stop and grab a cheeseburger meal just for the ride to work. The first thing I did was stop eating anywhere that had a drive-thru, if I had to eat on the run. I started planning my meals and setting alarms on my phone to ensure I was fueling my body several times a day, rather than just twice a day like I was previously. I cut out sweets and I stopped shopping from the middle of the store where all the prepacked food was. I started eating fresh foods and I even learned to cook. My go-to healthy meal is preparing tempeh with peppers and onions and a Louisiana creole simmering sauce. It's really healthy, packed full of protein, and delicious!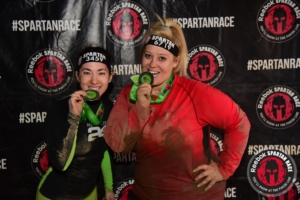 Was there ever a time during your first race that you thought you couldn't finish? Once you did finally cross that finish line, what thoughts were going on in your head?
My very first OCR was the Atlanta Sprint 2015. I was just under 300 lbs at this point. Leading up to the race I had friends tell me I was crazy for competing in an OCR, so my pre-race anxiety was already high. When I approached the set of 6,7, and 8 foot walls, I thought I was done for. Thankfully, a group of guys helped my friend and I over. They made it seem so easy! About halfway through the Sprint, I glared up at the Cliffside Hill Climb I thought there was no way I was getting up those ropes on my own. I kept my thoughts to myself and forced myself up the netting. The racers were encouraging each other. It was so motivating! When I reached the top, I was so exhilarated, and the Cliffside Hill Climb became my favorite obstacle! That set the pace for the rest of the race for me. No matter what obstacle I approached, I just tried my hardest. If I couldn't complete it, I just did my burpees and kept going. Once I finally crossed the finish line, I hugged my friend that I raced with, and we teared up. I couldn't believe I had accomplished my goal. I was officially a Spartan finisher and no one could take that away from me.
What advice do you have for people who make excuses about why they can't do an obstacle course race?
I would point out the fact that's all they were doing: making excuses. I've told many, if I can do an OCR with minimal training, at my heaviest weight, then anyone can do it. I've shown videos of the amazing crew from Operation Enduring Warrior completing these races. It's at that time any excuse you have for not completing an OCR is completely invalid.
How do you train for obstacle course races? Do you have a coach, training group, online workout plan, etc.?
I mostly train on my own. I run on the treadmill and even do incline work, and I hit the trails when I can. I also lift and work on my upper body strength. And of course, burpees. I also do yoga every day, which helps with OCR more than people realize. I also enjoy going to The Compound in Macon, GA when I can, which has trained some incredible athletes. They have group classes and train their clients on functional fitness, animal movements, and even have race prep for OCR.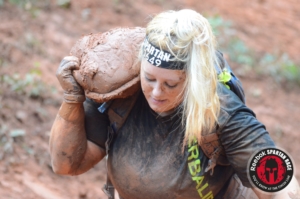 What made you enter and how proud were you after winning first place in a 14-hour endurance race this year?
I had actually not planned on entering into this event; The Gauntlet (think, Spartan Death Race). I was planning on being the crew for a racer that was signed up this past January. My entry would not have been possible if it weren't for my friend Kerri. She gifted me her entry into The Gauntlet Sergeant (the Gauntlet Sergeant is the half version of the full Gauntlet). I literally had six weeks to train for this race, and even at that, I had no idea where to begin. So I worked on my endurance with a 30-pound ruck, not my speed. After the final task of the night, I approached the base camp and the race director (Matthew Waller) came out to greet us. My eyes were welling with tears because I was freezing cold and I thought I had failed the final task. He congratulated me and told me that I had finished. My race was over, and I won, all because I stuck with it and didn't quit. I was the first ever Gauntlet Sergeant winner. The fact that I won hadn't sunk in until the official results were posted. I was incredibly proud of myself for sticking out the entire race, when other racers were dropping out. I knew then, that if I could complete an endurance event, then I could face anything.
Where do you see yourself 10 years from now?
In 10 years I'd still love to be competing in OCR events. I hope that by that time I'm running in the elite waves. I'd love to be more well-traveled, too. I could see myself travelling to other regions and countries to race at new venues.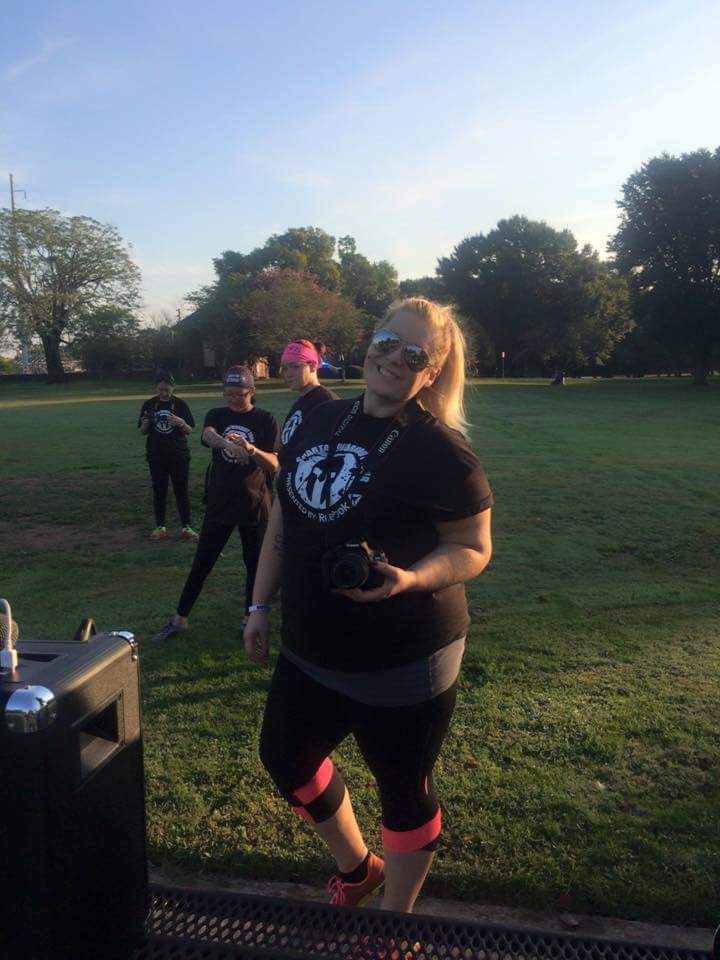 Give me a fact about yourself that would impress most people?
To relax and unwind, I don't normally watch TV. I've always felt I was fairly creative, so I like to doodle. I started Zendoodling (aka Zentangle) a few months after a friend of mine offered a Zendoodle class. Zendoodling is the talent of creating designs using planned patterns. I guess the only thing that would make this impressive, is that I can do it at a micro level. The doodles are insanely small, and take a lot of patience to work them all out. This is an unfinished Zendoodle I'm working on currently.
What was your opinion of OCR TV coverage?
Due to my work schedule, I don't get to watch much TV. But, I have seen episodes here and there of OCR-themed shows. I have mixed feeling about it. On one hand, I love the idea of showing the public the types of races that so many of us love to suffer through. I hope that it inspires people to step out of their comfort zones and try for themselves. On the other hand, I'm afraid it will intimidate people and keep them from trying something new.
Do you follow any of the top elite racers? If so, who are your favorite OCR athletes?
I do! I'm a huge fan of Roze Wetzel-Sinnett, Amelia Boone, and Laura Messner. The moment I discovered what an OCR was I started reading up on these ladies and was so inspired by their overwhelmingly positive attitudes and driven work ethic. I might have a fan-girl moment if I ever have the opportunity to meet any of them at a race.
Are you pursuing any achievement this year, like a Spartan Trifecta or running one race from each of the major series?
Well, 2015 was my first year ever attempting an OCR. After the first race I was hooked and I earned my first Spartan Trifecta. The only goal I truly set for myself in 2016 was to earn my Spartan Double Trifecta. Right now, I have both Sprints completed (Atlanta and Ft. Benning). Up next, I have the Carolina Beast (I'm racing both days) followed by the Alabama Super and the Atlanta Super. That'll finish out my year!
How many medals do you own and what do you do with them after the race?
At this time, I have 17 medals and a Railroad Spike (from Run The ATL). A little more than half of my medals are from 5k races, both road and virtual. When I first started collecting medals, I just had them laying around. So I purchased a curtain rod from IKEA, and started stringing up my medals and bibs (that were salvageable). I have a real medal rack that my dad got for me, but I have yet to hang it. It's going to be exclusively for my Spartan medals.
Outside of OCR, what is your biggest passion?
YOGA!!! My curiosity about yoga piqued in March of 2014 when my friend Taylor bought a yoga book and brought it to the gym to show me some new stretches. I flipped through the book and saw some very challenging poses, and being the competitive person I am, wanted to learn them all. I immediately started following all kinds of yogis on Instagram from all different backgrounds and experience levels.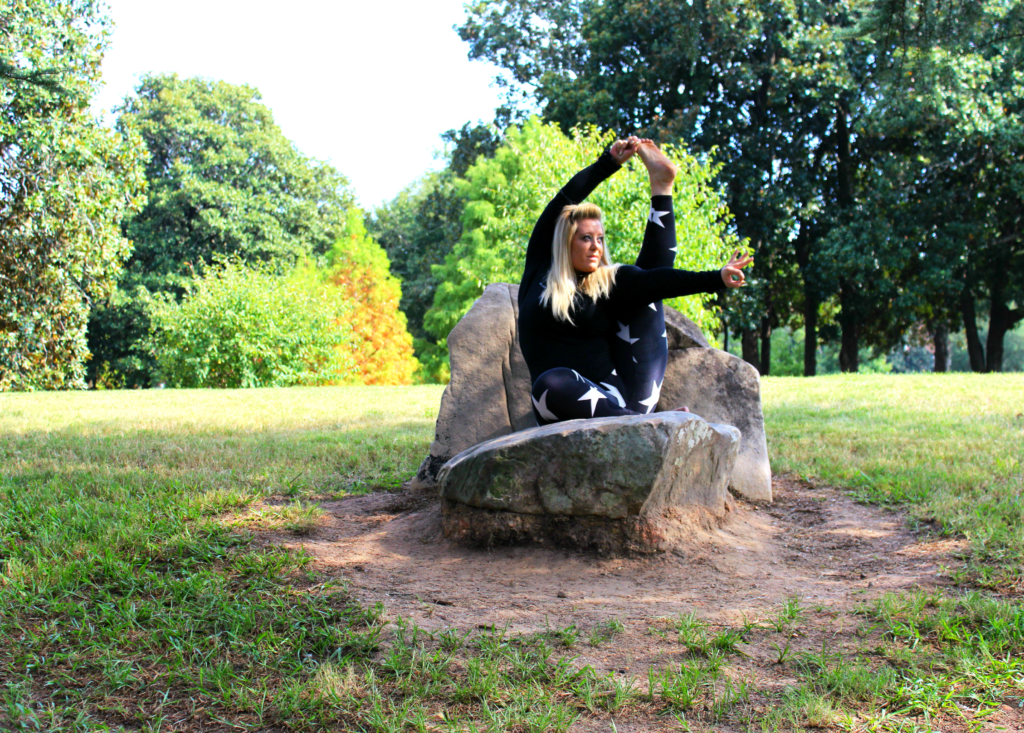 I started by completing a month-long yoga challenge that focused on your core. By the end of the month, I was addicted. As I advanced through weeks, then months of yoga, I noticed the poses and the flows were becoming easier. I had my favorite poses, and I had some that gave me trouble. But one thing I came to realize was that yoga was helping me touch my toes. Hell, yoga was helping me go beyond touching my toes. I was laying my hands flat on the ground and reaching back between my feet. I was able to finally get myself into a full split, and even balance on my head without the security of a wall behind me. Things were also changing within me. For the first time in my adult life, I was building confidence. With each successful pose, I felt a sense of encouragement when my body was able to move and bend in ways that I had not been able to before.
Yoga even helped me find my inner strength to rid myself of some of my vices. After being a smoker for 15+ years, I was able to finally quit cigarettes for good. I've even cut way back on my alcohol intake. The benefits to yoga are endless and mostly internal. Just believing that you are better can make you better. As a result of all of this, the confidence that I've gained with my yoga practice has snowballed throughout many aspects of life. And believe it or not, yoga also helped me with OCR!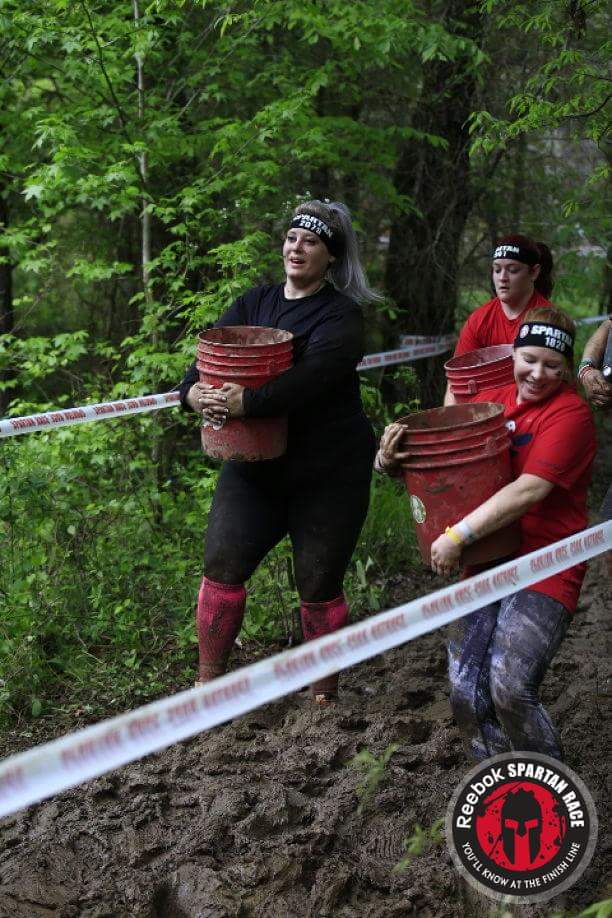 You said you're passionate about photography, both behind and in front of the camera.
At this time, I do not have a portfolio, but I may put one together one day. When I'm not racing, I like to take photographs of the athletes at events. I've done the photography for a few of the Spartan Workout Tour events, as well as the Atlanta Hurricane Heat in March of 2016.
I also like to get in front of the camera at times. I do some side modeling for a legging distributor, so I'll have a friend help take photos of me doing yoga in their merchandise, and post it to my social media. I also support a company that supplies supplements, nutrition, clothing, and inspiring articles that is geared towards women. September is National Yoga Month, so I was invited to host daily yoga poses for our readers and customers to follow along.
Is there anything else you'd like to share (OCR-related or about life in general)?
I love to share deep and meaningful quotes on most of my social media posts. I typically share verses that I have a connection with at that moment in my life, but I'm often surprised when people actually read the words and find their own connection. This is one of my favorite quotes, and I think it's one that is applicable to every athlete, no matter the sport:
"Whenever you find yourself doubting how far you can go, just remember how far you have come. Remember everything you have faced, all the battles you have won, and all the fears you have overcome." -Unknown