Saturday Oct 15 marked the main event at the OCR World Championships at Blue Mountain Village in Ontario, and definitely did not disappoint.
Knowing it would be a long day, and that my start time wasn't until 12:20, I wasn't in a great hurry to get to the venue. Thus I watched on Facebook from my accommodations as Jon Albon took his third straight OCRWC title, coming in 5+ minutes ahead of Ryan Atkins who took second.  I arrived at the Village just in time to hear the announcer call in Lindsay Webster as the Women's Champion for 2016.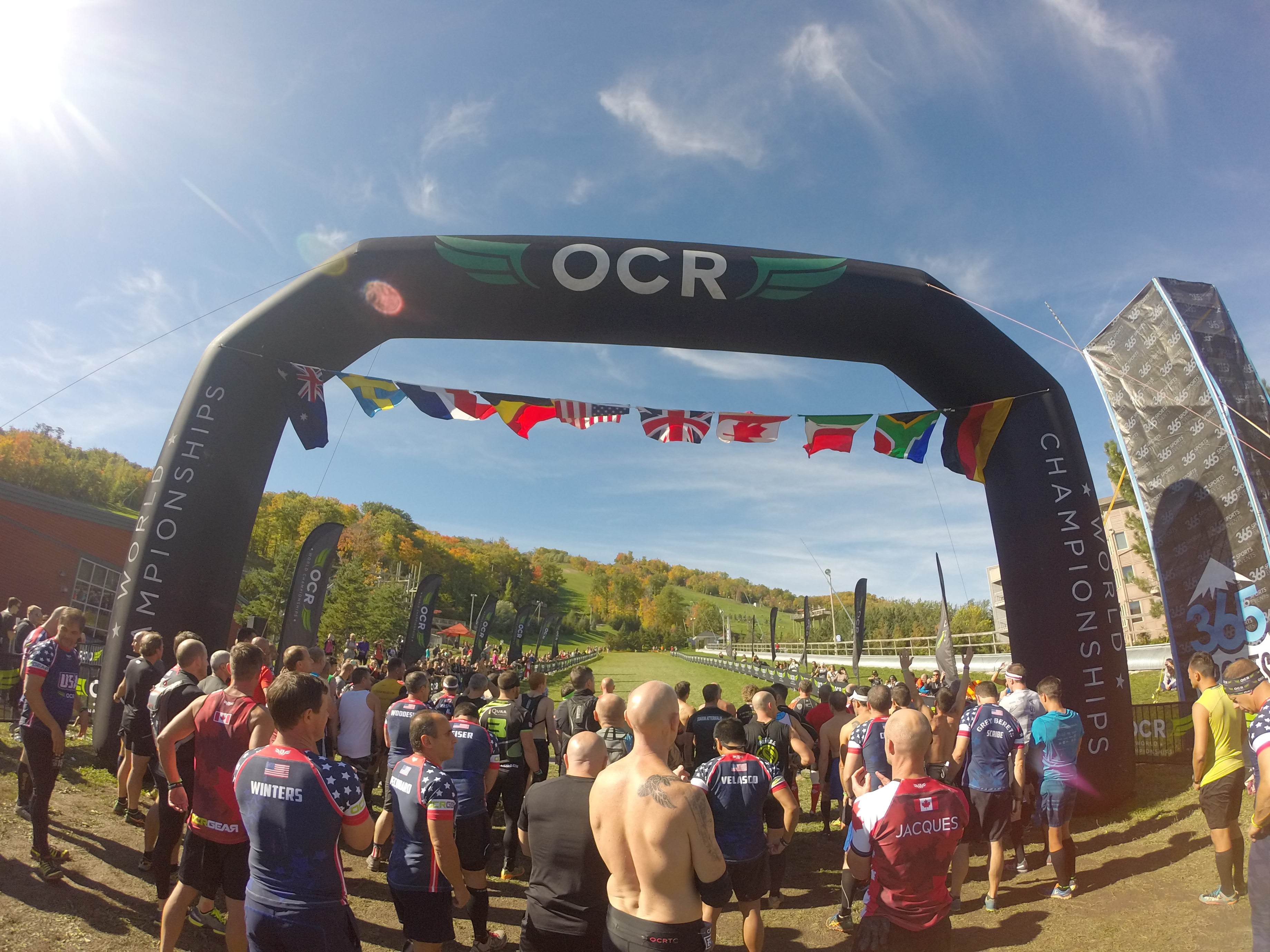 The day was glorious, sunny and unseasonably warm, and I quickly noticed that the Platinum Rig had been reconfigured for the day, and heard that the Platinum Rig Samurai obstacle that had thwarted so many in their quest to keep their bands on the short course had been bypassed for the day.  Although I was kind of sad we wouldn't be able to do that one again, I knew there would be plenty of other obstacles to keep us busy on the course.
The course had been rerouted extensively from Friday, so obstacle 2 on the short course was now obstacle 13 on the long one, and came after a long climb to the top of the mountain that included some amazing views over Georgian Bay and some beautiful single track through the woods.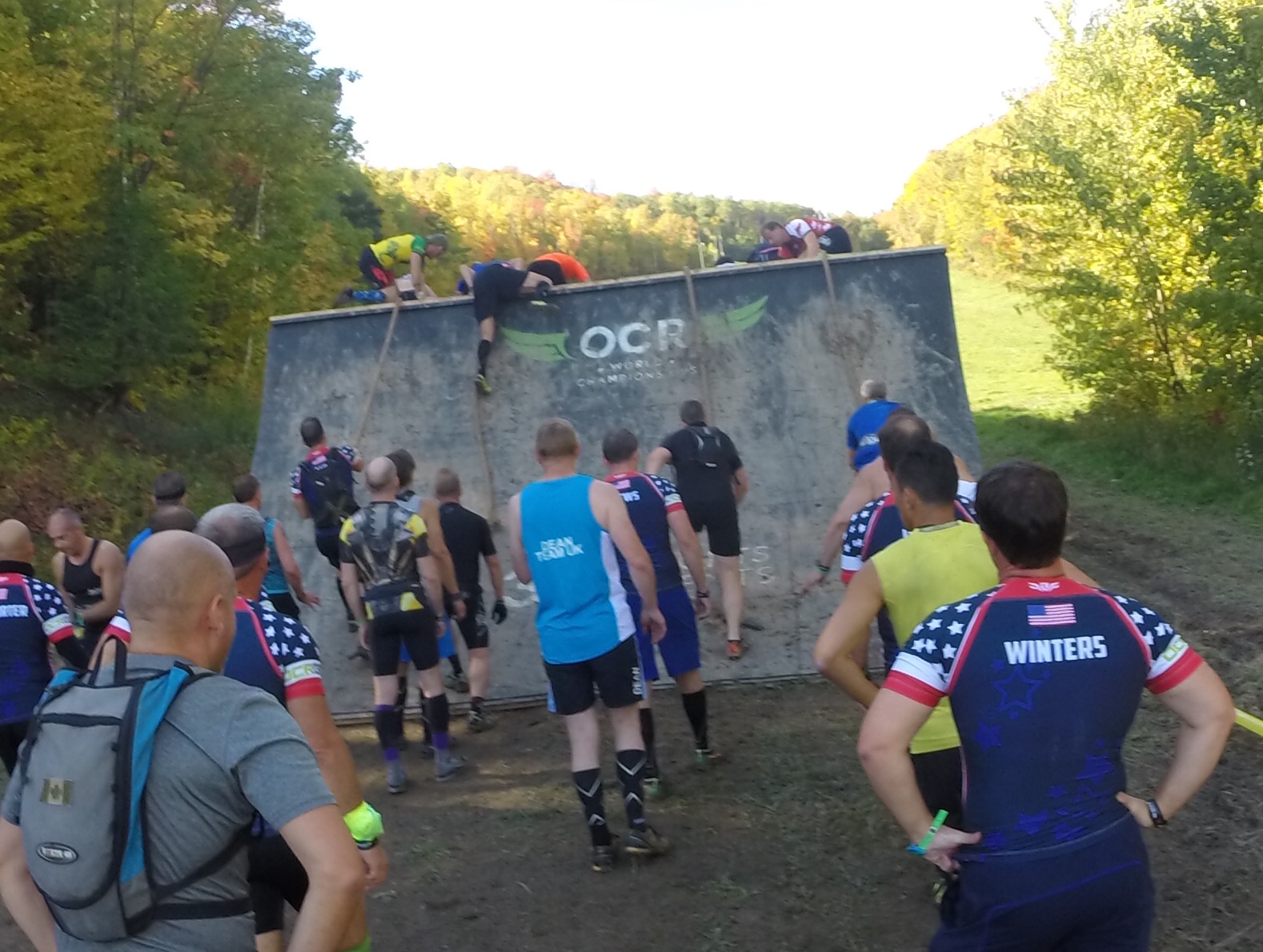 A half-pipe obstacle halfway up the mountain had created chaos in some of the earlier heats because of the muddy tracks leading up to it, and by the time my age group reached it, ropes had been added to reduce the difficulty and prevent backlogs.
Several walls, a barbed wire crawl, and Savage Race's Pipe Dreams were placed in our way before winding back down the mountain towards the festival area and crowd favorites Dragon's Back and the Platinum Rig.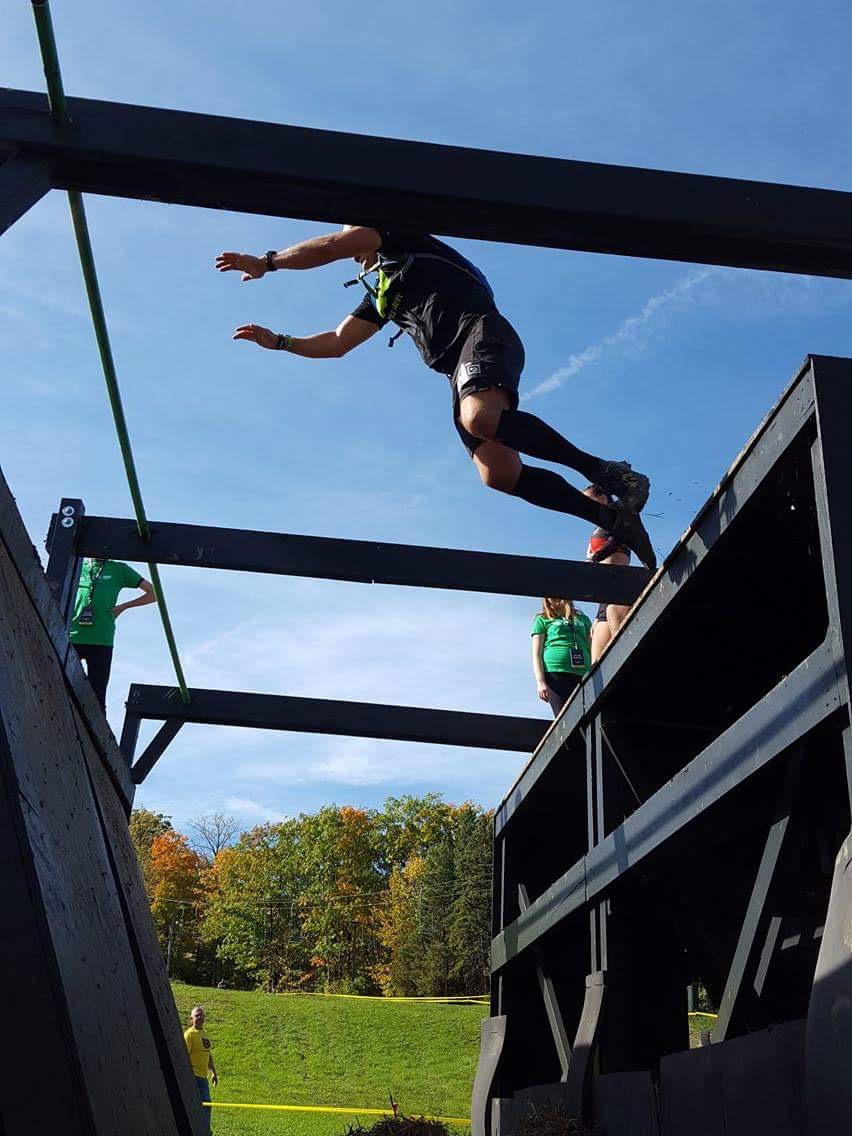 Once again, the Platinum Rig had a line of athletes waiting in the retry lines, and once again I gave it a couple of solid attempts before submitting to the inevitable and letting them cut my band.  Rigs have never been my specialty as a "gravity challenged" 200+ lb athlete, and they are apparently more difficult when you only have one working shoulder (I'd been diagnosed with a torn rotator cuff earlier in the year, and had re-activated it at Lake Tahoe a couple of weeks ago).
Last year, keeping my band at OCRWC was my primary goal, and I succeeded in that; this year I forced my ego to take a step back in order to avoid worsening this injury.  After giving up my band, I continued on, knocking out the wreck bag carry before beginning the long and twisted climb up to the top of the mountain again.  Roughly 100′ from the summit, there was another uphill barbed wire crawl, then a crawl under a cargo net.
As I finally crested the hill, I was met with Skull Valley, an obstacle that stymied me for a solid hour last year.  This was a new version, and consisted of rock climbing holds in the shape of skulls, followed by 4 knotted ropes to Tarzan swing across, followed by another section of skulls (these ones staggered on opposite sides of the board.  Twice I made it as far as the first skull on the second section, and twice slipped as I tried to swing for the second (limited somewhat by range of motion with my left shoulder). Rather than continue beating my head against it, I took the penalty.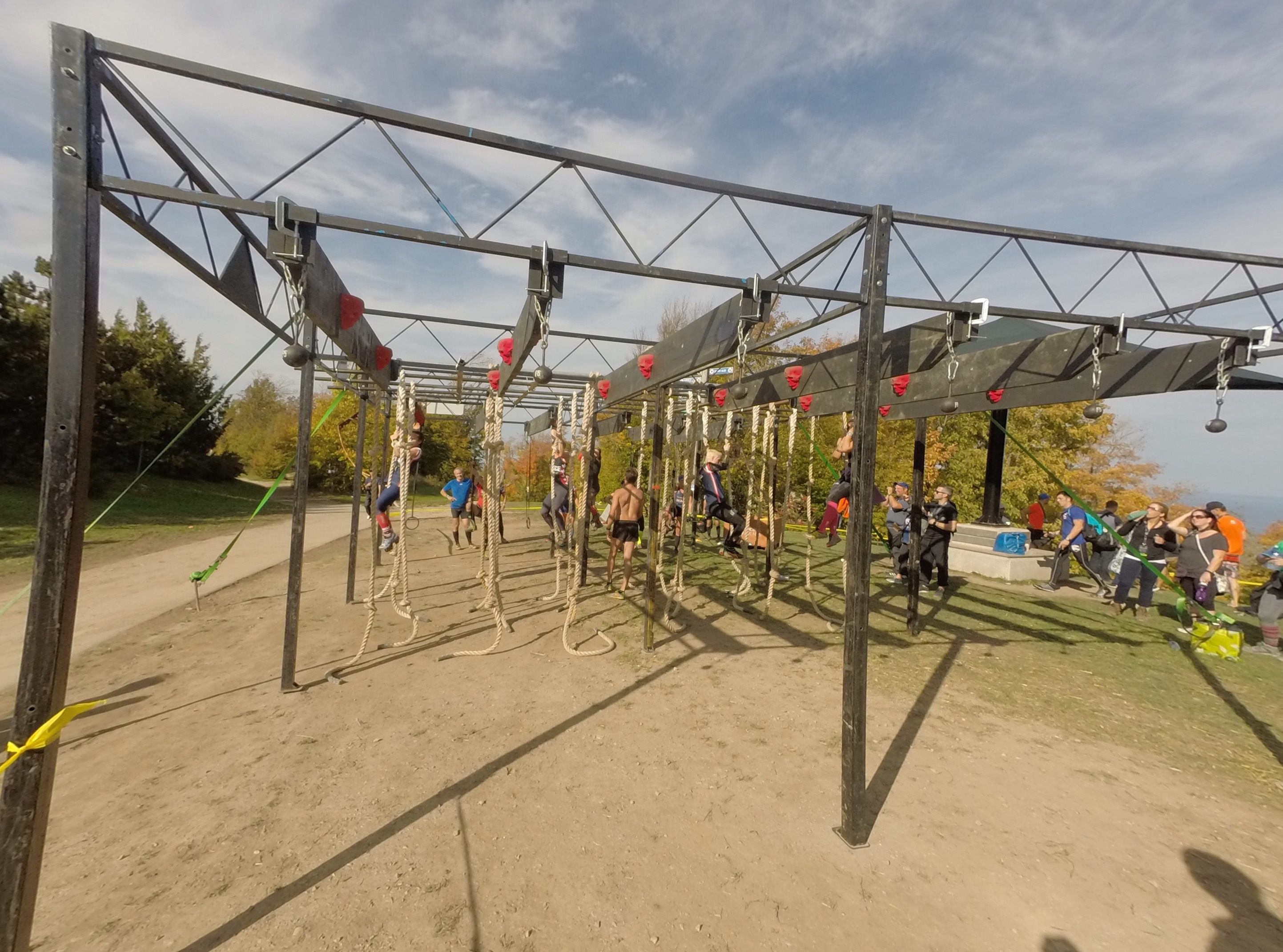 20′ further on was the second Platinum Rig, this one in a very different "low" configuration which had to be traversed using your hands and feet without touching the ground.  Although this proved a bane for many on this course, I had no problem here and made it on my first try.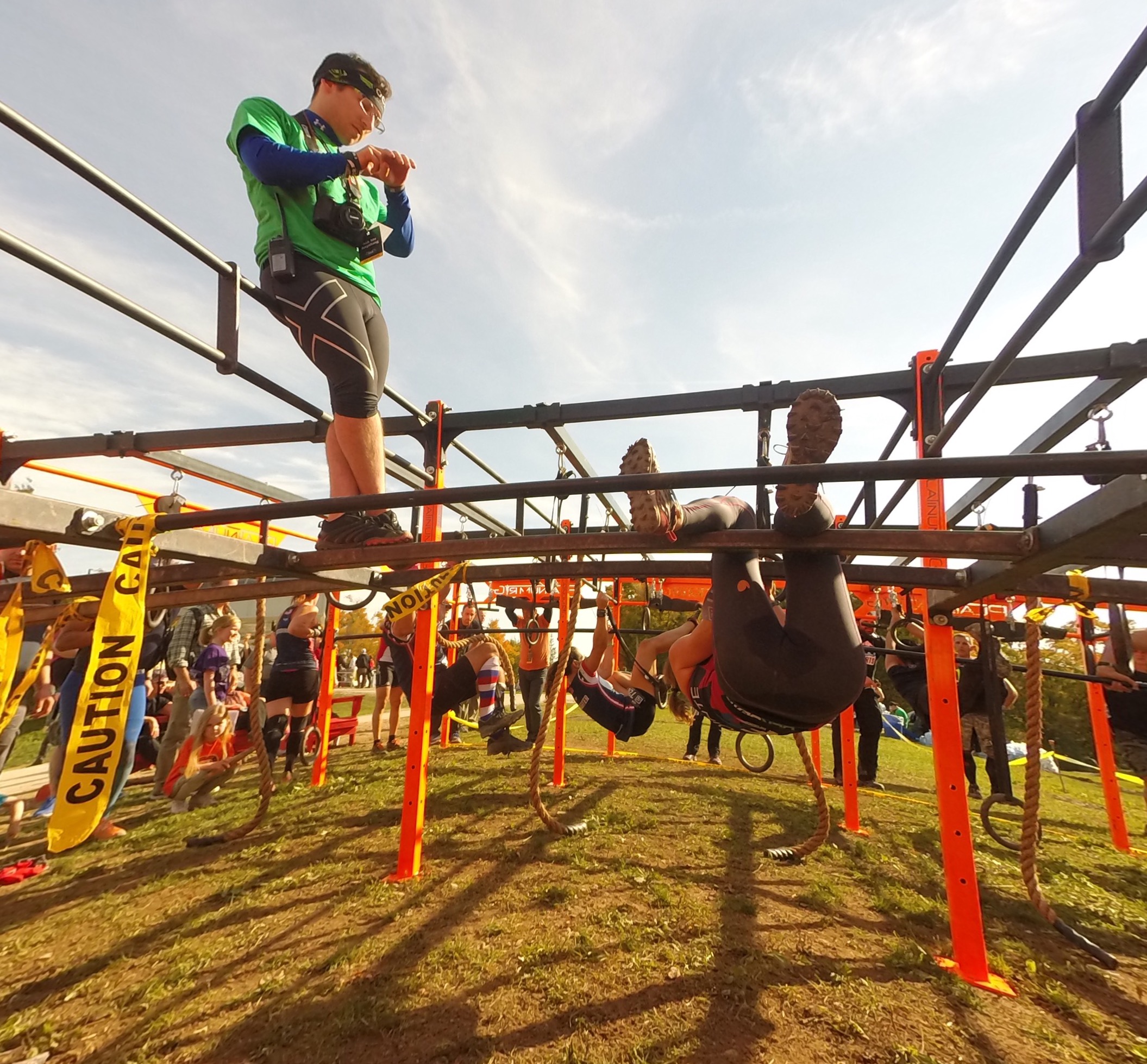 A short single track looped us around to the Weaver, a lovely obstacle that left its kisses all over my legs as deep bruises before reaching the end of it.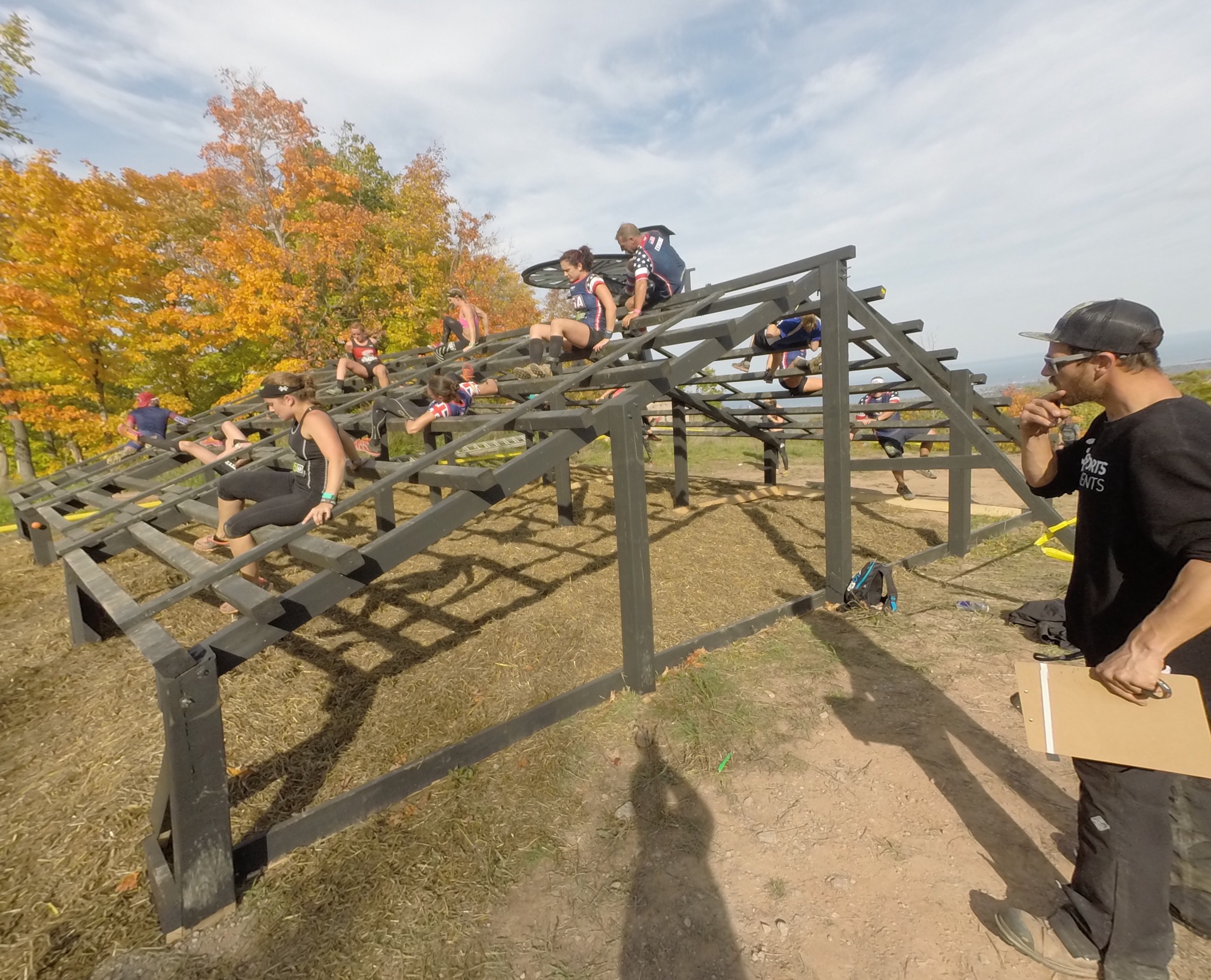 The next really interesting obstacle was Dead End Race's Warped Wall, a tall and ludicrously steep warped wall with a square baton to grab before you could get to the rim and haul yourself over.  This one took me a couple of tries, and I surprised myself when I made it.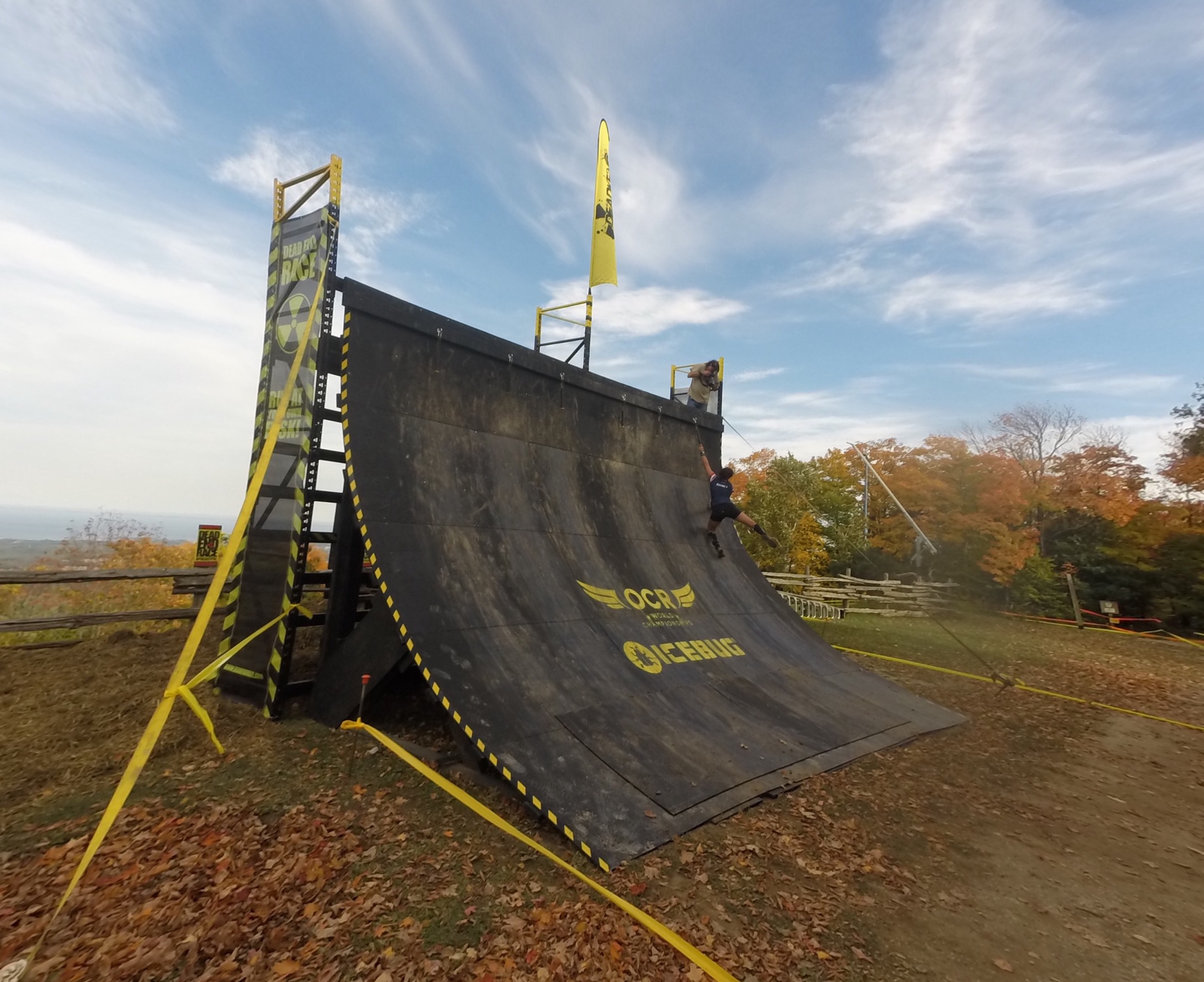 Another couple of obstacles brought me to one I'd been dreading since first seeing it, Stairway to Heaven from Conquer the Gauntlet.  This was a wooden A-frame with steps on the inside.  Using only your arms, you had to climb up one side, transition across to the other, and climb back down the other side.  This one had a morose group of athletes waiting to retry, while some passed through with ease.  Personally, I got about halfway up the first side and thought better of the strain of the transition, dropping down and taking my third penalty of the day before continuing on.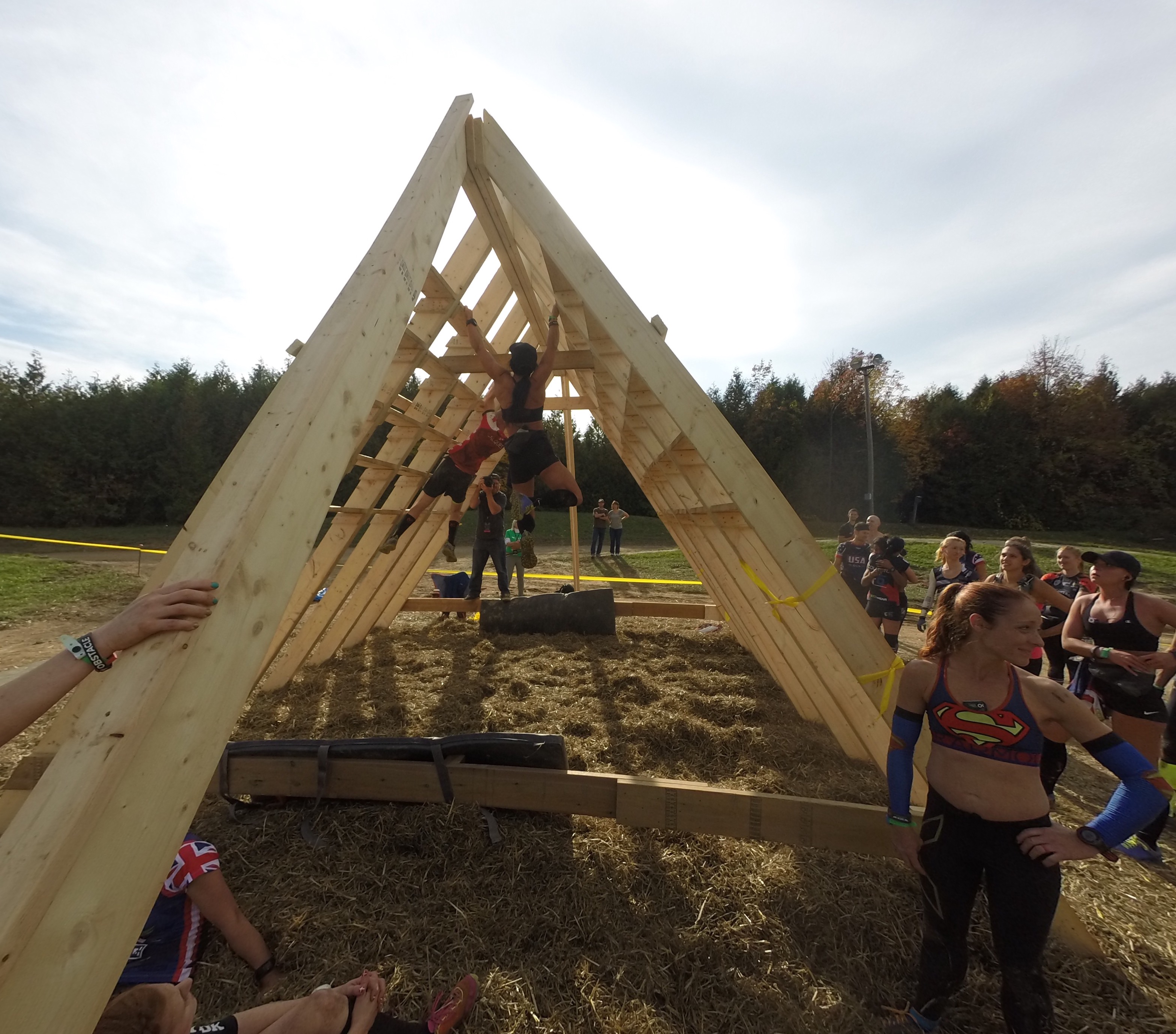 Other interesting obstacles at this point included a Wreck Bag hoist, traverse walls, and a very tall rope climb (at least 20'+ over hay).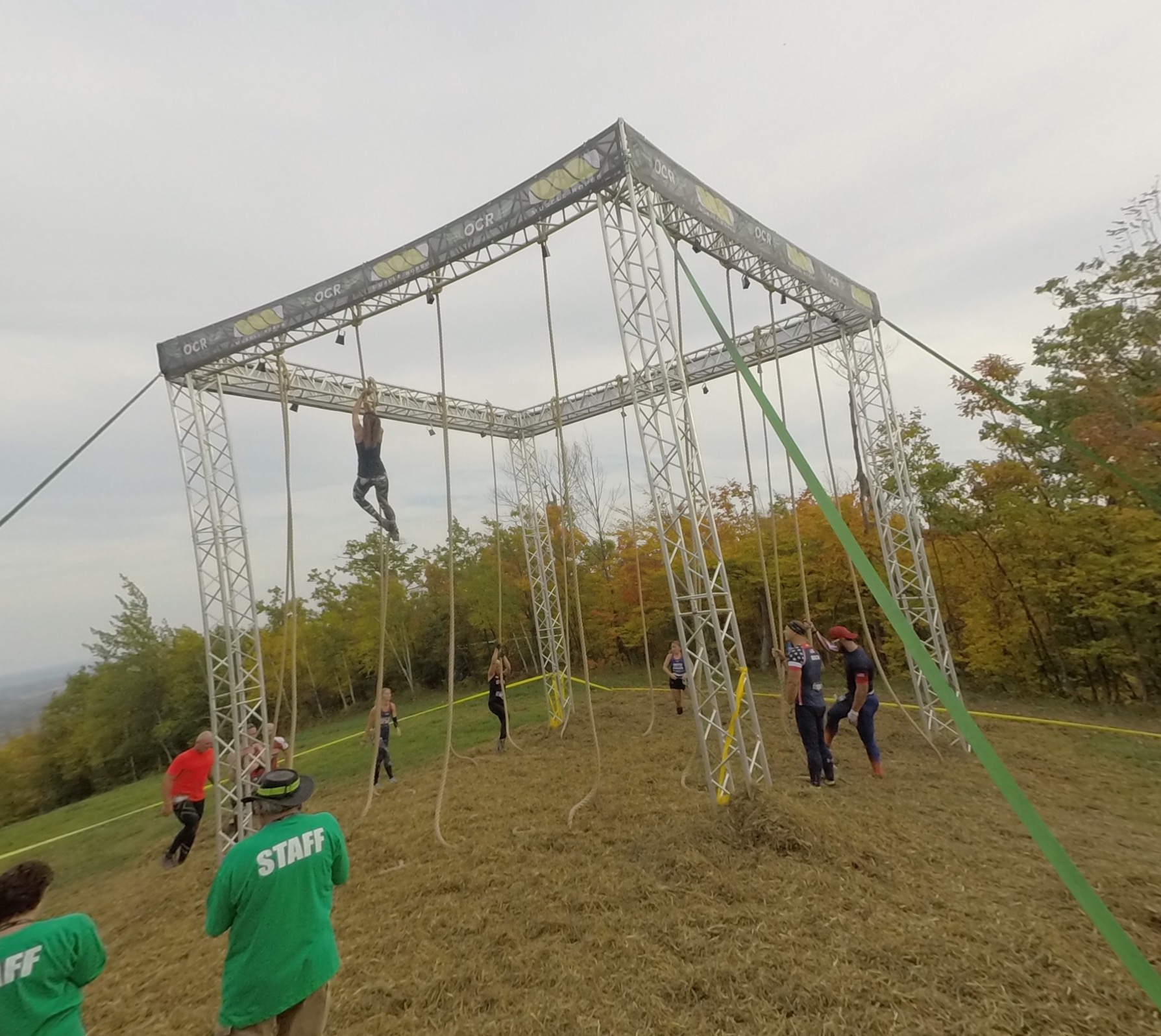 Then it was back down the hill along some really funky mountain bike paths that had a number of inclined wooden "trails" that were clearly intended to be taken at a far higher speed than I was capable of at that point in the race.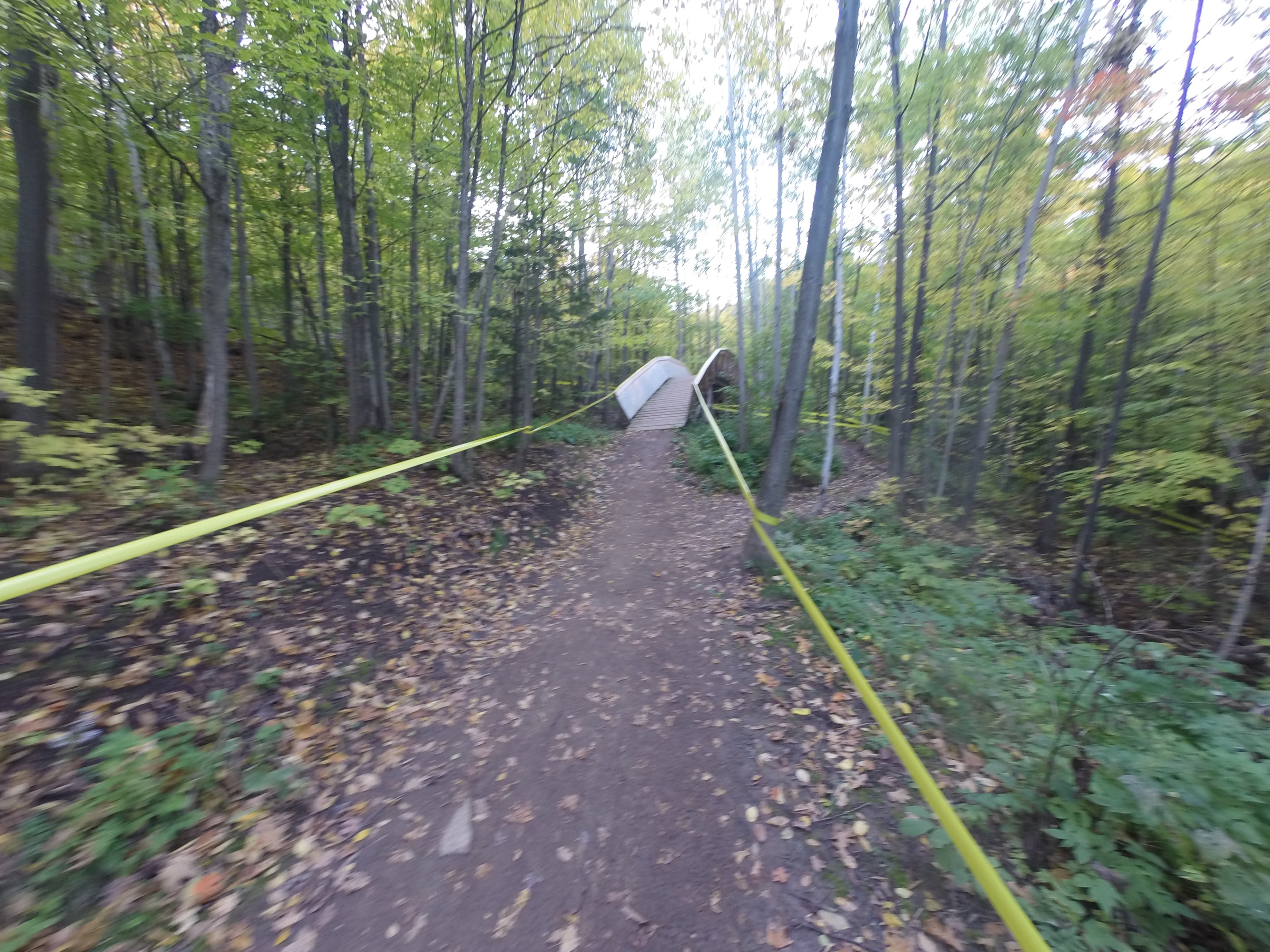 We emerged from the woods near the Dead End Race Monkey Bars,  which were followed by the last shorter ascent, and then we were at the final approach to the finish line.  Over an Irish Table, through the Indian Mud Run's "Wall Hanger" floating traverse walls, and onto Skyline.
On the Short Course, I dropped off Skyline after failing to kip enough to get my bar over the blockage, and landed hard, rolling my ankle. In fact, the entire race on Saturday had been run with a tensor bandage around my ankle to add stability, and I was very conscious of hurting it again.  So when I got to this one, and couldn't get it over the block on the first try, I said "nope" out loud, dropped off the bar, and kept going.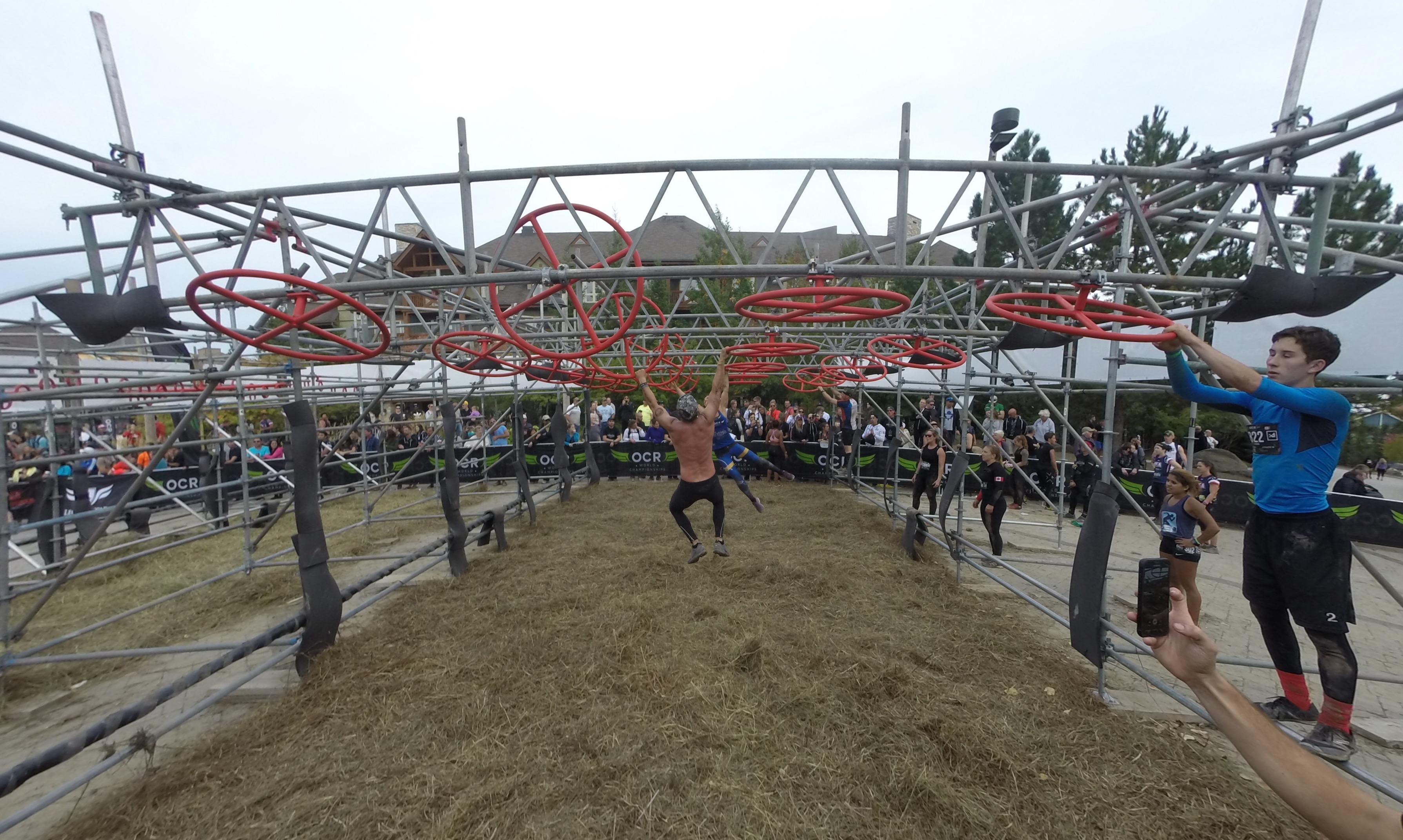 Urban Sky definitely got easier with practice, and I made it on my first attempt, this time, then up and over the slant wall to the finish.
This was a great, challenging race with a wide variety of obstacles, many of which were quite technical in nature.  It was only talking with other athletes afterward over a beer that I really appreciated how it hit many different athlete's weaknesses; some obstacles that I struggled with were easy for them, but they were delayed by ones that I found simple, such as Dragon's Back and the short Platinum Rig.
One big way this race differed from the 2015 OCRWC was the lack of water obstacles; these were featured heavily in 2015 with multiple river crossings, ditch crawls, and a massive water slide which combined with the frigid temperatures to make hypothermia a real danger.  I'm not sure if it was concern for this playing a big role in the race this year, or if it was in the venue contract that they didn't want big pits dug (probably both), but other than a little mud on the slopes, this element was absent from the 2016 World Championships.  I don't think many athletes missed it.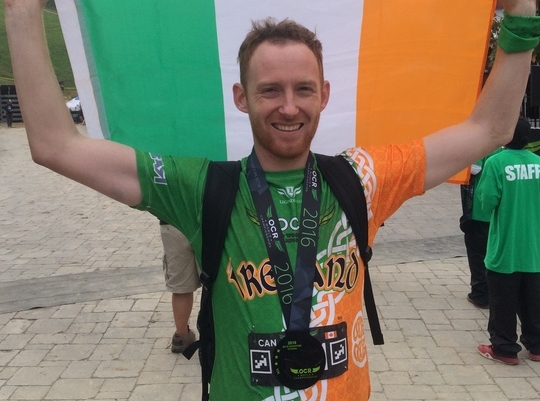 This was THE race of the year; whether you were one of the fastest elites, an age grouper, or part of the journeyman division and regardless of whether you completed all the obstacles and kept your band or not, be proud of yourselves.  You were part of something truly special.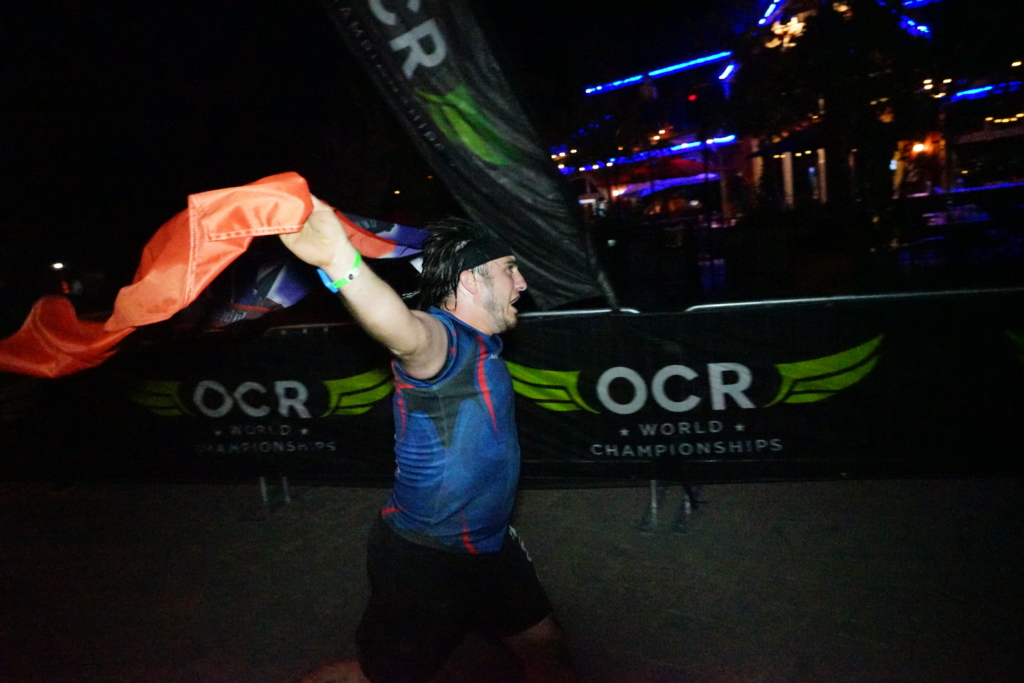 Up next, the Team Race and Make-a-Wish charity run on Sunday.