4-time WTM-er, 38-event Legionnaire, and Tough Mudder Ambassador
World's Toughest Mudder (WTM) is the championship event of the Tough Mudder series. It also is one of the rare ultra-obstacle course races (ultra-OCRs) because participants complete as many laps of a 5-mile course in 24 hours with an extra 1.5 hours to complete the lap the participant was on at 24 hours.
Tough Mudder is unique in obstacle course events because, during a usual event, they specifically state that "Tough Mudder is not a race, but a challenge." This makes WTM the only true race of the Tough Mudder event series. This focus on the challenge of the competition during the majority of the year also makes WTM a unique event where everyone on course helps each other reach their goals. Ultra-marathons are more about competing against the course than each other, so this perspective is embraced by the leaders as well. Every leader has been known to turn around after an obstacle and help their fellow competitors at some point during the race.
In this race recap, I'll highlight how WTM is a championship event that brings together a huge community of people from across the globe to struggle through probably the toughest event on the planet, with a lot of help from their friends. I'll also review what happened with my race that ended in 90 miles/7th overall and some things that I did around the race so that people can think about how to achieve even loftier goals at their next WTM. This was my fourth WTM, so I've had the opportunity to optimize my system. Also, if you haven't read some of my race recaps before, I try to break up the monotony of usual race recaps using flowery and purposefully suggestive language.
The Anticipation Builds: Pre-Race Events 
Friday Night World's Toughest Mudder Community Dinner. Photo cred: Brad Kerr
As a championship event in the destination city of Las Vegas, there are copious pre-race events leading up to the actual event on Saturday. On Thursday night there is the "SAWCK" dinner where people met up for dinner and play-time at Camp Rhino, the local obstacle race gym. It's called the "SAWCK" dinner as a play on words from "socks," that are sold by Matty Gregg and others to support the St. Baldrick's charity for childhood cancers. Overall, Matty and other participants raised over $125,000 leading up to this event. When possible, many people make a vacation of this event and make sure to show up on Thursday to meet the many people they've been communicating with through the WTM Community Facebook group. It's enough before the event that people enjoy themselves and don't need to worry about the upcoming race. My tactic was to eat dinner early before showing up, then come to the SAWCK dinner to hang out with the many great people that I've met over the years and many events that I've run. The joy of WTM is that I get to see people from all over the country and the world that I've learned to respect and admire.
On Friday morning, we check in at the Westin in Lake Las Vegas and claim a location for our pit area that we can use to keep stuff while we're out on the course. The pit area is used to keep food, gear changes, and is the home base for your pit crew that can provide assistance between each 5-mile lap. The optimal strategy is to claim a pit location as close to the Finish/Start transition because, unfortunately, the course does not cross through the pit, so there are very limited number of choice locations. Check in time is based on total previous WTM miles run, with categories of >125 miles at 8 am, >100 miles at 10 am, >50 miles at 11 am and the masses at noon.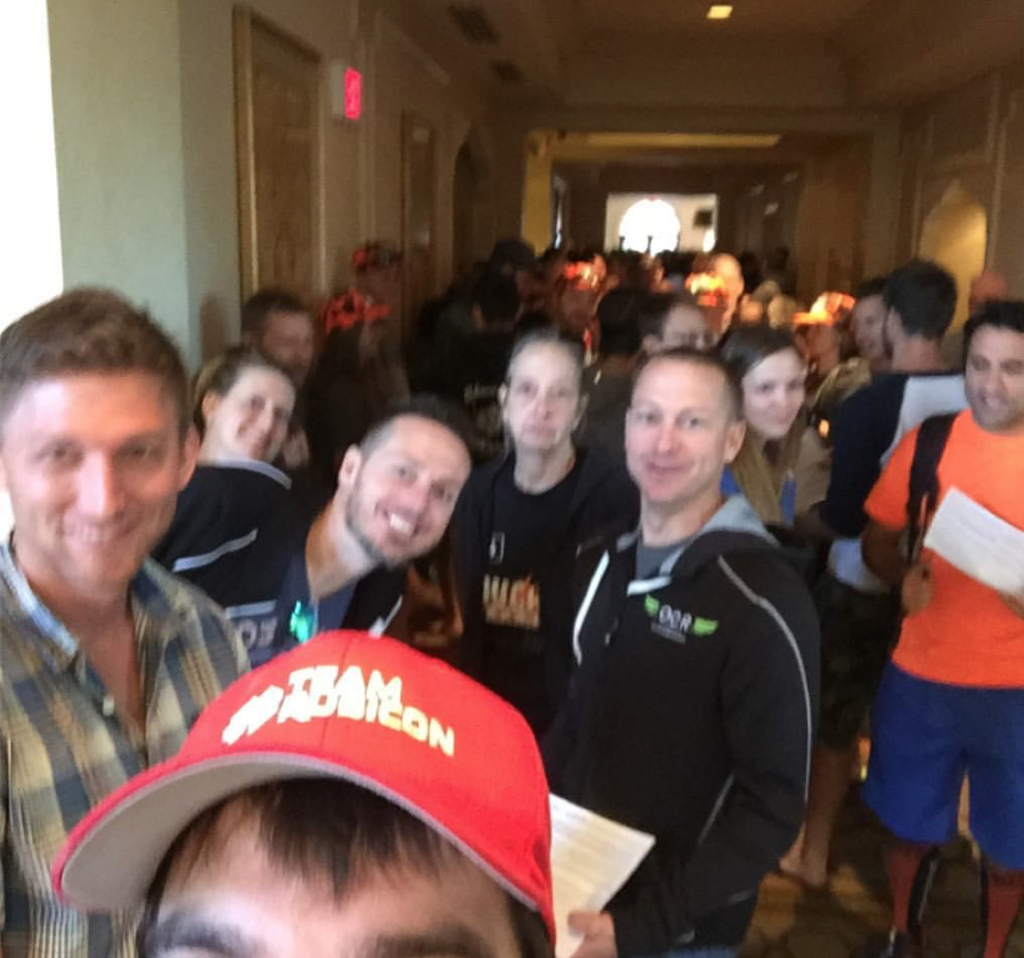 World's Toughest Pit Check In! Photo Cred: Wesley Kerr
I came into this event with 190 total WTM miles (40 in 2012, 75 in 2014, and 75 in 2015), and I showed up early, so I was one of the first people to check in. The check-in process was very efficient with a set of tables to check your WTM miles, then give you your goodie bag, and then check your registration and give you your race bib and timing chip. Once you had all those items, you were allowed to rush onto the course to claim your spot. I sped the half mile from the Westin to the event site and brought my tent and a few chairs over. When I got there, about 3-4 people had claimed spots, so I had my choice. I claimed a spot four deep into the pit, and right next to the center lane. I knew that my pit crew were going to be the primary people working there, so it wasn't overly important where I was.
After claiming a spot, I quickly got out of the sun and took a nap at the house I was staying at. At 2pm, I had a meeting with my three pit crew: Christopher Ohrt (Tough Mudder Legionnaire), Jane Kim Kerr (my wife) and Sharon Kerr (my mother). We went over my pacing, nutrition, and gear plan and we talked about the decisions we anticipated making so that we were all on the same page during the event. That way once the event started, we could just get going and be a well-oiled machine.
On Friday night, there were two competing dinners: the WTM Community Dinner at the Fiesta Henderson, and the official WTM Carbo-Load Dinner at the Westin. The benefit of going to the official dinner was getting a preview of the course and the obstacles. However, there were limited seats at the official dinner and the presentation was live-streamed on Facebook so people could watch it on Friday night or Saturday morning before the event without paying the cost of the official dinner. I went to the Fiesta dinner early and saw a few hundred people there, once again reuniting with friends from afar. I also made an appearance at the end of the official dinner because I had bought the package ticket for WTM that included the official dinner. That way I could enjoy the best of both worlds, and get to bed early. I ended up going to bed at 8:30 pm, and sleeping as much as I could. I ended up waking up around 7 am and not being able to sleep anymore.
The Morning of the Race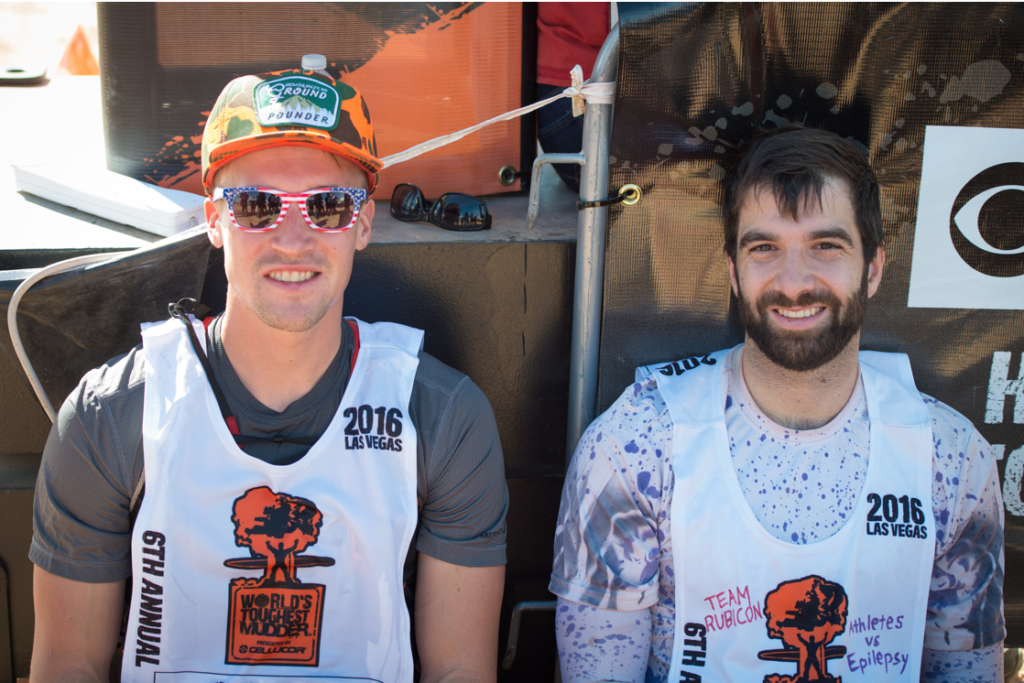 Rest before the storm. Trevor Cichosz and Wesley Kerr. Photo cred: Brad Kerr
My goal for the morning of a big race like this is to do everything that I'd usually do, and not stress out about anything. I'll need all of the energy I can muster for the event, so I want to minimize the amount of energy I use before the event. Since I have a sensitive GI system (and even if you don't), it's always a good bet to eat what you usually eat before an event; nothing more, nothing less. I don't eat anything different from my typical breakfast: Greek yogurt with honey and a few glasses of milk. I'm the exact opposite of lactose intolerant.
I had packed my wetsuit bag, clothing bag, food bags, and hydration packs the night before, and had put them into the car already. All we had to do was make it to the site. We drove over to get there at 8:45 am, which was 15 minutes before the St. Baldrick's shaving event. We got there at 8:37 am (I've been trained to be early). We put our stuff in my pit location and organized my stuff, so all of my pit crew knew where everything was. I filled a 3L hydration bladder with one scoop of Tailwind per 12 oz and started sucking slowly to be hydrated and full of electrolytes/calories going into the event. With hydration bladder in hand, I watched the St. Baldricks' head-shaving event, which was awesome! They raised $125,000 for the charity, which is a St. Baldrick's record! I'm so happy for them! It was empowering and inspiring to see them go through the shaving process before the event. They started ahead of us all because they already had accomplished so much just getting to the event.
After the shaving event, I went back over to my pit location and sat in a nice folding chair in the shade to wait for the event to start. Tim Slady, a pit crew for Renate Kaufmann, kept on insisting that I keep sitting in the shade instead of walking around saying hi to people. I said hi to a lot of people, and a lot of people said hi to me. I made a brief appearance by the Team Rubicon tent to encourage the TR members that I supported on their way to the event through my advice and gear list.
Trevor Cichosz, Mark Hollaway, and Wesley Kerr sitting down in the start corral. Photo cred: Brad Kerr
When 11 am came along, I was urinating every 15-20 minutes, so I put down my hydration bladder and took a seat right next to the start line. I prefer to start ahead of the crowd because I have a tendency to go out too fast. I also don't like bumping elbows too much, so I position myself early. The key is to sit down and sit in the shade. That way I can stay calm, relaxed, and minimize sun exposure. The famous Trevor Cichosz joined me in my spot at around 11:15 am, having a similar thought. We enjoyed our relaxing position until the pre-race speeches started when we tried to stay sitting as long as possible as the crowd got more and more dense around us. When we got to the final moments, Trevor and I finagled our way to the front of the line, and we were ready.
Sprint Hour: Laps 1-2, Miles 0-10
The charge! Photo cred: Brad Kerr
At precisely noon, we counted down to the start of the event. People charged up the hill throwing a good number of elbows as we all jockeyed for position. As we made it under Giant Wedgie, we transitioned from an uphill to a series of downhills. There were a couple of people who charged up the hill, then slowed down at the downhill. Other than that, Pak, Nickademous and charged forward and acted like they wanted to take the sprint title. Since my goal was distance, I had no desire to win the sprint lap, so I just watched them go into the distance. My goal was to go out comfortably and keep my heart rate down. Technically math suggested I could run 11-minute miles, but I felt like running comfortable paces wasn't using too much more energy than otherwise. In other words, I got greedy.
Interestingly, there was a lady that also was charging forward at a similar pace to me. I was running between a 7:00-7:30 min/mile so I was surprised that a lady was charging forward like that. For miles 1-4, I ran pretty close to her and watched her crush it. Eventually, I finished the sprint lap in just short of 37 minutes, which was at least a couple minutes slower than the sprint winner. As I ran past the finish/start transition, I noticed the sprint lady coming out of the pit. I chose not to pause at all so that I could maximize how far I got without any obstacles. I continued the same pace for the rest of the lap and got past kiss of mud 2.0, which was a good 3 miles into the course. The first obstacle that I did was Turducken.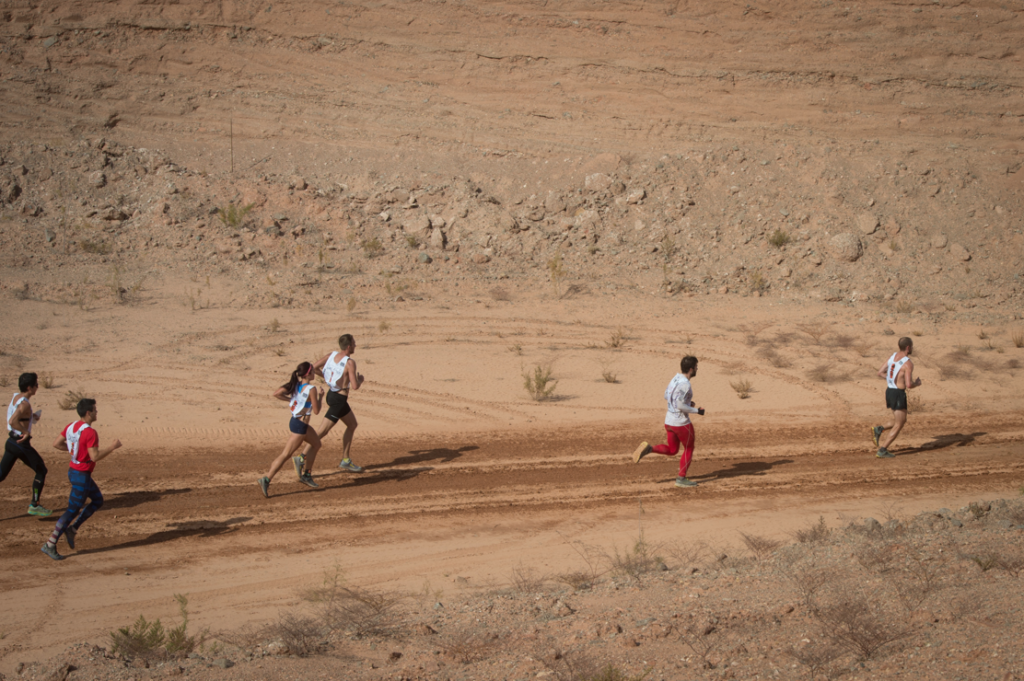 Three people in this picture had Green Bibs on later in the event. Photo cred: Brad Kerr
First Full Obstacle Lap: Lap 3, Miles 10-15
What I noticed from the sprint lap was that it was HOT. As the obstacles opened, I realized that the water wasn't that cold. As long as you didn't fail most of the obstacles, you didn't get wet often and, when you did, it didn't suck the life out of your soul like it did in previous years. Because of that, I decided to run in my standard gear until the end of my fourth lap, which ended around 4:20 pm. But before I go there, here's how the daytime went.
After coming in from my second lap around 1:20 pm, I knew that I needed to get my nutrition system down. At first, I went up to the rail where the pit was standing, but they said that it counted as being on the course so that I couldn't receive aid there. Instead, I ducked under a string barrier but didn't go into the pit-proper. I quickly chugged about 24 oz of water with two scoops of good old fashioned Mandarin Orange Tailwind. With that, I turned around and made progress on lap 3. One of my goals was to keep the slow burn of intensity going during the day when I didn't need a wetsuit so that I could maximize the benefit of daytime. My goal pace: 1:06 h:min per lap.
For this lap, I'll go through each obstacle in sequence so that you get an idea of what the lap was. For subsequent laps, I'll only cover the highlights.
The lap started with a mild uphill to the base of Giant Wedgie. After that, there was a mild crest of the hill and a mild rolling downhill that lead us towards the first daytime obstacle, Augustus Gloop.
Augustus Gloop was inspired by Charlie and the Chocolate Factory. You jump into a pit of water and then climb into an almost vertical tube. On the sides of the tube, there were wooden bars with holes cut out to make a ladder. The kicker was that on the top of the tube was a hose spraying water onto climbed. This water was mildly cold but wasn't too bad. In my reconnaissance, while filming with the local Fox affiliate, I noticed that the hose came from the right of the obstacle, so I hypothesized that the pressure was lower on the left side the obstacle. The course took a left turn after the obstacle, so I cut the corner and minimized water pressure by using the left tubes every time.
Very quickly after Gloop was Humpchuck. Humpchuck involved a very short swim and then a wall. The wall is set up so that it's barely out of the water and it's slanted away from you. In previous years, you had to jump to the top of the wall and pull yourself over. It was almost impossible for people under 6 foot to do that on their own, so it was one of the obstacles that I feared. However, this year they added a couple of wood planks near the top of the wall, so I could grab a wood plank without jumping at all. My technique was to reach up to the wood plank, then pull myself up to grab the top of the obstacle. I swung my left leg up to the top of the obstacle and got my heel over the ledge. I pulled my hamstring, causing my body to go almost upside-down, but also bringing me over the wall without much ado. Climbers will recognize this move as a "heel-hook." It's a good way to save the upper body and grip strength by using leg power to get yourself over walls. That changed this obstacle from one that I feared to a simple routine obstacle that didn't worry me at all.
After a scenic run around the edge of the lake, we came upon our first WTM-exclusive new obstacle: stage 5-clinger. Stage 5-clinger is a multi-stage climbing obstacle. You climb a ladder to a series of horizontal monkey bars. However, the monkey bars are coming back at you, so you should climb them backward. The key challenge of the obstacle comes at the end of these monkey bars when you need to somehow transition to get yourself on top of the bars to climb over. In the videos from Mud Run Guide, the intended technique for this obstacle included a muscle up. As a non-cross-fitter, I don't have muscle-ups. I have the upper body strength for them, but I haven't figured out the technique, so I wasn't sure I could even complete this obstacle at all. Having studied the video, I knew that there were supports next to the edge. As a pseudo-climber, my eye twinkles when I see supports. Here's why: after having climbed the monkey bars backward, my body was facing the wall. The supports included one upright bar and an A frame keeping the end of the monkey bars up. With the energy of a toe-to-bar, I both threw my legs around the A-frame supports like I was getting very intimate with the obstacle. (For non-cross-fitters, a toe-to-bar is when you hang from a bar, then swing your toes up to hit the bar.) Using the strength of my legs getting friendly with the hardwood, I got my hips and center of gravity at the level of the monkey bars, so all I needed to do was pull my chest up and over.
As I showed people this technique, their first reaction was shock and awe in the strange positions that I put my body into. However, as they did it for themselves, they realized that it didn't take much energy at all. As long as you could do a toe-to-bar, this obstacle was almost trivial. This changed a potentially devastating obstacle into a completely manageable task.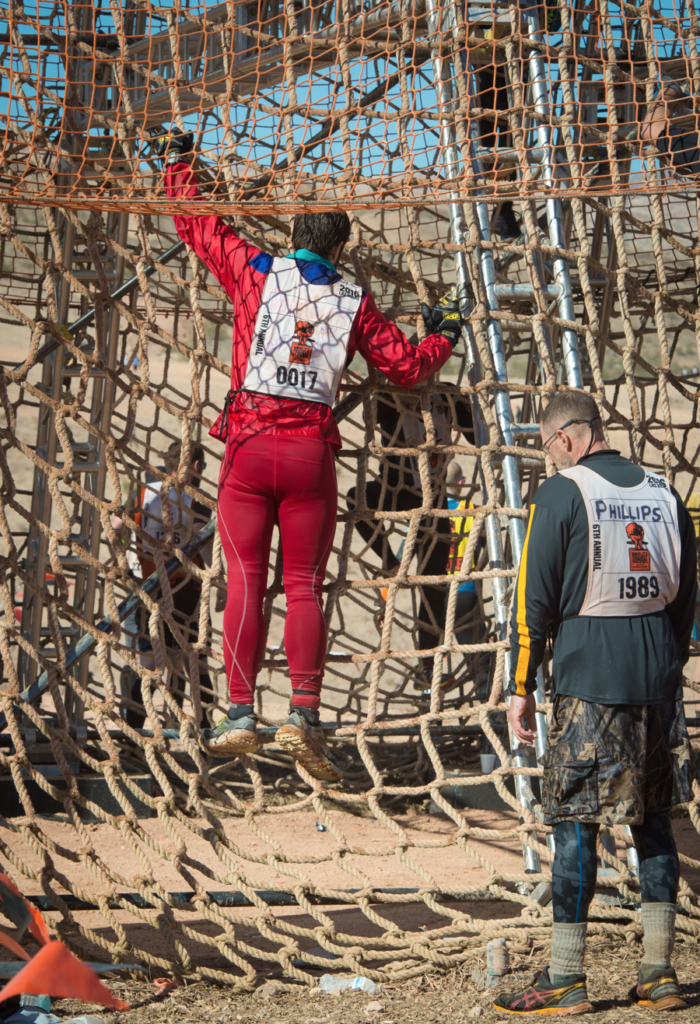 Starting Giant Wedgie. Photo cred: Brad Kerr
After a quick left turn to take us up a small rolling incline, we made our way back to Giant Wedgie. Giant Wedgie is like Devil's Beard on steroids, lots and lots of steroids. Comparing Giant Wedgie to Devil's Beard is like comparing Alfalfa from Little Rascals to Steve Austin from Broken Skull Ranch. It's a classic A-frame covered by cargo nets that you need to climb over, only this one is 35 feet high, and as you're climbing over, you've got another cargo net behind you to catch any hydration packs you have on.  The function of this cargo net is to make it hard to skip runs on the cargo net because you start getting caught. It also increased the safety of the obstacle because, if you lost your grip or even thought about falling, you got caught by the second cargo net. It also meant that on the back side, you couldn't do the classic forward roll over the net. Instead, the best way I figured out to tackle this one was to make lots and lots of small movements. I kept my feet at least one box apart and went up or down 1-2 boxes for each step. I just made a lot of quick, easy steps and thought of my martial arts days when I maximized foot speed. I also saved my grip strength by putting my wrists on the cargo nets instead of my hands. This allowed me to use my arms to get up but didn't tax the ever-critical grip. This ended up taking a good deal of time but wasn't overly challenging.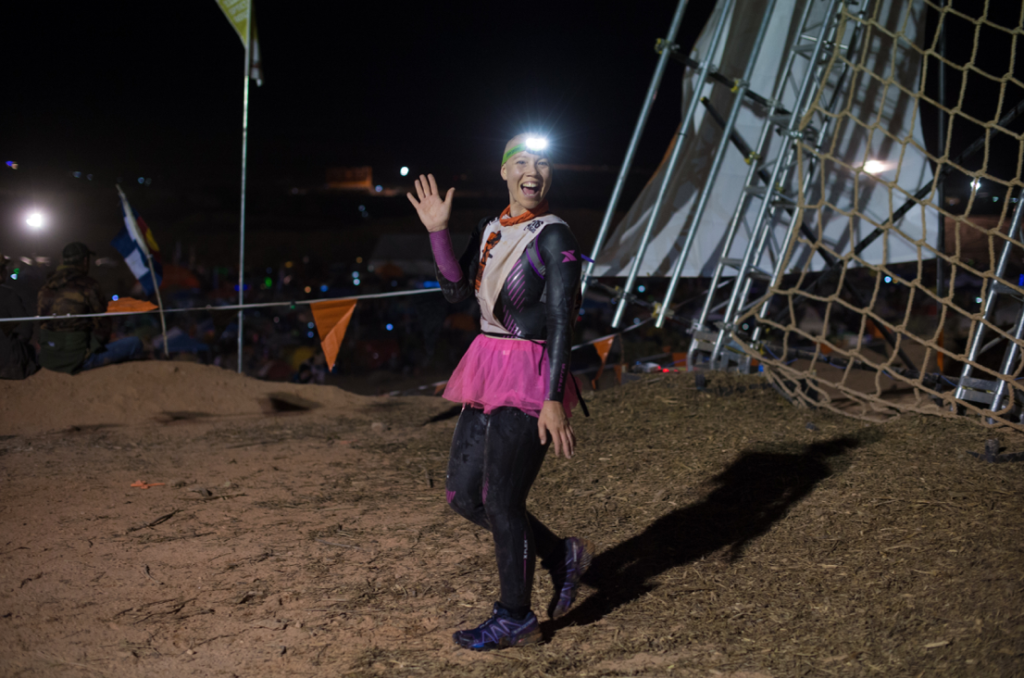 Brianne Kuchera is all smiles after Giant Wedgie. Photo cred: Brad Kerr
After Giant Wedgie, we took a quick left and ran by the load-in area until we reached the farthest peninsula where Everest was set up at Tough Mudder Vegas two weeks prior. In classic WTM form, the left side of Everest was Everest 1.0 (a 10ft quarter pipe) and the right side was Everest 2.0 (an 11ft quarter pipe, with a curved lip at the top). Since I had learned how to get up this by myself at Tough Mudder Vegas, I made short work of this obstacle but used a tad more energy than I would have liked. My technique for getting up Everest is to run decently fast and to make quick, powerful steps as I'm getting up the slope. It reminds me of my high jump days when the last three steps are strong and powerful, with the last step launching you over the edge. It requires a good deal of speed and power to get over, but I wanted to avoid the penalties, which were quite long and included either a long swim if you didn't get up either wall or a short swim if you just got up Everest 1.0.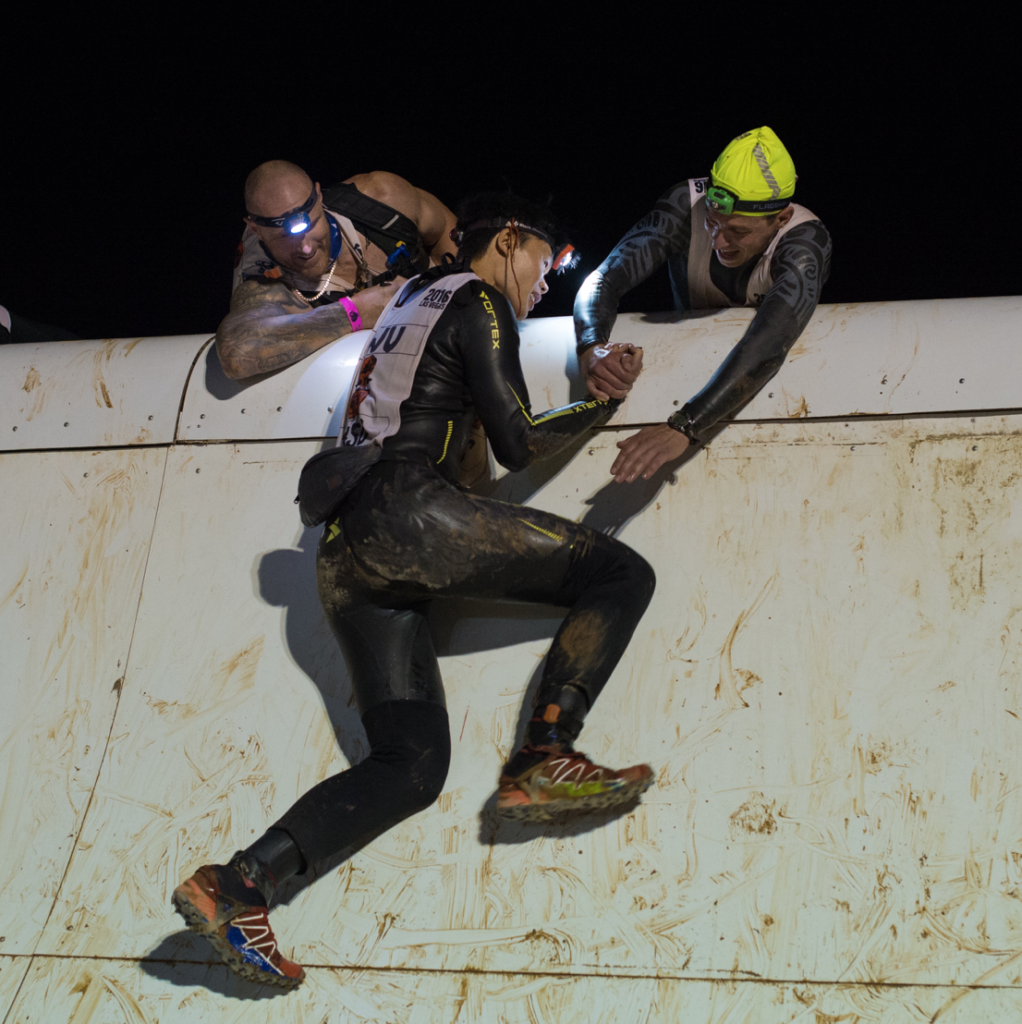 Wu is getting a leg up to swing over Everest 2.0. Helpful mudders! Photo cred: Brad Kerr
With a short run as an intermission, we made it around the corner to get to the only electric obstacle on the entire course: Operation. For this obstacle, you stand in water and thread a metal hook through a wall to get a ring on a far wall. The challenge is that everything was electrified. In a previous WTM, I realized that this obstacle takes a good deal of time and technique that I'd need to learn. I didn't have time for that, so I didn't even try. I picked up a remarkably light sandbag and jogged to a tube. I chucked the sandbag through the downhill tube and jumped through the tube. With the right touch and the right amount of wetness on my massive thighs, I could slide through the tube like it was a slip and slide. I jogged down the hill with the light sandbag, then walked up a small slope to return the sand bag to where I found it. My father timed this approach versus multiple people who had the technique down for operation. Time lost: 10 seconds. Shocks avoided: all of them!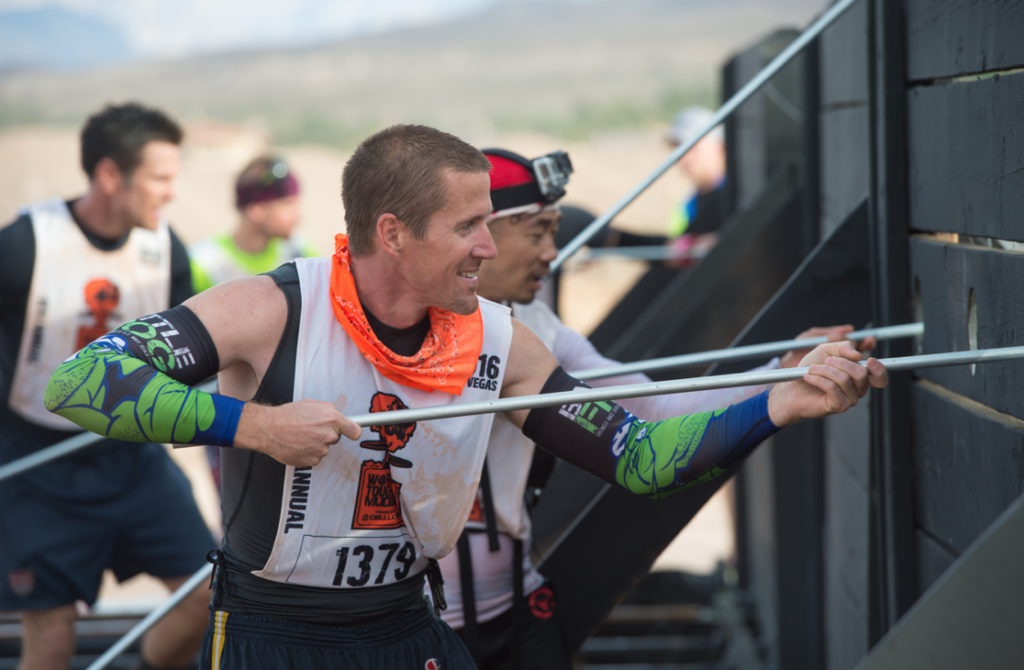 Operation: Those holes and poles are electric! Photo cred: Brad Kerr
After operation, we crossed the main road into the venue and went down into the valley next to the road. We came upon a familiar obstacle from a previous WTM: Grappler. The original formulation of this obstacle was to throw a rope with a weighted ball at the end up a slope to catch it on a wall at the top. Once it was caught, you could climb said rope. The change with this one was that Tough Mudder wanted to add a team aspect, so if there was a rope already caught, you could climb it. At this point, all the ropes started up, so this was a simple rope-assisted climb a wall. No problem at all. The rope wasn't even slick.
After a quick run, we did the reverse of Grappler: Abseil. These were ropes affixed at the top of a wall that you used to lower yourself down. The only hard part of this obstacle is to be careful as you step down and keep a good grip on the rope. The first few times you go through this obstacle, you should search for a rope and path that require minimal grip strength so that when things are wet and wacky, you can choose the easy path. For me, that was the third from the left rope. Even if someone were on that rope, I'd jump on it because I didn't interfere with them much.
Then we came upon another obstacle that had a lot of backlash when it was announced as part of WTM: Pyramid Scheme. On the original formulation of this obstacle, this is a slick slanted wall that you need to get up. While I've figured out how to get up this with two people by semi-breaking parts of the obstacle, the optimal technique for this one is to build a human pyramid including at least four people. With fewer people, this would be a bottleneck. Thankfully, Tough Mudder added a few ropes to the wall, so you could go from rope to rope to get up the whole wall without much ado. The key challenge to this obstacle is the same as the Spartan Slick Wall: you need to lean back and trust your grip on the rope. If you try to crawl up the wall barely using the rope, you'll just slide down and have trouble reaching the next rope. If you stand up, lean back on the rope, your feet will stick on the wall, and you'll easily reach the next rope. Another potentially devastating obstacle that was made relatively trivial.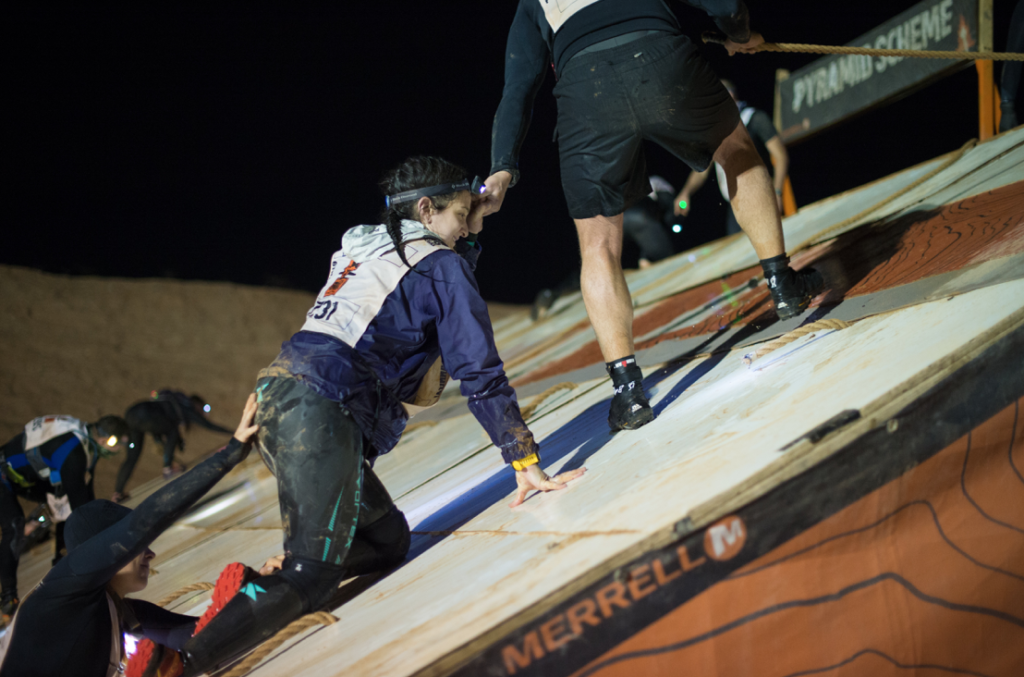 There's a small difference between a helpful hand and an inappropriate touch. Photo cred: Brad Kerr
At this point, I had been lulled into a sense of false security. All the obstacles that I was worried about had ended out being easy with the correct technique, with the exception of Everest 2.0. This was not true for Funky Monkey: The Revolution. This started as a normal Funky Monkey with monkey bars slanted up over water. At that point, you needed to transition to a horizontal wheel that rotated when you put your weight on it. You then needed to transition to a series of increasingly small vertical wheels while maintaining your momentum. The first time I attempted this, I was shocked how easy it was to grip the wheels. They had thick bars so you really could get your whole hand around them. They rotated at a reasonable speed, so you had some time to plan your next transition. The key was to trust your grip, use both hands on each wheel while you're swinging, and just go for it. I found that the third from the left lane was best because when I transitioned from the middle wheel to the second from the left lane, my body swing was aligned with the axis of vertical wheels. When I went through other lanes, I had some side to side swing that taxed my grip and didn't help me transition from wheel to wheel. Overall, I think this was much more rewarding and fun than the swing on Funky Monkey 2.0, and much easier, but maybe that's just because my grip strength is stronger now than when I failed Funky Monkey 2.0 every time in 2014 and had to take the penalty every time.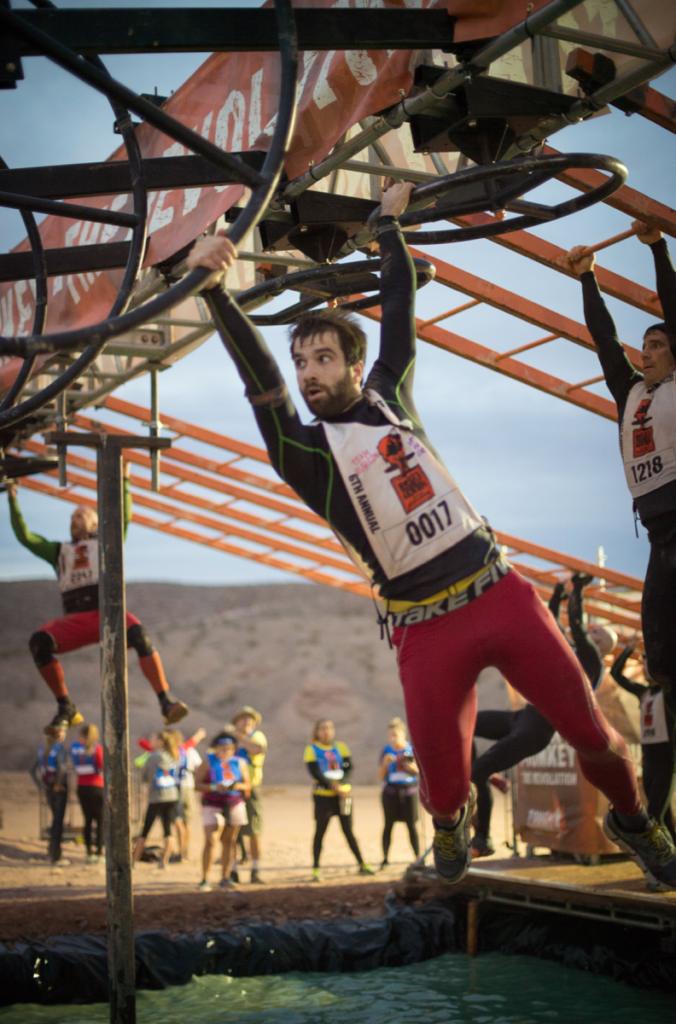 Funky Monkey: The Revolution transition. Photo cred: Brad Kerr
After a small run uphill then a flat section, we came upon Blockness Monster. This is one of my favorite Tough Mudder obstacles. This is a series of two rotating blocks in 5ft water that you need to get over. The blocks are big enough that it's quite challenging to reach the top, and when you grab on the top on your own, it starts rotating towards you, so you need to do a quick pull up before the block spits you back from whence you came. Luckily, my fellow Mudders were around me at this point, so we could use teamwork to get over. To start the process of this obstacle, someone needs to hold the block in place as one person jumps to the top edge and pulls up over. The person at the top then needs to TURN AROUND and use their weight to rotate the block forward as the lower person or people use the rotation to help them do their pull-up. As you reach the top, each person needs to TURN AROUND to keep the magic going. If you just slide down onto the other side and leave your fellow Mudder behind, you're a kill-joy. Don't be a kill-joy.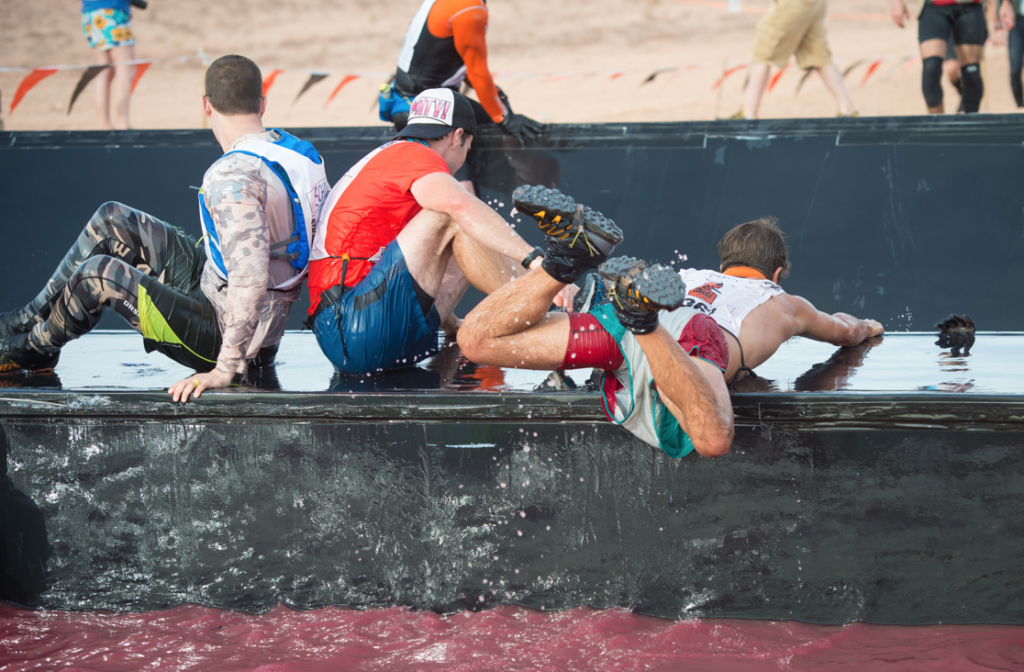 PJ Catalano doing it right and with style! Photo cred: Brad Kerr
A quick jaunt up the hill and we reached the mid-point water station that had both water and Cellucore Amino Acids. Every time I passed by this station (except on the sprint laps), I took in 2-3 cups of the Amino Acids to keep my calories and electrolytes in a good position. I sweat like I'm a traveling kiddy pool, so I almost never take in free water during ultramarathons, so I was ecstatic that Cellucore had provided Aminos at this spot. Thank you Cellucore!
After we had made our way up the rest of the hill, we came upon one of the biggest obstacles known to obstacle course racing: Double Rainbow. This is a modification of King of the Swingers that is present on normal Tough Mudder courses. This involves getting on a 12-foot platform over water and jumping out to catch a metal bar. You ride that bar like you are part of a pendulum. On King of the Swingers, your goal is to hit a bell at the far side then fall into the water. In Double Rainbow, there's another metal bar and pendulum at the end of the first for you to transition onto. If you successfully do that, you get to a big airbag and avoid getting wet and cold (yay!).
When filming for a local Fox affiliate, I got to try out this obstacle before the race. While Nolan Kombol advised me to transition between bars by reaching out for the second bar with one hand while I had a good hold of the first bar, I decided to be flashy on TV, so I attempted a lache. A lache is where you entirely release the first bar and fly through the air until you grab the second bar with both hands at once. I failed this in epic fashion on live TV, so I was anxious about repeatedly failing this one. I opted for the single-hand technique shown by the Mud Run Guide video earlier, and I made it through without much trouble at all. There was even grip tape on the bars to make the transitions easier. Another scary obstacle bites the dust.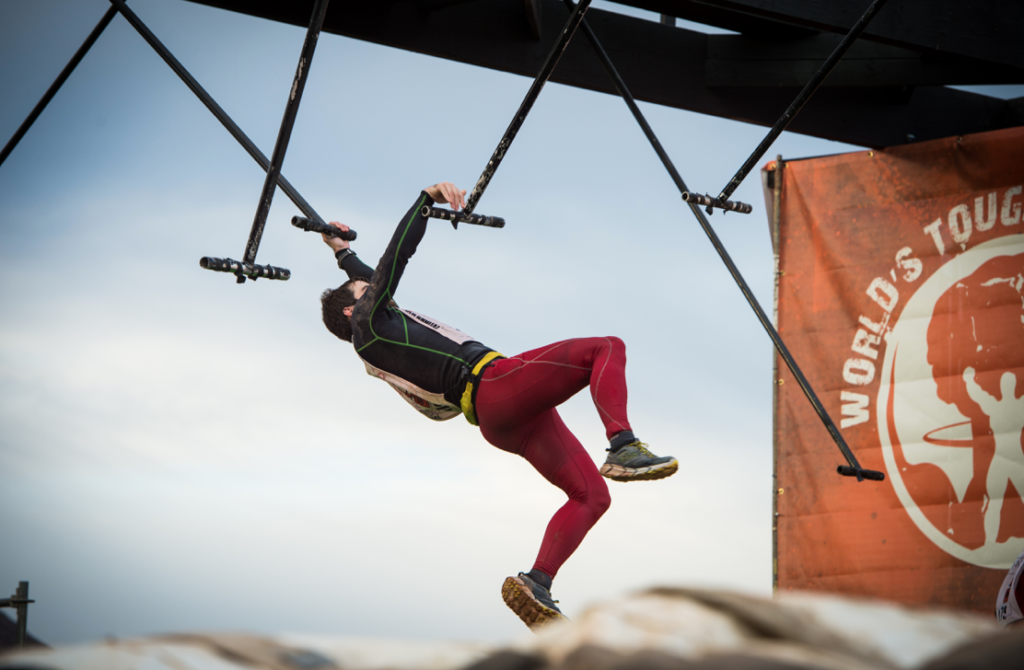 Double Rainbow single hand technique. Photo Cred: Brad Kerr
At this point, the obstacles started getting a little bit more spaced out. There was a jog down a hill, then up the hill on the other side. The run up the hill was interrupted by Backstabber. Backstabber is a familiar obstacle from usual Tough Mudders. For this obstacle, you've got a wooden peg to put into a series of holes in an A-frame. There are lanes in the A frame with little footholds available to help you get it up while you put your peg in the hole. My technique with this one is to put my peg in the highest hole, then lift myself up to get my foot onto a hold, then do an assisted muscle up on the peg. This gets me up so I can almost reach the top. I reach up with my bare hands and finger the holes to bring me just a little higher so I can reach the peak of the obstacle. This one takes more technique than strength.
After a little technical of a run down some slopes and into a valley, we reached a classic Tough Mudder obstacle: Kiss of Mud 2.0. This is a mud pit with barbed wire over you. The fastest way through this is to roll sideways with your arms above your head to make your shoulders skinny. For 2.0, Tough Mudder added a water pit and hay bale, but a good roll can make short work of those.
We then ran out of the valley and turned towards where Royal Flush was last year, which is another rocky valley. This was the biggest hill of the entire course. One of my hard and fast rules for ultramarathons is "walk the uphills, jog the downhills." While I went up this hill, one of my fellow Mudders reminded me of this by telling me that that was the best single piece of advice I've given him. For more about why this is, please refer to my previous article: Walking is Wonderful, not Wasteful.
At the top of the hill, we reached Ladder to Hell. This is a simple oversized ladder. The only challenge for this one is that it can get slick, so it's important to keep your feet under your center of gravity. If you do that, this is a quick and easy one.
Having reached the highest point on the course, we got to experience my strength: downhill running! The joy of downhill running is that with very little effort, you can go much faster. With a controlled fall, gravity is your friend! It's just a matter of making sure you don't break an ankle on the way down.
After about a half mile, we found ourselves at Twinkle Toes, which is a throw-back obstacle that was present at the New Jersey WTM's but has been absent for the past few years. For this obstacle, there's a wooden plank that's about as wide as your shoe. It's affixed to a platform on both ends and is over water. For an extra challenge, Tough Mudder has put a little pyramid in the middle that you need to get over as well. The key for this it to make quick and confident steps. If you go slow, the bar will shake more. Instead, be confident in your foot position. Once you're over the pyramid, you're getting closer to the other edge, so the bar shakes LESS. That means if you rush just a little, you'll get very stable very fast. The first time I did this one, I forgot about that last part, so I jumped to safety into the water. The penalty added about 300m of distance but otherwise wasn't too bad.
Twinkle Toe pyramid. Photo cred: Brad Kerr
Continuing running down the hill, we came upon Turducken, which is arguably my favorite Tough Mudder obstacle. This isn't hard at all. It's just fun. You climb a mud mount and slide into a tube slanted down. At the end of the tube, you can drop yourself into a pit of water. My technique is to grab the top of the tube, so my head doesn't get dunked. You then climb a cargo net over another mud hill, only to slide back down into another water pit. In this water pit, there's a log that you need to go under, which fully submerges your body. In other years, the water in this obstacle would get frigid, and this would be a horrible experience. Because of the temperate weather, this got you wet, but it didn't suck your soul, so more good news!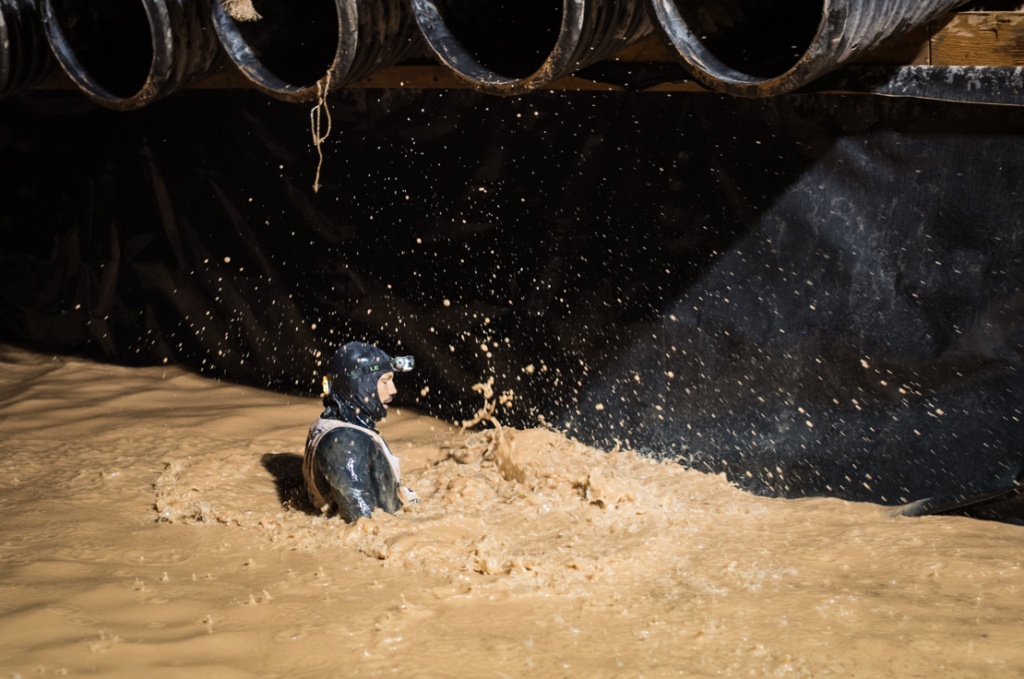 Outside the first Turducken hole. Photo cred: Brad Kerr
Running further down the hill (yes, this is a very long downhill), we made it to the Gambler. This is a make-your-own-adventure obstacle. You come up with a table and roll a six-sided dice. The dice decides which wall you need to get over. The walls were as follows: (1) Berlin Walls, (2) Berlin Walls with a helpful plank to help you get over, (3) Balls to the wall, (4) Balls to the wall in reverse (better hand holds), (5) Liberator, and (6) Liberator with helpful planks. Having done 55 laps of Tough Mudder in my past, getting over these walls is no big deal for me. There's a technique for each of them that makes them not overly difficult as long as you can do a single pull up.
After a short run up hill, we came up on the hardest obstacle of the weekend: Kong. For this one, you climbed up onto a 20ft tall platform. To get across the gap between the platforms, they had a single set of 5 or 6 rings that you needed to swing across. This required A LOT of grip strength because you were holding yourself by one hand. Luckily, this set up of rings is present at Santa Monica Beach, so I had a lot of practice on it. I made it through without much ado. The key is to keep a strong and consistent swing throughout. You need to pull yourself back and forth to keep your momentum going and, with a lot of grip strength, you'll make it through.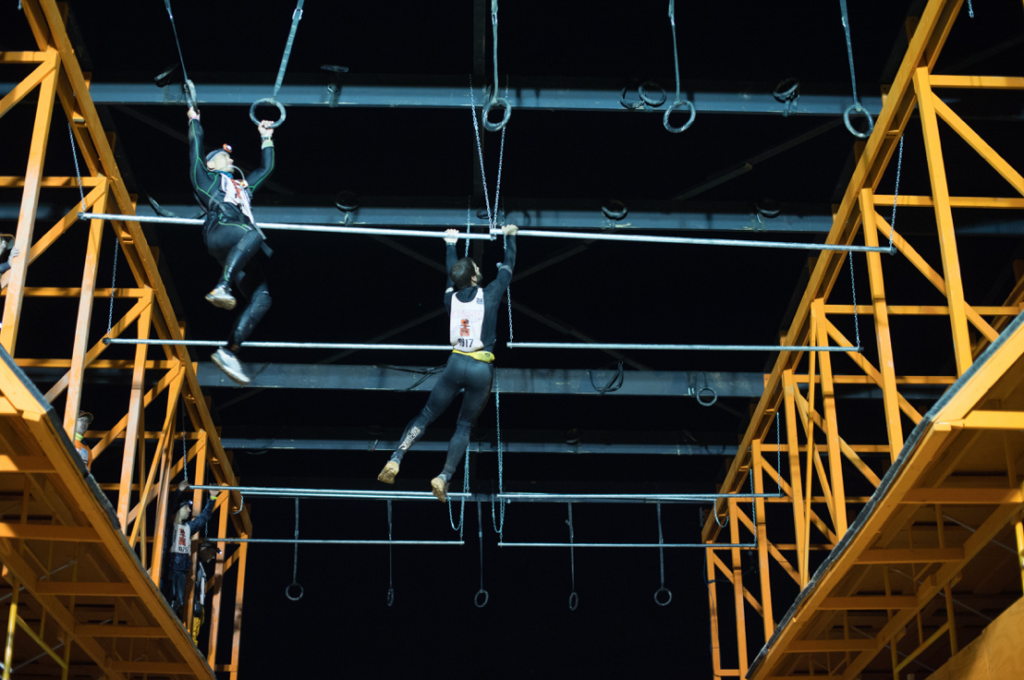 Kong. In the foreground was the original formulation, and in the background is how it changed after midnight. Photo cred: Brad Kerr.
After that, you climb down the platform and take about a one mile run past the Cliff (more on that later), and around the lake and into the finish. As the first obstacle-laden lap, I was eager to know how my low-but-consistent burn would translate into lap time. When I looked up at the lock, I saw 2:16. That lap was in 56 minutes, a good 10 minutes faster than my target time for 100 miles.
Daytime Laps: Laps 4-6, Miles 15-30
That made 100 miles over 24 hours seem quite possible, but I needed to maximize the benefit of daytime. I didn't want to run too fast, because if I did, then I wouldn't be able to keep up the pace throughout the night. My goal was 100 miles, not 105. Mentally, I took note of that pace and decided to slow my roll just a little to see if I could hit closer to my 1:06 target.
I also recognized that the water wasn't bad. I wasn't cold at all. That meant that I didn't need to put on any extra gear to maintain body temperature, and I could crush the daytime miles. I chugged my usual 24oz and two scoops of Tailwind, took an Endurolyte pill, and had a few bites of beef jerky, and was on my way. Total pit time less than 60 seconds.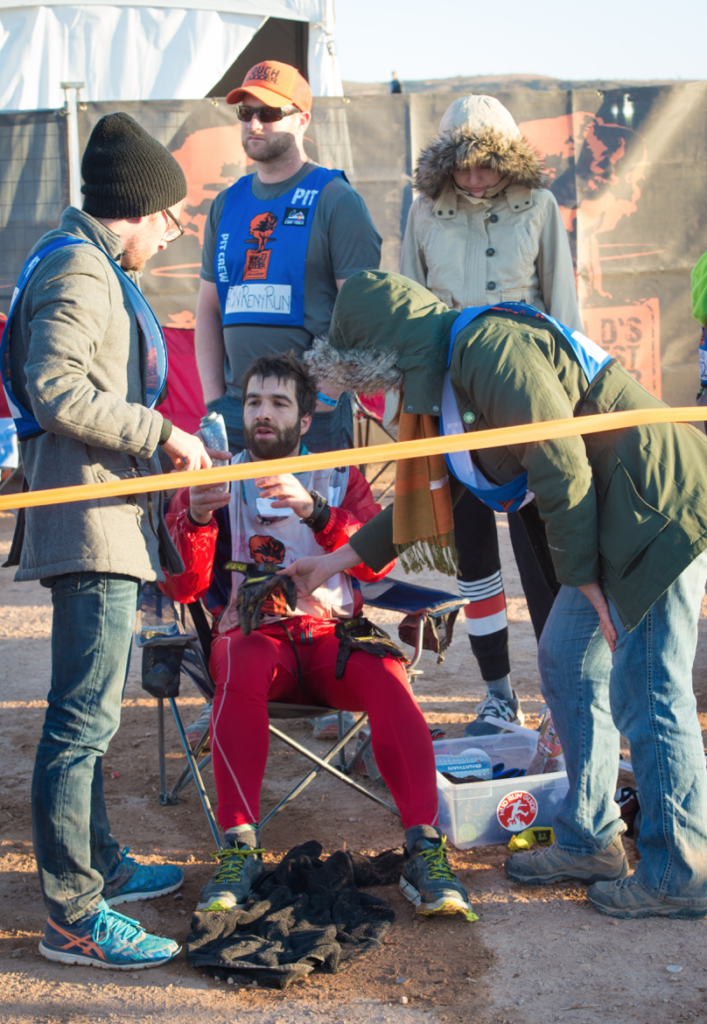 The well-oiled machine: Christopher Ohrt and Sharon Kerr (Jane Kim Kerr also was my Pit), with Tim Slaby and Kelly Druce in the background. Photo cred: Brad Kerr
The fourth lap wasn't overly eventful. I felt good and kept my usual technique throughout the obstacles. This wasn't about being flashy or fast. It was about relaxing and putting in the work. I succeeded on every obstacle I tried using the techniques described above and even got Twinkle Toes this time. Kong, however, was starting to get hard. It was a lot of grips. Lap time: 57 minutes at 3:14 pm, putting me further head of 100-mile pace. I also got told that I was in 6th place overall, surprising me. I knew I was killing the pace, but being so high in placing made me worry if I was going too fast. Usually, I catch people by keeping the same pace and allowing them to break themselves, but this time I might be the person getting caught.
I was noticing that the temperature was going down slightly, and I was wary of letting my body temperature go too low. Once your body gets cold, it's hard to warm it up, so I opted to add a Frogskin top. Frogskins have a fleece inner, 1mm of neoprene, then compression fabric on the outside, so they're a good middle-ground between normal gear and wetsuit.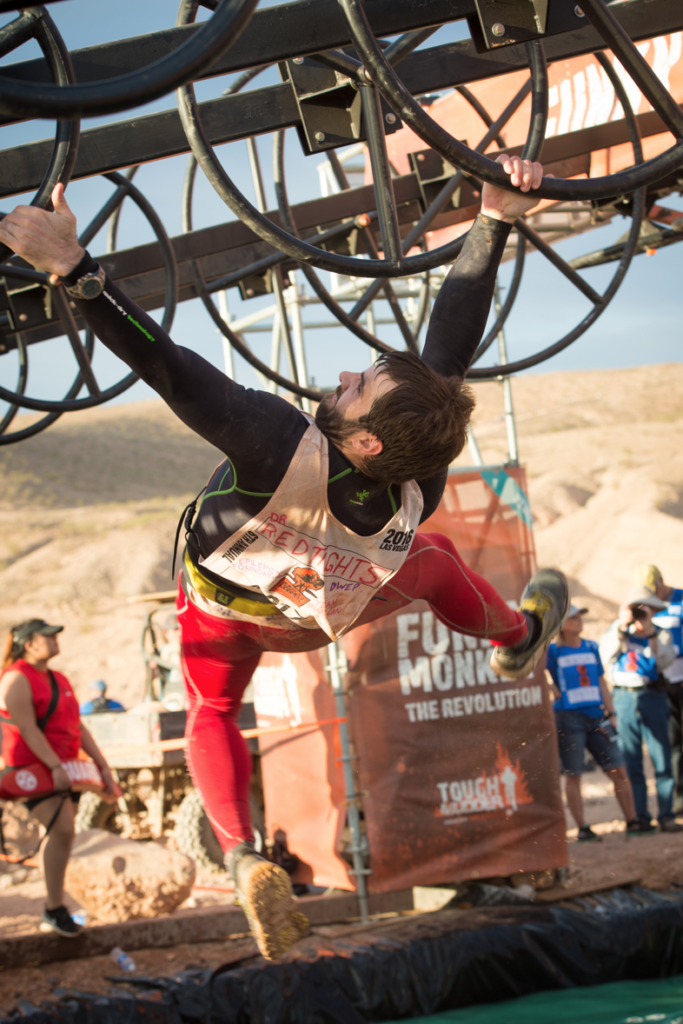 Eveningwear: Frogskin top, redtights, a little cargo belt, and a good attitude. Photo cred: Brad Kerr
For the fifth lap, I tried to keep the same consistent burn as the last lap, except I failed Double Rainbow and Kong. For Double Rainbow, the grip tape on the second pendulum was coming off, and the bars were getting more wet and slick, so I didn't get a good grip on the second bar. For Kong, the bars also were getting wet, so my hand kept slipping. People were doing the obstacle with gloves on, so they were spreading their moisture everywhere. I was wearing cloth gloves that I'd take off before the grip obstacles, and I'd wipe my hands off on the volunteer or in the dirt before I'd attempt the obstacle. This kept the obstacle dry and maximized my grip. However, when people go through with gloves, it makes it hard for everyone behind them. Luckily, my total lap time was still 1:06, just at 100-mile pace.
That made it 4:13 pm with sunset fast approaching. As a WTM veteran, I knew that temperatures drop fast in the desert. Amelia Boone, a three-time WTM female champion, specifically said the night before that wetsuits should go on at 4:30 pm because once you're cold, you can't go back. However, I chose to take a chance. The weather was so temperate, and I had a Frogskin on. I was going to be bold and delay the wetsuit change on lap. My logic was that I wanted to eek out one more daytime lap to give myself a better buffer on making 100 miles.
The only time I regretted that decision was when I jumped into the water at Humpchuck. That water was COLD, and I had very little cloth protecting my manly bits. After a quick swim and a nice jog (running makes you warmer), I wasn't cold or very wet anymore, so it wasn't a big deal. This time my grip held on Double Rainbow, and I figured out to use two hands on each ring for Kong so that the time spent hanging by one hand was minimized. As I reached Turducken, I was warm, but I knew that I was already running on borrowed time. I chose to change into my 3mm wetsuit. Lap time: 1:14. That was above daytime 100-mile pace, but at least 10 minutes below nighttime 100-mile pace, so I was happy.
Pre-Midnight: Laps 7-11, Miles 35-55
That wetsuit choice wasn't a horrible one, but it also wasn't the perfect one. I was neither hot or cold in the suit. However, I didn't need the suit. I failed Double Rainbow and Kong again on lap 7, both due to wetness on the obstacle. That put my lap time to 1:14, which was well below the 100-mile target time of 1:25. With the wetsuit, I couldn't get up Everest 2.0 myself, so unless there were strong people on top, I could only complete Everest 1.0. That longer penalty added time, precious time.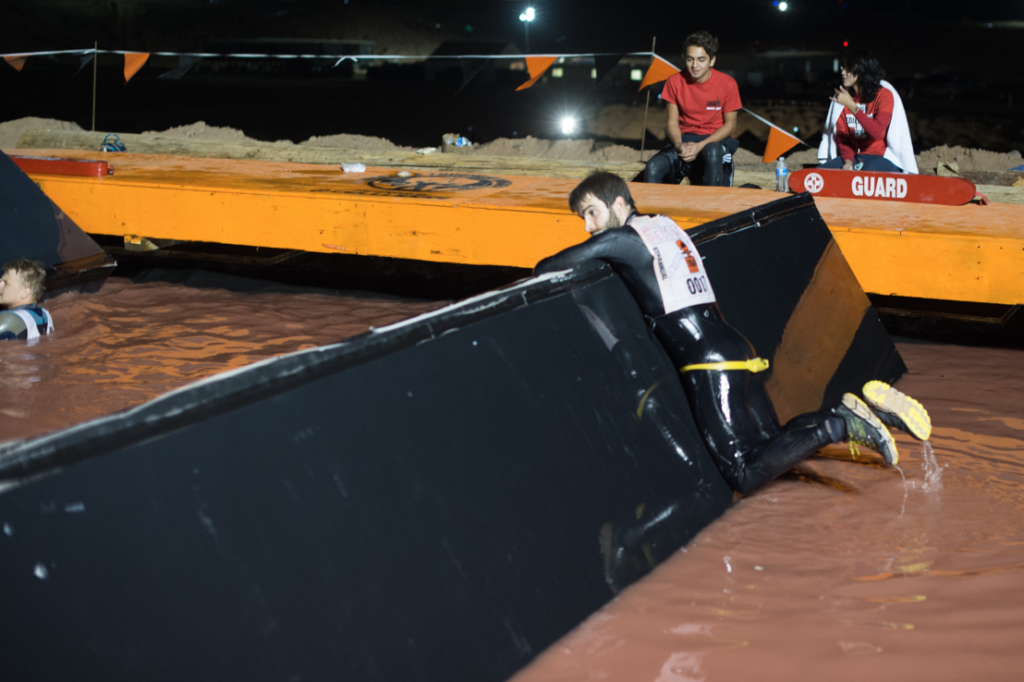 Nightgear: Good old fashioned 3mm full wetsuit, cargo belt, and fresh Injinji Socks to go with my Hoka Challengers. Photo cred: Brad Kerr
Ryan Atkins and Jon Albon lapped me on lap 8 when they were on lap 9. Ryan was wearing a wetsuit on the bottom, but he wasn't wearing the top portion because it was too temperate. They were enjoying the quite reasonable temperatures. When they lapped me, I told them that I hadn't noticed anyone else lapping me, and they were surprised that I hadn't seen Pak. I also was surprised, but I had a suspicion that Atkins/Albon was in front of him.
On lap 8, I troubleshoot Double Rainbow. I knew that the single hand technique wasn't going to work because the far bar was too slick. I needed a way to get both hands on the far bar at once. That left one solution: a lache. That was what I had failed so spectacularly on live TV. Why was I even contemplating that? I felt stuck, so I choose just to go for it. This time, when no one was watching, I NAILED IT! I let out a big scream of triumph and was reinvigorated. The benefit of succeeding on these obstacles was huge. Lap time: 1:19, still below target but slowing.
For lap 9, I joined up with my friend Mike Delanty as we approached Double Rainbow. He went first and showed me an alternate technique that didn't require a lache. He reached out and grabbed the bar with one hand, and before his momentum swings him back, he'd transition his second hand. That required less grip strength and got the job done. The first time I tried that, I felt my grip slipping as I swung, but I just barely made it onto the airbag. Another successful lap in 1:21.
For laps 10 and 11, I kept on doing what I was doing. I finished the 11th lap around 11 pm, which gave me adequate time to hit 100 miles, but my paces were slowing to around 1:25, so I wasn't eating into my time buffer, but I also wasn't ahead of the pace. That's exactly where I should be, but it made me worry how long I could keep the pace up.
Midnight to Sunrise: Laps 12-14, Miles 60-70
As we passed midnight, the temperature began to drop. I added a windbreaker and was relatively comfortable. The course started to get lonely as a lot of competitors' resolve got broken by the mild cold and the increasing toll of sleep deprivation. My method for maintaining sanity is to encourage everyone I pass on course. My perspective is that we're all out there together, no matter how far we're going. If I focus on saying something encouraging to each person I pass, then the time passes quickly. I also get encouraging words back, which help me keep up my slow roll towards success.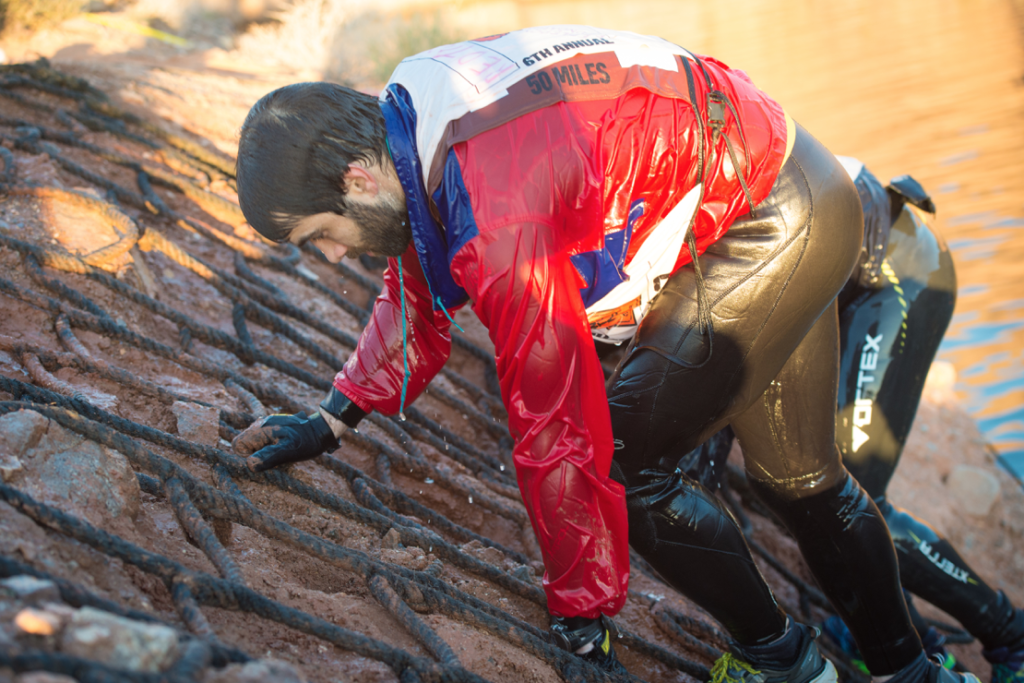 Stepping up a gear: Windbreaker addition. It's all about the wind protection! Photo cred: Brad Kerr
While the 37ft cliff isn't something that I enjoy, I tolerate it. I get the volunteers to count me down from 3, and I go off every time. For those of you that fear getting hurt from it, because people do (ask Amelia Boone and Frayah Bartuska what a broken tailbone feels like), the technique for this is simple. All you need to do is watch a few Youtube videos on how to and not to jump. You want to enter feet first with your toes pointed and your legs together. Your body should be straight from head to toe. Your arms can be in a lot of positions, but I prefer crossing them in front of me and holding onto my bib. You should look forward because any tilt downward or upward with your head will result in some fun whiplash. Once you hit the water, you can expand your body like you're a parachute, and then you won't go as deep under the water. After that, it's all about completing the swim and navigating the annoying cargo net that digs itself into the wall face.
The cliff. Notice the form and the grimace of "joy." Yes, let's call it joy. Photo cred: Brad Kerr.
The another new obstacle that changed at midnight was the replacement of Humpchuck with Statue of Liberty. This is a long swim where you keep a lighted torch above the water. I do this as a backstroke because the wetsuit helps buoyancy. However, the longer swim means more temperature was sucking from my body. This is where the wetsuit becomes helpful.
As the temperature dropped, so did my paces. My laps slowly became 1:32, 1:33, then 1:42. However, as I went out on lap 14, I was told that I still was in 6th place. I had maintained the steady pace throughout the night. Halfway through lap 14, I was told that 4th and 5th hadn't moved since I left the pit. That made me wonder what happened to them and gave me hope that I could catch up to them. I had already been lapped by Atkins, Albon, Trammell, Killian, Cichosz, Azar and Mendoza, who were the top 2 teams and the top 3 men. That meant that I wasn't going to catch them, but I had a shot at catching 4th and 5th, putting me in a money-earning position.
When I came into the pit at the end of lap 14, my pit told me that by going out on this lap, I had just passed Pak and Nickademus. Even though Pak had gone out strong, we all knew that his weakness is the cold. He's crashed hard the past three WTM after succumbing to the elements. In this temperate year, I was surprised that he gave in, but the cold had returned, and I supposed that it took a toll on Pak. Similarly, Nikademus is an ultramarathon runner and not an obstacle course racer, so the cold and upper body toll of the obstacles don't play to his strengths. I had high hopes for him and was shocked that he crashed. No matter what happened to them, I knew that the next lap included sunrise, so my spirits were high. I might earn some money too!
Sunrise to Finish: Laps 15-18, Miles 75-90
There are three sunrises in my life that have been better than any others. Each of them is the sunrise of WTM. In 2014, it symbolized the end of the epic haboob. In 2015, it gave me hope that the constant cold of the water was going to let up. In 2016, it told me that the temperature was coming back up, and I might be able to speed up again. I tried to maximize that positive energy and pushed my pace forward. At this point, the 100-mile point was getting farther and farther away, but it was still in sight. I was able to speed up to 1:33 and finished 75 miles at 6:47 am. That matched my previous personal best at WTM, and I still had 5-6.5 hours to go five laps. At the pace I was going, I'd need to go back to 1:15 laps to hit 100. I didn't think that was possible, but I was motivated by being in 4th. I rarely get strong motivation from competition, for a lot of reasons (here's why), but I was doing what I could.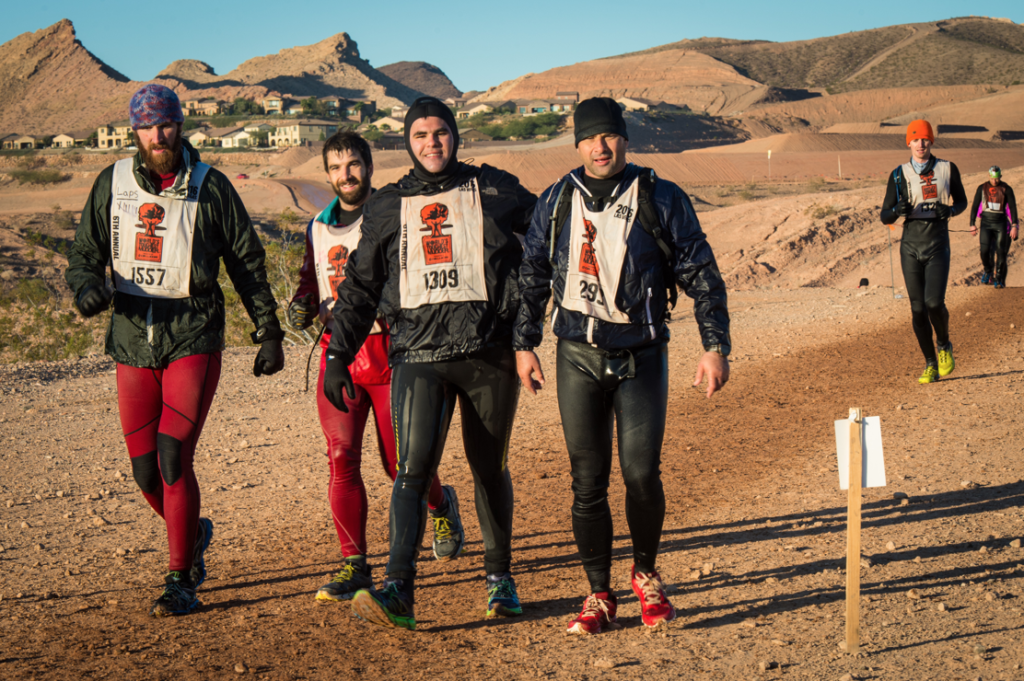 Sneaking by some famous Mudders: Domenick Deutsch and Matt B Davis. Photo cred: Brad Kerr
At that point, I made another bold decision: if I wanted to keep 4th, I needed to take the wetsuit off. I knew that 5th was close on my heels, but I knew that I could speed up with more flexibility. At least I could get up Everest 2.0 on my own. That wardrobe change took a few minutes, and I left the pit in 5th. I had ground to make up, so I went out hard. I made a conscious effort to push the pace and get back to how I felt before I put the wetsuit on. About half way through the lap, I learned that I was back in 4th, but I was also considering the miles and the effort wear my body down.
Strangely, around this time, the rules of the Grappler changed. To review, they had allowed you to use the rope of someone who had thrown the weight to the top. However, at this point, they said that everyone needed to throw their rope. If they couldn't, and I couldn't look at that point, we had to do Killa Gorilla, which is an up and down of a hill. It takes a good deal of time and sucks more effort. Not good for my ever diminishing energy.
As I finished my 80th mile, my lap split was 1:21 and I were in 4th. That took a lot of effort. I took stock of my body and knew that I couldn't maintain that. My knees were aching, and my heart was feeling exhausted. Even so, I tried to muster the strength to keep at least a decent pace up. However, between Stage 5 and Giant Wedgie, I saw a silver bib pass me going a decent clip. There was no way I could muster that pace. I was in 5th. As I climbed over Giant Wedgie, I saw another silver bib pass me. There went 5th. At this point, I was struggling to even jog the flats. I was in 6th, and the prize for 6th through 10th is the same: a season pass and WTM 2017 entry. I never cared much about placing, so I asked my pit to tell me what 10th was doing. What did I need to do to make sure I was at least 10th? Lap time 1:44, at 10:03am.
When I finished mile 85, my pit told me that if I finished mile 90, I would have at least 8th. There was no way that 9th could get 90, and I already knew that I couldn't keep up with 6th. If I wanted to, I could squeeze out 95 miles by finishing this lap sub 2 hours, and muster a 90-minute lap. That might have been doable, but I was dead. I was much more interested in having a lap of fun, so my goal was to cross the finish line of my 90th mile precisely after 12 pm. That meant that I would complete a finisher lap, and thereby be eligible for prizes, but I wouldn't have to run 95 miles.
On my last lap, I went slow. I did the obstacles for real, but I slowed down around friends. I cheered on people that were crushing it and were on pace to reach or surpass their goals. I helped more people up obstacles, even though people were telling me to go on because I was a contender. It was great to have a final lap where the pressure was low. As I came upon the cliff, I was right behind Atkins and Albon. I went off right after their final jump and followed them into the finish.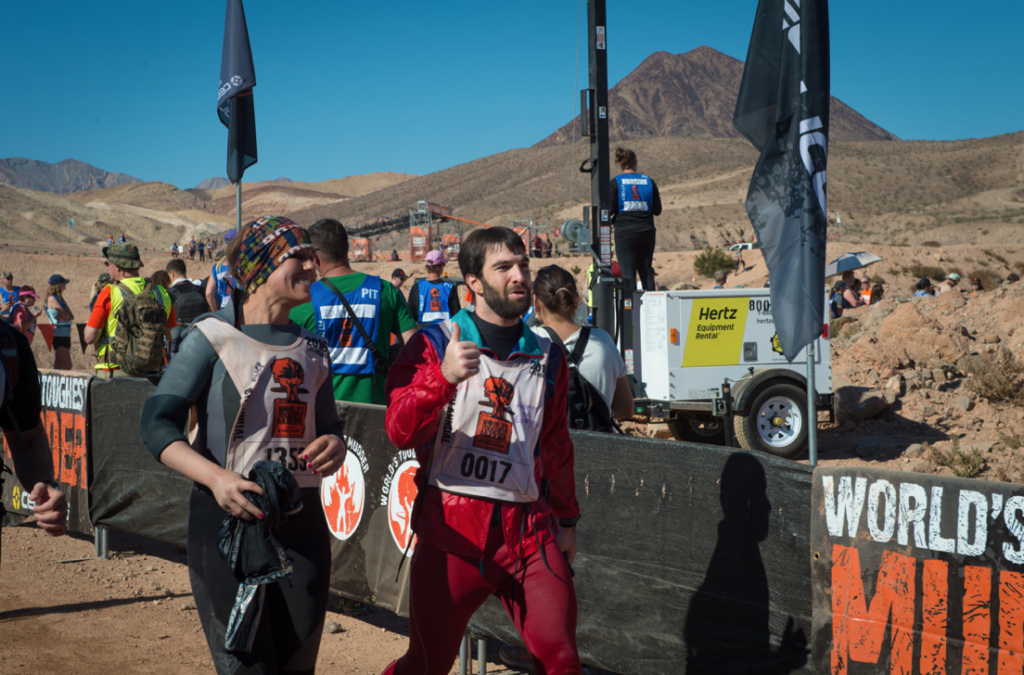 Finishing with fellow Dennis Welch Endurance Project (DWEP) athlete Gina Estrada. Photo cred: Brad Kerr
Finish time: 12:03pm.
Total distance: 90 miles plus penalties.
Final place: 7th.
Finish Line
After my finish, I turned around and cheered on others finishing. I gave out countless hugs and congratulated many people who reached their goal and more. As compared to previous years, where the top 15-18 men were the only people to achieve 75+ miles, this year the top 62 people overall got 75+! Similarly, instead of the top 20-25% getting 50+, this year 52% (634/1213) of the people that registered distance got 50+! That means that so more people went farther than almost ever before, so emotions were high and smiles where everywhere! All of the hard work people had put in over the past few months and years had paid off. Being in that atmosphere was so empowering and reminded me why I do these events, and why I love the culture of Tough Mudder to applaud every participant. Everyone did something awesome, and everyone's challenge is different, so I applaud every person that is out there.
Championship Brunch
 On Monday late morning after the race, Tough Mudder HQ puts on an awards ceremony to celebrate the accomplishments of everyone, especially the top finishers. Since I bought the WTM bundle package, I had a ticket to this. They hosted this in the Hilton to hold as many people as possible. They provided a buffet including simple eggs, bacon, and some potato-based breakfast dish. There were coffee and orange juice, but otherwise, the breakfast was quite simple. For how simple the breakfast was, the ceremony was large and exciting. TMHQ started by creating four new community awards for Fun, Personal Achievement, Mental Grit, and Teamwork. These were given to four individuals from the community that exemplified those key pillars of what TM's goals are.
The award for Fun went to Mathieu Lo for his love of Bacon. Personal Achievement went to Pak for the most lifetime WTM miles. Mental Grit was given to Tiffany Aab for being one-year cancer free and running WTM this year. Lastly, Teamwork went to Melissa "Sharkbait" Dugan, who clearly is a leader and organizer within the WTM community.
They also had a great highlight of Sean Corville, the motivation/mirror man. It was great for us to have the opportunity to say thank you for all that Sean does because he does a lot. In addition to sending people off for their Tough Mudder waves, he visits people in hospitals, at weddings, at funerals, and at their homes when they are in need. As TMHQ said, "Sean Corville does not exemplify Tough Mudder's values. Tough Mudder exemplifies Sean Corville's values."
Lastly, they presented the top 5 prizes and the six new 100-mile achievers. There was some acknowledgement of the 75+ mile finishers that earned season passes, but contrary to their pre-event announcement that you needed to be present to get those prizes, there was no checking of who was there and who wasn't. That means if you earned a season pass or a WTM 2017 pass (from being top 10), you should expect an email from TMHQ at some point in early 2017 with a code to get these prizes.
The Aftermath: Post-Race Recovery
Once you get home from a 24-hour event, your body and mind need a lot of rest and recovery. The key is to repeatedly alternate between eating and sleeping. My wife drove us back to the house by way of a friendly diner where I ate a meat omelet. (Participants should not drive after staying up for 24 hours. I did after 2014, and it wasn't pretty or safe.) After a quick shower, we slept for a few hours, then woke up for dinner with more meat and feel-good carbohydrates, only to go to sleep again for the night. Throughout the night, I was clearing my sinuses and coughing up phlegm. That's pretty routine after ultra-marathons, or even distance runs in the desert. I ended up wake up around 7 am, unable to sleep anymore. I used the opportunity to eat more (yogurt, more eggs, and milk) and pack the car for the drive back home. I also got an awesome massage by Amanda McCracken, the wife, and pit crew of another participant. All of that helps me be able to walk like a human quickly after the event.
In the remaining days after the event, my body bounced back quickly. After my first WTM in 2012, it took me a week to walk normally. This time, I was feeling okay after one good overnight sleep. For the rest of the week, the only thing nagging at me has been some tightness in my knees, so it's uncomfortable but not painful for me to stay in the same position for a longer period. It's a tad annoying to be fidgeting and readjusting during interviews and plane rides, but such is the life of an ultra-OCR competitor. I also have a lot of strange, itchy bumps all over my body that are concentrated over certain regions like my left knee, left lattisimus dorsi, and places on both of my arms. They're either bug bites, places with small traumatic events that are just swelling up now, or a strange response to the desert. They've happened every year that I've done WTM, including in New Jersey, and they go away after a week or two.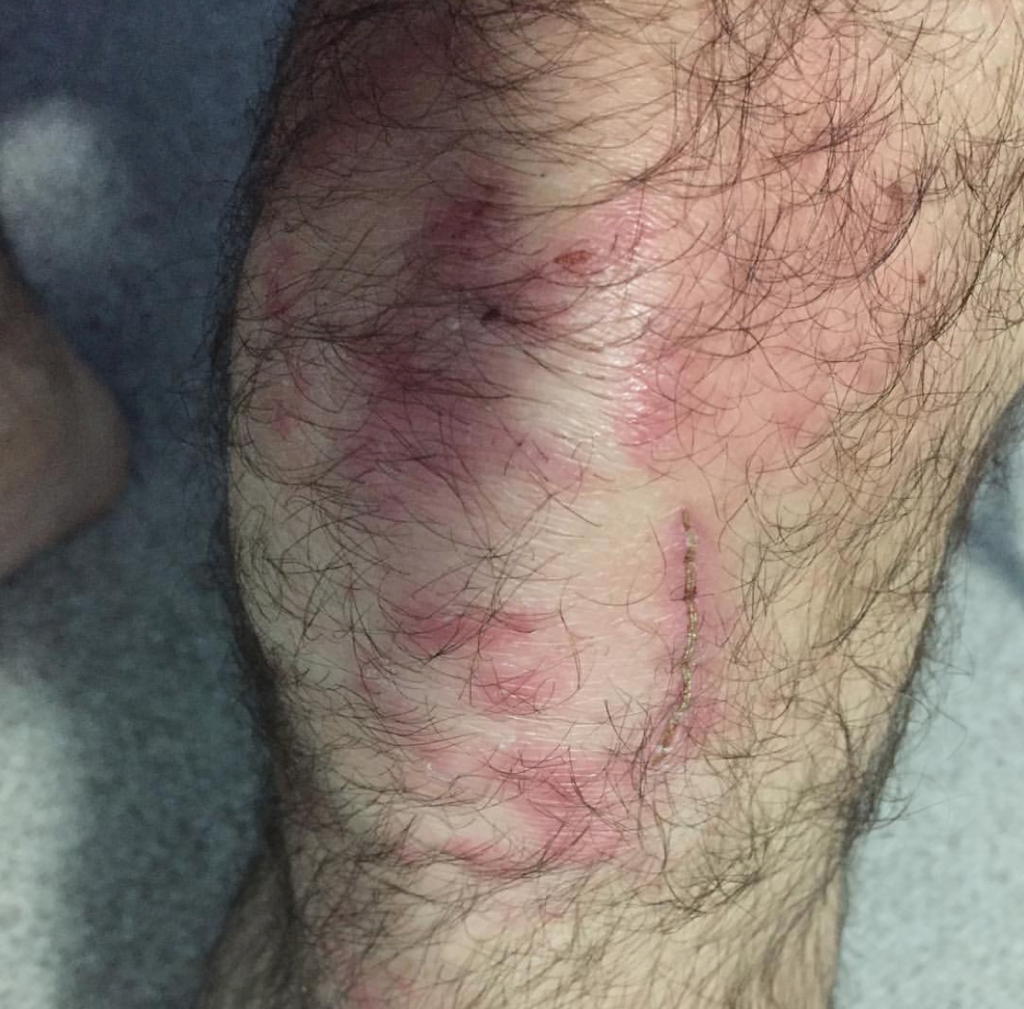 Mystery bumps and a nice healing cut. Photo cred: Wesley Kerr
Other than that, I'm looking forward to the holiday season and the off-season. My next major event is in March of next year, so I've got a lot of rest and recovery in my sights. As compared to last year, I don't have injuries that force an off-season, but I plan to take some time off running and get back to enjoying physical activity outside of relentless 200+ mile months. I've run 2,528 miles this year, so I think my joints and muscles want to enjoy some other types of activities. If you've got an injury, or even if you don't, please make sure to rest up and heal up so that you're back to 100% for 2017. Now isn't the time to push. Now is the time to relax and reflect on the good work you've done this year, and make plans for the great things you'll do next year. After all, if you buy early, it's cheaper. WTM tickets are already for sale even though we don't know where it'll be.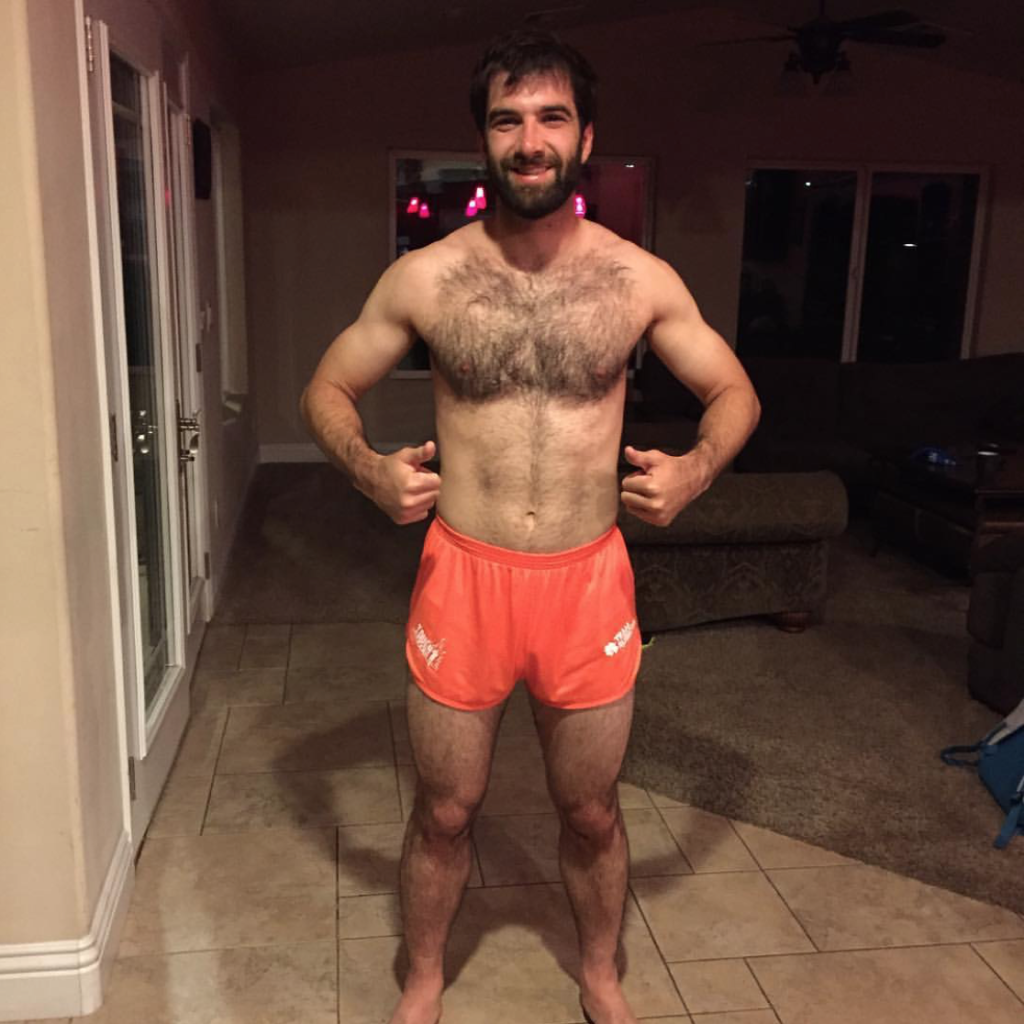 Recovery Gear: Team Rubicon/Tough Mudder silkies. Photo cred: Wesley Kerr.