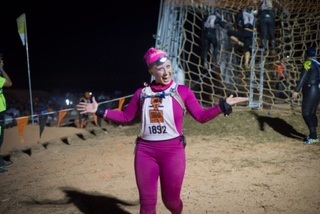 In the OCR world, there are some women that stand out more than just your usual face in the crowd. These women are known for their athletic skill, the "never give up attitude",  helping others, and just being an overall positive and gracious person.  Doing my research for my article series, I learned that Amanda "Pinky" Neil is not just your typical girl in pink, she is much more.  I was excited to learn a bit more about "Pinky" and her love for OCR.  This lady loves the OCR community and what it has done for her, and wants to continue to do things that set her soul on fire.
What was your first OCR race? 
My first OCR race was a Tough Mudder in Toronto about 4 years ago.  A year prior to doing my first race, good friends of my husband Scott and I had been talking about an event called Tough Mudder.  Our friends John Pfau and Marko Furlani were taking about this crazy mud race that we had never heard about that had electroshock, barbed wires and ice baths In it… for some reason the adventure and challenge intrigued us so much that We honestly couldn't wait to do it. We ended up having our baseball provincials that same weekend so we all decided we would wait until the following year and do It together. The Friday before Tough Mudder Toronto that same year our friend John died tragically in a motorcycle accident. Tough Mudder was something he was really looking forward to doing, so Since we planned on doing it together the three of us signed up and did Tough Mudder in his memory.
OCR has changed my life in a way that it has given me something to train for and something to work towards. I have made some of the best friends from around the world that live for the adventure and challenges like I do. It is something that I truly love doing.
In your racing career, what has been the hardest race you have done and why do you feel that way?
Worlds Toughest Mudder. It is a race that definitely shows you what you are made of. It's a race that you have to dig deep, deeper than you ever thought possible. A race that you have to tell that voice in your head that you have not had enough, that you will keep going and that you are good enough to do it. Your mind will always give up way before your body does. I believe you can do anything you train your body to do.
Is there any race / OCR that you won't do? why is that?
No there isn't any race I wouldn't do. I would love to do them all!  🙂  there just never seems to be enough weekends in the summer to fit them all in.
Whenever my kids see something crazy that someone is doing like jumping off a cliff, skydiving…they always ask me if I would do it. If I say no way.. they always say to me "if it was a Tough Mudder or OCR obstacle you would do it" and I laugh and say you are probably right. I love how obstacle racing has helped me overcome a lot of fears. One for example is jumping off the cliff (for the past 3 years) at wtm. Or Going through Electroshock at a tough mudder.. going into Arctic Enema and for people that know me…know I really hate cold water. But if it is at an event, you better believe I am doing it.
If you have to look back on your OCR career, what is one thing that has scared you?
Failing is always one thing that scares me. I give everything I have in every race I do, so when I struggle at doing something, I will do whatever it takes to overcome it. I have a no quit attitude and love all challenges. Something that is hard, that takes work.. makes you a better person. Failing definitely teaches you a lot.
Is there a specific goal race / or challenge you have in mind that you are training for now? If so what is it?
OCR World Championships and Worlds Toughest Mudder. I am also training for a 50 mile Ultra trail run this summer.
Is it hard to be in the "public eye"? What I mean by that, is to be known by so many people that may or may not approach you at races / social media / ect.
I hope that people aren't afraid to approach me. I am a super happy, outgoing person who loves to help and motivate others. I really enjoy meeting new people along with all the amazing experiences I have had.
I have met so many amazing people and now have friends from all over the world. I don't think anyone should have a hard time approaching me. I always encourage people to say hi and introduce themselves.
What's one random fact about you that you would like to share?
I grew up playing Fastball and Hockey and still play them to this day. We are A very athletic family. We all play hockey and baseball and love doing ocr races together. I am happily married to the love of my life Scott and have two wonderful sons Nathan 12 and Lucas 10.
Growing up I was never a runner. I never really enjoyed it, and I still have a hard time considering myself a runner although I run almost every day. So I know that sounds silly but It took me some time to learn to really enjoy it. I only started running long distances about 4 years ago. Doing OCR races makes you accept the fact that you need to be a runner and you really do learn to love it.
Who inspires you?
There are so many people that inspire me… but one that stands out In the OCR world…is Deanna Blegg. She is an incredible, inspirational, supportive friend that has overcome so many obstacles in her life and she continues to do so all while helping others.
What drives you to continue to race / OCR – is it a need to "feel the fear", a competitive streak within yourself or?
I am a super competitive and determined person. I have always been that way. I am always setting goals for myself that may seem out of reach or crazy to most people. I just love the challenges, the adventure and being able to face my fears.  My parents (Ernie and Vicky Schaump) always taught me that if you want something or anything bad enough in life, there is nothing you can't do if you put your mind to it; which is also what I tell my children. Also showing my kids that it is important to live a healthy and active lifestyle.
If someone wants to reach out to you on social media, how can they find you?
Amanda Pinky Neil
Facebook Amanda Pinky Neil
Twitter @amandaneiler
Instagram @amandapinkyneil
Snapchat @amandapinkyneil