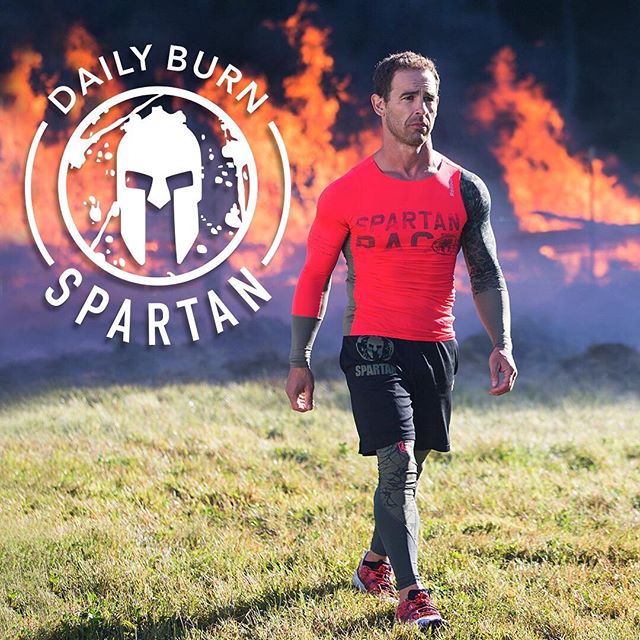 NBC's "Spartan: Ultimate Team Challenge" Captain Kevin Donoghue Leads Users on Six Week Training Regimen to increase strength, endurance, and athleticism
Daily Burn, the leading streaming fitness service offering more than 600 workouts, announces the launch of a first of its kind interactive partnership with Spartan Race. The partnership brings Spartan Race's official training philosophy, Spartan SGX, to the Daily Burn on demand library, which allows users to work out anytime, anywhere.
Created for users who want to compete in a Spartan Race, or just experience the Spartan lifestyle, this six-week Daily Burn Spartan program will prepare people of all skill levels with workouts that simulate obstacles and challenges a racer will face on a Spartan Race course. The Daily Burn Spartan regimen, the newest addition to Spartan Race's expansive training ecosystem, allows users to train like a Spartan at home, using minimal equipment that can be found in and around the house to increase strength, endurance, and athleticism. The workouts are led by Kevin Donoghue, Spartan Pro-Team member, experienced racer and a team captain on NBC's "Spartan: Ultimate Team Challenge," and completed more than 100 races, with ten top three podium finishes.
"Spartan is one of the most trusted voices in obstacle course racing and providing content from their best-in-class trainers on our platform will enhance the user experience" said Andy Smith, CEO and co-founder of Daily Burn. "This strategic partnership allows us to introduce our service to a new niche, and further differentiates us in the market."
Daily Burn offers an approachable and motivational environment with a focus on finding the perfect personalized workout. By adding specialized training programs like Spartan, the platform helps further deliver on that experience to allow members even more ways to reach their fitness goals. 
"Daily Burn is redefining fitness by making training accessible for everyone, which aligns perfectly with the Spartan Race mission," said Joe De Sena, CEO of Spartan Race. "This partnership takes the Spartan Race brand to a whole new level, allowing people to train like a Spartan anywhere and anytime and we are excited to continue expanding the brand's repertoire of lifestyle training products."