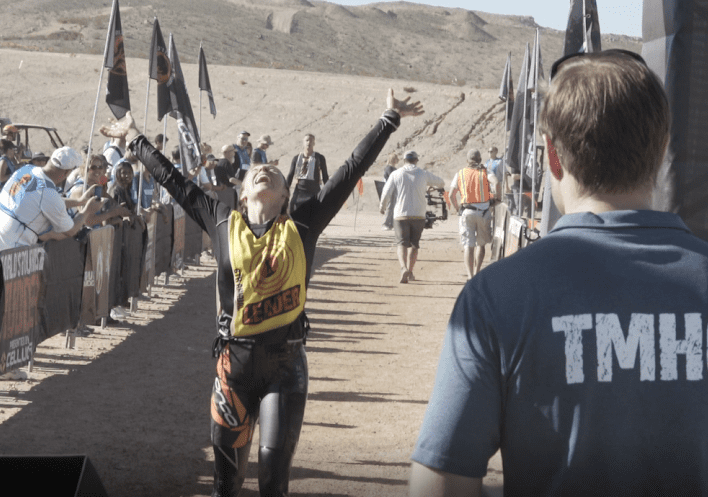 Stefanie Bishop is nothing but amazing.  It is not an easy task by any means to win the World's Toughest Mudder event, but this lady did it with grace, honesty and a fire in her belly.  I watched her race rather closely this year and saw nothing short of raw emotion when she got to take home the win. Through this interview, I learned more about Stefanie and her true spirit for OCR.
Having just come off your win at Worlds Toughest Mudder how are you feeling? Did you know you could win?
I feel great! I took a good month off from intense training to recover. I went on easy runs, causally rode my bike, lifted lightly and went hiking. I also ate a lot of ice cream, which is by far, my favorite food.
There are times I still don't believe I won, as it was something on my mind for years. I knew that I had the ability to win, but you never know what may happen on race day. I'm happy that it all came together and that I stuck with my plan and raced my own race.
How does it feel to be such an example of strength in OCR for the women?
It is an honor. We are lucky to have many wonderful women in OCR. I hope that people look at my journey and see that even between the bad days, injuries and other life events, that you can still achieve and surpass your goals. I'm looking forward to going to more events and meeting more people in the future!
Which race (OCR) will you never do and why?
I don't think there is a race that I would never do. Given my background in endurance races, I lean towards longer races (12+ hours, preferably 24+ hours), so you probably won't see me race a short course like the OCRWC Short Course. I like 15k courses, even if I'm not great at them; they are fun practice for the longer events! I'd be happy to try any event, as it is a good opportunity to expose weaknesses that I can work on.
What is the one song that you never tire of when working out?
Do I have to choose one?! I listen to a variety of music (indie, house/edm, rock, country, southern rap, classical, disco and so on…) and sometimes no music when I train. It depends on the workout, where I am, what mood I'm in, and even the weather! I once ran to First Aid Kit's "My Silver Lining" on repeat for 2 hours running through a forest in the pouring rain.
What scares you truly in the world of OCR?
I love and embrace the unknown, so I fair better when I don't know what's going to happen. There's a moment at the start line when I get nervous, but once I get into my rhythm, I'm good to go. Sometimes I get nervous that I'll fail an obstacle but there's no reason to dwell over it when I can put that energy into trying to complete it. I'm not afraid of heights – I BASE jumped over the summer – but I have almost psyched myself out from jumping from high places before. I didn't want to risk it at WTM – I asked if it was clear to jump 10 feet out from the drop and walked the plank. It worked every time!
I love OCR because it gives people the opportunity to face their fears in a friendly and encouraging environment, between the water and height obstacles, and even the fear of not completing an obstacle. People are always there to lend you advice and give you a high five.
What has been the most memorable race moment you have experienced and why?
My most memorable race moment is the final part of my final lap at World's Toughest Mudder. I found out halfway through that I locked in the win and slowed to a walk so I could enjoy the final miles on the course. As I was walking up to The Cliff, I met Blind Pete and Joey for the first time and was beyond inspired by their achievement. It was special to have a moment with my Pit Crew as I came out of the water before I met the sea of people waiting for me at the finish line. I think I said to my Pit Crew that I just wanted to walk and take it in, because I didn't want it to end! It was like the calm before the storm. That finish line was something I have never experienced in my life!
What is one completely random fact about you that you are willing to share?
I studied classical flute for about 8 years when I was a child and I toured Europe with a concert band before I went off to college.
Any cute nicknames we can include on here?
Besides any variations of my name – Stef, Steffy, Bishop – one of my friends calls me Thumper because I eat copious amounts of veggies. Another friend/member of my pit crew bedazzled my NYC Marathon top years ago with "SKBeast" (SKB are my initials).
What moment or obstacle at the Worlds Toughest Mudder scared you?
During the sprint lap I was nervous about Double Rainbow. I was about 300m away from it with a minute left on the sprint lap clock and I didn't want to be the first person to try it. I ran my heart out and the horn went off right after I passed out. Once I tried it, it wasn't nearly as bad as I expected… I loved it!
What single item you can't race without?
I'm going to list a few – gear and just fun.
Gear: I go through a lot of Aquaphor during long races. Blister and chaffing prevention is key! At my first adventure race I ended up with chaffing along my ribs and shoulders after paddling 40 miles all night through torrential rain. I still had about 60 hours left in the race.
I love a good hat… I didn't wear my yellow hat at WTM, which I raced 3 Death Races in, because I was nervous to lose it.
Non-gear: I travel with a small unicorn that I got when I was on the show, "The Runner" this summer. It's a great reminder to embrace the magical unknown adventure that's to come.
If you could look back at your younger self when you first started to compete what advice would you have?
That's a difficult question. I think I would have told myself to embrace my passion for adventure and racing more and not worry about "skipping out" on things. I set it aside for a few years to enjoy NYC, which I don't regret – I am 100% certain this is the lifestyle I want to lead – but I know I always had that fire burning within me.
If you were an animal, what type of animal would you be?
A lion. Before I figured out a way to tame my mane, my hair would resemble a serious lion's mane by the end of an event.
Any plans on becoming a coach or training others?
I was coaching some people last year and then phased out as I was busy between traveling and my other job, but I'd love to coach some people again in the future. I love the opportunity to be part of somebody's journey
If someone wants to reach out to you on social media to say hi where can they find you?
Instagram: @stefadventures
Snapchat: @stefadventures
Twitter: @stefbishop
Website: stefaniebishop.com
https://www.youtube.com/channel/UC6jwZzNX5lT3pzngr9P5nxw