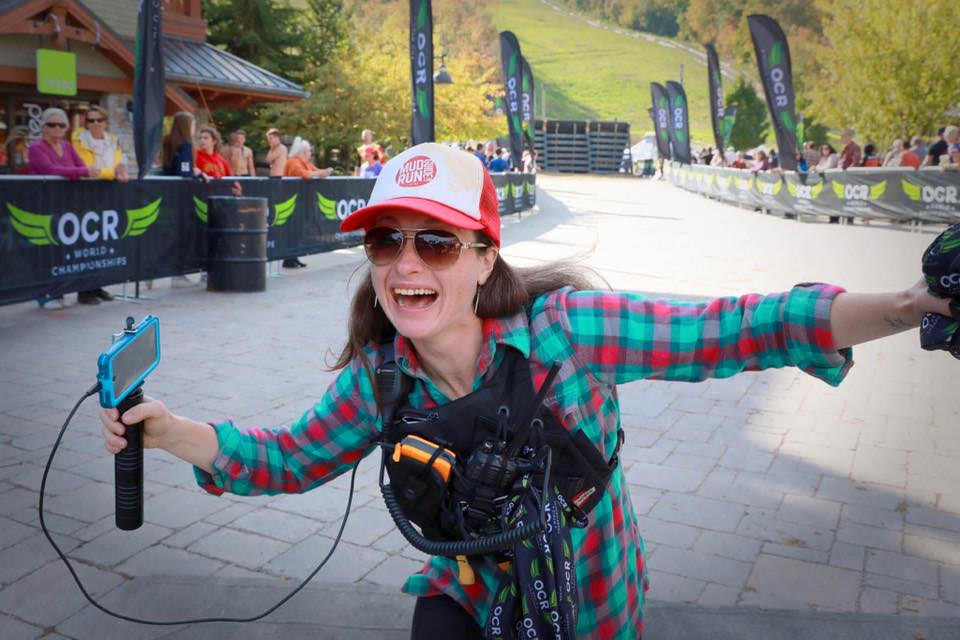 I can't say enough good things about this truly amazing woman. From being one of the first women to conquer OCR, first professional female in the sport, and she has been the voice of strength for many of us looking to get into the sport. Often she has been referred to by Brett Stewart as "his little sister" when he speaks about her. I wanted you all to get a better sense of who Margaret is and how she continues to be a strong female voice in the OCR community.
What was the last OCR race that you race competitively? would you go back to racing now?
Honestly, I can't remember which was the last one I raced seriously. Transitioning out of racing competitively was a couple year process of adding in some fun runs (racing not for place or time) to mix up racing then more fun runs were creeping in and eventually I sort of took out the competitive heats. Even now if I got to a race I often opt for a heat in the middle of the day over the first heats, it gives me a better sense of who the bulk of the OCR community are in how they feel about a particular race.
I go where my heart wants me to go. Currently, that isn't competitive racing. Will I go back, I don't know. But whatever I do moving forward it will be because it brings me joy and happiness and if I never win or podium another obstacle race in my life I am content with that.
Which race (OCR) will you never do and why?
Never is a tough word, because I said in 2011 after the first World's Toughest Mudder I would never go back and have been there every year except 2012. Although this year I didn't end up getting to take a lap which was a bummer but covering the event took all my efforts. If this truly was the last Tough Guy in January 2017 that will end up being a race I never did.
Otherwise, hard to say never to a race. If the opportunity arises I am game to try out just about anything.
You are the face of Mud Run Guide do you find that it brings more attention to you personally than your website dirtinyourskirt.com?
Dirt in Your Skirt started it all for me. While I started obstacle racing in 2010, it was 2011 I started the blog which morphed into a full website. In 2011, I sat in a small room converted from an old 1960's hotel into a school and dormitory. I was the head of the dorm at the time and if you told me back then I would be working in the OCR industry I would have laughed. But here I am years later having worked for some incredible companies and written for some major magazines and more. Even though most of my focus these days is on Mud Run Guide at the end of the day it all comes back to Dirt in Your Skirt. Every opportunity I have had is based on the work that has gone into Dirt in Your Skirt. So however people consume the projects I work on I am happy, whether it's Mud Run Guide, Dirt in Your Skirt, About.com, Outside Magazine, FitnessRX for Women or one of the other media outlets my voice or expertise has been featured in.
What is the oddest thing that you do pre-race?
When I was racing competitively some of my best races happened after I had a coffee and donut for breakfast. Today, donuts don't really have a place in my nutrition world so that was sort of an odd thing I would do. Now if I am covering a race, normally out of the guise of anyone I take a few minutes to center myself, focus on my goal for the event, and then jump into work mode to execute a plan that honestly takes weeks put together. Actually, it is something I have done since I was a teenager before alpine ski races and lacrosse games.
What scares you truly in the world of OCR?
Sometimes, I wake up at night with nightmares that the industry has collapsed and thus my job has disappeared. That is the scariest thing about the industry. The whole industry has skyrocketed from nothing in 2009 at least in North America, to atmospheric heights these days. We all know what goes up will eventually come down. We are seeing this in North America at least where participation has flat lined and the industry is settling in. I hope moving forward the brands can start to work together more for the betterment of the whole industry. If they don't one day my nightmare might come true, which I really really hope it does not. But that is the thing that is scariest about work in this industry, that it would all disappear as quickly as it showed up.
If you could fly your friends out to do any OCR race in the world, which one would it be and why?
So many great choices. For me, and I am headed to "that race" in the spring, it would be Rat Race Dirty Weekend in the UK. Speaking with friends who attend it each year the race is considered by many to be the "Burning Man of OCR". They have a race, live music at night, people camp, and lots of socializing and partying. The social aspect is what got me into the sport, to begin with, and as I enter my 8th season it's what I crave most when at races is the fun outside of the course with good people.
What is one completely random fact about you that you are willing to share?
I am obsessed with food. I spend most of my free time researching the latest information on health and nutrition, read as many books as I can and listen to way too many podcasts on the topic. Ask me about how I eat at a race and I will talk your ear off for hours and send you home with a list of links, podcasts, and books to read. My senior thesis in high school was about the fast food industry, industrial food, and how to escape it.
You are the editor for Mud Run Guide, the owner of Dirt in Your Skirt, and now you are podcasting. What next?
My plate is pretty full right now. On Mud Run Guide I have two projects that are in the works, the first is OCR News Weekly which is unlike any of the current OCR podcasts in that I just report the news of the week and no other interviews. The second project is still under wraps and hopefully, in the next few months, we can roll that out. Otherwise, I continue to work on new stories for Mud Run Guide. Always working on Dirt in Your Skirt and looking forward to new guests on the podcast.
What is your go to post race ritual?
I like to go and get a good meal after a race. If I am at a race with friends, although I don't drink much these days a nice pint after a race in a pub is always fun. But otherwise, don't have a real ritual.
What is the strangest thing that you carry with you when traveling to races?
These days it's all my media equipment and chest pack to carry it all in. If anyone saw me at OCR World Championships or at World's Toughest Mudder they saw me wearing it. It's funny because when I ski coached I wore one every day so in a way I went back to my roots, only now the chest back is full of chargers, and recording equipment.
Is there a race you wish you could do but haven't been able to?
If it truly is the last Tough Guy in January that was a bummer to have missed, but otherwise I try not to dwell on the things I didn't get to do.
How does it make you feel when you are told you are a pioneer in the OCR world as one of the first competitive women?
It has really taken me a while to embrace that title. At one point I think I wanted the titles and such and went through a period of that, but honestly, I am just pushing forward every day. I constantly try new things and sometimes they work out. When I quit my job in 2012 to race full-time, it didn't seem like as bold a move as it is looking back. It seemed natural at the time. I think it was a podcast I was on shortly after quitting that the host said, "so this makes you the first professional female racer" to which I think I replied "I guess" which a chuckle.
As the years have gone by I am better at accepting the praise and try not to rest on them or take them too closely to heart as these titles and things that people give while awesome to be acknowledged aren't only who I am. I just continue to try to be myself and be honest with myself and have learned to say thank you for the praise with sincere gratitude and thankfulness then keep moving forward.
I am honored to have opened doors in the industry for other women it's fantastic and grateful.
Tell us a funny race story that you can share…
So many, but my favorite story at a race actually happened after a race. It was 2012 in Virginia at a Spartan Race and Disney was there to film a quick special or clip, I can't remember. At that time a group of about 20 of us really took racing seriously and were following around the Spartan circuit. We went out after the race to film some stuff with Disney and before we could go were all handed shirts to wear and told sports bras were not okay on Disney and men couldn't show nipples. Anyone at start line knows most competitive men don't wear shirts when racing. Filming the guys kept laughing about wearing shirts from then on joked about guys nipples and Disney.
Otherwise, most of the other funny stories come from long endurance racing and normally have something to do with crying or peeing or both.
If someone wants to reach out to you on social media, how can they find you?
Website: www.dirtinyourskirt.com
Facebook: www.facebook.com/dirtinyourskirt or www.facebook.com/margaretlschlachter
Twitter: www.twitter.com/dirtinyourskirt
Instagram: www.instagram.com/dirtinyourskirt