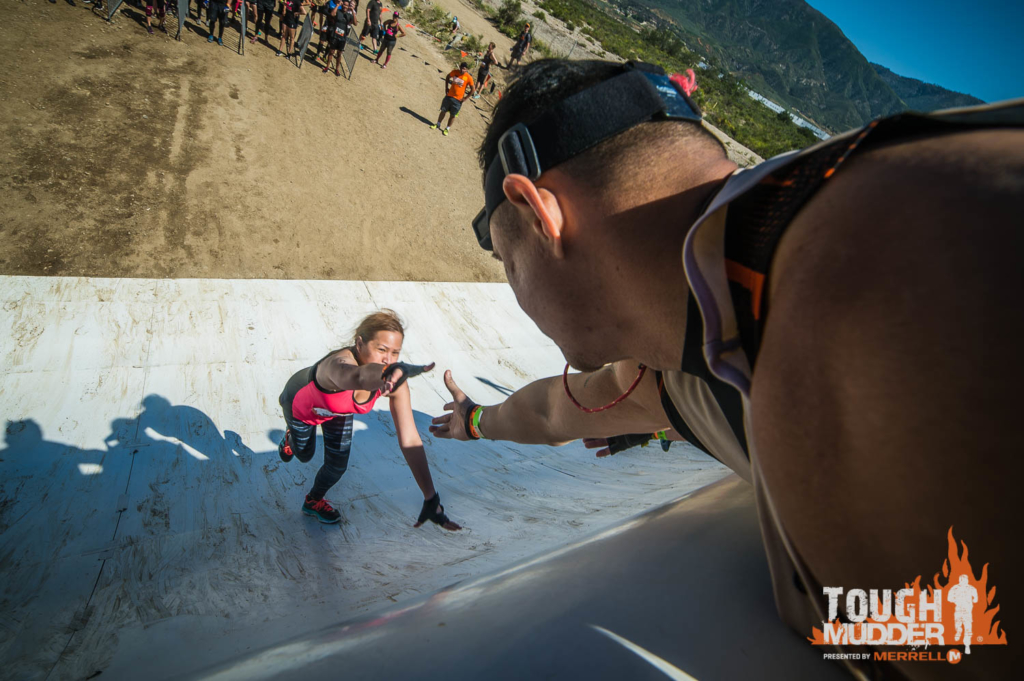 The Tough Mudder Head Quarters (TMHQ) has been very busy the past week or so talking about their new event series and many other updates to their season. Between the World's Toughest podcast, a Facebook live Q&A and a website update, there has been a lot of new content in a lot of different sources. Here I've compiled all of the new updates so that you don't need to watch and read everything. This is the ultimate tl;dr, tl;dl, and tl;dw. You're welcome.
This update includes information about The Holy Grail, Tougher Mudder, Toughest Mudder, World's Toughest Mudder (WTM), the Tough Mudder 5k, and other miscellaneous Tough Mudder information.
The Holy Grail
You earn this cool piece of swag by completing a Tougher Mudder, Toughest Mudder and World's Toughest Mudder. This will be a physical special cup that will be handed out after WTM. It's not a chalice because we don't want to offend French Canadians. This likely will not happen at the finish of the WTM because the finish line is crazy, but it may happen at the Monday awards brunch.
The origin of the name is from both Monty Python and Indiana Jones. They were looking for something "powerful that embodied the new formats," so all other options were sexual. According to Nolan, "The Holy Grail is a new icon. It's a new quest to find something greater than yourself."
So what new information do we know about these new race formats? I recently wrote up the first rules release about Tougher, so I won't be redundant with that. Here's the new information we learned.
Tougher Mudder
This is the new competitive first wave of almost every Saturday Tough Mudder in the US this year with cash prizes. These competitive waves also will be present in the UK and Germany, but probably not other international events. After this first wave, Tough Mudder will not be a race, but a challenge. In the first wave, it will be a race, but it's "not an excuse for you to be selfish jerk." The goal of this is to provide a new challenge for people that have done Tough Mudders before, and to attract new people that have a more competitive mindset that previously were confused about Tough Mudder.
This first wave will be an average sized start wave. To be eligible for cash prizes, you must achieve 100% obstacle completion, indicated by a rubber wristband. If you fail an obstacle, you can retry again. There will be modifications to obstacles to make them harder. Things like Pyramid Scheme will be modified so that you can complete it as an individual. If you achieve 100% obstacle completion, you'll get a unique headband and shirt. The t-shirt is "really cool" but it's not a pirate shirt. The headband might be mailed to you if you're doing one of the first few Tougher's.
If you finish a Tougher Mudder wave, with or without your wristband, you will be eligible for the Holy Grail.
Other miscellaneous information: Tougher does count towards Legionnaire status, but multilapping starting with a Tougher then running a Full does not count as two events: one Legionnaire-count per day only. Chris Maltbie will be in San Bernadino looking to crush the Tougher Mudder. There are no plans to televise Tougher Mudder.
Toughest Mudder
There were some but not very many new details that came out past what we already knew and I talked about before. This 8-hour format introduces people to the concept of ultramarathons and time-based events to help them build up to WTM.
Contenders at Toughest Mudder will have a "drop zone area" the size of "half of a long table" to store food, clothing and anything else they need. This also stated as 4 by 2 foot space. This space will be accessible to the contender and up to 2 support crew.
The first lap of a Toughest will operate like the first lap of WTM: not all obstacles will be open off the bat. There will be a "rolling" opening of obstacles so that all obstacles will open within the first hour (1am). All obstacles will not open at the same time. There will be a sprint lab bib that is given to the first male and female that finish.
King of the Swingers will be harder than double rainbow that appeared at WTM16. It will not be like the graphic given to use earlier where you jump out onto a cargo net. They called that too easy. Instead, Eli mimed jumping out onto a cargo net, then grabbing a single object with both hands that was in his center of vision. Their exact words were: "It'll be tougher and cooler than double rainbow. Imagine escaping a burning pirate ship." They later modified that to say, "There will be no actual fire. Actually, think of a pirate ship that's under attack by marauders." They called the obstacle a "hang time variation."
You will not need to be on course at 8am to be a finisher. There will be criterions but they haven't announced them yet.
Toughest and WTM count towards Legionnaire status. Tough Mudder Half and 5k do not. Toughest Mudder does have a maximum capacity that will be different at each site.
There will be a 1-2 hour gap between the end of Toughest Mudder and the start of Tough Mudder Sunday.
Concerns about parking will be addressed with the specific information packet given for each event.
World's Toughest Mudder (WTM)
In a couple of weeks there will be a blog post about WTM rule changes. The rule changes that we know about already have been summarized before.
The new information is that there will be a Team Relay Format. In this format, you need 4+ people on a team. At least half the team must be running on course at all times. There will be prize money. Here's the updated prize structure.
The will be a bonus prize for the winning female and male competitor at WTM if they qualified as an elite contender (Top 5 at a Toughest) and they cover 100 and 110 miles, respectively. These marks were set as stretches but are seen as achievable.
In regards to the elite contender category, Tough Mudder will be looking to learn more about those up to 30 people that qualify. They'll be looking to encourage them to compete at WTM. They want Ryan Atkins to be challenged.
Tough Mudder 5k
This year there will be a single Tough Mudder 5k in Nashville, Tennesee on August 12th, 2017. There will be a special headband and shirt that will include the color yellow. They're looking for a format that can be brought to Tough Mudder sites in new areas, including some that are urban and may or may not have mud. There will be fewer obstacles and certain signature obstacles like Blockness Monster will not be present. Tough Mudder 5k, Tough Mudder Half and Fruit Shoot Mini-Mudder do not count towards Legionnaire status. The minimum age is 14, but that may be revised down to 12. It is not competitive.
Miscellaneous Tough Mudder Trivia!
Tough Mudder will be enforcing start times this year.  The only exception to this is if you are looking to do multiple laps and need the time buffer, you can show up at 7am and ask to be put in an earlier wave. If there is space (first come, first serve), they will grant this request. When you start your subsequent laps, you must join a wave that is not at capacity. WTM bibs do not give you special status. If you'd like to run with the WTM people, at most/all events, there will be a WTM 2017 team that you can join on eventbrite.
There will be no storing of items outside bag check. This is a liability issue. If you need stuff between laps for multilapping, have a friend at Mudder Village or go through bag check.
Augustus Gloop will be at every Tough Mudder event this year.
Tough Mudder is working on their new joke content, including new course signs. Right now Chris Maltbie, Nolan and Eli are working on inappropriate jokes. They would appreciate input. Please do not send burning snail mail to TMHQ.
The first person that completes a Half, Full and Toughest in the same weekend will earn rights to provide name suggestions for what that feat should be called. They also will be called a masochist.
Eli is proud that he knows how to use a table. In real life, he is a secret pirate out of the New York Harbor that terrorizes New Jersey. He also is going snorkeling and/or scuba diving this weekend (March 11th and 12th, 2017).
According to the bodiless female voice of TMHQ, who has "all the power and all the harsh words," Nolan loves being on camera. (Sarcasm is real.)
There will be a Tough Mudder fashion show on Facebook Live in two weeks, which is right before the first Toughest Mudder.
Tough Mudder will place no requirements on what people can wear on the podium for their events. They are looking to embrace all of OCR. This is very different from the other race company that shall not be named (but was named in the Facebook live).
---
Find a Tough Mudder near you (and save)…
---
---
Disclaimer: The viewpoints expressed by the authors do not necessarily reflect the opinions, viewpoints and official policies of Mud Run Guide LLC, or their staff. The comments posted on this Website are solely the opinions of the posters.