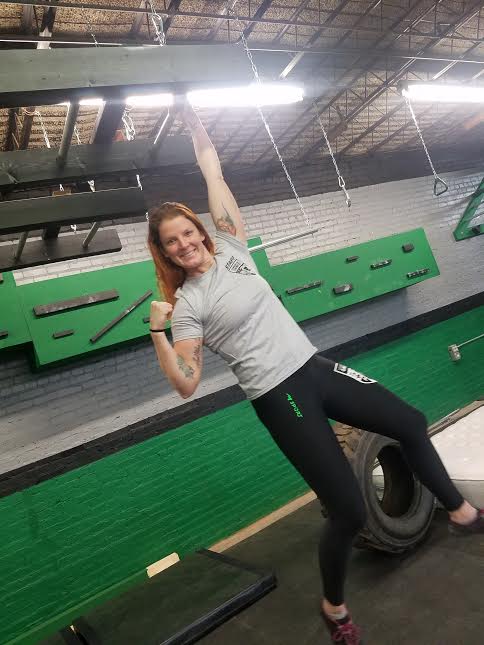 I was fortunate enough to have Brenna Calvert brought to my attention by one of her teammates, Evan.  I had fun learning a bit more about this Badass Woman in the OCR community. Not only has she taken on many exciting challenges, but she is a strong voice for OCR and love for our community. Her athletic accomplishments are impressive, but she is super down to earth and it was fun getting to know her a bit better.  Brenna has quite the story to tell – she's not just on the podium at races, but works behind the scenes to ensure everything runs smoothly and doesn't leave until it's all over.
Please tell us a bit about you

I am Brenna "Red Beast" Calvert, and I am a 29-year-old athlete, promoter, and builder for the sport of obstacle course racing (OCR). Here's me in a nutshell…redhead, Texan, daughter, sister, aunt. About 12 years ago in high school, I was a basketball and track athlete, nothing too special. I ran the 200m and400m, went to regionals for the 400. I wish I had known about OCR back then. Fast forward to three and a half years ago, I moved from VA to Atlanta and my brother immediately introduced me to my first Spartan race. I was hooked instantly. I ran a couple different series and immersed myself in the community. Thanks to one of my first OCR brothers, I quickly decided to go out and compete at the elite level. Winning my first elite race ignited a flame inside me, my life quickly changed. I went from a 13-year restaurant and bar industry career to full on OCR life. I currently have raced in over 50 OCR events spanning across 3 countries, 17 states and at least 15 different race series.
These include thirteen 1st place finishes and 20 top 10 finishes. In 2016 I was an athlete on CMT's Broken Skull Challenge and ESPN's Battlefrog League Championships. The 2016 season blessed me with the Conquer the Gauntlet pro team and by the end of the season I was honored with also joining the MIT Tough USA team, Strength; Speed team, and the Legendborne Ambassador team. Not only am I a dedicated athlete, I'm involved in the sport as much as I possibly can be. I have devoted all my time to help continue the growth of this sport. I am currently on the build crew and marketing/promotions team for Conquer the Gauntlet and studying with ISSA to get my master trainer certification. My face and personality are known around the community.  Race day I am there at the beginning working and making sure things are ready to rock, I compete, and it doesn't end there. I don't leave until it's all over, and this is the best part. Getting to be out there with everyone, cheering, laughing, and helping along the way is what it's all about. I am thrilled and eager to be experiencing all parts of OCR, I'm here to stay.
What is your proudest achievement to date in your sport?
I am lucky to say that in the few years I have been competing I have had many great moments to celebrate and be proud of. Every event, race, win, loss, DNF all mean something different and I take something away from each event. With that said, I would have to claim my experience on CMT Broken Skull Challenge as my proudest achievement. When I started competing in OCR I never dreamed of being on TV for it. I was asked to be a competitor on Broken Skull and I jumped at the opportunity. It was such a whirlwind. I was told I had been selected and was being flown out to California (summer 2015) in a few days.
I was actually racing the Ohio Savage race in June on Saturday and then flew out to LA the next day. Meeting Steve Austin was a childhood dream come true, to be honest. I grew up watching wrestling, so meeting him and showing my passion and skills as an athlete was a double win. I impressed myself and everyone and made it pretty far through the show. I wound up being in the last round and going up against a world class athlete that was just bigger and stronger than me in the end. This experience taught me so much and I walked away with way more than just being on a TV show.
I have read that you just earned 3rd place podium at the Green Beret Challenge – TX Operations Course. Tell us a bit about that.
Green Beret Challenge at Y.O. Ranch Headquarters in Texas was great as always. I love Mark Ballas (owner) and the series itself. I was planning and preparing for this race since it was announced, but when it came to race day I wasn't exactly feeling prepared or at my best. My first race of the season was last month in SoCal at the Spartan Super. It didn't go so well, wound up with a medical DNF. Anywho, I really didn't feel my running game was where it needed to be. So when you ask was I expecting to podium? I have to say honestly no.
I mean normally I go out with full intentions of giving it my all and hoping for the best, and ideally, I am shooting for that podium when I feel I can earn it. As soon as I took off from the start line I could tell my running was not going to win it for me, so I focused on having fun, completing ALL obstacles on the first attempt, and CRUSHING the 3 heavy carry endurance portions of the race. I love carries. This event had two elite waves, so when I crossed the finish line I really had no idea where I stood in the rankings, and at that moment I didn't think about it. I was just happy I was able to finish the race without injury and with a smile on my face. I went back out on course with a friend and his son, as we were finishing the lap I was informed that I had placed 3rd. So it was a very nice surprise and I was thrilled to hear that my plan of sucking it up and doing my best despite my poor running earned me a podium spot. It gets better too because I had the honor of sharing the podium with my teammate and close friend Christina HB Armstrong in 2nd and the "rookie" that is crushing the OCR scene, Lauren Woodcock taking 1st place.
I see you have also recently applied for the Spartan Team Championships show. What lead you to apply?
I am so excited about this! I am part of a very strong team. Evan Perperis, Randi Lackey, Cody Peyton, and I have formed a team. We all watched last season, and we all know the athletes from the Comeback Kids (last season's winning team). I can say I have been on TV for OCR and I want to do it again and hope to continue to inspire others to have big dreams.
What is the weirdest thing you have to bring with you on every course you do?
Hmmm…..I honestly can't think of something that is necessarily weird that I bring on the course all the time. Most OCR trips I travel to in my car. So I am able to bring all sorts of things. If I had to pick one thing, I don't think it's weird, but maybe that's the problem. I LOVE and swear by my DRYROBE. I take it to EVERY race even the ones that are 100 degrees in the middle of the summer. I guess here is the weird part…..I have been seen in said DryRobe outside of my car when it is 100 plus degrees, but it's my changing tent!
What is one scary goal that you have for your race season this year?
A scary goal, or more of a tough/big goal…..I am racing in my first WTM and I don't want to just complete it. I want to give it my all and go for a top spot. I know that's crazy since I am not a known endurance athlete. So to me, this is a scary goal because I don't know if it's attainable and that scares me.
What is one little-known fact about you?
This is always such a hard question for me. I am very outgoing and you can say LOUD, I am kind of an open book. So I feel most that know me or know me, know my facts. It's weird. I don't hide much or try and be someone I am not. I share my life and passion, some will say too much. I will agree to that sometimes. I am currently living the single life so all of my OCR friends and the community are my life and I share my life and adventures with anyone that wants to join. I feel like most know, but it seems when I mention it randomly it's a surprise. So for those that don't know I am divorced and have been for about 6 years or so. There ya have it.
Please name one guilty pleasure you have?
Oh man, just one guilty pleasure? I am addicted to Dr. Pepper, it's in my blood. I am a born and raised Texan, which means I've been drinking it since birth. And I have been without cable for about a year now, and it's killing me. I miss it! All the shows…..I want my DVR back. VERY SOON!!!
Is there anything else you would like to share with the OCR community about yourself
Oh man, I feel like I could go on forever about this sport and community. I don't like to talk about myself so much as the things I represent and love and am passionate about. So to wrap it all up, I just want people to get out there and fall in love with this sport and the people as much as I have. Try a new series this season. Try a new product. Step outside of your comfort zone.  It's all for you and the love of OCR! #ocrunited
If someone wants to reach out to you on social media, how do they find you?
Facebook:
www.facebook.com/brennacalvertathlete
Instagram: @brenna_redbeast_calvert
Twitter: @brenna_GINGER
Snapchat: hippiebc