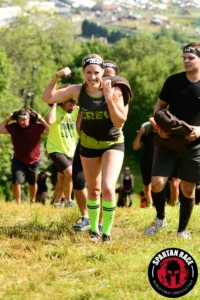 From time to time I put out an open call to ask those around me and in the OCR community if they can recommend someone who is Bad Ass, as there are many unknown amazing women that I am not aware about. Speaking of amazing, meet Faith, a former competitive cheerleader. After her first race in 2015, she knew at the finish line that OCR would fill the gap that cheerleading has left behind. Since then, she has been training hard, and learning all about the importance of training hard and resting harder. I wanted to feature her, to show women that Bad Ass Women that come into our sport can come from all different back grounds.
Tell us a bit about your athletic background.
I was a competitive cheerleader in high school but, after graduating, I stopped doing any significant form of fitness.   OCR helped fuel my passion for fitness again and fill the gap that cheerleading had left.
What was your first OCR?
My first official OCR was the ROC (Ridiculous Obstacle Course) Race at Citizens Bank Park in Philly in 2014 but there wasn't any mud at that one, so my first "mud run" would have been Mudderella in Coatesville a couple months later.  Those two races spurred me on to try a Spartan Race Sprint the following year (2015).
How did you know you were hooked?
As cliché as it sounds, I "knew at the finish line" of the 2015 Spartan Palmerton Sprint and, upon meeting The Crew (my OCR training team), I couldn't get enough of the races and all the fun time spent with Crew members.
What has been your proudest achievement on course so far?!
At Goliathon back in May, I was determined to get redemption on the G3* Circus Maximus rig obstacle that I had failed at the previous event.  The rig started out with ball and ring grips with a 90 degree right-turn halfway through.  Somehow I got stuck at that halfway point and couldn't get my momentum going in the right direction to continue.  It felt like I was up there dead hanging forever, but I remained calm until I was able to correct myself and keep moving towards the platform.  Hearing everyone cheer once I got moving again was pretty awesome, and completing that obstacle helped me take 3rd place female at my favorite event, making it that much more special.  *G3 obstacles at Goliathon are the hardest level obstacles on a 3-tier scale*
What is your one bucket list race?!
Conquer the Gauntlet!  I love to challenge myself and their "Stairway to Heaven" was the only obstacle to prevent me from keeping my band during the OCR World Championships 15k race last year (2016).  The Dead End Race series also looks like a lot of fun with their innovative ideas.  Both of those require a bit of travel though from Pennsylvania.
Is there a race you won't do?
I can't really think of any specific race that I wouldn't do, but I definitely tend to sway towards ones with grip-intensive obstacles.  I'd rather do technical obstacles over running or carrying heavy things any day.
As an athlete what challenges do you face on / off course and how do you overcome them?!
Finding a balance between training and rest.  I've always been an "all or nothing" kind of girl so I find it difficult to figure out that blend of training hard enough but still letting my body reap the benefits of recovery.  It's easy for me to either go go go (like, gym before work paired with rock climbing after work) or be super lazy (like, let's skip the gym the rest of the week because I missed one day), but as long as I know I'm improving and getting stronger and faster without injuries, I try not to beat myself up too much mentally if I don't always "get it right."
What's the weirdest thing you bring with you on each course?
I don't really bring anything weird on course.  I actually try to stay as minimal as possible, usually just some gels.  Occasionally when we go out for team races/laps, The Crew will take one of our flags which is always pretty cool.
Is there one weak point that you are constantly trying to overcome in your training?
My running speed and endurance could definitely be improved.  I used to be dreadfully terrible at hill climbs but those are slowly improving a bit thanks to a local mountain (Neversink) that I've fallen in love with.
What's one little known fact you'd like to share about yourself?
I've passed out 7 times in my life (never during a race and not since I started racing *knock on wood*) and most of the time due to dehydration, but it's one reason why I always make sure I'm thoroughly hydrated before each race!
Is there a piece of advice that you have learned on course that you can give that applies to day to day life?
You are able to accomplish so much more than you think you can, so just breathe, keep moving, and never, ever give up.  Oh, and don't forget to smile, because you never know who's watching (like a photographer, haha)
In the OCR community who inspires you and why?
Hands down, all the members of The Crew.  They motivate, encourage, and support me even when I don't believe in myself.  Seeing everything from their achievements in OCR to the obstacles they overcome in their personal lives makes me thrive to be the best version of myself possible.
Do you feel you have natural talent to do as well as you do in events or is it due to your dedication and training?
I definitely think my achievements are due to putting in the work, but there are often moments where I complete an obstacle and think to myself, "How did I just do that?"  I surprise myself a lot and don't give my training enough credit.
What's the scariest experience you've experienced on course?
King of Swingers at Toughest Mudder Philly.  I'm not at all a fan of heights combined with water so that wasn't a fun time for me.  I still cringe thinking about it.
If someone wants to reach out to you on social media how can they reach you?
On Instagram: @faithelliott721
On Facebook: Facebook
The Crew OCR (thecrewocr.com; FB/IG: thecrewocr)