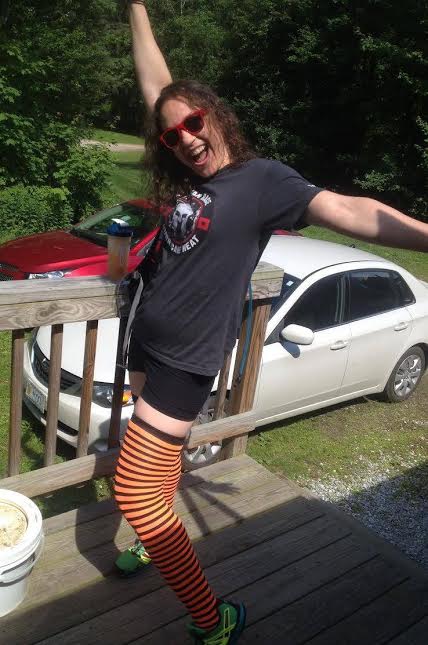 Ekaterina "SOLO" (as she is known in the OCR community) is truly an amazing person.  She is Canadian, and has accomplished so much within the worlds of OCR and extreme endurance events. I wanted to feature SOLO in my Badass Women of OCR series, as a lot of the little things she has done are inspiring. For example on her birthday in 2015, she held "Operation Free Hugs", giving out random hugs to total strangers.  She also isn't afraid to "give it to you straight" and uses her articles and blog entries as a way to communicate truths about many subjects. Ekaterina  is also of course an Obstacle racing bad ass,  and no matter what the challenge she faces on course, she does it with a smile and positive attitude.
You have had quite the extensive race calendar since 2012. It seems there is a good mix of OCR, and running on your past and current race schedules. If you had to look back and pick a favorite race that challenged you the most, what race was it and why?
The Great Canadian Death Race in Alberta was a fantastic race within the last couple of years. It consists of 125 km of rocky and technical terrain over the mountains. Some folks do the entire race solo, most do it as a relay – it's five legs, so you can mix and match racers as you see fit. I did with a partner, so we alternated legs, with him doing two tougher legs, and myself covering three easier legs. The challenge there was that you didn't run the entire length of the race right away – rather, you ran for three or four hours, and then you had few hours off to eat, stretch and nap, and then you had to do it all over again – this time over a different terrain, in a different time of day. Each leg looks like a completely different event, and the scenery is breathtaking. This race also had a very different dynamic than most ultras I have done. Not knowing when your partner would arrive from their leg was also difficult, as you had to hang out near the transition area, trying to keep loose and ready to go, while still trying to rest.
In 2013 when you did the Spartan Death Race, why did you choose this one?
It just sounded insane, which at the time – was enough of a reason for me. It was the longest, toughest, hardest, baddest event at the time. If I catch myself thinking "Oh my goodness, I could never do that", it just makes it that much more tempting to try, and to prove the voice of doubt wrong.
As a coach, when someone comes to you and says I have x as a goal, what do you think is the more important for them to do to reach that goal?
If someone has a particular goal, I think it's really important to dig deep, and ensure that this goal is, in fact, their goal. Some people think they have a goal, because it sounds good or exciting, or because someone else wants them to do it, or because they think they should want to do it – those goals are very difficult to achieve, because the inner drive is missing. I view my role as a coach, first and foremost, to help people clarify what their goals ACTUALLY are. Once you pursue a goal FOR YOU, motivation is not an issue.

What is the craziest thing you have ever brought on an obstacle course race?
What a great question! I brought a thermos of hot coffee with me to the inaugural Ultra Beast – although I didn't technically have it with me on course – but it was waiting for me in my drop bin at the end of the first lap. I also brought boiled potatoes to few races – not really that crazy, if you hang around extreme endurance athletes enough, but the volunteers on course were pretty surprised when I whipped those out at an aid station. Of course, there are also all those random objects I have been required to bring to races, because they were listed on the gear list – e.g. shovel, bike tubes, empty Coke bottles, raw egg, life vest, axe, machete, portable saw, plastic bucket, and more.
I have read through quite a few of your blog posts, and you tell it how it is – no sugar coating. Do you think in our sport (OCR) it is better to be honest and blunt than to sugar coat how we feel / the experiences we have?
I don't think it's an either or. There is a fine line between being honest, and being an asshole, and I constantly work on being the former, without being the latter. One question that my coaching practice taught me to ask myself when I share my experience and/or feelings is "who is this for?" What is the purpose of me disclosing this information? Is it to vent? Is it to help someone to go through a particular experience by sharing a similar experience I had in the past? I choose to write about controversial topics (both in our sport, and in life), precisely because most people won't. In the age of social media, disagreeing with someone seems to be a radical transgression. There are lots of likes, and high fives, and not a lot of actual honest difficult conversations. I aim to create opportunities for those conversations – both in my coaching, and in my writing.
When your racing career is over, what's the one thing you think you will take away from it?
That's an interesting question, because it implies that someone's racing career is over at a very specific point in time. I am not a professional athlete, so I do not foresee myself announcing my retirement or anything like that. I plan to continue racing for the rest of my life in some form. In fact, my training is geared towards just that – keeping my body functional and healthy, so I can do what I love for as long as I shall live. Racing mimics real life in many ways, so the learning opportunities are endless. And I love to learn.
If you could be any animal real or fictional, what would that be?
Few years ago, a friend gave me a little plastic figure of Tigger – the character from Winnie the Pooh. I have adopted it as my totem animal ever since. Tigger is optimistic, happy and bouncy on his good days. He is a hugger. On his bad days, he can be arrogant, overbearing, and obnoxious. I aim to have more good days than bad.
What scares you?
Getting injured and not being able to move in a way that brings me joy. Not making a difference. Not living up to my potential. 


When you first started your OCR / distance racing / running career, did your friends and family support you or?
My mom had some trouble accepting how seemingly self-destructive the sport can be. In Russian culture, women are not supposed to have calluses on their palms, and scars on their legs. She came around though, and now just accepts it as the norm.  My friends are pretty used to me pulling crazy shit – obstacle racing was just one of those things.
What's one random / weird fact about yourself that you are willing to share?
Bloggers are notorious for oversharing – hell, there are over 500 posts on my website, so plenty of weird and random facts already there. Here are a couple more: I am afraid of the dark. I am also debilitating bad with directions. Two of these things together prevent me from doing races that require navigation, and hiking solo. I also get motion sickness really easily – pretty hilarious ailment to have for a seasoned traveler like myself.
If people want to reach out to you on social media, how do they find you?
On Facebook
https://www.facebook.com/operationsolo/
(can find her shared blog posts, articles on health, fitness and nutrition)
On Instagram
https://www.instagram.com/k_solovieva/
(she posts about her travel and other shenanigans)
Her online home (her personal site)
www.solovieva.com
Or you can send her an email at: solovieva@gmail.com