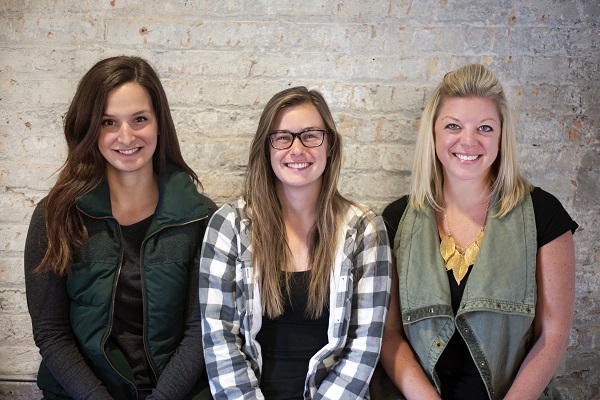 This time around I got to do an interview with the three race directors from the Warrior Dash race series. Molly Chernick, Megan Gaseor, and Rebecca Ryan were gracious enough to take time out of their busy schedules to go through the interview process with me.  Putting this article together for me was a challenge, as I wanted to ensure that each of the bad ass ladies above got equal time to tell their story. I hope you find it easy to follow as well as informative.  The first section contains a quick bio on each of the women in this article, and then a general "what got you into OCR" question to kick things off.
Molly Chernick

Both my undergraduate and master's degrees are in architecture; I was a practicing architect for approximately 5 years. Though I still love architecture, I found my passion in running. When the opportunity came to pursue full-time employment in the field I couldn't resist (I began my career in events with a traditional road race organizer). I love runners- they are my people!- and it's great to get to surround myself with like-minded people for a living. At the end of the day it's all project management so it's not as much of a stretch as one might think. I started running in 2006, with my first race ever being the 2006 Chicago Marathon. I have since completed a total of 10 marathons, including Boston, London, Berlin, New York and Paris.
What got you into OCR? What was your first OCR?
I spent approximately 6 years in the traditional road racing world (5ks, 15ks, half marathons, etc) but am always looking for a new challenge. When the opportunity to make the move to Red Frog and the Warrior Dash brand presented itself I saw it as the next logical step in my career- it's been fun learning the nuances of OCR and how similar it is to road racing in many ways and yet so different in others.
Megan Gaesor

I'm one of 4 kids, so I grew up spending most of our summers at the park or baseball fields. I continued playing organized softball through high school and continued on multiple intramural teams throughout college. I really started running, though, when I was in college, not only to stay fit but as a release of the stresses that only college can bring. I was truly introduced to the world of OCR when I started working for Red Frog Events after college. Warrior Dash was (and continues to be) unlike any other event that I've seen – I was instantly hooked, not only as an Event Director but as a runner and athlete, too. I've been an Event Director for Red Frog and Warrior Dash for 3 years now.
What got you into OCR? What was your first OCR?
See above

Rebecca Ryan
I was born and raised in Delaware, and then went to Penn State for school. I ended up moving to Chicago to work with Red Frog Events last March, and I am loving it! I have always been very active, mostly channeled through sports. I played soccer my whole life and still do!
What got you into OCR? What was your first OCR?
Being a part of Warrior Dash was my first foray into OCR, and it has been amazing. I love the OCR community and how events like Warrior Dash give people of all skill level an opportunity to be active and have fun.
How did each of you get your roles as a race director?
Molly:
I was the director of operations/race director at a traditional racing company prior to moving to Red Frog. My role is to oversee all Warrior Dash operations (and to direct a few of my own races) which is what brought me to Red Frog.
Megan:
I interned with Red Frog Events during my last semester of college, and was hired on full time after graduation on our Operations Team. With that, I joined the Warrior Dash Team and directed my first race 4 months later. Within that time, I went to as many races as possible, learned from our veteran Race Directors and just submerged myself in all things Warrior Dash and OCR.
Rebecca:
I started working with Red Frog Events in college as traveling support for our events. As the years passed and more opportunities became available I worked my way to becoming a race director.
Do you find it more challenging to be behind the scenes organizing an event, or to be out in the mud with the other racers?
Molly: Being behind the scenes is definitely tougher – the athletes only see what we want them to see! An event that looks near-perfect from a participant perspective could have been wrought with challenges on the back end. A million things go on behind the scenes that, if we're doing our jobs, the participants are never aware of.
Megan: Organizing an event. In my mind, when I'm running an event, my main goal is to get myself and/or my team across that finish line. When organizing an event, my goal is to get thousands of people across the finish line… on top of leading your on-site team, ensuring there are no lines at beer, parking is running smoothly, etc. The challenges that come up as a Race Director are unique to each event, regardless of how much pre-planning you do. You know what to expect, but sometimes, you never know what to expect.
Rebecca: I think they both have their challenges. The organization is more of the mental battle while the race is more physical.

What do you feel makes Warrior Dash stand out and be so successful amongst all of the larger and smaller OCR races that pop up? – (only Molly and Rebecca answered this one)


Megan: We pride ourselves in the overall experience of Warrior Dash, and I truly believe we do it best. Everything from the registration process and pre-event communication, to funny motivational signs on the course and witty obstacle names, we don't skimp on the details. Our participants are just as important as our spectators and the course and obstacles are just as important as the participant experience in parking. We've always had this mindset and I think that's why Warrior Dash has seen continued success after all these years.

Rebecca:  I think that Warrior Dash stands out for several reasons, but one of the big ones is our Warriors. They come in with great attitudes and make each race what it is. Plus, it never hurts to have a little party afterwards.
What has been your favorite part of being a race director? (only Molly and Rebecca answered this one)
Molly: Every event you learn something new, and every event is a challenge in its own way- there's never a dull moment. Just when you think you've seen it all, something happens to show you how completely untrue that is. Sometimes it's incredibly entertaining. Sometimes it's less so.
Rebecca: My favourite part of being a race director is Saturday morning before all the craziness of the day is about to begin. Everyone on our team knows their job, is getting their last minute tasks done and you can feel the excitement building.  When the first wave goes off and our Warriors get rolling, it is an awesome feeling to see it all come together.
Being a "Badass Woman" (of OCR or in life) to some means hitting the podium, to others, means overcoming a huge personal or physical obstacle. What does being "Bad Ass" mean to you?
Megan: While there might be some hurdles as a woman in OCR, the female Race Directors behind Warrior Dash are confident, strong, organized and the best in the industry. I'm incredibly lucky to work alongside our entire team!    
Rebecca: Being a "Bad Ass" to me is being those women behind the scenes that make these events happen despite whatever inevitable obstacle comes up.

What is the biggest OCR or athletic challenge you have faced?
(only Megan and Molly chose to answer this one)
Molly: I fractured my ankle halfway through the Boston Marathon and still completed the race. That one hurt.
Megan: I'm training for my first marathon. Check back in October and I'll let you know how that went.
Is there an event or challenge that is on your "bucket" list to do?
Molly:Someday I'll complete the Tokyo Marathon – the last World Major Marathon on my list. I'm also planning to climb Mt. Ranier.
Megan: I told myself a few years ago I'd run a marathon by my 26th birthday.  I'm running the Chicago Marathon in October.

Rebecca:Run a Marathon.
To end this interview / article, I asked for some information to share further with our readers.
Megan took the time to talk about one of the Charity partners for Red Frog Events:
Red Frog Events is a charity partner of St. Jude Children's Research Hospital. Through various programs, like our St. Jude Warriors program, we've pledge to raise 25 million dollars for St. Jude. Red Frog also donates one percent of their profits to the organization. If you're planning on running Warrior Dash, definitely consider our St. Jude Warriors program.
https://warriordash.com/get-involved/st-jude
If someone wants to reach out to you on social media, where can they find you?
Molly Chernick – Facebook or Instagram
Megan Gaseor – LinkedIn
Rebecca Ryan –Linkedin