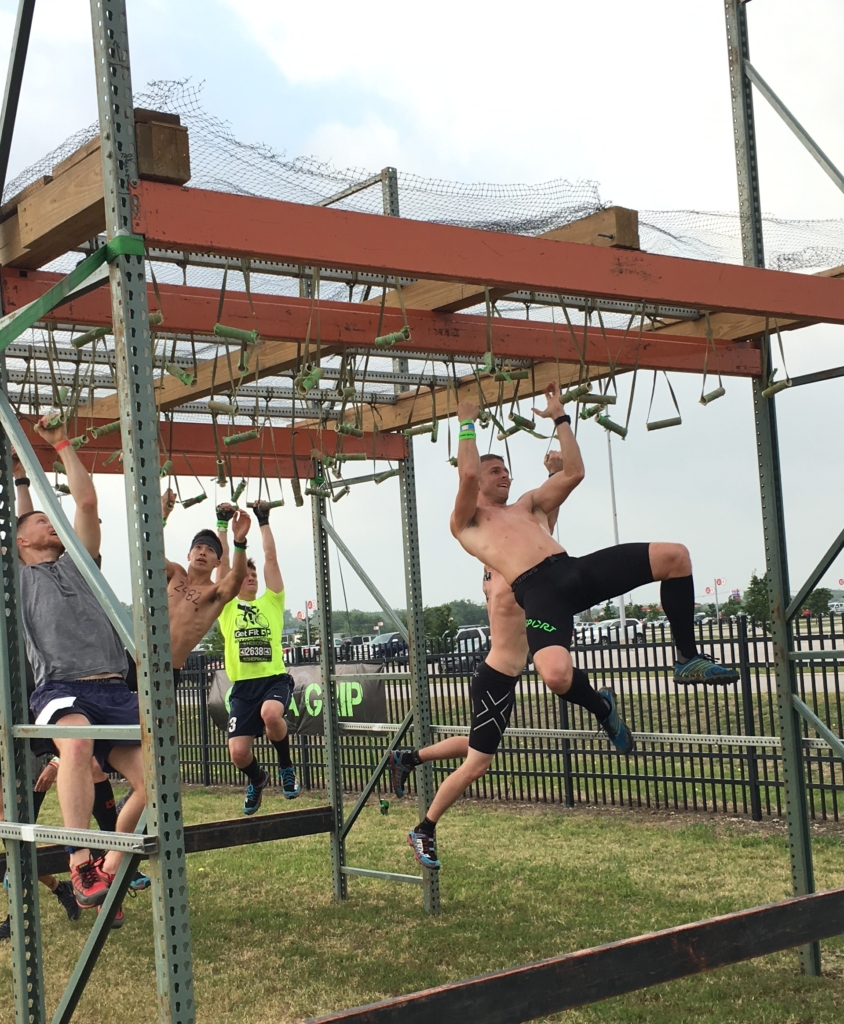 It's that time of year again. When everyone's schedules are chock full of races and some of us have to make decisions of what races we are going to skip in order to attend others. This WAS going to be the case for Bonefrog Challenge. They and Conquer the Gauntlet were scheduled on the same weekend; however, through some freaking awesomeness between the two, CtG changed their date so neither race cannibalized the other. This was how I was finally able to race my first Bonefrog Challenge!
I arrived the afternoon before to pick up my race packet and conduct a Facebook live preview of the race. Not only were we given notice of one of their new signature obstacles, the racers were put on notice that this was going to be the first course layout done by the venerable Norm Koch. I'm here to tell you, he pulled no stops. For those of you who only heard cursory details: Yes, we were racing through the new F1 race track in Austin, TX. Yes, the track was open and there were crazy awesome cars doing live laps literally as we started the race and through the whole day. Finally, Yes, we did go through a crazy bushwhacked thicket section where norm left a couple trees with his signature chainsaw writing.
I can't applaud Bonefrog enough for really exploring and utilizing all the best areas for this race. Bonefrog runs three simultaneous distances Sprint (3-miles), Challenge (8 miles) and Tier 1 (11-ish miles). Since I'm a glutton for punishment, I signed up for Tier 1. The first split for the Challenge and Tier 1 runners was very clearly marked and easily seen. Once in the thicket, we all realized our folly: We were running through brush, in Texas, in April. I'm quite glad I had my Mudgear compression socks, otherwise I would have been rocking the new "Skinless" look on my shins. We went off course a couple times, that was mainly due to the wind blowing the pink marking tape into the branches they were tied too. Stupid nature…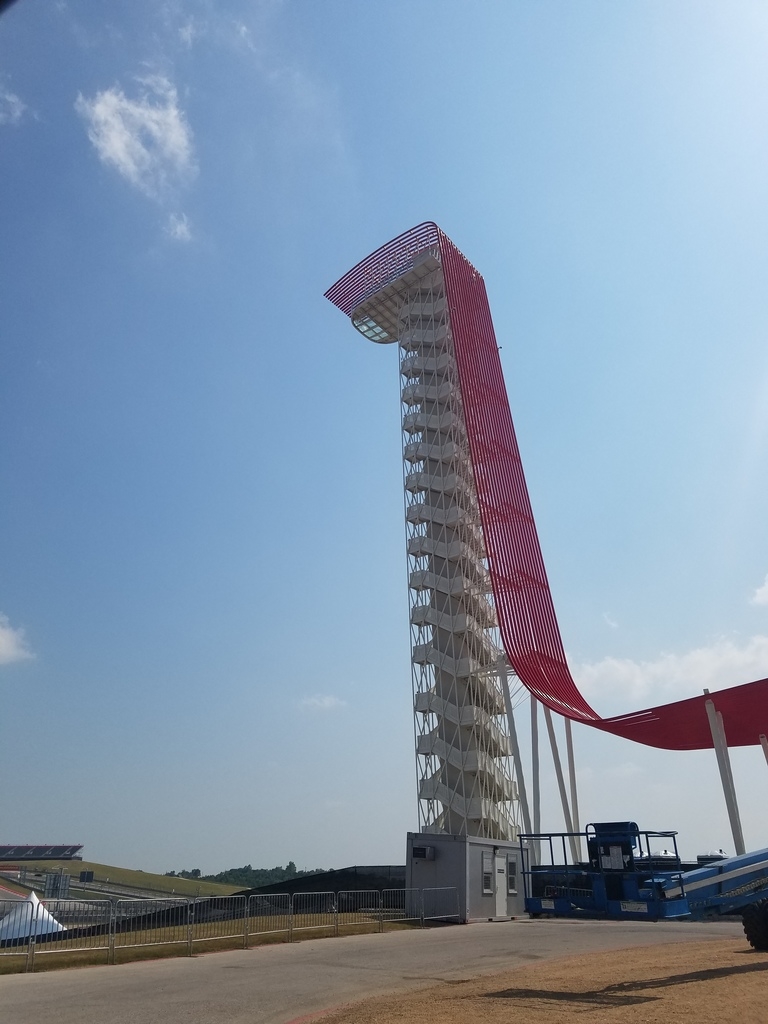 Their obstacle field and layout was very well done. I really loved their signature obstacle like Swingers Club, the Kraken, Stronghold, Get a Grip and Mouse Holes. These are such great twists on familiar obstacle types. Swingers Club… think of it like a mini rig. All the grips are 3" tall 2" diameter cylinders, secured with ropes to a 2×4 that's attached with chains. EVERYTHING IS MOVING! Not only do you need grip strength here, but you need to understand how to carry inertia through a complex structure.  Get a grip is just a sea of tube grips, and ALL of them spin. They're all at different heights as well; you must move through this one quickly to not burn out your forearms. Stronghold Was awesome. Two concave halve circle monkey bar sections with the holds from Get a Grip at the beginning, middle and end. Mouse Holes is a great amalgamation of the "though" obstacle. Three in a row, all at different heights, and it's a fully filled in structure. It's quite awkward to navigate through, but in a good way. It throws you off your game and you figure out how to do the through differently than you've been doing it for years. Then there was the obstacle I'm sure you all heard of… Stairway to Valhalla. Those of us with questionable enough judgment to run the Tier 1, had to climb this thing twice. This was a 251 foot outside spiral staircase, up and down. Let's also not forget all the bleachers we had to run and the bridges/track hills… Yeah, we covered quite of a bit of elevation. 6000 feet of change in all. I wish I could have stopped to appreciate the track view, but, I'll take the race win over a view any day of the week.
Pre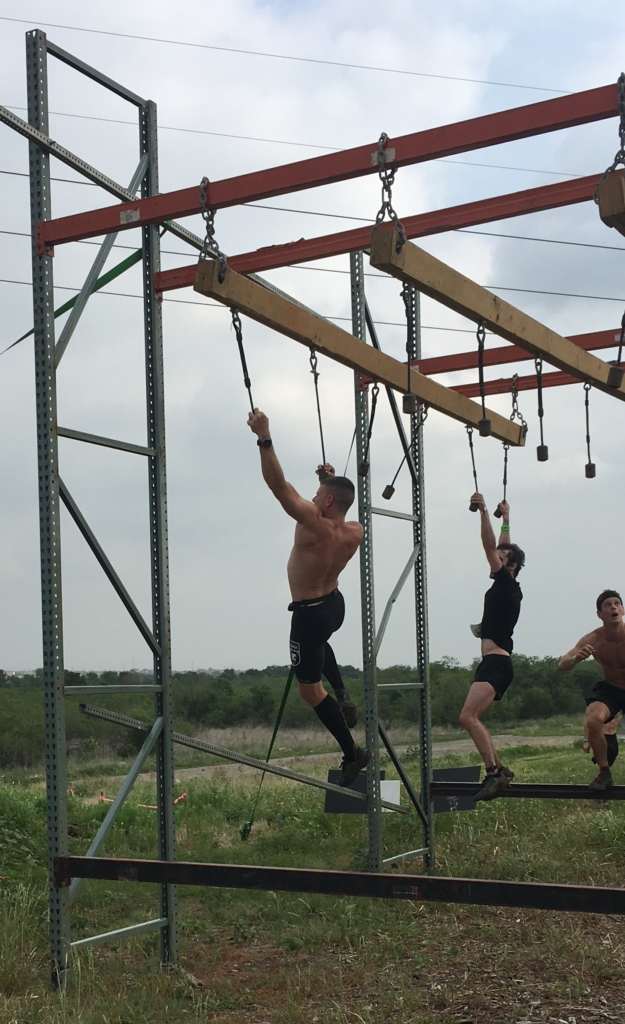 -and post-race ceremonies were all done by perennial bad-ass, Coach Payne. You can't listen to this man and not be pumped. I challenge you to play any of his pre-race speeches recorded from OCRWC while doing mundane tasks like washing dishes or vacuuming and not end with the cleanest dishes or floors you've ever had. The entire crew was on point.
I have only two points in which to improve. At the obstacle 31 Heros, we were to do 31, 8-count bodybuilders while reading down a list of names. This is great as it breaks up the race and forces you to max out, and then try to recover quickly. During this obstacle, there a few guys who obviously did not go through the entire list before carrying on. With one volunteer there, it's impossible for that person to be able to keep tabs on that many people all starting at different times going at differing rates. I'd recommend having 4 lanes, and at least 4 volunteers that way it's easier to keep track of the competitive racers and DQ anyone who tries to short. Second is the handling of the second sprint lap for the Tier 1 racers. There was a marked turnaround spot for us to go through the last three miles again. Thing is, it's an honor system. For a while I was second place in the official timing because someone decided to just cut the course and go home. At the Tier 1 relapse, I'd recommend a volunteer there with a table of blue silicon wristbands. This way they have a verified visual identifier that they did in fact, run the extra Sprint lap and can mark accordingly. I spoke to the staff about the 31 Heros obstacle, and they were highly receptive to the suggestion and were quite thankful for the feedback. This is a great team who only wants to improve, and I wish them the best.
This being my first ever Bonefrog Challenge, it felt amazing. It brought back the original OCR feels of "what the hell is next?" Their obstacles are different and challenging. Their hiring of Norm Koch means their courses are guaranteed to be brutal. Having Coach Payne as MC means every single person running the course is going to feel like a damn superhero. If you don't already have a Bonefrog Challenge on your race calendar, find a way to add it. You'll thank me for it later.
Rating 4.25/5
---
Have you done a Bonefrog Challenge? Leave your own Bonefrog Challenge review and feedback…