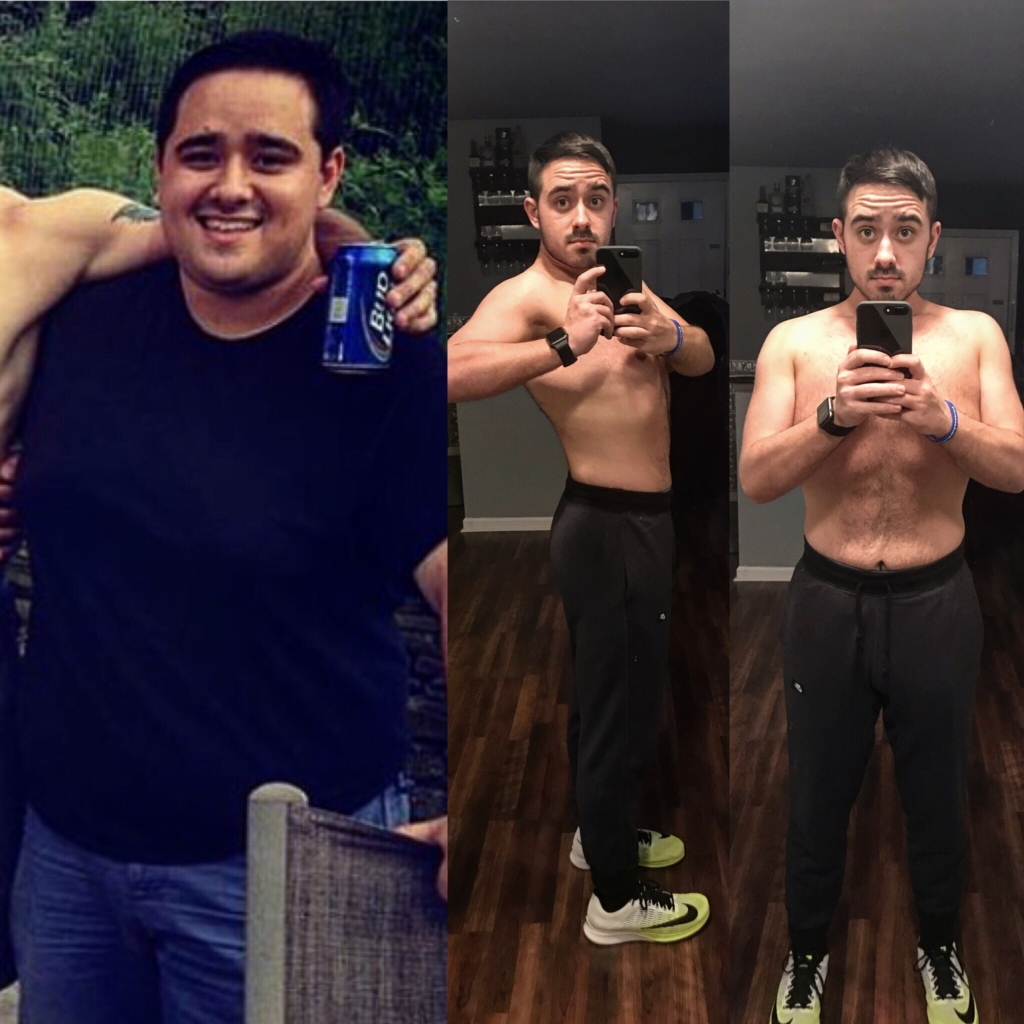 Name
Tim Warchol
Age
25
Lives
New Jersey
Occupation
Pharmacist
Favorite OCR series
Spartan Race
Favorite obstacle
Inverted Wall
Least favorite obstacle
Spear Throw
Ideal race distance
10 miles
2017 OCR goals
5x Trifecta; Top 10 at one of the races.
Brief bio
I found OCR to help achieve my fitness goals and lost over 100 lbs to date! At my largest point, I was 275 lbs and today I weigh 156 lbs!
Social media
Instagram — @timwarchol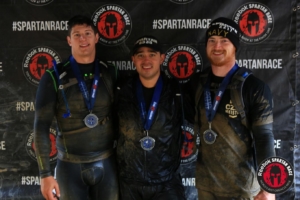 Why do you compete in OCR?
Ask me this question 3 years ago and I would look at you crooked. For as long as I could remember, I was always a heavier guy. I played soccer in high school, but that was about the extent of my physical activity. And I ABSOLUTELY hated the whole running thing (that's probably why my position on the soccer team was left bench). Fast forward to today, OCR has become my driving force in fitness. After I first started to lose weight, a few buddies and I ran a Warrior Dash, and that is where I caught the OCR bug. My fitness goals started to focus on how I can become better, sustain endurance, and stronger for these races. What is nice about it too is that training for OCR really focuses on a lot of core groups that help you carry out daily activities. Overall, OCR has changed my life for the better in terms of my mind body and spirit, and that is why I compete in OCR.
What factors caused you to reach nearly 300 pounds?
Excuses. There is no other way to explain it. When people first started to notice me losing weight, they would ask the same question and I would tell them, "I finally found the time" or something along those lines. Truth is, while in college I really found every excuse possible to not go to the gym. I found comfort in going to class and studying, all while ordering take-out. Multiply that by 6 years and many, many exams. That's a lot of take-out food and a crap ton of excuses to not go to the gym.
Was there a turning point when you finally realized you needed to make a change?
My father always used to preach the mirror will never lie. Well it's true. Every single day I woke up and had to look in the mirror. Whether it was to make sure my hair looked good, that there was nothing in my teeth, or I looked decently dressed to walk outside, I always lied to myself of the obvious. I was large. In fact, at my largest I was 275 lbs, a size-46 waist, and wore an XXL shirt, all at 5'8".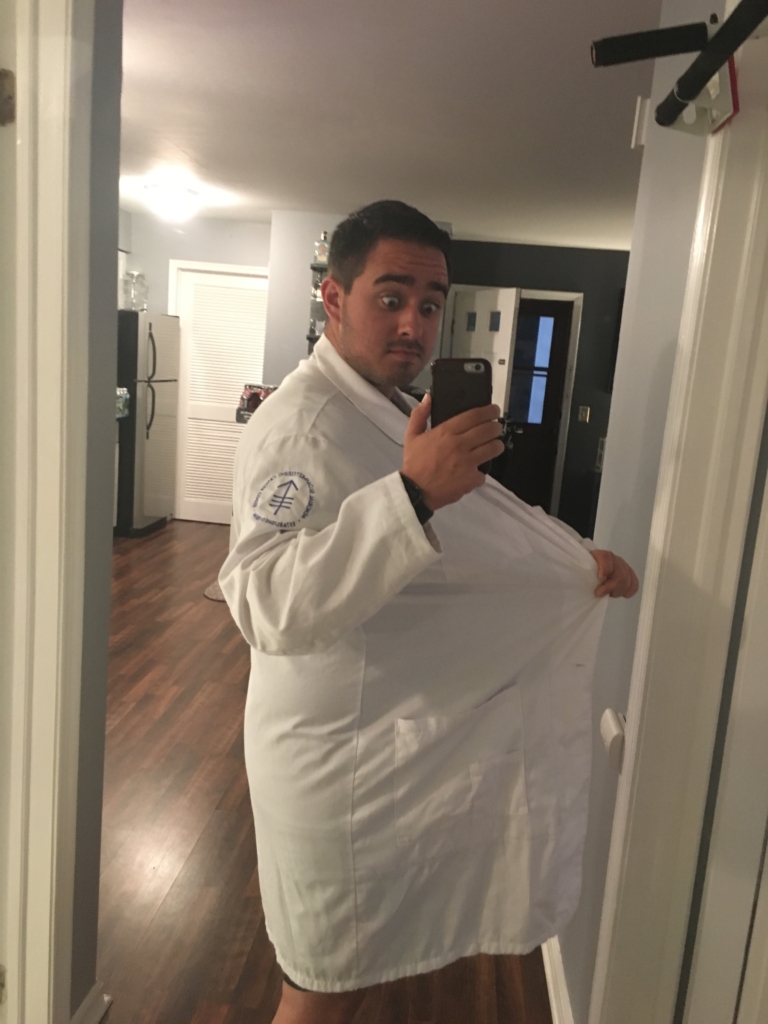 This all tied back to my excuses. If I didn't think about it, I wouldn't have to make an excuse about it, and well it kind of worked for 23 years of my life. While I don't really point my "turning point" to one single thing, this is perhaps the most significant thing that really made me look in the mirror one day beyond just what was being reflected in the mirror and see me for who I became.
I overheard a conversation about how can someone take a doctor seriously when they are giving suggestions for bettering their patients' health when the doctor himself is "unhealthy."This really hit home for me and made me start to notice so much.
Here I was, just a few years away from potentially being that "medical professional who's unhealthy" giving advice to his patients on how to be healthy, and now I had to worry about if they would take such advice seriously. I went home that night and just stared at the mirror. And like my father said, the mirror does not lie.
Do you struggle with self-image issues despite your weight loss success story?
Absolutely! It's a learning process after you have been used to looking one way and now another. I was so worried about loose skin, and luckily, I have next to none. However, there are times when I feel like I hit a wall while following a workout plan and I find myself looking in the mirror and seeing if I got bigger or gained any weight. I find these are the best moments to take before and after pictures and just really jump back on the horse. Psychology is 80% in weight loss I'd have to say. Your mind will tell you 101 ways why "I can't" and then it will trick you into thinking things or seeing things sometimes. The other 20% is made up of exercise and diet.
What advice do you have for people who make excuses about why they can't do an obstacle course race or lose a bunch of weight?
Never let someone else tell you, "This is what you have to do." You'll most likely fail. Get angry at yourself. This is the best drive you will ever get. Self-motivation was my secret weapon in becoming who I am today. I'd be a VERY, VERY rich man if I had a dollar for how many times someone told me, "You should probably lose weight," and I never went to the gym the next day. My other bit of advice is to never fall for a diet plan. Spoiler alert, they are all about being in a caloric deficit. And lastly, never let failure trump the smallest success. Anything you do in life is about choice, chance, and change. We all have to make the choice to take a chance to make any change.
What made you sign up for your first obstacle course race and why do you continue to compete in OCR?
So once I started to lose weight, I actually brought the idea up of doing a Spartan Race with my two best friends, Mark and Rob. We toyed around with it for maybe an hour and then left it at that, an idea. It wasn't until May of 2016 that our friend Connor, who's a manager and personal trainer at an Anytime Fitness (which sponsored a local Warrior Dash), jumped on board to finally doing a "mud run." Best part of the whole story was I didn't find out about this run until literally the night before while we were all at a bar drinking.
Two lessons I learned the next day:
1. Regardless of how hard the race was for me, I fell in love immediately
2. Beer, while full in calories, is not the best for carb loading for me
I continue to run because of two things really. One, it brought Mark, Rob, and I a lot closer. We come from a very large and loving group of friends. However, Mark and Rob have been in my life for the longest time I'd have to say, and since doing these races together, it brought us closer together than we were before. Second, the races are my exam days. My father is full of little sayings, like the mirror I mentioned above, and quite possibly his most favorite, "#1 and #2." Those numbers, 1 and 2, stand for education and health and how those should be the two most important things to focus on. For the longest time I just focused on my education, and in school we always proved our knowledge with an exam or paper. OCR is my test day. It's my opportunity to prove my training has improved my time, my strength, my mental fitness, my overall fitness.
Was there ever a time during your first race that you thought you couldn't finish? Once you did finally cross that finish line, what thoughts were going on in your head?
My first race no, but my second race, which happened to be my first Spartan Race, I did. I really did the mistake in comparing a Warrior Dash in Warwick, NY to a Spartan Sprint in Tuxedo, NY. The obstacles seemed to be 3x larger and the hills were literally mountains. The final obstacle on that course was the sandbag carry up a steep slope. I remember that that was the first time in my life I really felt depleted of all amounts of energy I had. Long story short, I sat down and just thought that there was no other way back other than following the marked-out trail. Next thing I know I started making my way down and there was Mark and Rob patiently waiting for me at the bottom, both agreeing it sucked, but the smell of the fire was right ahead. Crossing that finish line hit me the next morning when I was so sore and only thought about how far I came, from being the kid on the bench in High School soccer to now finishing a Spartan Race. That next week, Mark, Rob, and I set a goal to complete the Trifecta. No matter what it would take, I was committed.
What is the best part of attending obstacle course races? Is it the challenge of racing, meeting new people, helping others, or something else that drives you?
It's definitely seeing all of the different people with all of their different goals. Some people are there doing what I was doing and trying to lose weight. Others are battling addiction. Some are doing it for a fundraiser. One of the best moments was when we were racing the Tri-State Super at Mt. Creek last year and there was a rather larger guy around the 8-mile mark, really gassed out. But he kept one foot in front of the other and then occasionally would scream when passing people, "Heads up, elite racer coming through." Everyone joined him in laughter and cheered him on. Attending these races really makes you feel like a part of a new community, one of which only people who have done one before can understand the feeling.
Do you follow any of the elite racers on the pro circuit?
I do! I follow Hobie Call, Matt Novakovich, Joe DiStefano, and Ryan Kent. I would have to say Matt and Ryan are my favorites. Both were the first two I originally followed and began to "stalk" haha. If they are like anyone else in this community, I honestly don't think there would be too much of a nostalgia to it other than for the fact that they are the Pro racers.
Give me a fact about yourself that would impress most people?
When I was 15, I actually received my black belt in Tae Kwon Do. Now, I think a white belt can kick my ass in a sparring match, but part of me wants to go back and try it all again, especially after losing all this weight.
What's your 15 seconds of fame moment?
A few years ago, I was a part of a car club that did a lot of community volunteering and outreach style things. One of our biggest events was our "Toys for Tots" drive where we would go to local Walgreens and pick up the collected toys. After a week of collecting from almost all of the Walgreens across NJ, we would then caravan up to a military base with our cars full of the toys and drop them off to the Marines. Everything was great until one night I got a message in our group chat of a picture of me on the 6pm news with the headline, "Police seek Toys for Tots Hoodlum."
Apparently in surrounding states, several Walgreens were having individuals enter the stores claiming to be volunteers for Toys for Tots and then running off with the collected toys. Walgreens corporate had sent a notice out to all the surrounding stores and one of the stores I was in thought that the same thing happened to them. So, they called the local police, local police obtained footage of me in the store along with a freeze frame of said footage and my description and released it to the local news. After a bit of laughter, we called the Marines who we dropped the toys off to contact the police to confirm the pick-up was legit. I was then interviewed with the same news station where my phone interview played every hour for the next few hours that night.
That Christmas, my family thought it would be funny to get me coal and The Grinch pajamas haha.
Where do you see yourself 10 years from now, not just as an OCR athlete, but also as a person?
Stronger. Every day, I see myself gaining strength in so many ways. Physically and mentally, I truly believe I will be very strong tomorrow, let alone 10 years from now. Less sentimentally, I wish to be settled down, nice house, no school bills, maybe a fun weekend car in the garage, and still running races.
What was your opinion of OCR TV coverage?
I watched the NBC coverage of the Spartan Championships and the "Spartan: Ultimate Team Challenge". I actually really like it. With all the crap filled on TV nowadays, anything less than some overly tanned person being followed in the clubs is ok in my books.
Are you pursuing any achievement this year, like a Spartan Trifecta or running one race from each of the major series?
For 2016, my goal was 2x Trifecta. I did it! For 2017, the closest goal is coming up at the end of April, when I will be attempting my first Ultra Beast at Mt. Creek and then running the Beast on Sunday, as well. I hope to achieve 4x Trifecta before we all go to Hawaii, where I plan to earn my 5th Trifecta. I also would like to top-10 finish in any one of my races. I will also be running the NYC Marathon with Team JDRF.
How many medals do you own and what do you do with them after the race?
I had to go and count. To date I have 20 medals, alll of which are displayed on a shelf surrounded by pictures from the races and bibs and patches I might have earned.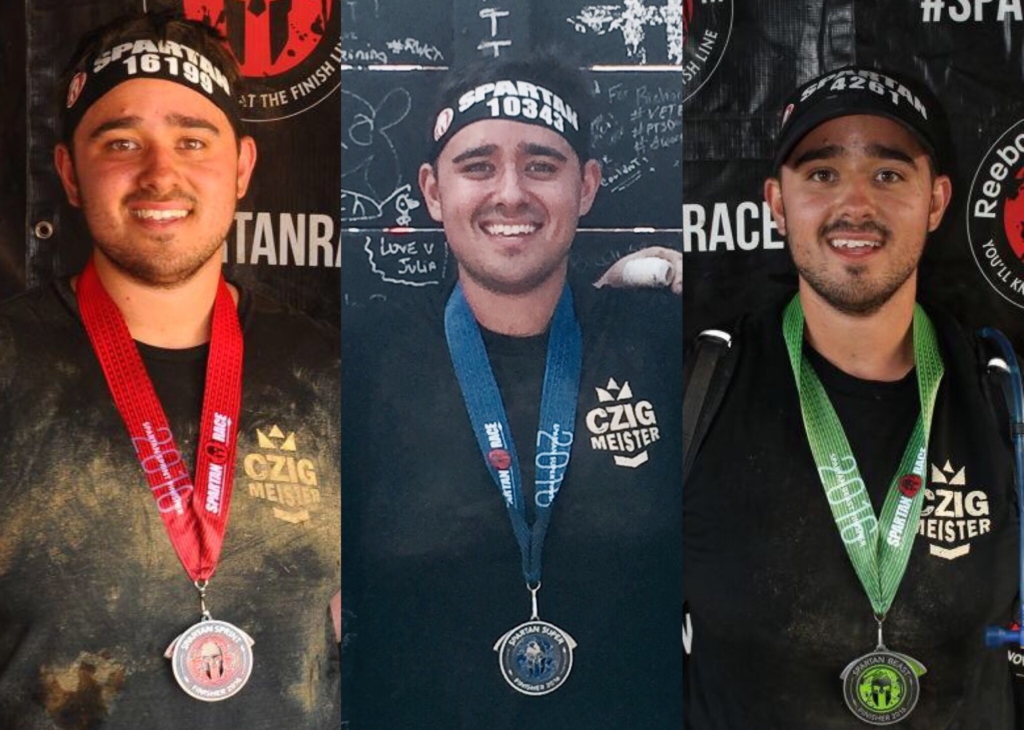 What made you sign up for this year's NYC Marathon on team JDRF?
When I ran the NYC Half-Marathon this past March, it was my first official road half marathon. What was so inspiring about New York Road Runners (NYRR, the organizers of the NYC Half- and Full-Marathon) is all of the charities they have running their races and the commitments these charities make to their beneficiaries just by running the race. My decision to run with team JDRF (Juvenile Diabetes Research Fund) stems from my sister's long time battle with Type-1 diabetes. She is my biggest inspiration in so many ways, and truly there never seems to be the "proper" way to simply say, "Thanks," for inspiring in all these great ways. Seeing her live with T1D drove my passion for my education, my career, my fitness, and now, how I can help others.
Is there anything else you'd like to mention (about OCR or life in general)?
Never give up. For years, I learned to accept the fact that I was who I was I fooled myself into being happy with that. Learn to step out of your comfort zone, take a cold shower, and be something special.