Five years ago Spartan Race became Reebok Spartan Race as the two companies entered into multi-year title sponsorship deal. At the time, the announcement was a major turning point for the entire obstacle racing industry, having a company rebrand with a major sponsor. As the initial sponsorship comes to an end it's time to ponder what is on the horizon for Spartan Race.
Reebok Spartan Race – Without Reebok?
"Reebok" and "Spartan Race" have been linked via name & logo for nearly half a decade, so long that many in the obstacle racing world cannot remember Spartan Race before Reebok. While today the two seem to go together like peanut butter and jelly, this was not always the case – back in 2012 rival footwear company Inov-8 held the US footwear sponsorship with Spartan while Salomon was a partner with Spartan Race Mexico in the early years.
When Reebok and Spartan first inked the multi-year deal in January 2013, sources within Spartan Race confirmed and was reported in Dirt in Your Skirt that the initial multi-year deal would be for five years. As the five-year mark approaches it is time to speculate if Reebok will remain on board with Spartan or if we will see another brand come on as the title sponsor. Several sources have hinted that we might see a change, however, all we can do at this point is speculate.
Under Armour? Salomon? Who?
If Reebok and Spartan Race were to part ways it would not be the first time that such a change has happened in the OCR industry. When Tough Mudder and Under Armor parted ways a few years ago it was a huge change for the Tough Mudder Legions. Many saw Tough Mudder and Under Armor as inseparable. Which it seemed they were – until they were not. Shortly after that partnership ended Tough Mudder and Merrell entered into a multi-year deal together.
Brand partnership changes are nothing new. It happens in the NFL, NHL, and pretty much any other major sports league. It happens with Olympic partnerships. So it's only natural when it happens in our sport of Obstacle Course Racing. Yet, every time we see a major change – especially if a change were to happen with Spartan Race – it becomes major news.
With all this in mind, IF Reebok and Spartan Race were to part ways we can look at a few of the contenders to take that place within the shoe and apparel world. First, let's look at the companies which are always connected with an obstacle racing brand. Tough Mudder is currently on a multi-year deal with Merrell and Warrior Dash is aligned with Vibram.
Assuming that a company will not be aligned with two brands at once we can leave out Merrel and Vibram. Under Armor probably would not be reentering the market with Spartan after such a high profile deal with Tough Mudder.
New Brand, New Spartan?
That leaves a few big players, first Salomon. While Salomon has been a shoe of choice for many in the OCR world, the company has never seemed to be very serious about a push into the OCR space other than SR Mexico. This reluctance has been puzzling to many, as Salomon invests heavily in shoe technology for trail running and extreme adventures – yet has seemingly held obstacle course racing at arm's length. Will this change with a Spartan partnership? Suunto is owned by Salomon, and had a Spartan watch series that seemed to suggest an alignment but that partnership never materialized into much. So while "Salomon Spartan Race" could possibly be the #1 contender, it still may be a longshot.
Another popular OCR brand is Inov-8 and one which has already been aligned with Spartan Race once. At the time they were still a small company and since then have been bought out by Descente a much larger company with deeper pockets and more sponsorship dollars. So maybe Inov-8 would come back on board with Spartan Race.
Big Market, Smaller Name?
Icebug spent 2015 & 16 aligned with the OCR World Championships and could possibly be another contender for a title sponsorship, and while we've heard some rumors that there has been early conversation around the viability of said sponsorship, the biggest question for a "boutique" Swedish shoe brand would be if they have a big enough budget to hold that title sponsor position for such a large brand.
Or will we see a completely new company (at least to OCR) enter into the mix? La Sportiva has been a favorite among trail runners for years, would they be a fit for OCR?
Even "Bigger" Than Reebok?
Adidas, New Balance, and Nike are extremely interesting to think about from a large-budget perspective, but Nike jettisoned their ACG (All Conditions Gear) quite a few years back and has never made any real push into a technical off-road shoe – but prior to Spartan Race Reebok wasn't a big player in trail running either. New Balance does make some decent off-road running shoes which have steered toward heavier stability trail trainers – for NB to be in the mix, they would need to build an aggressive new, lightweight racer.
This leaves Adidas as an extremely strong possibility to slide into the title sponsor spot – they have the know-how when it comes to off-road racers and have been relatively consistent in building quality trail shoes with their recently expanded Terrex line. They have the budget, models, and are a well-respected (outside of their lifelong family feud with Puma – Rudolph & Adi Dassler) footwear manufacturer with a big enough name to supplant Reebok in Spartan's logo lockup.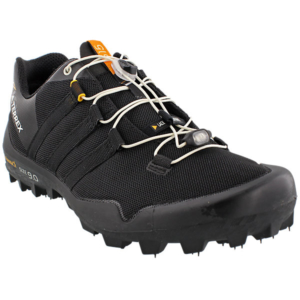 What's Next?
At this point, all we can do is speculate if we will see a title sponsor change when the current Reebok Spartan Race partnership is up – possibly there will no change at all if another Reebok Spartan Race contract is signed soon. Will we see a new Spartan Race shoe-agnostic brand spring from these dealings or possibly an auto manufacturer (think Jeep / Toyota Warrior Race in South Africa) will take over the title sponsorship position?
What brands do you think are best aligned with the tenets of Spartan Race and have the pockets deep enough to support a sponsorship of such a global brand? Share your thoughts in the comments.
---
Update: (May 9, 2017)

Since Mud Run Guide's publication of this article Sports Business Daily reported: 
"Spartan Race does not expect Reebok to renew its global title sponsorship when it expires later this year and is searching for a replacement, founder and CEO Joe De Sena said."
So it does appear Reebok will not be in the mix moving forward for Spartan Race. 
---
---
---
Disclaimer: The viewpoints expressed by the authors do not necessarily reflect the opinions, viewpoints and official policies of Mud Run Guide LLC, or their staff. The comments posted on this Website are solely the opinions of the posters.