Almost one year to the date I started training my friend John for OCR. It was therapy for me as I recovered from ACL surgery. It was torture for John. He had no idea what to expect. Like many first-timers, he thought he knew. He felt like he was in shape. After all, we'd been working out together since high school, nearly 40 years ago.
Yesterday was John's first OCR. We chose Bonefrog Challenge as a good introductory venue. Englishtown Raceway in New Jersey is a flat course, loaded with mud, and BF offers great technical obstacles. John was very well prepared. The only two surprises were the wet, slippery grips and a few bars with rollers mixed in. Note to self OCRMudmaster: add wet grip training to the routines.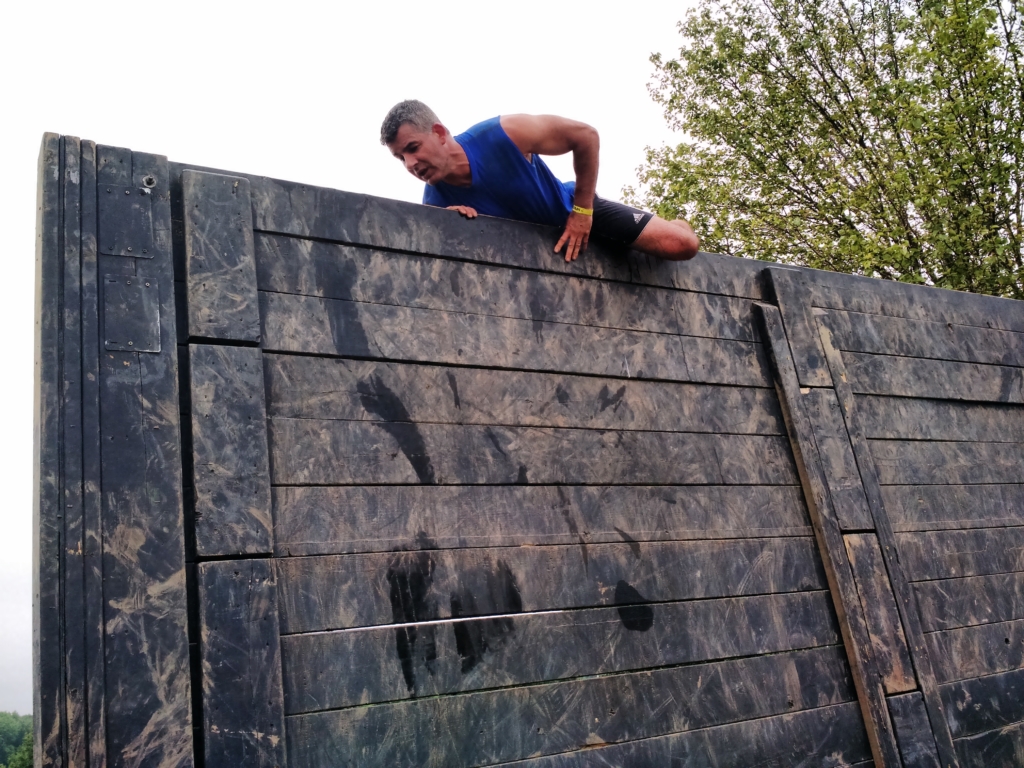 The 4-mile Sprint course started on the BMX track. The somewhat technical dirt terrain wound back and forth. John ran with my old ABF Mud Run bud Mike Amoriello for this part before the Sprint and Endurance courses split. Mike ended up making the top ten for the longer Endurance course in the open class. The BMX dips and bumps quickly separated the runners from the walkers with just four easy obstacles in the first mile. First up was a tire roll followed by a short wall. Towards the back was a 25-yard crawl beneath a camo net. Then came the reverse wall. This is where the bottlenecks started and you could spot the newcomers from the trained. While many of the former used side braces to get up (illegal or just bad form), the trained athletes executed the squat jump, pull up, muscle up combination with ease. John had no problem.
The course turned into the woods. Anyone who has done a venue at Englishtown (TM, BF, Terrain, and others all have races here) would know these woods are really mud swamps in disguise. As you run past old obstacles now rotted, shut down, and roped off, you encounter new ones. But it's still the same old stinky, deep, won't wash off for a week mud. John lost both sneakers about three-feet deep. It cost him a few minutes to find them, dig them out, and get them back on.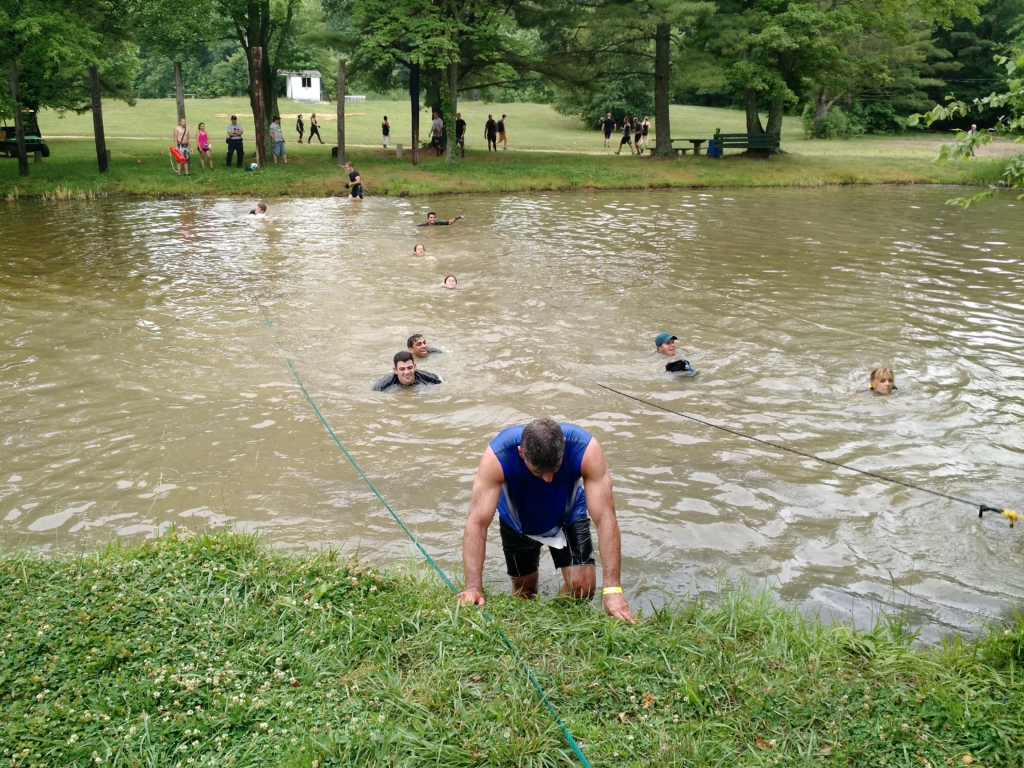 After a few log climbs and a variety of monkey bars, runners emerged to the lake area. A wall box slowed up the inexperienced again. I liked this obstacle of five walls in a row separated by just a few feet. No run-up room. Just boxed in. You're forced to use technique (unless you cheat using the sidewalls) to get up and over five, six, seven, six, and five foot walls before emerging to the lake crossing. A short swim or rope pull across washed off most of the mud. A run through the woods completed with an inverted bar climb that stopped a lot of people. John sailed right through. So far, our mutual confidence was high. No failed obstacles. Good run pace at about 8:30 or 9:00.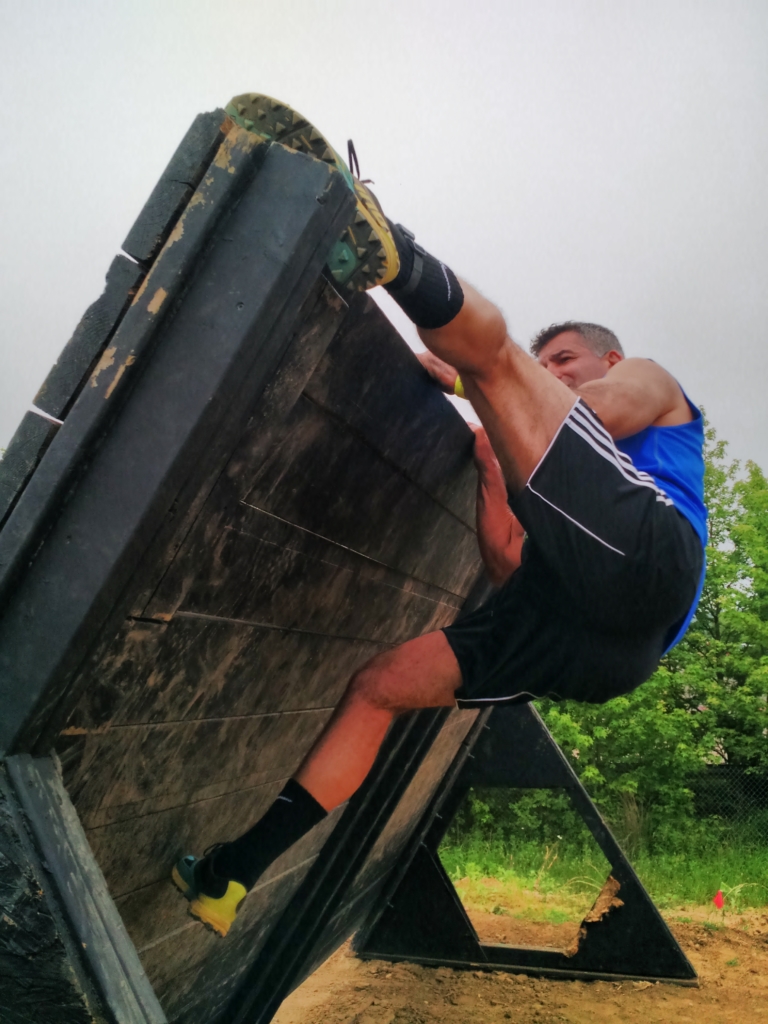 Then came the grenade toss, BF's version of the Spartan spear throw. You lob a grenade and in one chance it has to land inside a small circle on the ground. Miss the circle and it's 25 burpees. We practiced the spear throw at home, not the grenade toss. First fail.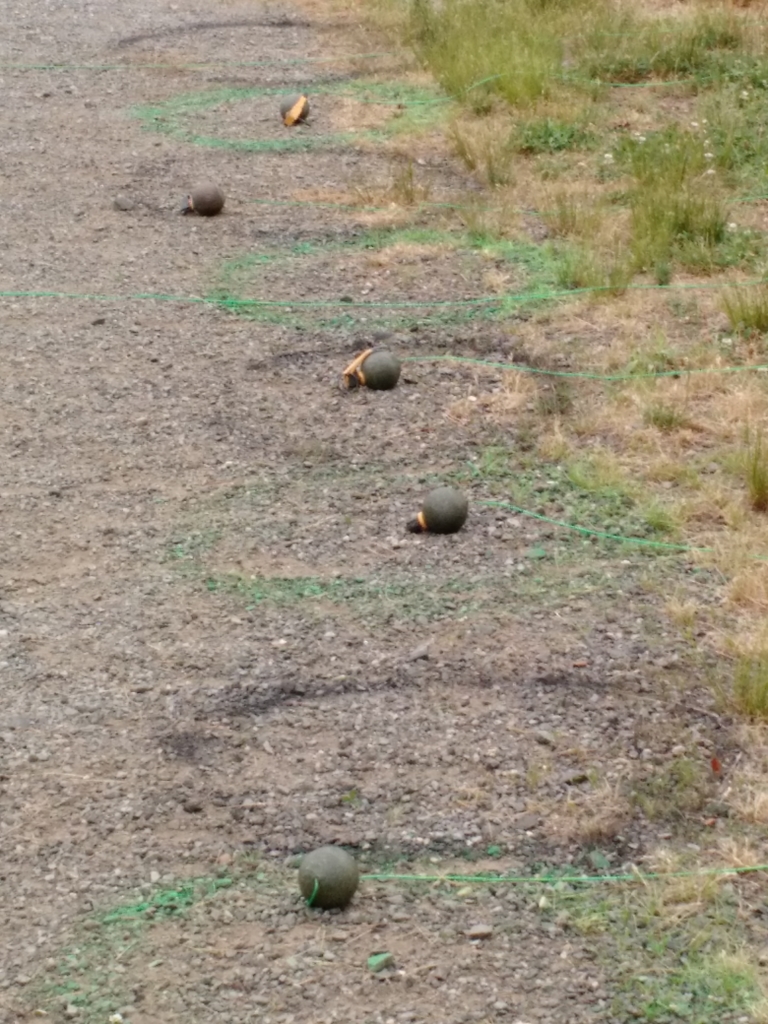 This was followed by a short ball grip rig. I called out the best grip option and John loaded. Made it past halfway before dropping. So close to the finish. Just four more obstacles to go. Twenty-five more penalty burpees. A mind mess could approach. The sternum checker was next and John had never done one, never seen it done, and was very intimidated.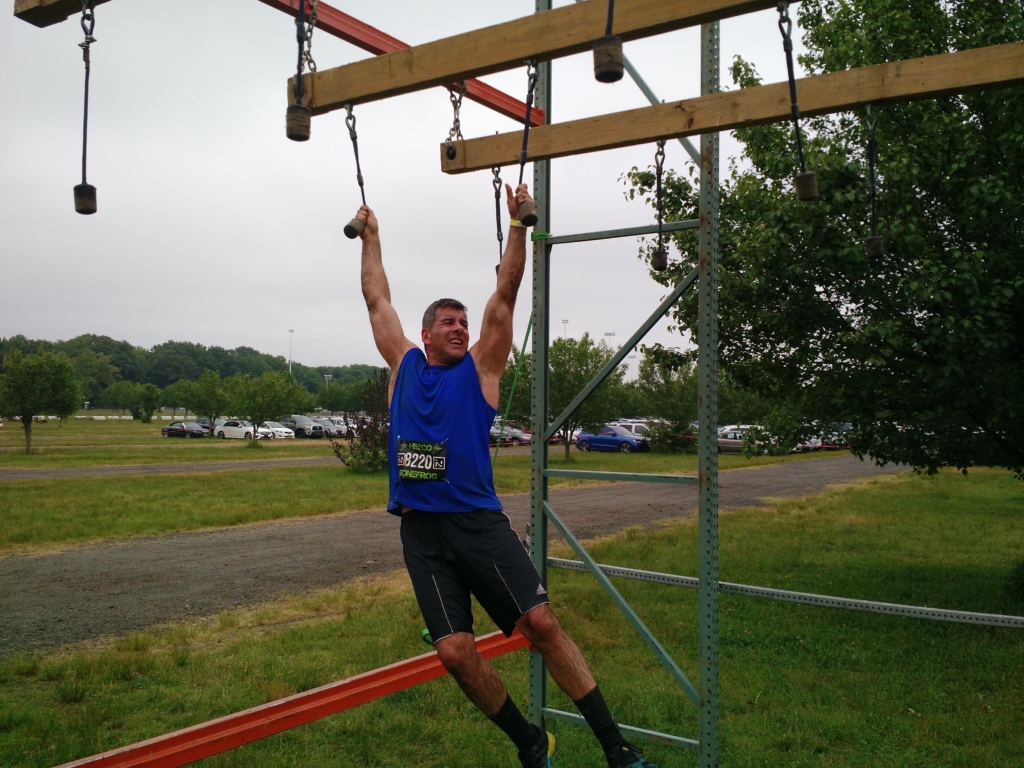 It was a triple log variety. He struggled ever so slightly on the first, then sailed right over the second. Confidence restored. He rounded the corner with two obstacles to go. A crescent moon monkey bar rig was first. It had one tough reach in the middle using a ring to transition from one moon to the next. It was a long reach for John who is about six inches shorter than me.   He missed.
And this was where he made a mental error. Each obstacle had different penalties mixed between burpees, pushups, and jumping jacks. A sign posted the requirement at each obstacle. A volunteer was also there to call it out. John was into his 20th burpee before the volunteer shouted out "pushups!" Too late. That extra gas was going to cost him at the last obstacle.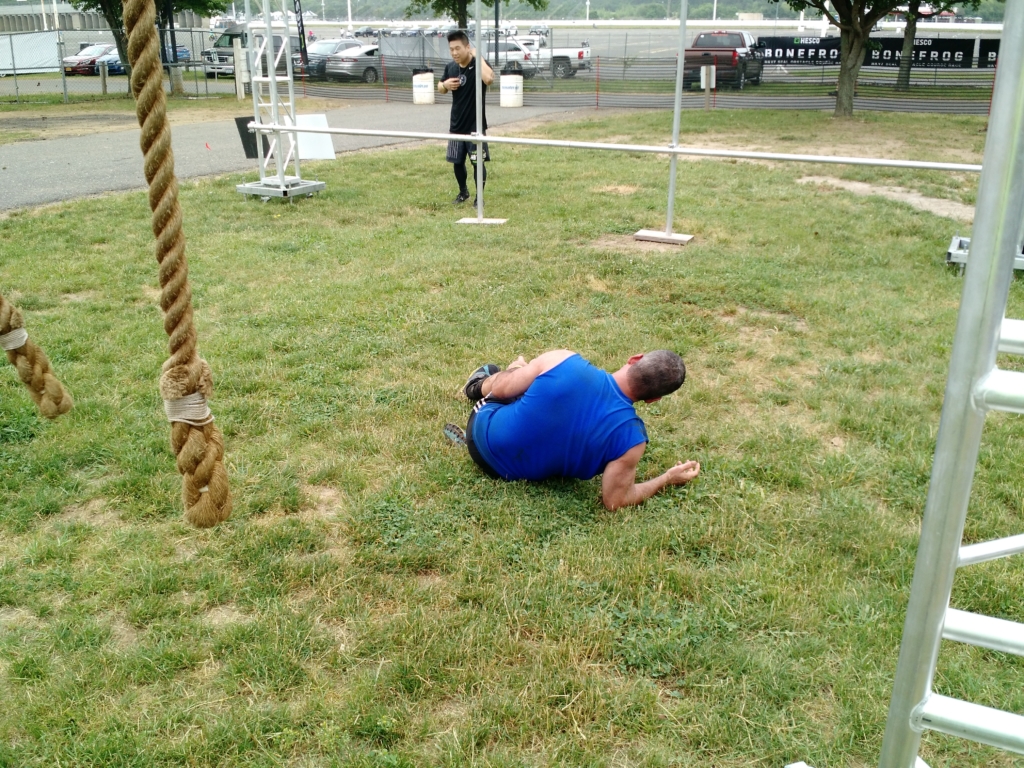 The BF signature obstacle is a very high incline monkey bar with a huge American flag in the background. It's a fabulous photo op. John made it to the top using the wall rope climb. He dried the sweat from his hands. He even asked the volunteer at the top if there were roller bars. Affirmative. He just didn't know which ones. John took off and used the straight-arm alternating bar technique. Just fine until he hit the first roller with a single hand with the other hand released. That spun him right off. Crash land to the net below.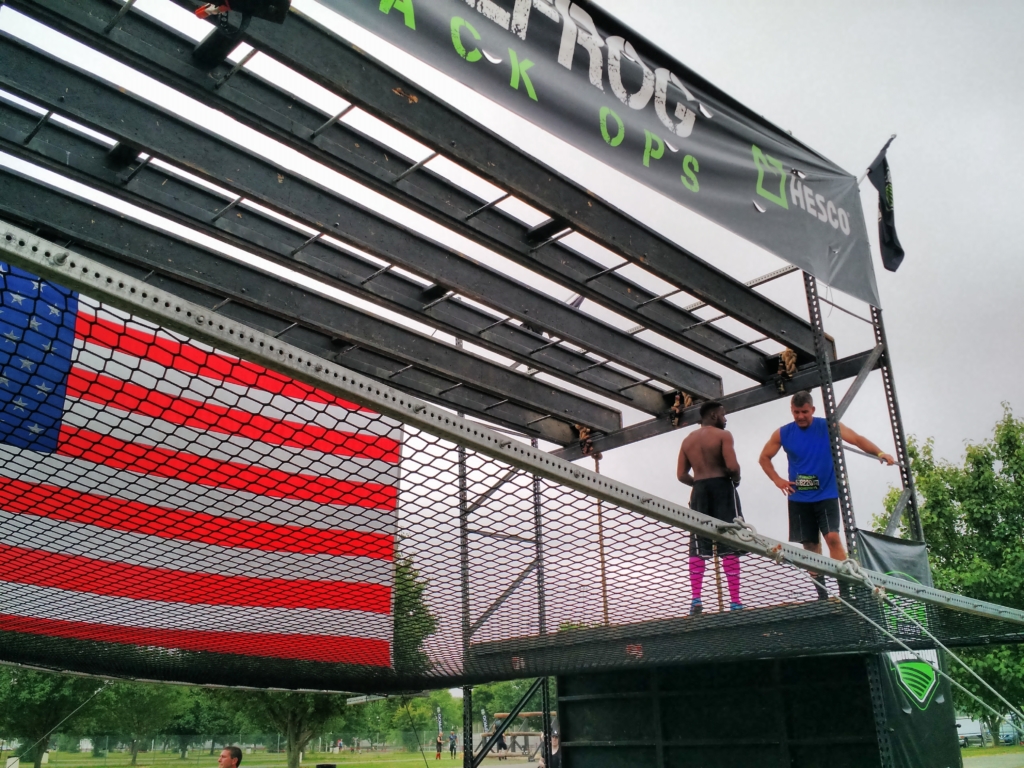 I handed him his medal at the finish line and we walked off to get him his beer. We couldn't stop talking. You know how it is after your first race. So excited. Review every step, every obstacle, every thing he could have done better, faster, smarter. Overall, he said he was very well trained (thank you very much) and as we all confess, now we know. We have a month until the next race. Legs, lungs, and biceps will win it.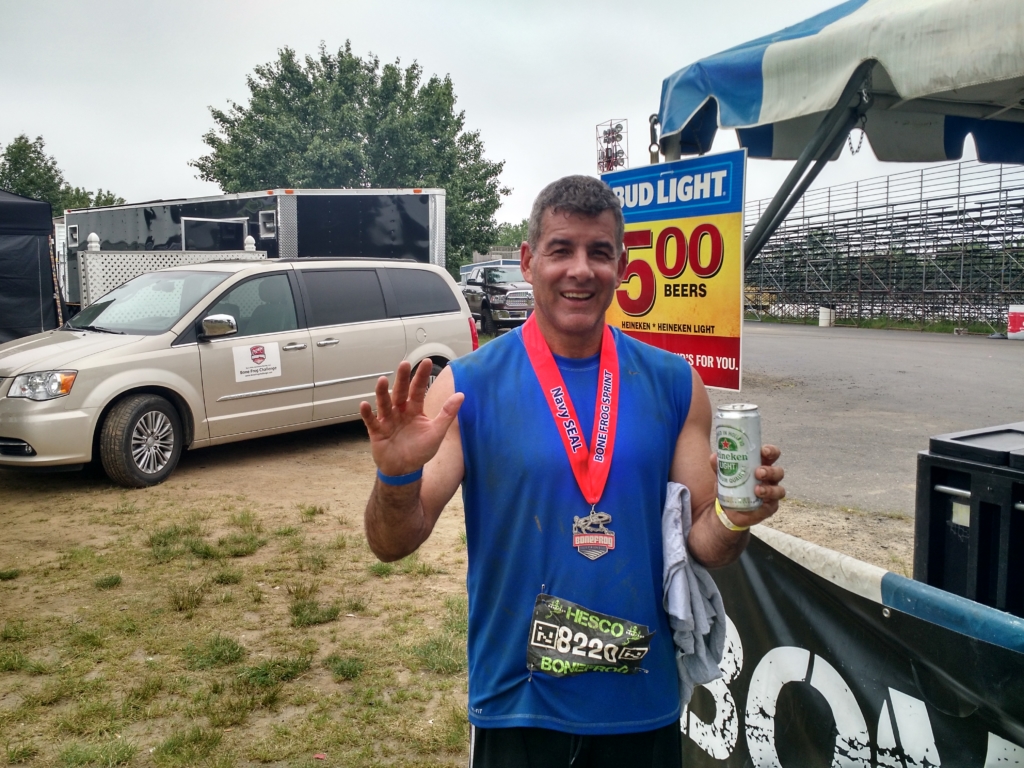 Last week a neighbor friend joined my training crew. We did six miles of running and hills. She did her first ever OCR just the week before, a MuckFest MS. She's training for the NJ Tri-State in November. She told me her training plan and I frankly told her it would not work. At the end of our session, she finally believed me. She wants me to get her a tire this week. That's a good sign when a student asks the coach for the worst pain possible. Here's the bottom line on what to expect at your first OCR – a lot of pain, bruises, and shattered ego, mostly avoidable if you are trained. In that case, you'll still get bloody, bruised, and mentally abused, but in a good way that only a few of us know and love. We'll be back. Palmerton is next my friend.
---
Have you done a Bonefrog Challenge?
Leave your own Bonefrog Challenge review and feedback…
Use discount code MRG5 for $5 off your Bonefrog Challenge registration!