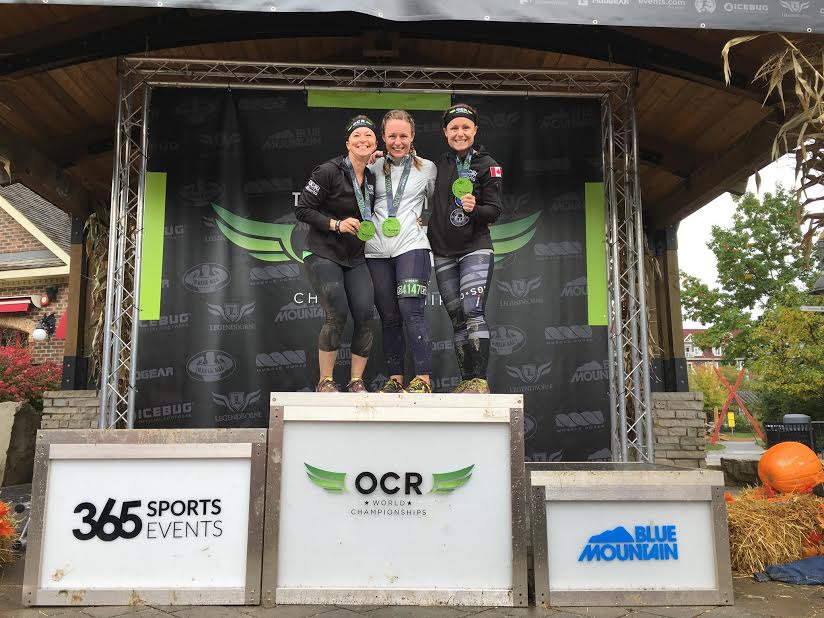 I find within the OCR community it sometimes takes a village of people to motivate and inspire each other to be the best they can be. Primarily, this article series was focusing on the individual efforts of the Badass Women in OCR, but when Amanda's name was brought up to me as a nomination, I was excited. As I learned more about her and the group from River City fitness, the words that came to my mind were: motivation, teamwork, community, family, and strength. I chose to feature Amanda Fex and the Ladies of River City Fitness, because to me, when the going gets tough in a race or personal challenge, knowing there are others standing with you on course and in spirit can make all the difference.
Tell us about yourselves. What is your OCR / racing experience?
We started racing in 2013. Danielle, one of the ladies of RCF, convinced me to sign up for my first Spartan in Edmonton, AB. We ran the race and were all hooked. Since then I have run almost every race in Western Canada, many in the US and have placed in a couple Elite races in Alberta. I placed 2nd in 2015, and 3rd in 2016 Edmonton Sprints, and top 10 in most other races. As much as the competition is fun it is not the reason we all love the sport so much. The community is amazing and we love being a part of it.
You had mentioned River City Fitness to me. Please tell us more about this.
River City Fitness, soon to be a full-time obstacle course training gym (City Fit Shop) in Edmonton started almost 10 years ago as a way to share our passion for fitness, community, and family. We are simply 3 mid-thirties Moms who had a passion and wanted to show others that age, demographic, and life circumstance doesn't mean you can't be the best version of yourself. It started with a few boot camps in our neighborhoods, to a complex offering of obstacle race training classes, HIIT, and even kickboxing. We have a free run club community and being that our passion is OCR, much of our focus lies there.
What is your proudest racing / or OCR achievement to date:
All 3 ladies competed the last 2 years in the OCR World Championships, which is exciting in itself. The goal for us was to keep our bands (completing all obstacles successfully) and I managed to do that in 2016 having lost it in 2015 to the dreaded Sternum Checker (I am only 5'1" so that one is a challenge!)
Is there a single obstacle on course that you are overly excited to see each time? if yes what is it and why?
My favorite is the rope! Or the rig! There is nothing better than an obstacle with a bell, and accomplishing something that you need to train for. Those are challenging obstacles for us ladies!
When you hear the word "OCR" (Obstacle Course racing), what does that mean to you specifically?
It means fun, it means grit, it means challenge, and it means taking our amazing human bodies and seeing what they can truly do. Mostly though it means community, support, and overcoming all things.
In the OCR sport, it seems you need to be able to run, have epic grip and upper body strength, and mental grit. In your own words, what is the most important and why?
It depends on the moment. On that crazy climb you wish it was running and hill training. While doing burpees at the rig you wish it was grip strength, and well I don't know what to say for the spear throw. I think though in general, strength in all forms is the most important. I train our participants that it doesn't matter how fast, it's how confident you are at the obstacles and how you feel once you accomplish them. We train for success and that comes with training and practice.
You recently competed in the OCR world Championships in October. Share with us a memorable experience from that event.
You speak of grit, well in the last 200m of the race there are several obstacles that take upper body and grip strength. After keeping my band all the way through the race with the finish line in sight I got stuck on the Sky Line. Sky Line is just a metal track at a decline with two stubs along the track that you have to pop up the handles you're holding on to get over the stubs impeding the descent, all the way down to a bell at the end. I failed a few times and on my 4th try fell the full distance flat on my back nearly knocked myself out. I got up and had a decision to make… Give up or get up. It takes an OCR racer to understand that moment when you are defeated, hands are torn to shreds, everything hurts, and you are so frustrated. I got up, and this great community of people and racers told me not to quit and to get up there and try again. I did and thanks to them have my infamous band to show for it. This is why I love OCR.
Is there one goal race or challenge that you have for yourself?
I want to place top 3 Elite in a Beast race. I love the obstacles, and shorter distances but really find the longer distances a challenge. Long distance running is not my strength and I'd like to see what hard work can do for me. That on top of completing my first 50k trail run.
What is it about the OCR world that draws you in?
Easy. The people. I have never met a more supportive, genuine, and fun group of people. I love that in the middle of an Elite race where you are in it to win it you have a fellow racer cheer you through an obstacle you are struggling in.
In the OCR community, everyone has a story to tell. If you had to pick one OCR athlete that inspires you, who is that person and why?
I could easily mention one of the many amazing athletes out there, especially the Canadian women, Allison Tai, Lindsay Webster, or Faye Stenning but right now the most inspiring OCR athlete was the fellow I met last month in LA while doing the SPARTAN SUPER. He was a 500lb man eyeing up the "easy" 4' wall into the start line. He was there knowing the challenges and obstacles he was going to face, the number of burpees he may have to endure, and in spite of how nervous and scared he was in this first SUPER he had a smile on his face, a community there to help him, and the loudest AROO at the start line.
What's the toughest obstacle you have had to overcome on course?  How did you overcome it?
The 8' Wall. Being vertically challenged makes this otherwise easier obstacle a challenge. I have had to practice technique and timing to run up the wall and grab the edge. I still can't guarantee the one shot I have to get it will be successful and find that messes with me. Having to do burpees on an obstacle most other elite races get easily can bring you down but I have to muscle through and work hard and stay positive.
What is one exercise you recommend to try and increase grip strength (that is a big one for rope climbs and wall climbs)
I do a fun countdown exercise a few times/week. (You can do the pull-ups on a Lebert bar or a pull-up bar). Keep counting down until you can't complete the pull-ups without taking a break.
10 Pull-Ups, 10s Hang, 60s Farmer carry (Use jugs, dumbbells or weight plates)
9 Pull-ups, 10s Hang, 60s Farmer carry
8 Pull-ups, 10s Hang, 60s Farmer carry
If people want to reach you on social media, what's the best way to do so?
Facebook (https://www.facebook.com/cityfitshop/)
Instagram (https://www.instagram.com/cityfitshop/)