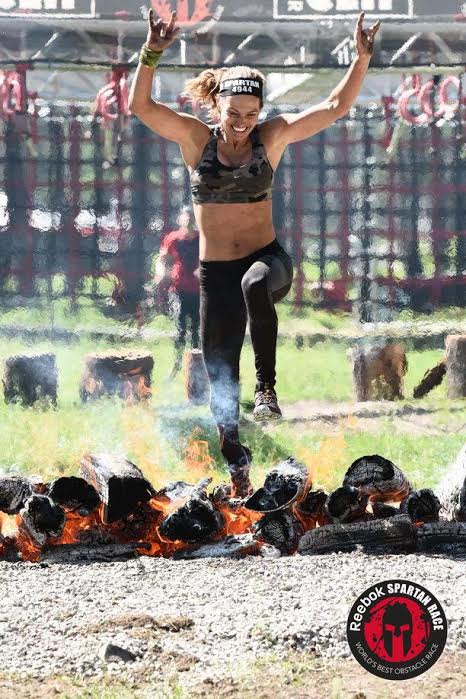 Heather Gollnick was brought to my attention directly by a few people. Not only is she a mother, but she has a pretty impressive history – she is a coach, a Triathalon trainer, a personal trainer, a published author, a motivational speaker and someone who truly embraces the healthy lifestyle that most of us work so hard to achieve on a daily basis. I picked Heather for my Badass Women of OCR article series due to her dedication to life, getting dirty, training hard, and keeping it real.
Heather, please tell us about your background:

I grew up very athletic, I was a very energetic kid (still am) so my mom had me in as many athletic activities as we could squeeze in! My main focus was gymnastics and I competed through college before getting the triathlon bug! I competed several years as a top age grouper and turned professional as a triathlete in 2002 focusing on the Ironman distance. I competed as a top professional triathlete for almost 10 years. I was the top American long distance triathlete for several years winning 5 Ironman Titles. This is my second year racing in OCR!  My endurance background helped for sure, the hardest part was figuring out the obstacles, especially the grip strength. It had been 25 years since I was a gymnast so I had to rebuild calluses on my hands and toughen up!
How long did it take to get you hooked to OCR?
I was hooked after my first race! It was last year in January (2016), in CA. The atmosphere was exhilarating, the athletes so friendly and the courses different and challenging! Although I loved the races doing 90-120 burpees was frustrating, it also made me determined to try to master the grip strength obstacles, I'm still working on the spear but it's coming along.
What has been the hardest thing for you in your career as an athlete?

The hardest thing in my career as an athlete has been dealing with injuries that have taken me out of competing. I raced as a professional triathlete from 2002-2011 and had a few years where the injury took me out of the game which was hard emotionally and financially as I made a living racing the Ironman distance. Now at 47, and racing Spartan I like to think I am a lot smarter. When I have aches and pains I get PT at Forever Fit here in Steamboat right away before a few days off turns into weeks! I also take ice baths, foam roll and use my "Roll Recovery" every day. The different obstacles and trail running have helped me stay more injury free, Ironman running was all on the roads and not nearly as forgiving.
When I started OCR coming from a triathlon background I had a lot of endurance but virtually no grip strength, I have really had to work on that along with the spear throw and crazy downhill running! We live outside of town on a ranch and we have built most all of the obstacles and 3 (yes 3) spear throws – all facing different directions.
When did you find out you were going to be a member of the Spartan Pro team?

I found out I made the Spartan Pro team this February and was thrilled and honored. I feel very thankful and blessed to do this at 47 years old, to love it as much as I do, and to be on the Spartan Pro team!
What type of fuel/items do you bring on course when you race?
Each race I use my honey stinger energy gels and wear my favorite Point6 skull socks.
Please tell us about some of your bucket list races?
I would love to go to the Hawaii Spartan races and do the trifecta" I also have not done an ultra-beast so that's on there and then of course after that the 24 hr races… and then the list keeps growing 🙂
If you don't mind sharing, what does your day to day life look like?
I own a triathlon and personal training company called Ironedge coaching which includes Triathletes, Spartan athletes, and general fitness. One hour I may be riding with an athlete, another giving swim lessons or teaching someone TRX or maybe talking nutrition with an athlete. I do online coaching for locals as well as athletes from all over the U.S. As a certified triathlon coach and since finding Spartan I also became a certified SGX Coach, so I spend some of each day responding to their online Work out logs. I also have a triathlon team called "Ironedge" I have 3 children and we try to have dinner nightly together and spend time playing a game. Now that it is nice out we eat on the pati0 which is beautiful and play corn hole… I am the worst one in the family!!!
Do you find it is important to ensure you are taking control of your own health?
Taking control of one's health is very important from eating right to exercising! I have recently been working with a company called Inside Tracker which is remarkable. You go to a lab and have your blood tested and the results are sent with multiple important Biomarkers for general health and one's especially for athletes. If you are low in iron or a specific vitamin the program teaches you what to eat and how to make the corrections.
Please tell us about a bad race experience you have had.
Bad race experience… OMG last year I had a race where I was in the zone and just following the athletes in front, and about 5 of us made a wrong turn and when we figured it out about a half mile later we had to re-climb that 1/2 mile about 8 minutes total. It was our fault but very frustrating.
Luckily I was with another Masters female, Heather Butcha who is an awesome athlete and person and we were able to encourage each other and stay in the game and finish strong despite our misfortunate and wrong turn. It was my worst Spartan finish but a good learning experience. I wrote a book called triathlete EQ with a neuroscientist and the book is geared at the mental side of training and racing, I better have that part down even when things go wrong! Ha
What is one thing post-race that you love to indulge in?
Post-race I love ice cream!!! I don't do a lot of dairy so I love splurging, but it has to wait until the second race is over 🙂
If someone wants to reach out to you on social media, where can they find you?
Instagram: athlete_heather_gollnick
Facebook: athlete heather gollnick
Website: heather gollnick.com