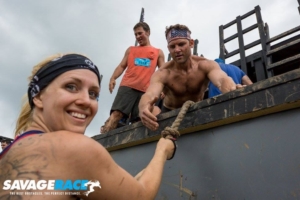 Savage Race made their New England debut this past weekend in Barre, MA at the familiar OCR venue Carter & Stevens Farm. For many veteran north east obstacle course racers this is a well-known location that we have run at in the past.
Leading up to the event there was great communication from Savage Race ensuring participants were well informed and prepared with race waivers, start times, bib numbers and directions to the venue. Parking was off-site as usual, but only a short few minute bus ride away to the venue. Several neighbors adjacent to the farm were offering closer parking within walking distance for a fee, which is a nice option if you're running late. Registration and check-in started at 8am, 1 hour prior to the 9am Pro heat start time. This seemed foreign to me since most other events (OCR or road running) I've been to typically start much earlier.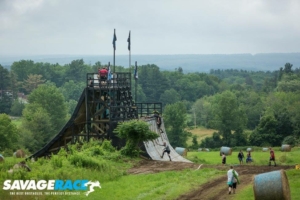 Dustin Dorough, one of the best and most well-known OCR starting line announcers was there pumping up the crowd and sending the runners on their way into battle. The course distance was 7 ½ miles, slightly longer than their advertised 5 to 7 miles, but I didn't mind it at all. There were no significant elevations to speak of, just rolling hills through the picturesque New England farm. And mud…lots and lots of mud. Mother Nature provided some rain leading up to the event, so I'm not sure how much additional mud the race director added to the course. The technical single-track trail running was complemented well with open fields and well placed obstacles. My only suggestion for future events would be the spacing and placement of obstacles. After a handful of obstacles in the first mile the course then opened up to over a mile of running through the fields and woods. With almost 30 obstacles throughout the course I thought they could have been more evenly spaced. Also, the only obstacle within view from the festival area was the Twirly Bird rig, which was different than other Savage Races I've been to at other locations. Signature obstacles like Colossus, Wheel World or Sawtooth were spread out on the course away from the festival area and spectators weren't able to enjoy watching the savages conquer those obstacles.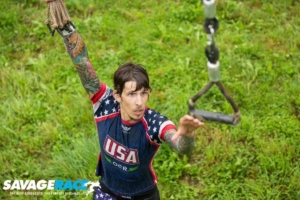 Volunteers were enthusiastic, water stations were spaced evenly every couple miles, and the course was very well marked and laid out. I didn't hear of anyone getting off course or lost.
The course offered a variety of obstacles combining upper and lower body strength, balance and endurance. Savage Race brought several obstacles that push participants out of their comfort zone (heights, water, dying). And some of the obstacles required strategy to complete, which is a welcome change to the typical obstacles offered by the other major OCR companies.
Sam Abbit, the Savage Race founder and CEO was on-site and very involved with his staff ensuring the event went smoothly. You can easily see how dedicated the people at Savage Race are to offering a premier experience to their participants.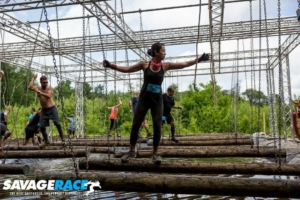 The festival area was setup well with vendors, DJ, finish line, photographer area and awards ceremony. The NE Spahtens biggest team tent was in a convenient location and restroom facilities and showers were plentiful. This wasn't the first rodeo for an OCR event at Carter & Stevens Farm, and you could tell. Courtney Beggs with Inov-8, a well renowned NE Spahten was there demoing shoes that you could actually run the course in for free. This was the first time I've seen this, and it was a great marketing tactic. My wife bought the shoes she ran in and I took advantage of their special promotional pricing and bought another pair of shoes for myself. In my opinion Inov-8 are the best OCR shoes on the market.
Another advantage of the Carter & Stevens Farm is their on-site Stone Cow brewery. This was by far the best post-race free beer I've ever had. I can't tell you how many free beer tickets I still have in my bag from every other big OCR, since I don't care much for cheap light beer.
The Savage Race medal is pretty cool too and now they're offering a Savage Syndicate medal for participants that have run more than one race (multi laps in the same day qualify as well) with a special pin for the specific state you ran in. The Syndicate medals are awesome.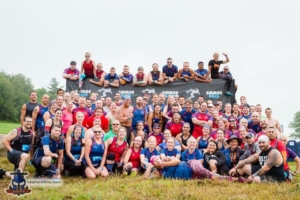 Even though Savage Race is a big-name company in the industry, the event in Barre, MA didn't feel corporate at all. The old school printouts posted on plywood boards before registration with everyone's name, bib number and start time made it seem very informal and less technical. The OCR community is always very welcoming and inviting, and everything from this Savage Race at Carter & Stevens Farm delivered. I look forward to running this event again next year in 2018.
Rating: 4/5
---
Have you done an Savage Race?
Leave your own Savage Race review and feedback...