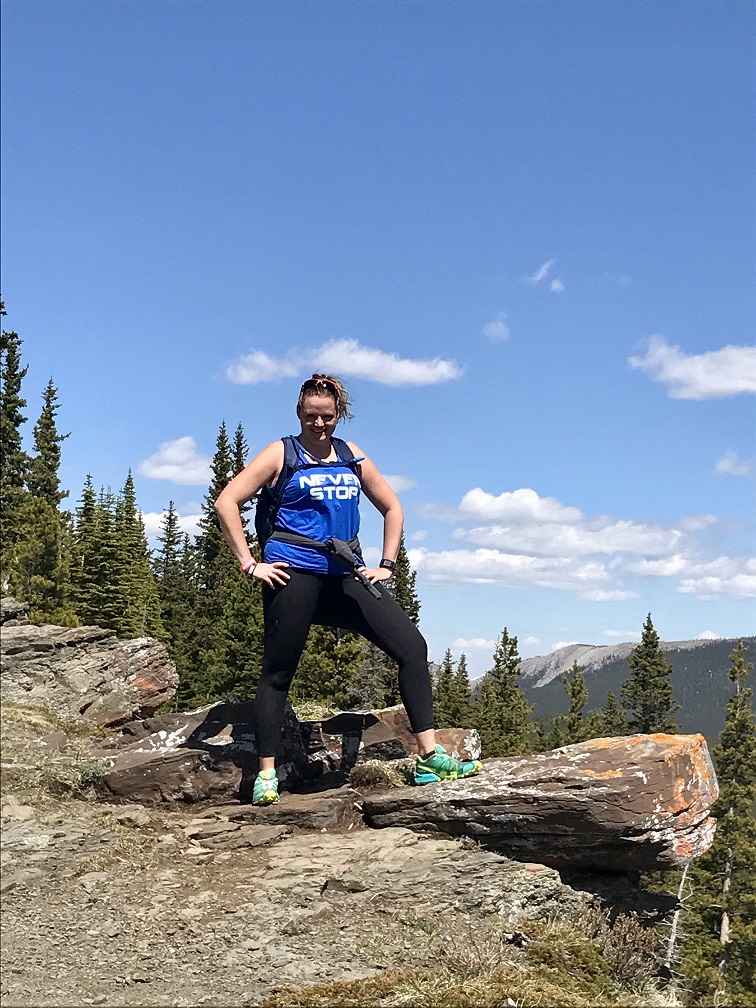 It is never an easy process figuring out who I should approach next for this article series. There are so many amazing women out there in the OCR community.  With this article series, I don't want to just focus on those women that podium or win world championships but tell the stories of all women that I feel are bad ass in their own rights.
Krista Markham was nominated for my article series by friends of hers.  From what I understand she is the epitome of "Never Stop", "Never Give up". Having been diagnosed at a young age with severe asthma, she was limited in the activities she could do, but that didn't stop her from trying. I find this inspiring, as many people see a health diagnosis as a stopping point in life, and fall into deep depressions.  With Krista, she has decided to still challenge herself and be a strong role model for her son.  She hasn't taken the easy road when it comes to her health and life, but what makes Krista Bad Ass in my eyes is the fact that she isn't taking life and its challenge's lying down.
I hope after reading Krista's story, you will feel just as inspired as I do.
** Disclaimer** you should always listen to the advice of a medical professional before participating in any activity no matter how strong willed you are.
Please tell us a bit about yourself:
When I was 2 it was discovered I had severe asthma. Growing up I always wanted to do Track and Field but couldn't do much. My asthma was always a factor. I never let it stop me but I was limited in what I could do.
I almost died from asthma 3 times.  Most recently was March 2016. I started running on a whim and a dream in April 2012. A friend Cindy asked me to join their "Learn to Run" program. I ended up making it to the end and the group of us ran our first 5k race and I finished in 34min. I was in total shock and addicted. From there I went on to 10k and then in October 2013 I ran my first half marathon. In April of 2014, I went to Vegas and did my first Spartan Race Super. That year went on to complete my first trifecta and 4 Spartan Races. I felt huge support from strangers and knowing I could accomplish these hard obstacles. Like in my life I have many obstacles and OCR has thought me no matter what happens you deal with the obstacle however you can with the best of your ability and you will overcome it.
I came from an abusive marriage where I was lost and lost who I was. I have found me again. Feels amazing! I also battle depression and it's helped me know I can keep going and that it's just a temporary feeling I need to deal with and come back out of.  I have done OCR's, Road Races, three triathlons (including an Olympic distance in Banff Alberta), charity races and now getting into trail racing.
Who inspires you on a daily basis and why?
Not one a person inspires me. It's more of seeing my new friends that I have made through this amazing sport and my son. Seeing how each one of them overcome their challenges, they get stronger and get faster. Each one with their own story. Seeing how we come together to help each other during races but in life as well. I couldn't imagine life without these awesome people in my life. They all inspire me on a daily basis.
Running / doing OCRS with asthma must be a huge challenge. Can you share some insight on this for those readers that may have a similar condition?
It's a huge challenge. For me it's different each race too. I make sure I take my meds the week before on a regular basis. When not racing I cannot take as much. Once race day happens it depends on conditions, the temperature of the air, if there are lots of things I'm allergic to around or if I'm sick and stressed. My lungs love cooler air. I race the best in the Seattle area. I seem to have way less asthmatic issues there. Too hot is a big factor. I take my meds before a race always. During a race with I have attacks or start to feel one coming on I try and slow my breathing down. I do lots of big belly breathing to slow my heart rate down. The higher my heart rate the faster the attack comes on. I know this sounds weird but I talk to my lungs and sometimes that distraction calms things down. Worst case I use my ventoline inhaler to get them calmer again. I walk lots when needed and jog when I can. Each person is different and each race I am different even racing the same one the next year. I wish there was a magic formula.
What inspires you to keep racing?
My friend Pam that suggested I start a blog of my running journey. She passed away from Breast Cancer in November 2016. She and I started running at the same time. I run for her and for those that can't for whatever reason. I also want to show others if you have a dream that nothing is impossible of achieving.
Also with being a single mom it has shown my 13yr old son to never give up no matter what. Showing him this world of racing with me and meeting the people we do. He loves the time we have and the memories we have made doing races together.
What is one thing that being involved in OCR has taught you?
Team work is key… strangers can become best friends and family. You can face your fears head on and never give up. That I am unbroken and determined… or stubborn.
What is your favorite post-race OCR food?
A big greasy cheeseburger and a screwdriver drink. In fact we often talk about what we are craving during a race and it helps keep us going even when we want to give up.
In your own words what makes you bad ass?
I am so honoured to have been nominated for this and am shocked to have been. Being bad-ass in terms of feeling strong, lifting something heavy during a race, being strong in life and being able to fight/help those that need it. I tackle life head on and don't back down.
What has been your proudest athletic achievement to date?
In Spartan Canada in my age group in the open heat I finished in 18th place, Spartan Race Worlds in my age group in the open heat I finished 107th place. Finishing the Olympic Triathlon in last place with meeting all required check points and before the time ended. From the start we had a total of 4 and half hours to complete all three. I did it in 4:07:43. I suffered lots during that race and at one point I was going to stop. So glad I didn't. Hearing strangers cheer me on running down Banff avenue was emotional.
What has been the toughest thing you have struggled with during your OCR career?
It would be heights and rope climb are a major issues. For two years I have been working hard at overcoming them. I am getting better at them and I don't freeze as much on top!
If someone wants to reach out to you on social media how can they find you?
Instagram: @runningmomma_asthma
Blog: www.running-momma.com