Mud Run Guide was there to witness the unveiling of a new functional fitness space designed for Tough Mudder training
For Tough Mudder, 2017 is proving to be a landmark year. The obstacle course and lifestyle company launched several new events this year including Tough Mudder 5K and Toughest Mudder, the latter which will air on CBS, and yesterday they revealed Tough Mudder Bootcamp. Tough Mudder's US Headquarters is in Brooklyn, NY on the seventh floor of 15 Metro Tech, but little did we know, they were building a full-fledged gym just one floor above. Wednesday marked the date of the official launch of Tough Mudder Bootcamp, where people can come take a 45-minute high intensity interval training workout designed to improve four pillars: strength, power, agility and endurance. Not only will this class be offered in New York, but Tough Mudder Bootcamp is a franchise opportunity for any businessman/woman looking to be the Tough Mudder hub of their community.
"After 18 months of prototyping we're unveiling the Tough Mudder Bootcamp: our entry into the studio space. It's all about group based training," says Will Dean, CEO and Founder of Tough Mudder. "The thing we learned from the no-shows at Tough Mudder was that training together as a team made you seven times more likely to achieve your fitness goals. We built a workout not just to work in markets like New York or Los Angeles, but to work across the US. This year, we will start with 10 Tough Mudder Bootcamps, next year the goal is 150, within five years the goal is over 1,000 and in 10 years time 5,000 Tough Mudder Bootcamps."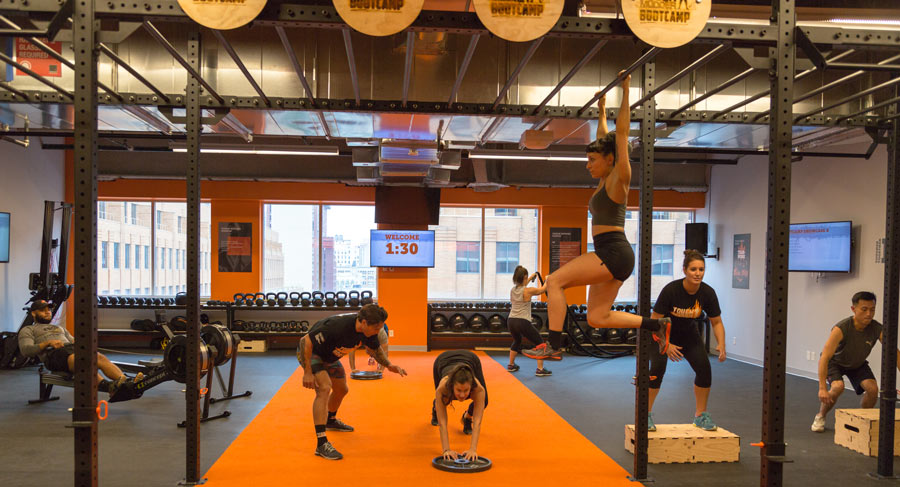 WHAT IS TOUGH MUDDER BOOTCAMP?
Tough Mudder Bootcamp is the name of the functional fitness space where owners, with the support of the Tough Mudder team, will hold unique team-based workouts using state-of-the-art fitness equipment. In Brooklyn, there were kettlebells up to 80 pounds, Tough Mudder-branded sandbags, heavy duty rigs, monkey bars, dumbbells, plyo boxes, rowers, wind-resistance bikes, jump ropes, resistance bands, gymnastics rings, and more. The workout itself was divided into several stations, each of which called for doing a specific exercise for 40 seconds the resting 20 seconds. The cool part about this setup was each station had a flat-screen TV with certified personal trainer and Tough Mudder emcee Eric Botsford demonstrating the exercise technique, plus the screens displayed the work and rest intervals.
The exercises themselves can be modified for a decrease or increase in difficulty. Within the four pillars of strength, power, agility and endurance, there are class themes such as as Torque, Upper Body Builder, and Lower Body Builder yet each Tough Mudder Bootcamp class will never be the same workout. The exercises are constantly varied between class structures and Tough Mudder has come up with a data system to gauge which event you're ready to tackle. For example, a certain score during one workout means you can definitely conquer a Tough Mudder Half and increasing that score will get you in shape for World's Toughest Mudder. Data-wise, this is a game changer as there's currently no number system to inform us when it's time to move from one race distance to the next.
WHERE IS TOUGH MUDDER BOOTCAMP?
In addition to the Brooklyn, NY location, there will be a Tough Mudder Bootcamp opening outside of Boston, MA and another in Houston, TX in 2017. Aside from the two initial sales, there are 65 territories reserved in the U.S. for Tough Mudder Bootcamps including the Los Angeles and Las Vegas areas, Austin, TX, Cherry Hill, N.J., Chattanooga, TN, Birmingham, AL, Westbury, N.Y, Summerlin, NV and Pullayup, WA.
"We're looking for every single market because we're offering the Bootcamp at a price point half that of a boutique fitness studio," Dean says. "A boutique gym in New York will cost $30 and our cost will be about half of that. We think we have something much better than traditional big box gyms, far more likely to achieve results, not just for the Mudder community, but with anybody who is interested in functional fitness."
MEET THE FIRST TOUGH MUDDER BOOTCAMP OWNER
A name that many OCR enthusiasts may come to know in coming years is Henry Pott. A former Royal Marines Commando in the U.K, Pott is the first Tough Mudder Bootcamp owner and he's looking to open a location in the Metro West Boston area by the year's end. Prior to buying his Tough Mudder Bootcamp, Pott has run the Tough Guy race in the U.K. With a background in finance, Pott was searching for a way to merge his passions for fitness and business.
"I had recently finished a role working at a professional athletic development gym around Boston and I got in touch with Tough Mudder, not knowing they were developing the Tough Mudder Bootcamp concept, just thinking it was a business I can see myself working with," Pott says. "They said, 'We're actually developing a Tough Mudder Bootcamp, would you be interested in considering it?' I said, 'OK, let's think about. I saw the first version of the gym, did a workout, talked with Eric Botsford and the team and here I am today.'"
Pott signed a 10-year deal to operate a Tough Mudder Bootcamp where his investment gets him the setup and marketing support from Tough Mudder to get the gym up and running. The workouts are sent from Tough Mudder for him to upload daily and the equipment is included in the deal. Perhaps most importantly, Pott gets access to the local Tough Mudder community.
"I did a lot of research on who else I could work with everyone, from Orange Theory to F45, and there a few things that set Tough Mudder apart," Pott says. "The teamwork dimension is in my DNA and it's a natural phenomenon for us to work as a team. The marketing support is unparalleled; Tough Mudder is a brilliant marketing company that knows who is in the Tough Mudder community in your area. You have access to people who know how to use Instagram, Facebook and e-mail effectively."
Once the first Metro West Boston location is successful and proven, Pott may open one or two more locations in that area. What really convinced Pott to partner with Tough Mudder was the camaraderie and selflessness instilled within the brand.
"When I looked around and saw who else was trying to get me to franchise their gym, the lack of ego at the front office tipped me over the balance," says Pott. "The math got me 80% of the and the last 20% was me thinking, 'I can trust these guys.'"
HOW TOUGH MUDDER BOOTCAMP WORKS
Bootcamps only require about 2,000-3,000 square feet and the estimated total cost to open a Bootcamp is $200,000-$300,000. A fitness enthusiast looking to try Tough Mudder Bootcamp can drop in and take a class, sign up for a package deal such as 10 classes, or subscribe to a monthly plan. Dean says there's a reseller program where monthly Bootcampers get discounts to Tough Mudder events.
"What you get is a workout that is scalable for any level of fitness and it's a chance for you to see what Tough Mudder is all about if you haven't done an event," says Dean. "If you have friends that aren't ready to do an event, now they are going to get a taste of what the Tough Mudder community is all about."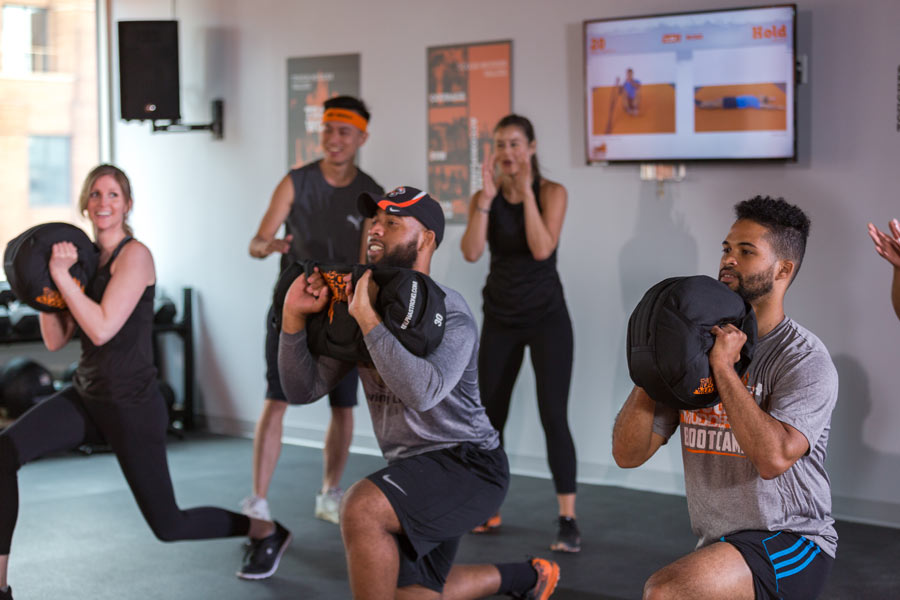 By: Mark Barroso, NSCA-CPT, SGX