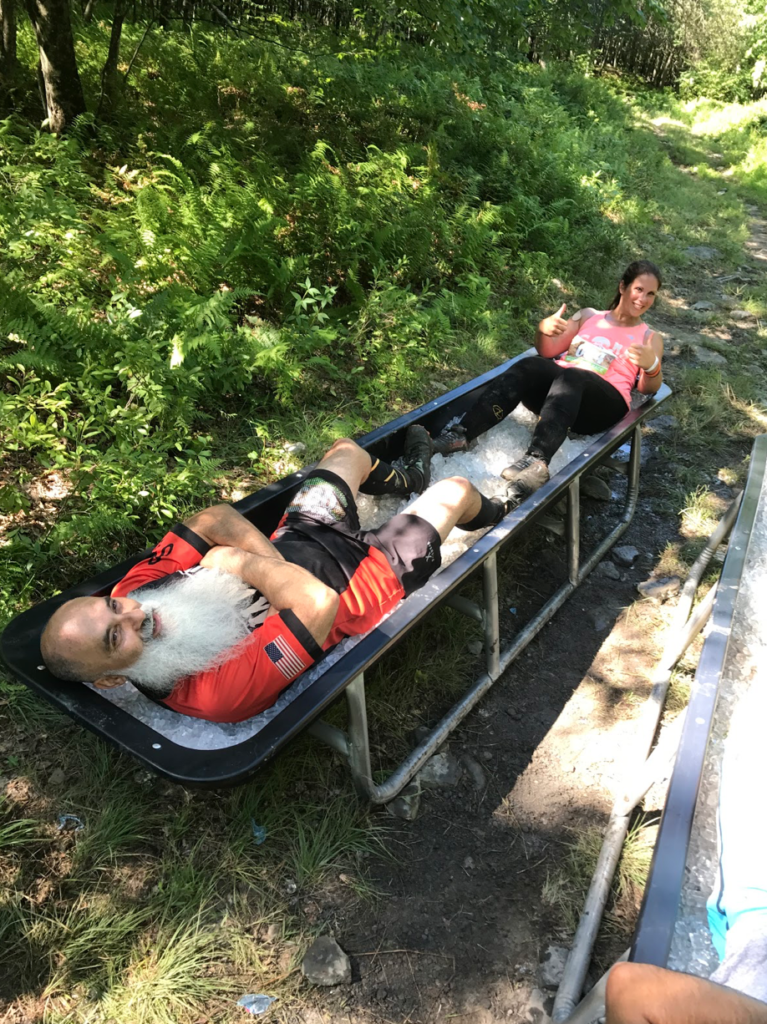 I like to shop local. I like the little mom and pop ice cream shops, small hardware stores, and farmers markets. I like knowing exactly where my money is going and knowing that I am helping a real person. This is why I was so excited when I heard about Muckstock, a brand new OCR not too far from home.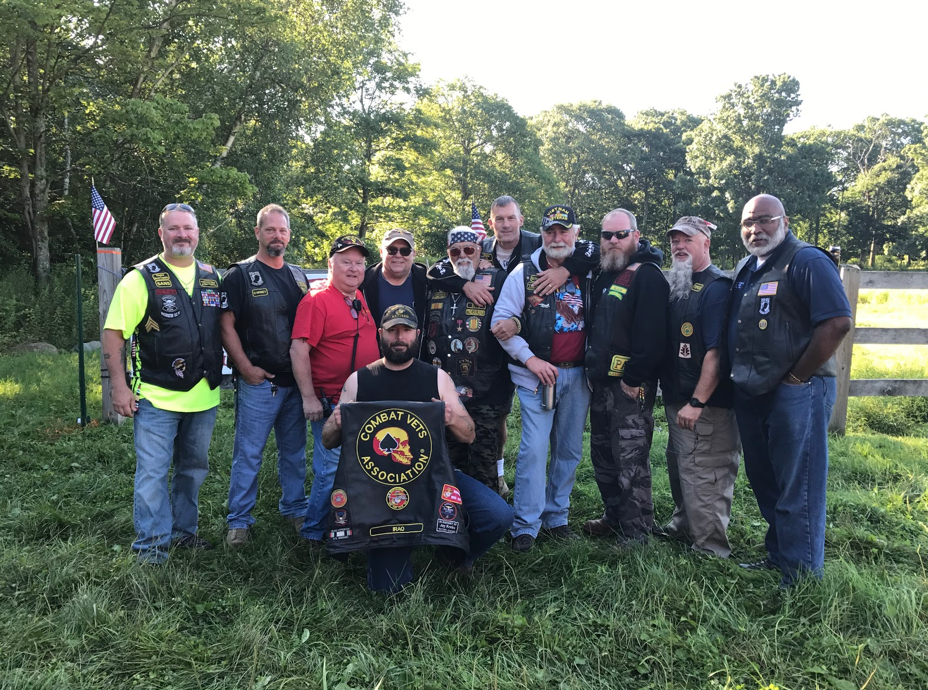 Six months ago Tom Ryan, founder of Vetstock a local organization comprised of "veterans helping other veterans", decided to start an OCR with all proceeds going towards Vetstock's support of Folds of Honor. Vetstock is a non-profit that only donates money to legitimate veteran organizations that have been thoroughly vetted in order to ensure that all funds raised go directly to veterans, their families and to organizations helping veterans. So when you registered for this race you knew exactly where your money was going which is a big deal for people who do not want to see all of their racing fees helping large companies become larger. This was a way of giving back while doing something that we love to do and do most weekends anyway.
In addition, everyone who worked creating the course and helped at the venue were volunteers. The venue did not even charge the organizers for use of the site. Which was are you ready for it?? A DUDE RANCH! This place was only 50 minutes from my home and I didn't even know it was there. Another reason to race local…you may find new places you never even knew existed.
Muckstock
Pulling up to Malibu Dude Ranch in Milford Pennsylvania which was located down an idyllic tree lined road, I saw smiling, bearded men in motorcycle gear. I soon realized these were members of Vetstock and they were there to help with parking. These men looked so happy to be out there on a Sunday morning directing traffic for this inaugural race you couldn't help but smile and look forward to the rest of the day. Check in was a breeze and we were handed our bibs and a great neon green t shirt that read ,"One Tough Muck'in Experience", with a picture of a bull on it.
I was running with my friend Ed Buonocore of MUDCRO who was consulted on the designing of the course. The event coordinators had run OCRs themselves but knowing Ed is so well respected in the community they rang him up and asked for his input. After we checked our bags we discovered something that made us so happy. There were no port-a-potties. No sir! We were allowed to go inside and use actual bathrooms! With actual toilets and sinks! I have shown up first thing in the morning to a race only to find the "facilities" already a mess so to be able to use a flushing toilet before a race was a huge deal.
Everyone was told to get to the venue at the same time and waves of 70 would be sent off on their 4-mile journey every 15 minutes. I understand they were trying to keep the course moving without any traffic jams but as there were not more than 200 people there I think we could have been sent out quicker or been given an actual start time when we registered. They ended up sending about 20 people out at a time and it left us waiting there quite a while before we started. Luckily the starting line was located near the corral where the horses are kept so it gave us something to look at.
To be fair I will reiterate that this was their first year and they are well aware that there are some kinks they need to work out for next years race. Once we were finally released onto the course we were able to fully enjoy the beauty this property has to offer. It was a gorgeous trail run. We came upon ponds and the tree covering was perfect for keeping the sun off of us. Some of the obstacles were just some mud puddles and streams we ran through but that's ok. This was a great race for beginners and for local gyms who wanted to come out and see how their training was working. Or even for the seasoned Obstacle course racer who was looking to go out for a nice run and wanted to earn a medal without totally beating their body up. Because
Because honestly, I feel that not every race needs to be a suffer fest. These local races are perfect for this. You get to try out a new trail and get a little practice in without traveling hundreds of miles and shelling out money for a hotel room.
Muckstock Obstacles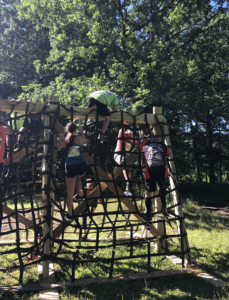 Mucktstock did have the OCR staples of a climbing wall, cargo net crawl and a bucket carry. They gave us the option of carrying a 12lb, 15lb or 25lb, bucket. Of course Ed had to challenge himself and carry two 25lb. buckets which garnered him a lot of curious looks which he responded to with his signature smile. There was also a tire flip and a very interesting water obstacle which was named after my running mate.
Papa Smurf's Polar Bear Plunge was a big trough filled with ice cubes that you had to lay in for 45 seconds. After running through the woods this felt kind of good on the muscles. Ed loves the ice so much he had them pour some ice cubes directly on top of him! Veering away from your everyday race they threw in two stations where we had to do a mini workout. I liked this. We did push ups, mountain climbers, jumping jacks and ab exercises. Like I said, not every race needs to be a suffer fest and this was fun and was something anyone could do! Ed likes to motivate people along the way and at one point he told a man who seemed to be suffering that he was doing a great job!
The man responded with, "Thanks but I think I need to make better life choices," and then he laughed. This man may not have been able to do a Spartan Race or a Tough Mudder, YET, but Muckstock allowed him to get out there and push his body to the limit and this is another benefit to a smaller race. People won't feel intimidated to try it. It can get those who may otherwise stay home on their couch to try new things and realize they are capable of so much more than they thought!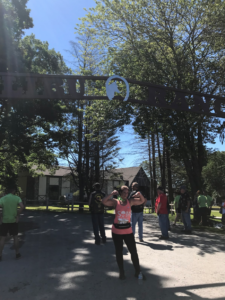 When we crossed the finish line we were handed our beautiful American flag themed medals by those motorcycle riding, smiling Veterans again and headed off to the rinsing station. While listening to the very talented live musician we were hosed off by water fresh out of a pond. The water pressure was great which was something else those bigger races can't seem to get right.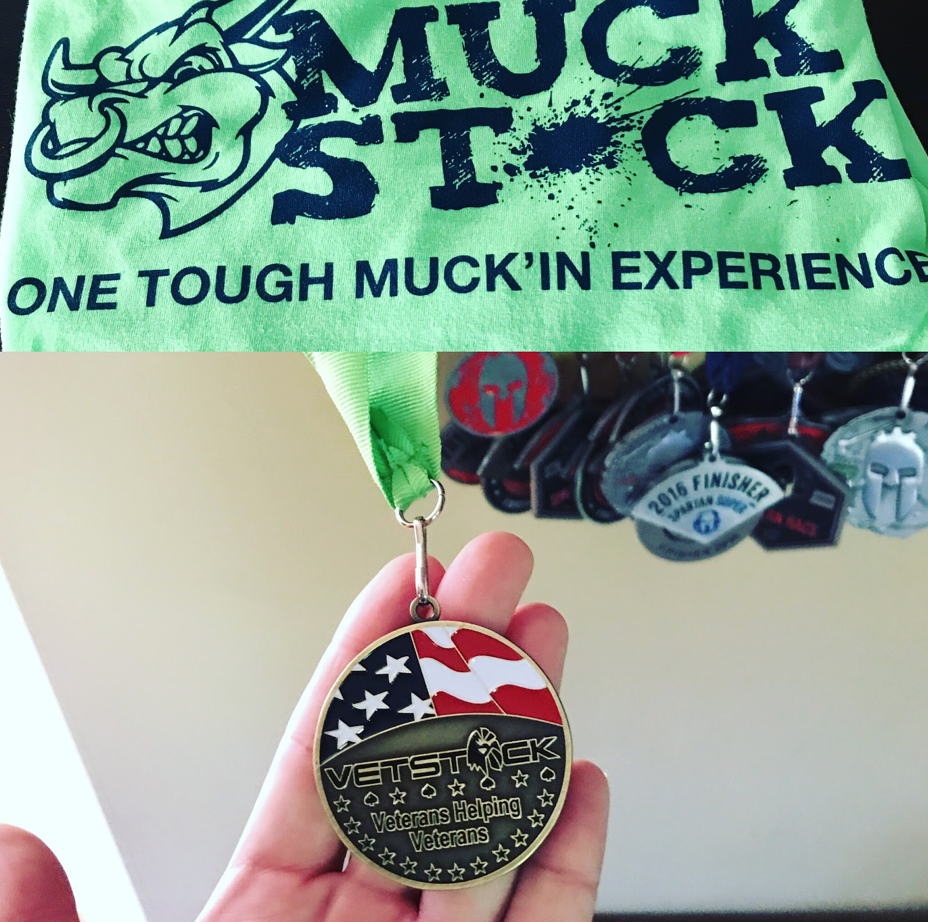 All in all, it was a great day and I left there with a new medal, a body that felt worked out but not beaten to hell and the pride of knowing that I helped a great charity raise funds for deserving American heroes. If you are lucky enough to have an OCR pop up in your area give it a shot. These smaller races can be just as fun as the better-known ones and the service you get may be better because the people who are in charge will actually be there and may even be the people helping you park your car!