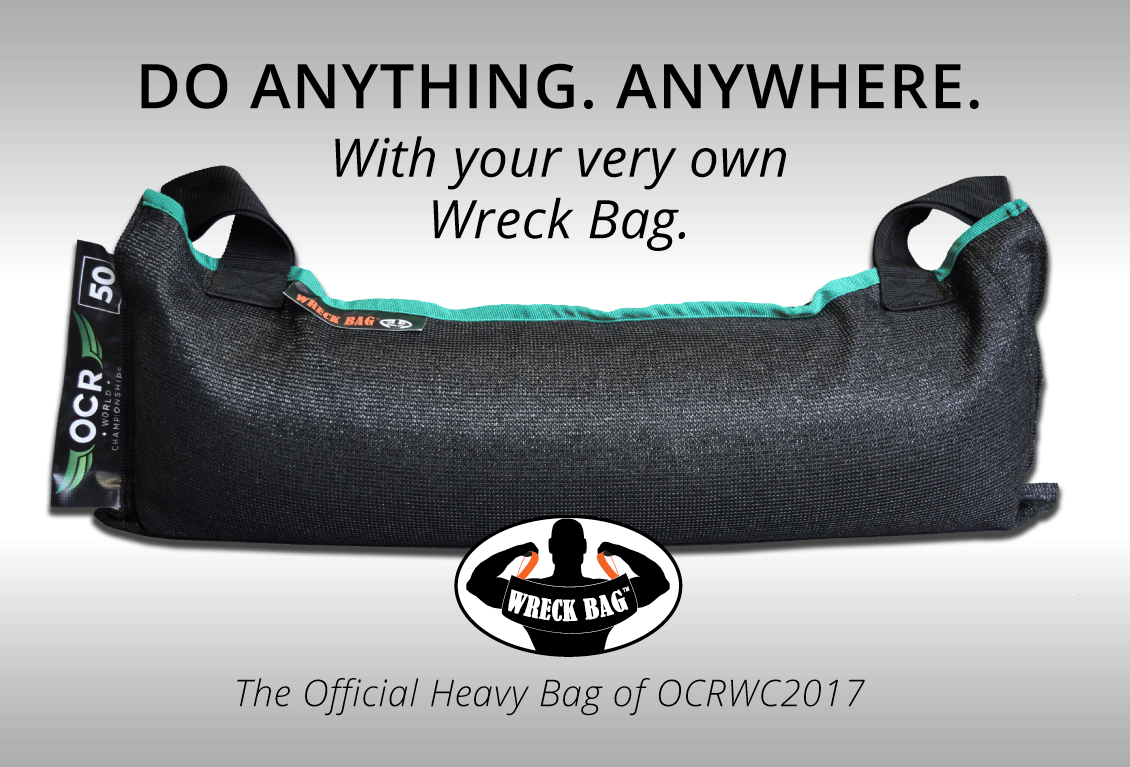 Wreck Bag has been a favorite for many obstacle racers since it was first introduced to the obstacle racing market. The heavy bag stands out from the rest of the industry with it proprietary blend in the bag making it impervious to the rain and other elements. Today the OCR World Championships and US OCR Championships named Wreck Bag the official heavy bag of the two events. More about the announcement below.
---
"The Wreck Bag brand is synonymous with indestructibility, versatility and comfort," said Sandra Sawyer, sponsorship director of the Obstacle Course Racing World Championships and United States Obstacle Course Racing Championships. "Since Wreck Bags are weather-resistant, shock-absorbing and perfectly weight balanced with a rubber fill, athletes can do virtually anything anywhere, from curling and carrying to squatting and tossing. To say we're delighted that Wreck Bag will be the official heavy bag of the inaugural 2017 U.S. OCR Championships and the 2017 OCR World Championships is an understatement. It's an honor to partner with them year after year, and it's easy to see why the iconic Wreck Bag carry has become one of the most historical challenges athletes face when taking on the course!"
As part of the partnership, custom Wreck Bags will be used at the USOCRC in Mountain Home, Texas, in September and the Obstacle Course Racing World Championships in Blue Mountain, Canada, in October, and will be available for sale at a discounted price at the end of the event.
"Wreck Bag is thrilled to be a part of the OCRWC for yet another incredible year and so honored to be included in the inaugural USOCRC," said Lindsay Pettinelli, Sales Director of Lindon Group, the innovators behind the Wreck Bag. "We take great pride in aligning ourselves with organizations that share our passion and values, as well as our ambition to advance the sport of obstacle course racing. The OCRWC and USOCRC are world-class, athlete-centric events that we plan on supporting for many years to come. Here's to a great 2017 race season"
---
Read more about why our contributors love Wreck Bag and how you can save on your own Wreck Bag. 
Want Your Own Wreck Bag? Find Out How here.