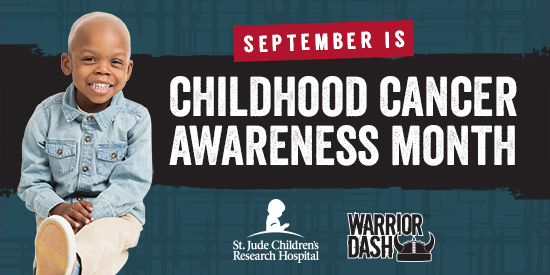 September is childhood cancer awareness month. Warrior Dash wants to help raise awareness and money for the cause. Since the beginning of Warrior Dash the company has been in partnership with St. Jude Chidldren's Hospital raising over $14 million dollars throughout the years. Find out below how you can help.
---
September is Childhood Cancer Awareness Month and Warrior Dash, a longtime partner of St. Jude Children's Research Hospital, will be educating its participants and followers through a variety of informational and fundraising initiatives including discounted registrations.
Today through September 8, Warrior's can make the choice and become St. Jude contributors while receiving a discounted registration. It's easy, save on registration and help the kids at St. Jude Children's Research Hospital at the same time. Warrior's have two options:
Use code DONATE5 to receive 20% off your registration and Warrior Dash will donate 5% on your behalf to the families of St. Jude Children's Research Hospital.
Or use the code SEPTEMBER17 to receive 25% off registration for Warrior's who prefer to save another 5% in lieu of a donation.
Warrior Dash is helping ensure families never receive a bill from St. Jude for treatment, travel, housing or food, because all a family should worry about is helping their child live. Since becoming a St. Jude partner, Warrior Dash, and its parent company Red Frog Events, have raised over $14 million.
Throughout the month, Warrior Dash will feature the personal stories of St. Jude Children's Research Hospital patients on its social media channels to enhance understanding of what children and their families face when battling cancer. At select times during the month, special promotions will be announced to drive fundraising for St. Jude.
In addition, Warrior Dash will continue to provide participants the opportunity to sign-up and fundraise as a St. Jude Warrior. In doing so, they gain access to the St. Jude VIP tent, with private showers, and additional benefits at their local Warrior Dash.
All donations go towards the St. Jude Red Frog Events Proton Therapy Center which opened on the St. Jude campus in Memphis in late 2015. Proton therapy is the most advanced form of radiation technology available to patients, because it allows doctors to precisely target cancerous cells with doses of radiation while sparing nearby healthy cells and vital organs located beyond the tumor. This is the first proton therapy center dedicated solely to children, designed specifically to meet the needs of young patients.
To register as a St. Jude Warrior or learn more, visit WarriorDash.com.
The remaining 2017 Warrior Dash locations include:
Upcoming Warrior Dash Locations
2017
Indiana, September 9
Colorado, September 16
Washington, September 23
Missouri, September 30
Oregon, October 7
Arkansas, October 14
Gulf Coast, October 21
2018
Central Florida, February 10
Texas, March 3
Panama City, March 10
Georgia, April 14
Tennessee, April 21
Oklahoma, May 5
Wisconsin, May 12
North Carolina, June 2
Kansas City, June 9
Minnesota, June 30
Nebraska, July 14
Ohio, July 21
Michigan, July 28
New England, August 18