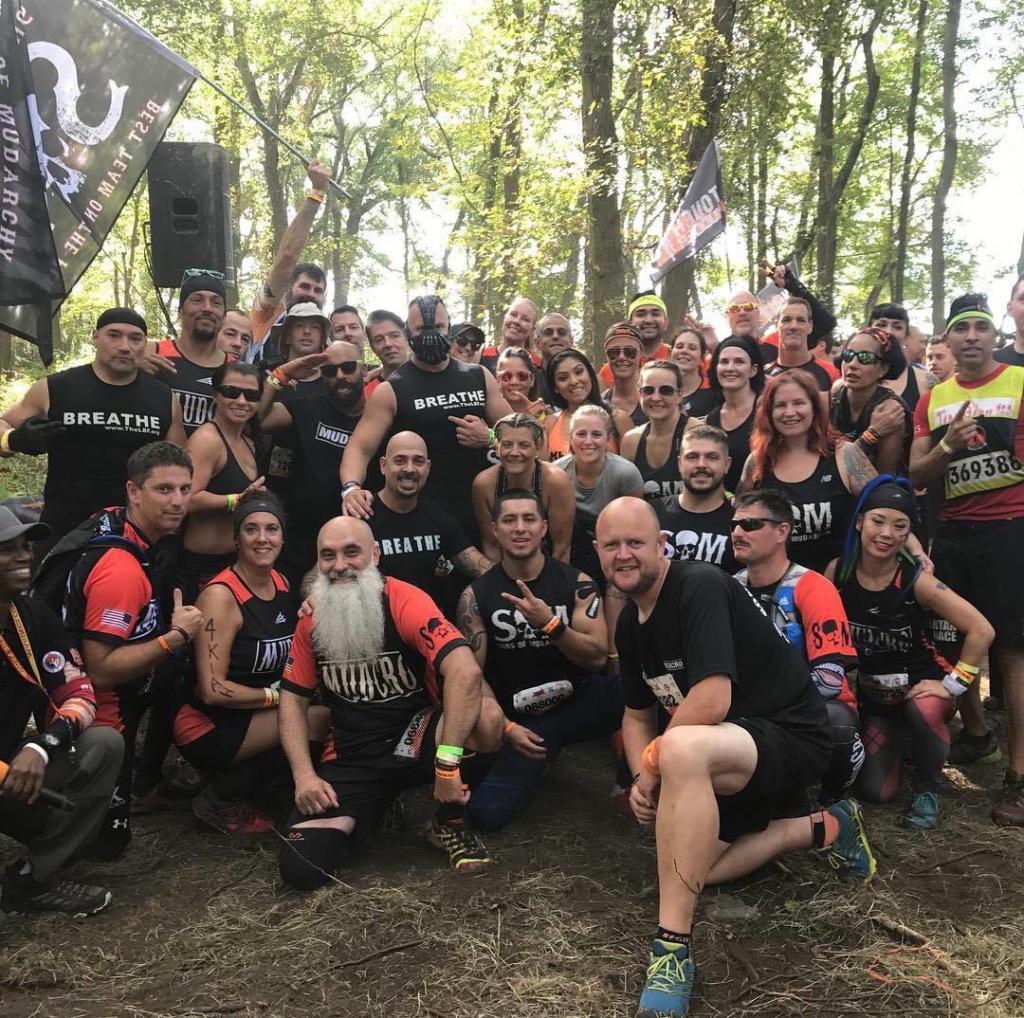 What do you get when you combine mud, friends, ice water, mud, an obstacle called Skidmarked and oh yeah did I mention mud??? You get Tough Mudder held at Raceway Park in Englishtown New Jersey. Throw in the best team on the planet and running to raise awareness for Cystic Fibrosis and you get the best damn Saturday you've ever spent on an OCR course. I ran with 42 members from my OCR families, Sons of Mudarchy and CF Banes Army, and we ran into a little girl named Kiah who has Cystic Fibrosis and is bullied by her classmates.
If this isn't a reason to give your all on a course then I don't know what is. We ran with our team flag and at the starting line, Sean Corvelle spoke about our mission during his motivational starting line speech. After his speech, we took to the course as Shipping out to Boston by Dropkick Murphys played. This helped put an extra pep in my step because I knew I had a long day ahead which was why it was good I downed a full bottle of Zico coconut water provided to us in the festival area.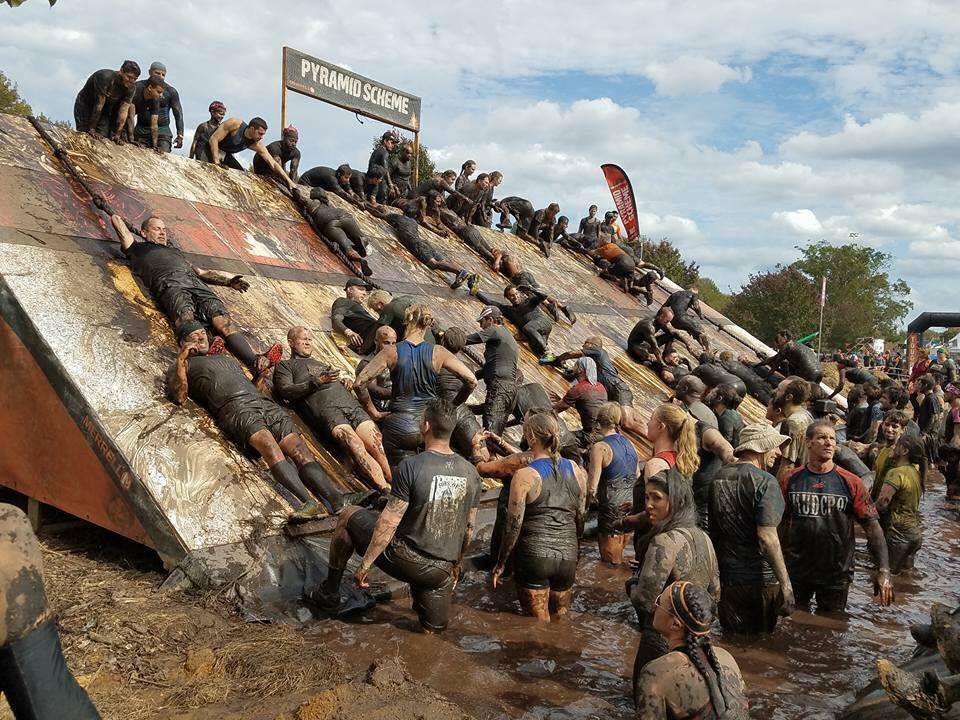 I have run so many races at this venue but this race had us going in places I've never been. We were running through the woods having a great time, all 42 of us sticking together. We went over a high wall, through a little bit of mud and did some more running. Our flag waving high in the wind the whole time. We were all pretty clean at this point and it was easy to see the "MUDCRO" on our jerseys and spot each other and then…it happened! MUD!!!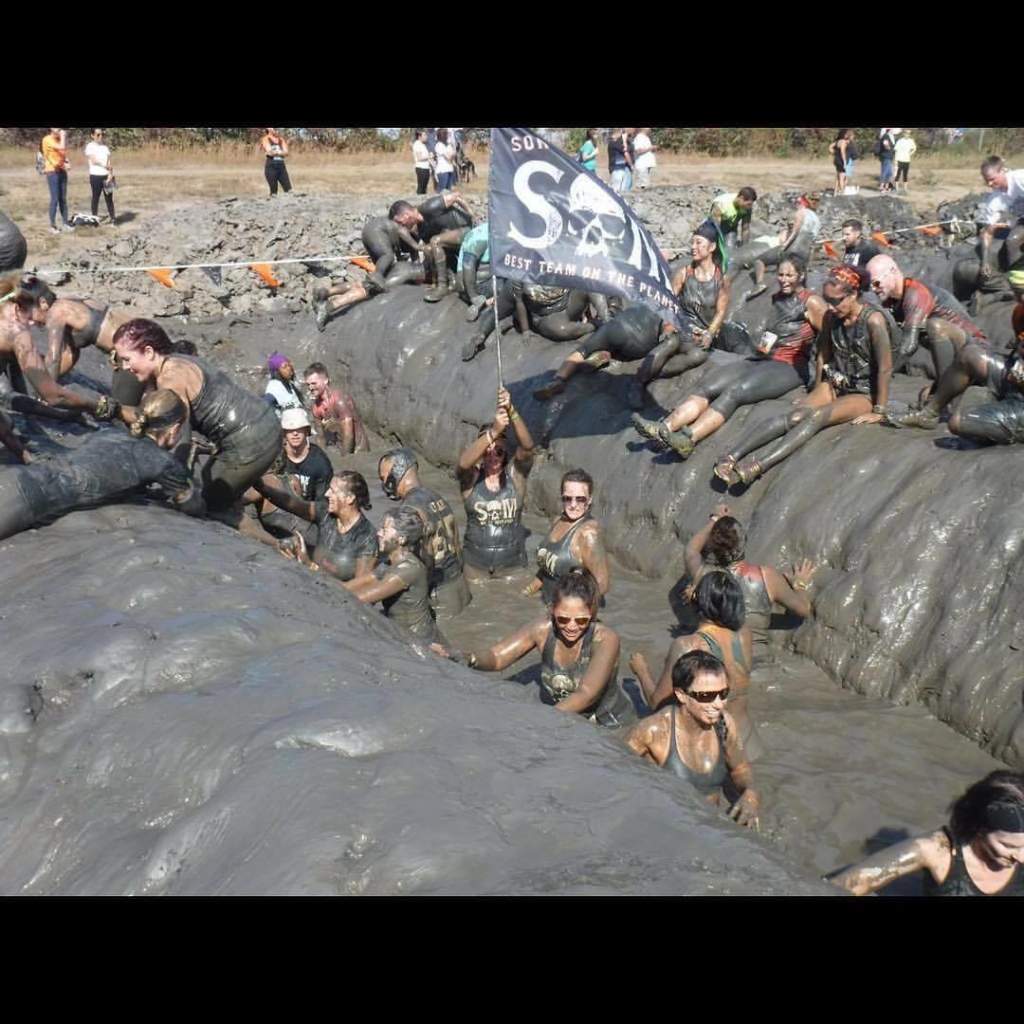 More mud then I have ever seen in my life. There were wet, slippery muddy mounds leading into muddy pools of water. And there were a lot of them! And they were slippery! And we had a BLAST!! Imagine one hundred or so adults covered from head to toe in mud, giggling like little kids. I mean some people were literally covered and all you could see were the whites of their eyes. I heard someone say we looked like seals sliding around in San Francisco. We were all helping each other navigate the slippery mounds and then holding hands while we slid down. I don't even think I ever got that dirty as a child. And I loved it.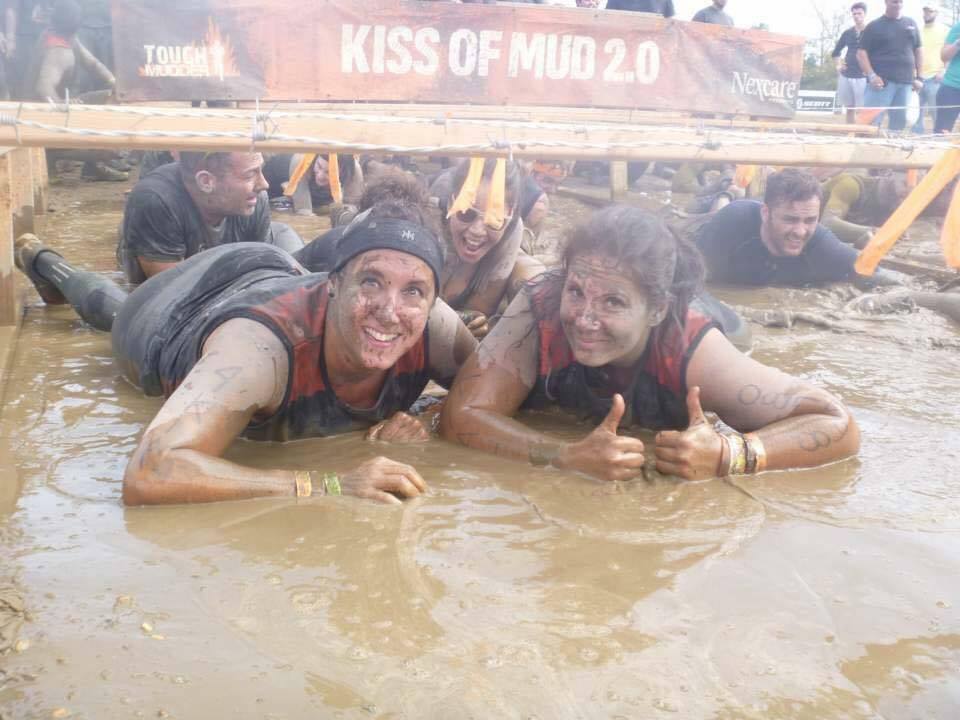 This was nothing compared to what was to come. But more on that later. Blockness Monster was one obstacle I loved at my last Mudder but unfortunately this time it was so deep I couldn't stand which made it kind of hard to navigate. It was still fun even though someone who was coming over the side while I was helping turn it fell on me pushing me under the water and kicking me in the nose. There's no crying in OCR so I sucked it up and got out.
Next up was Pyramid Scheme which my team has mastered. They have the best strategy for getting everyone to the top and YES all of us made it up. Of course, we even helped people who weren't with us because that's what we do. I found that there were plenty of water stations and one thing I love about Tough Mudder is that they provide dumpsters at these stations to throw your cups and other trash in so it keeps litter off the course. And the last water station on the course has bananas which at that point in the race tastes like the best meal you have ever had! Until you finish the race and eat the burned hamburgers…then these become the greatest things you've ever tasted!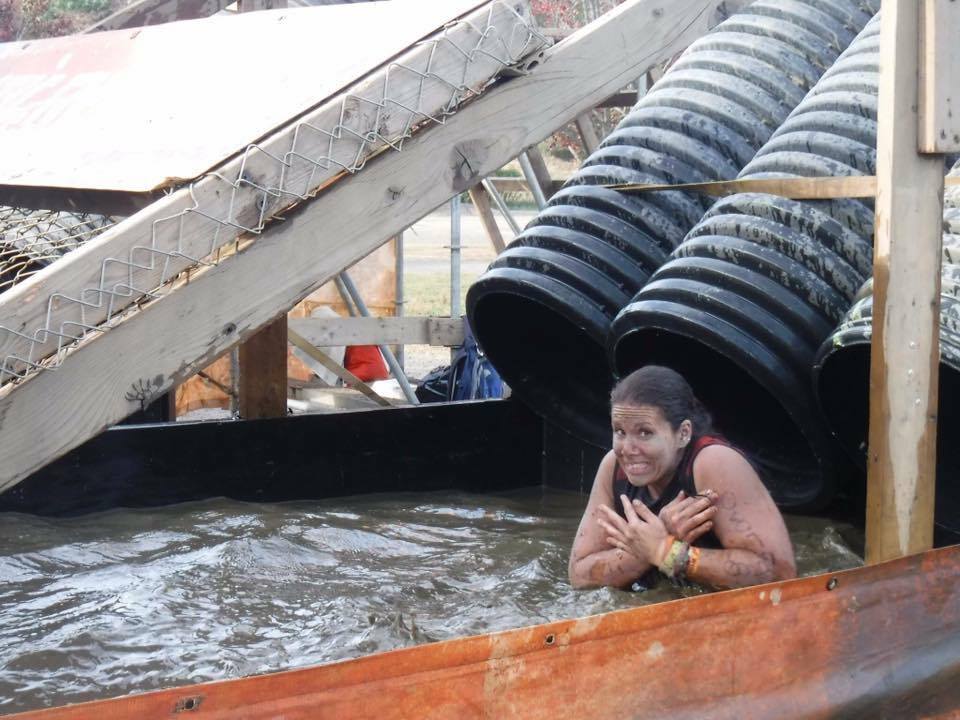 Alright now here is where things get REALLY MUDDY. We got to a point where there was a huge backlog of people. We couldn't figure out why. Well, it was because in this case, Mud Mile was not just the name of an obstacle, it was literal. We had to navigate through thick, gloppy, root infested mud. It was so hard to get through I actually felt like I was moving in slow motion then it got even deeper and I actually swam through it. Like front stroke swam!
You would come out of the mud only to get right back in. And if your shoes were not tied as tight as possible you were going home without them. People were falling and laughing all over the place. But I got hurt here and I was not laughing. I stepped in a deep hole in the mud and one foot went in it while the other leg went up and hit a really sharp branch. It knocked the wind out of me and my leg hurt so bad. I forgot the rule about no crying but I was trying not to let anyone see.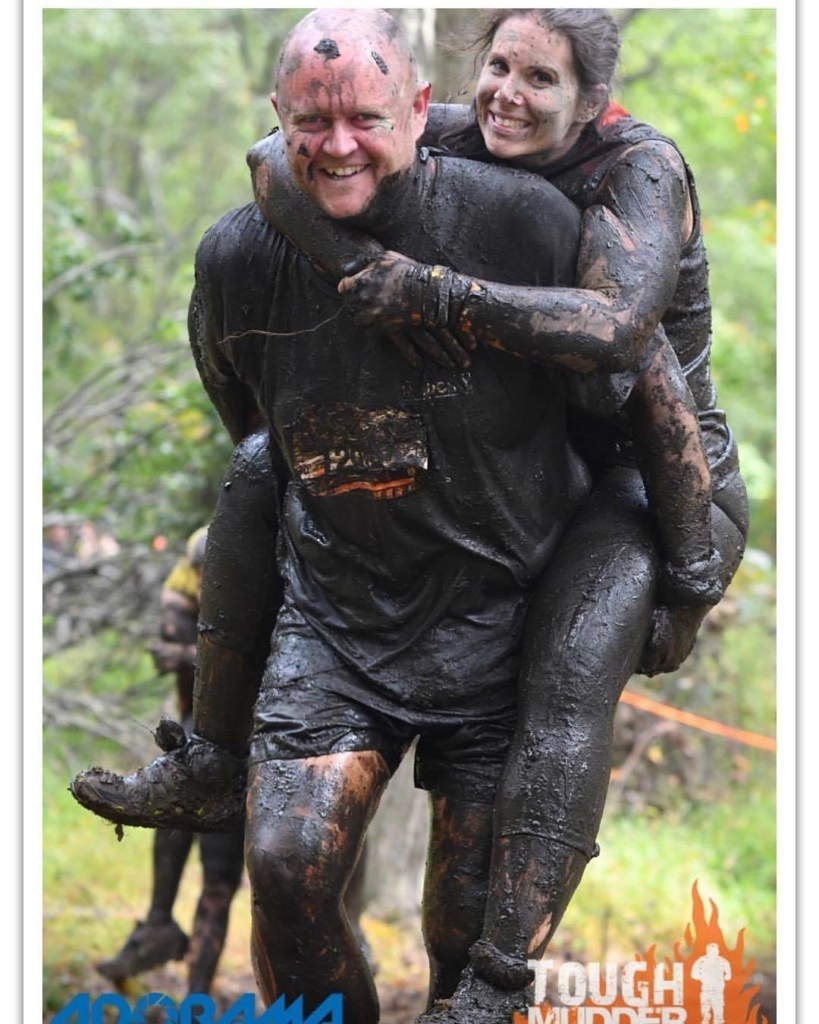 One of my teammates stuck close to me and helped me navigate the rest of the way. He showed me where to step and kept asking if I was ok. Once I walked it off a bit I felt much better but this mud was never ending! I really do think it was a full mile. Just when you thought,"oh it has to be over", nope….there was more! Of course right after this was where they put Hero Carry and then Ladder to Hell. Hero Carry was nearly impossible to do under these conditions.
The ground was still super slippery with mud and we were absolutely covered. There was no getting someone on your back. I kept trying to get my friend Nicole on my back or get onto hers but we kept slipping off. She even flipped right over my head as she tried to climb on. It was hysterical but unfortunately, one of the few course photographers was stationed at this obstacle and we could not complete it. Ladder to Hell was pure hell as it too was covered in wet mud and really tall. Everyone was standing around talking people through it so I was able to conquer it even though I have an unhealthy fear of heights.
We really needed to clean off because it felt like we were carrying around 10 extra pounds and then lo and behold there was Arctic Enema. The water was freezing, of course, but getting some of the mud off was a welcome relief. I was able to get a bit more off at Snot Rocket. While I was waiting in the water I actually lifted my shirt to clean off my stomach a bit. I love this obstacle so much I did it two times. I would have done it more but we were on the course so long we kind of had to finish up. This race is ten miles and it's really pretty flat but all that thick mud really slowed us down.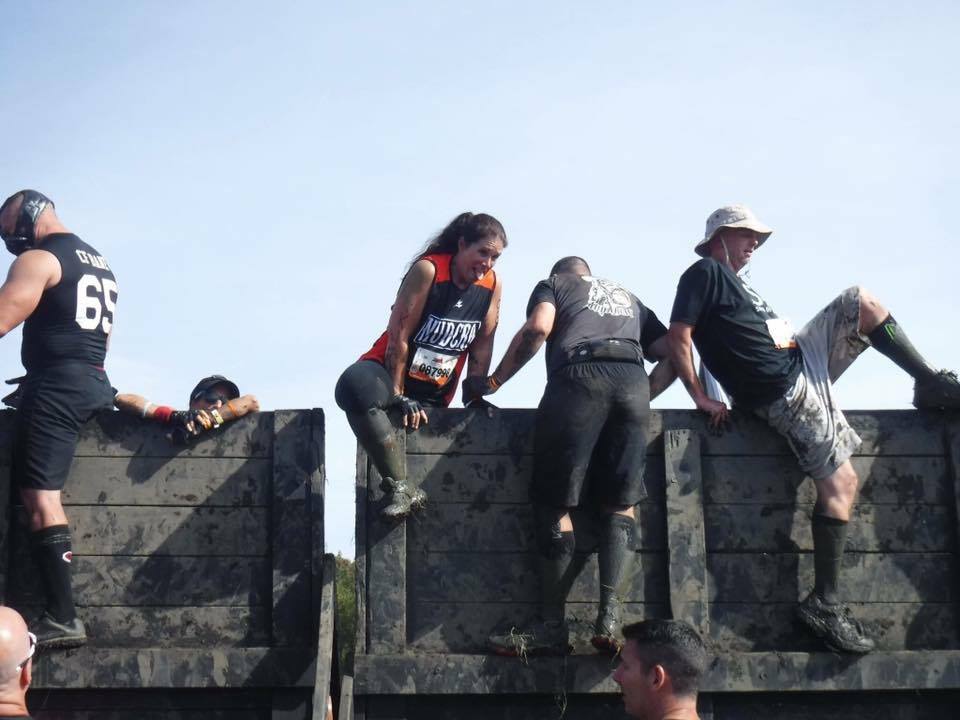 Not to mention racing with so many people and making sure everyone was able to accomplish every obstacle. We even made sure each and every one of us got up Everest 2.0 Even though I am a Legionnaire and should have done Kong at the end the height of this scares me. I know Sean tells us to conquer our fears out there, and for the most part I did, I know I can't do the rings and I didn't feel like going all the way up there just to jump down so I did Electro Shock Therapy instead. The guy before me got knocked to the ground and seemed dazed for a minute or so. This scared me so much. But the time I ran through it I felt nothing and somehow I got lucky a second time and ran straight through feeling nothing. I was done…no…WE were done!!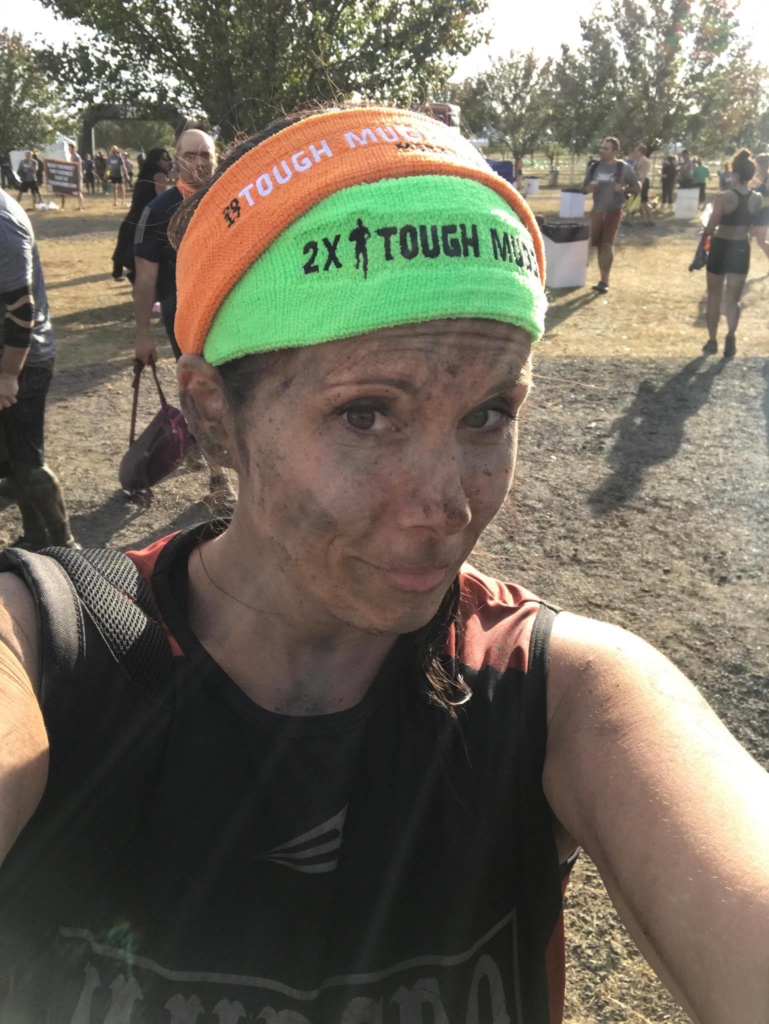 My 2x Tough Mudder headband is gorgeous! It's lime green and it hangs on my medal rack with my white one from last year. The words "Tough Mudder" used to strike fear in my heart so last year I dipped my toe in the waters and did a half. This year I did two full ones, both times with my amazing team. I realize that with the right attitude ANYTHING is possible and the words "I Can't" should not be in your vocabulary. Well except for Kong and with that I say "I can't…right now." Please do not be afraid of this race. There are no penalties for skipped or failed obstacles and everyone on the course is your teammate. I can assure you this is definitely true if MUDCRO is running that day. Headbands may just become the new medals for you!! I can tell you they sure do look great hanging next to them!! See you on the course…
Rating: 5/5
---
Have you done an Tough Mudder?
Leave your own Tough Mudder review and feedback...