After years of missing this event due to conflicts in personal, business or racing schedules, I was finally able to take on Warrior Dash Oregon, a muddy 5K that continues to attract thousands of participants each every year. It's always a great day for OCR when you can eat breakfast before and shower after the race at home.
Warrior Dash Oregon was held in North Plains, Oregon, just west of Portland – a city where the sport of OCR continues to grow, underscoring an increase of enthusiasm for the sport from veterans, newbies, and elite athletes, alike. The Horning's Hideout campgrounds offer plenty of suitable terrain to push the limits of athletes, even on a 5K track. From 30-degree trail inclines to water that seemed like it could have been just as cold, Warrior Dash set up the Pacific Northwest for an exciting day of racing.
I participated in this event twice – the competitive heat and with a group of colleagues in the afternoon open heat. The competitive wave was a great experience. A much smaller event in general, I was surrounded by my friends and fellow local OCR fans at the starting line. The chatter and excitement before the starting blasts of fire were a pleasant distraction from the cold morning temperatures.
Right out of the gate, participants were hitting a tight, near-single trail. After a quarter mile, the vertical gain was enough to widen the gap between the competitors looking to qualify for the OCR World Championships. Yes, a top-10 finish in Warrior Dash competitive heats will land you a guaranteed spot. With still-fresh burning calves from the incline, the first obstacle on the course was Escape from Alcatraz, which actually sent a few competitors home with a voluntary DQ. The 50m swim, in very deep water, was bone-chilling cold. Participants were challenged to swim about 30m before crawling onto a floating island, then back into the water for the remaining distance. Many participants went around this after testing the water temperature.
A major issue shared among participants, including myself, was the lack of lifeguards and flotation devices for the swim. It was not a simple splash through a knee-deep pond. There was a serious concern for the safety of fellow racers, especially with the temperature and depth of the water. I'm 6'4" and couldn't touch the bottom without submerging a few feet.
The rest of the course was standard Warrior Dash. Beautifully groomed trails, fun obstacles, and that trademark water slide. The first few waves were treated to a less muddy course, but by the time I ran my second lap with my team of 16, the mud had taken over. It was deep, slippery and offered up some very muddy post-race photos for participants.
Warrior Dash has a great system going. It's a no-cash event. Parking and bag check is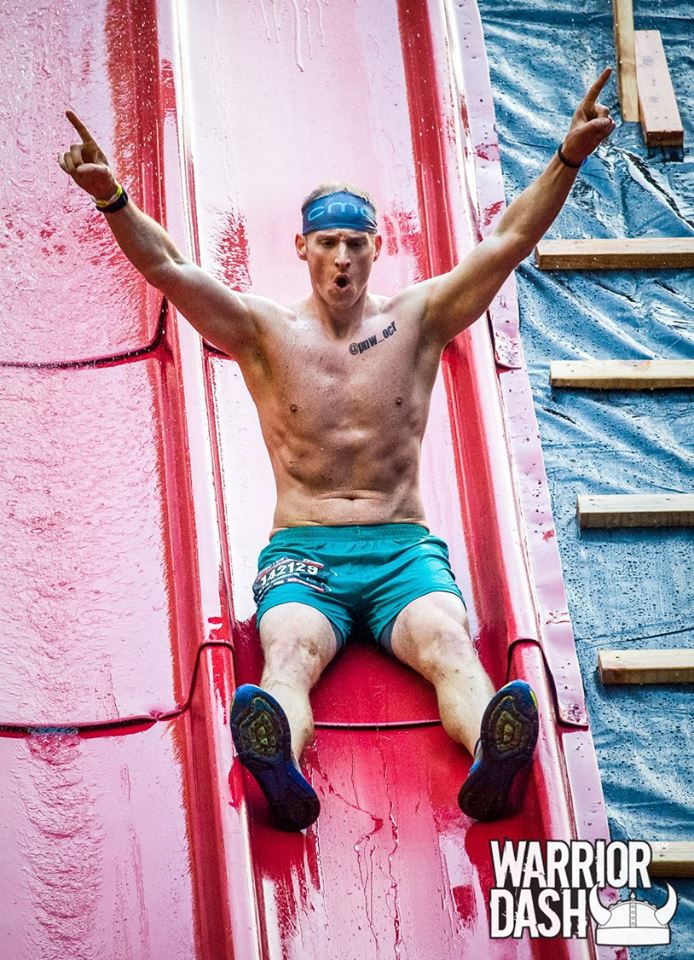 included in the registration, which is something I believe all OCRs should adopt. This makes everything easier when you arrive at the event, and helps speed along the process. WD finisher medals are certainly unique in the OCR space: wooden cubes that can be released from their lanyard and used as playing dice. Plus you get a good-quality finisher shirt and the trademark Warrior Dash fuzzy helmet.
Warrior Dash obstacles are not designed for failure. The event prides itself as a race that "anyone can start and everyone can finish." It's more of an entry-level OCR, positioned for rookies and those looking to run with a group. I had a great time introducing my colleagues to the OCR community, who were all nervous but were able to calm down by completing all 12 obstacles over the 3.1 miles. The crowd was very excited, and many participants dressed up in fun costumes, which I'm sure they regretted after the swim and deep mud before the finish.
For those looking to check off their first OCR, or who have a colleague or family member that's a little nervous about the sport, or if you simply want to enjoy a fun event, Warrior Dash for you.
Rating: 3.5/5
---
Have you done an Warrior Dash?
Leave your own Warrior Dash review and feedback...