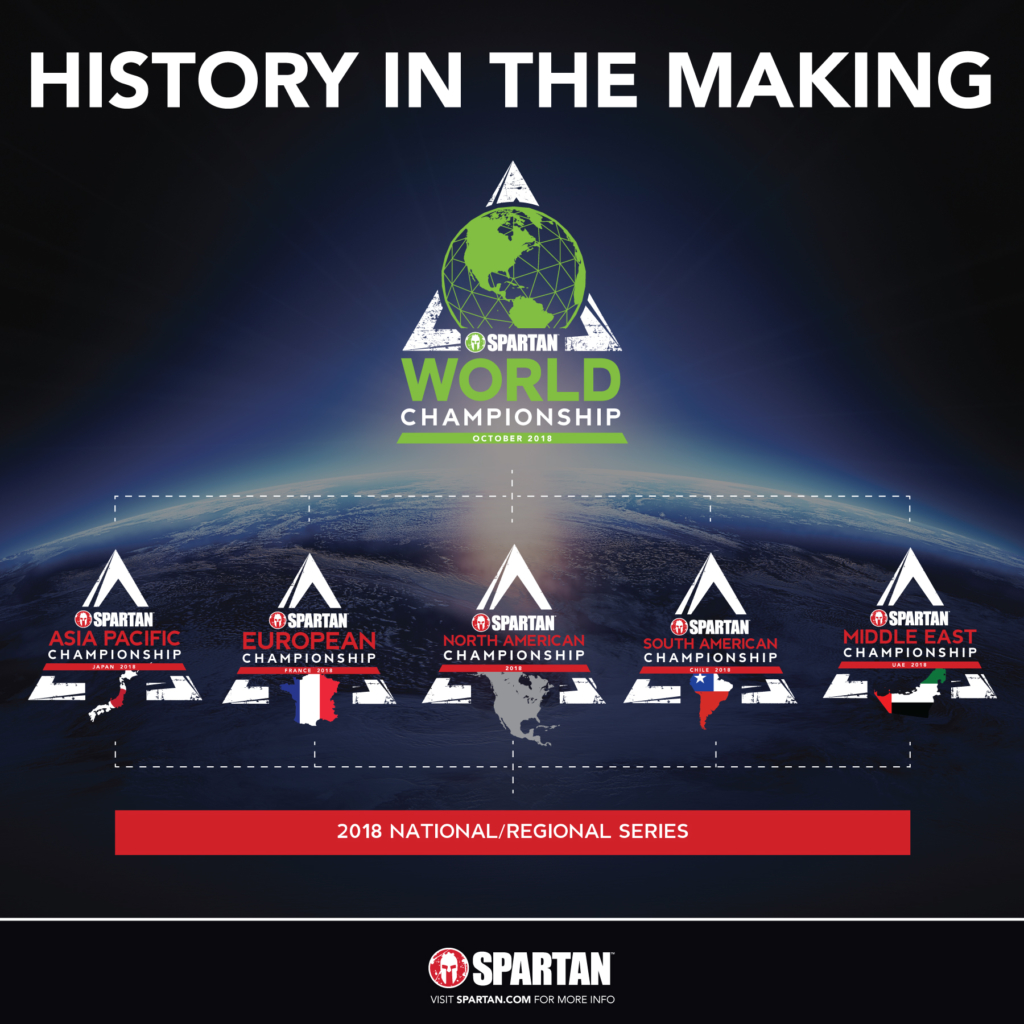 Spartan Race announced yesterday a change for all those looking to qualify for the Spartan Race World Championships in 2018. In order to earn your way into the championship event participants will have to qualify for regional and national championships on their way to the Spartan Race World Championships. More on the announcement below from Spartan Race.
---
The world's best endurance athletes will display pure grit and athleticism when the 2018 Spartan Global Championship Series unfolds across more than 30 countries on the road to the Spartan World Championship, the premier event of the obstacle racing (OCR) season. The series will see competitors facing-off on the course, battling signature Spartan Obstacles on varying terrains and natural conditions in North America, Europe, Asia-Pacific, South America and the Middle East for the largest cash purse in OCR history. With more than 200 races and one million annual participants across more than 30 countries, Spartan is the world's largest obstacle race and endurance brand.
"The 2018 Spartan Global Championship Series is OCR's most expansive and competitive race series to-date," said David Watson, Spartan Vice President of Product. "The championship events will showcase the best athletes and competition in endurance sports today, and we're excited to bring the sport to an even larger global audience with the expansion of the series this race season."  
Global Championship Series Format
15 National Championship Series* across the world with five races each lead into stand-alone championship events in five regions (see chart below), paving the road to the 2018 Spartan World Championship. Elite and Age Group competitors must qualify for Regional Championships and the World Championship. Race formats, dates and locations will be announced at a later date. *In some National Championship Series, events may take place in multiple countries
Qualifying  
Regional Championships: Men and women must finish top 10 in any regular season or National Championship Series event in their respective category
World Championship: Men and Women must finish top 10 in a National Championship Series event or a Regional Championship in their respective category
Spartan events focus on sport and athleticism, pushing the bodies and minds of competitors to the limit across miles of unforgiving terrain while they conquer signature obstacles such as the Spear Throw, Bucket Brigade and Barbed Wire Crawl.
"Spartan competitors are among the most versatile, technically advanced athletes on the planet, and we're providing them with a global platform to show the world what they are made of," said Spartan Founder and CEO Joe De Sena. "These athletes will bring everything they have, leaving only a trail of blood, sweat and tears behind."
This announcement comes on the heels of the 2017 Spartan Race World Championship, which saw competitors from close to 50 countries descend on Lake Tahoe, CA. Athletes Cody Moat (USA) captured the men's individual title while Lindsay Webster (Canada) earned the top prize on the women's side. 
Joining Moat on the men's podium were Jonathan Albon (UK) in second and Robert Killian (USA) in third. Zuzana Kocumov (Czech) and Alyssa Hawley (USA) rounded out the women's top three, earning second and third respectively.
The Global Championship Series also offers open-heat competitors the opportunity to race on the same grounds as some of the best athletes in the world, along with limited edition medals and shirts. For additional information, visit: https://www.spartan.com/en/race/spartan-championships/global-championships
2018 Spartan Global Championship Series Events
National Series
USA
Canada
United Kingdom
France
Spain
Italy
CEU: Czech Republic, Poland, Hungary & Slovakia
DACH-NL: Switzerland, Germany, Austria & Netherlands
Oceana: Australia & New Zealand
SEA: Singapore, Thailand, Malaysia & the Philippines
Northeast Asia: Japan & Korea
Greater China: China, Hong Kong & Taiwan
Mexico
South America: Chile & Brazil
MENA: Middle East & North Africa
Regional Championships
North America
Europe
Asia-Pacific
South America
Middle East
2018 Spartan World Championship