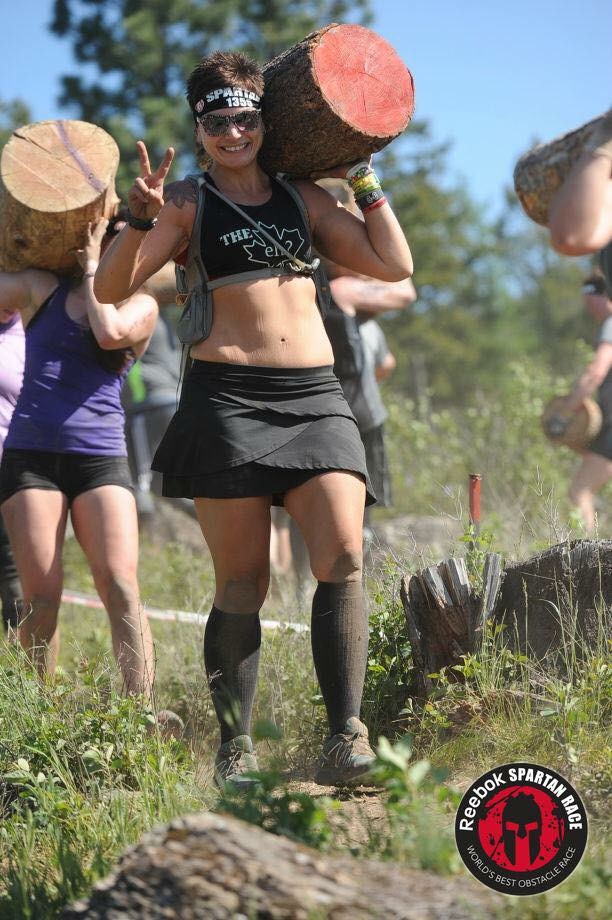 The story of Mandie's journey from fitness to OCR is inspiring.  For a large part of her adult light, she had gone through the cycle of gaining and losing weight through fad diets, which eventually led to her becoming obese. In September of 2013, she went for a walk for her daughter and this changed everything. She was hot and sweaty but felt more alive than she had in a long time. On that day, she decided to make a huge change and embrace healthy living into her life.
I have been lucky enough to become friends with her on Facebook and follow along on her journey. She hesitated at first to respond to my request for this interview, as she had announced her retirement from OCR a couple of months ago. I wanted her to still work on me with this, as I find her fitness story is something that needs to be shared and it's her candor, determination, honesty and strength that make her a bad ass.
Please tell us a bit about yourself.
I'm a solo (not single) mom of 2 amazing up and coming OCR athletes. They are 9 & 6. Both have done many races. I'm part owner at Peak Fitness in Nipawin. I've got almost 100 races under my skirt (I race in a skirt). I like pizza and long walks on the beach ( LOL). I'm very outdoorsy, love fishing, hunting, camping and epic road trips. I'd rather live in a VW camper van than anything.

I understand you have come a long way in your fitness journey. What was the main factor that made you decide to take control of your health and get fit?
I didn't have a rock bottom moment. One day I just went for a walk and it really snowballed from there. I set a goal for myself and had to achieve it. Then I set another and another and before I knew it it was a lifestyle change in all aspects.
Do you find that you still struggle with your vision of the old you? What does that look like?
The old me seems like a lifetime away. I'm not that girl at all anymore, well I shouldn't say that. We share the determination and strength. I've always been a "when I want something I get it" kind of girl. Physically it can be hard. I do still see the bigger girl some days but it's an evolution and we just keep evolving.
Being a mom you must find it hard to get your training and races in? Can you explain how you make that work in life?
I trained a lot at local parks and my Littles would play while I trained or they'd just come with me. We joke that Mom is a gym rat and the Littles are gym mice. On days with I'd have long runs my parents would watch the Littles. They love to race and the community is amazing, so I'd bring them along too.
Please tell us about your proudest racing achievement to date?
My proudest would either be doing the Montreal Super AND Beast in 2016 or doing Double Beasts in Jersey in 2017. Both were super hard and I really had to dig deep to get the balls to get out there that second day. I was banged up and hurting SO much but having amazing race family behind me helped so much.

What is the one thing that you have learned from your athletes that is something you can share to help inspire / motivate people in their daily lives?
The one thing I can share is to not give up. Devise a plan, stick to it, evolve from it and never stop getting better.
Do you currently work with a coach or trainer? If you do how does that help you stay motivated?
My business partner and i do work on some training but it's mostly just me. I figure what works for me, where i need to improve and repair if I'm injured. I was working with Allison Tai for a while but I got injured and had to stop. It kind of put a wrench in a lot of my racing plans for 2017.
You are a Spartan Ambassador. How did that come about?
Spartan Ambassador, I guess I just put myself out there. I meet a lot of people and I guess inspire them as well. They approached me and I said yes.
In your eyes, what makes you badass in the sport of OCR?
I don't really see myself as "badass" I guess. I just go out there and have fun. I train hard, race hard and give it my all. I put in an ungodly amount of hours to training prep and meal prep and making things work for my body so I can perform at peak conditions.
Is there anyone bucket list race that you would do today if given the chance?
Killington Ultra Beast….that one has escaped me since I've retired.
Is there any race or challenge that you would never do, if so which one is it and why?
I'm kind of a "try anything once" kinda chick. One never knows what they like until they try it (pickles on pizza is awesome).
What's one thing you do on a daily basis to keep up with your health and fitness goals?
Train, I Train pretty much every day in some way, shape or form. Whether it's in the gym or park or with my Littles or dancing around the house cleaning. I don't sit still well….
What was one of your worst race / OCR experiences?
This season (2017) Calgary. The race was amazing but I couldn't get my head in the game. I felt defeated before I started. There hasn't been a "hard" race that I hated. the harder the better I say….bring it on.
Is there a weakness that you are currently training to overcome? If so what is that?
Speed…I'm not fast….I can run forever but fast I am not.
Longer races often require us to go into an almost dark headspace?  How do you train for the mental aspect of the longer races?
I completely zone out. I might listen to music but it's not really there. It's just me against me and I make sure of that. I also solve all the world's problems LOL.
What are some future training goals that you are working towards?
On my fitness bucket list is a Physique show…I've always admired Bodybuilding and one day would like to do a show.
Being so involved in the OCR community, what's the one thing that you have noticed about OCR athletes that are almost unbreakable?
The bond….male or female, young or old, elite or open, we are all there for one common purpose and we are all equal. I've made SO many lifelong friendships and raced in so many locations with my #adventurebuddy Keith Oftebro. It's been such a blast!!!
What is one quick piece of training advice for OCR that you can share?
Climb on everything and run everywhere!!!
Please share with us a little-known fact about you.
A little-known fact….When I was 17 I was the Canadian JR and SR Olympic Weightlifting champion and record holder!!
Personal Thanks
Just a side note…I'd like to thank a few people for my OCR career…My parents Zae and Ken Hoppe. They have been 2 of my BIGGEST supporters along this whole journey. I don't know what I'd have done without them. My Littles Grayson and Quinnly. They are the lights of my life. To be able to show them that they can do anything they put their minds to is important to me. My business partner, trainer and friend Nic Palidwar…putting up with my endless craziness at work, training and racing schedule. Last but not least my #adventurebuddy Keith Oftebro.
OMG, the amazing miles we've covered and shenanigans we've gotten into. My 2016 season wouldn't have been anything without him there at the finish lines. Spartan Cookies are a staple in racing for sure!!!!!
If someone wants to reach out to you on social media, what is the best way to find you?
Facebook:
(I have 3, Mandie Hoppe (personal)
Finding Myself Through Fitness: Mandie's Journey or
Mandie "Gypsy" Hoppe – OCR)
 Instagram: @grit_gypsy88
I've been asked if my OCR career is over as I've retired…..all I can say is "Never Say Never"