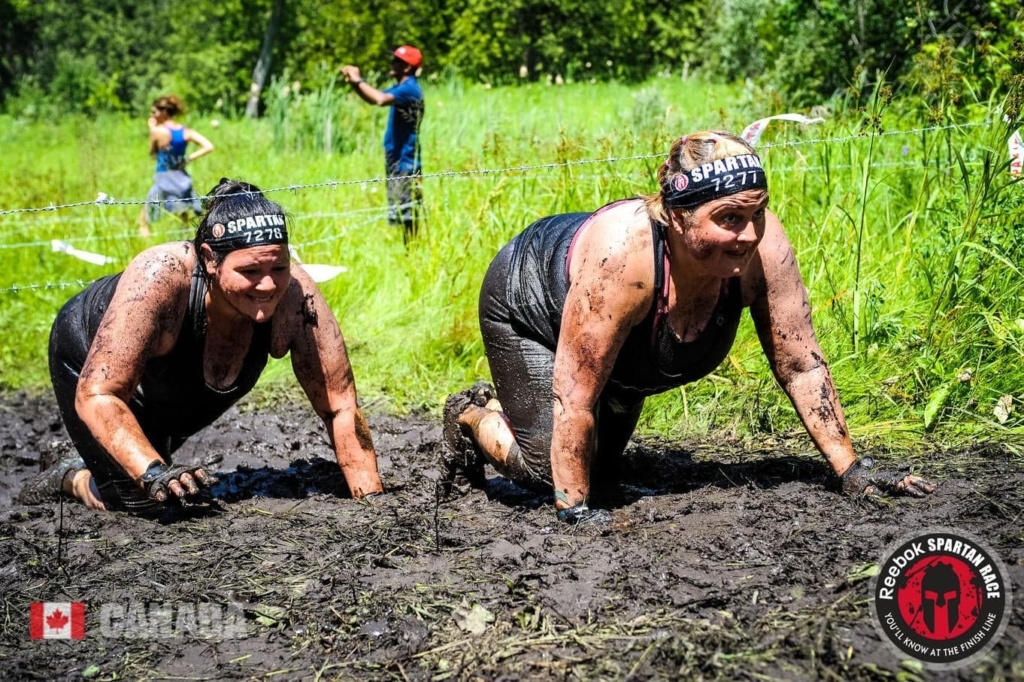 I wanted to switch things up a bit in this article series, as doing things the same way time after time can get boring.
It was suggested to me, so instead of looking at just a single "Badass Women of OCR", to look at teams of "Badass Women" that motivate and push each other on the course. It's that one team mate, your "race better half" that keeps  you going when times get tough. The team of "Badass Women" I wanted to talk about today are Lisa Stroud and Debi Fish. Both women are bad ass momma's that have stepped outside of their comfort zone to face physical and mental challenges on course. They hold each other accountable, and take care of each other. I hope you enjoy reading about this dynamic duo.
Please tell us about yourselves.

Debi: My name is Debi Fish I am a sexy 48-year-old mother of 2 who is relatively new to the OCR world. I have two beautiful boys that I have raised alone.  I prefer to call myself a badass awesome mom instead of a single mom.  I was an abused lady for quite a few years and then I found my voice and realized I had some power.  It is important for my kids to see me do all of these crazy races, so they know there are no limits. And there really is not anything better then when your kids brag about all the crazy races you do.
Lisa: I am a 41-year-old mother of three two boys and a little lady. I married to a pretty patient man who does not mind holding down the fort while I go play in the mud. I am on a weight loss journey and have lost roughly 70 lbs. since I started.  It has not been over night and has taken me years to get to this point and I still have a long way to go.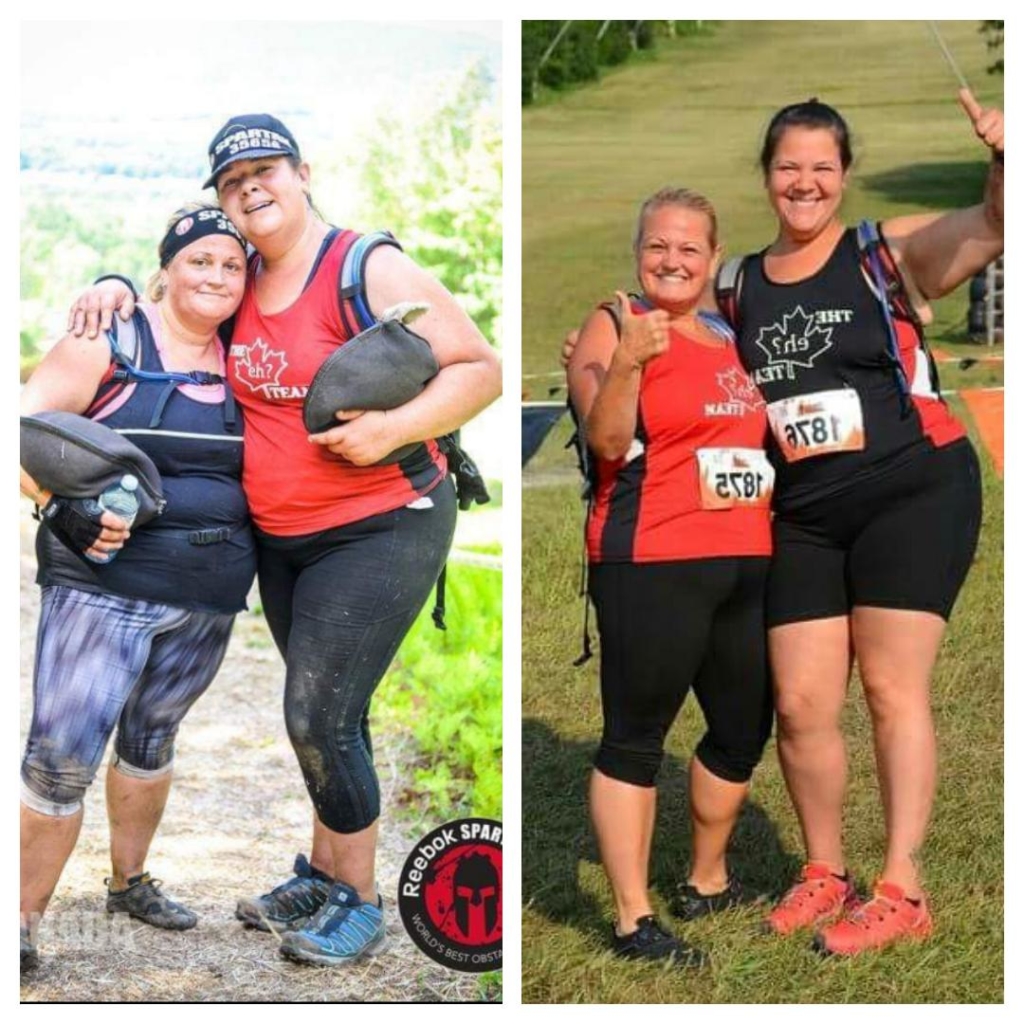 In the grand scheme of things, did you both think of yourself always as being athletic?

Debi:  I use to be athletic when I was young but honestly when you're standing at the start line with a fit muscular lady it's hard to call yourself athletic. I have done some crazy races in the last several years, so I would say I earned the title of an athlete.
Lisa:  I was very athletic in high school basketball and volleyball I went out for all the school teams even the gymnastics team although that was not the best idea.  Once I had kids I forgot about that part of me and just focused on being a mom. Now I am trying to get back into it and create a healthy lifestyle for myself and my 41 self can run circles around my 16-year-old self.
How did you both get into the sport of OCR? What was your first race like?

Debi: I did my first race 4 years ago. it was a warrior dash I had no idea what to expect I had seen clips of Tough Mudder but that was all I had to go by.  I had no idea there was a whole big OCR tribe out there.  A girl I was racing with that day said she was doing a Spartan next and it was out of my league.  So, this is what started the mayhem for me She underestimated me and I wanted to prove to myself I could do it. I have done several Spartans and earned my trifecta twice so I guess they weren't out of my league after all. Hard work but not out of my league.
Lisa:  I had friended one of my high school chums Kristina Davis on Facebook, and she was heavy into racing and belonged to the Mudd Queens.  She posted pictures of all her races and I though she looked so strong and confident and wanted to feel like that.  I commented on one of her posts saying that I wished I could do that, and she says why wish come on out and race with me.  So, I signed up to race with her at Rugged Maniac in Kitchener.  I had no idea what I was getting into.  It was scary and hard and muddy and honestly was the most fun I had had in years.  I met some amazing people that day and this is what started it all between the people I met that were amazing and felt so alive I had to keep going.
What are the "biggest" obstacles that you both have overcome on the course?

Debi: For me really the physical obstacles aren't the issue. I'm resolved that some I may never be able to do. And that's OK. But it's the mental obstacles. It's really daunting when you're at the starting line and u get a kink in your neck from looking up at the Mountain that you must climb, and knowing you only have to scale it about 15 times. That is what gets me every time. I always have a slight melt down. And I yell at myself "what the hell r u doing? And why r doing this? What do u have to prove to anybody? Then I look at Lisa and she says "get your shit together".
Lisa: There are a couple for me 1st Mom guilt before I am even at the race this is my first obstacle being away from home for a weekend, so I can run around the mud seems indulgent, but I love it so leave and take my mom guilt with me.  2nd, Is mental and its standing at the starting line and feeling like I have no business being there.  No one thinks that but me, so I take my self-doubt with me. The 3rd thing is likely what you were looking for an actual obstacle, for me it's anything upper body I know once I hit those either I will lose my band or do burpees.  As a bonus Spartan likes to put the rig, and the rope climb side by side, so I know I am in for 60 burpees.  And if all that was not enough did I mention my crippling fear of heights if there is that so anything over 5ft in the air, I literally feel like I am going to die.
What do you find is the biggest perk or bonus of completing challenges together?

Debi: The biggest perk is she is a BEAST!!! I am very short and she's not a fan of heights, but man is she strong. So, she gets me over those big walls, and I help with her burpees. It's only fair. Plus, when you want to quit (because there are times when you're just over the whole thing) we both know what to say to get each other going.
Lisa:  She makes me brave, and this allows me to do things I either don't want to do and things I don't think I can do.  I am a nervous Nelly especially when it comes to heights, she is there to talk me literally off a ledge climbing up slowing with me and waiting for me when I need to find my courage at the top of an obstacle.  We are slow racers and sometimes are on the hills long after the sun goes down, it is nice to have someone out there to feel safe with cry with and keep each other laughing, also she brings lots of snacks.
What is your favorite obstacle and least favorite obstacle?

Debi: My Favorite Obstacle is Arctic enema in Tough Mudder. It's my all-time favorite.
Least favorite is any wall over 5 feet tall.
Lisa: My Favorite Obstacle is anything with a carry I am not fast, but I am very strong.
Least favorite would be the rope climb heights and upper body it's is like obstacle kryptonite.
If you don't mind sharing, what is one essential training tip that you feel everyone should be doing?

Debi: Training tip? I am not sure if I'm really qualified to say, but if I had to say anything, get you put up some really big hills. Walk em, run em, however, u do them just do them. In Hamilton, we have 6 separate different set of stairs that go up against our escapement. I usually go on the path and grab me 20lb rock and walk up and down them. Then I put the rock in my garden. Its a win win.
Lisa: Training tip Not really sure.  I am still working on it myself.  For me, the most important thing is time management. Making the time and not excuses.
Is there a bucket list race/challenge that you are both working towards?

Debi: I do have a bucket list race. I can't even believe I'm saying it. But it's Spartan Beast in Hawaii.
Lisa: We will be doing the Hawaii beast for Debi's 50th birthday.  World Toughest Mudder, 12h Hurricane Heat.  And not OCR related I really want to do a full marathon, just to say I did it.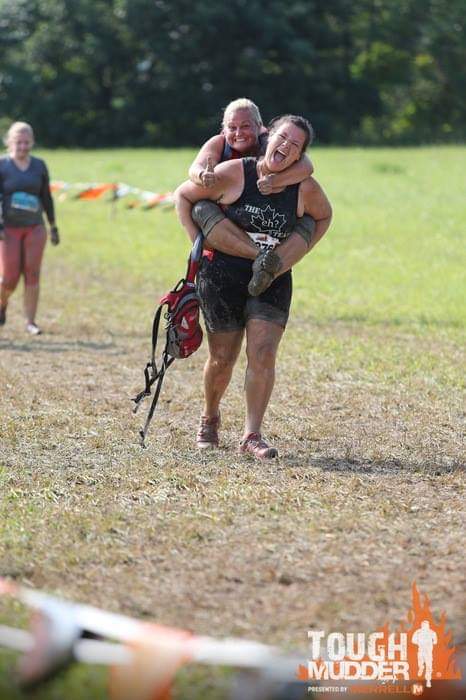 We all struggle mentally on course when the going gets tough. As a team do you find that having someone there during those "dark "moments helps to push you through?
Debi: Lisa is my rock. Without her, I'm not sure I could dig myself out of those dark places. Maybe I could but not after curling up in a fetal position and staying there for hours. She really gets me. She knows how to talk me off the ledge. When you're on the course for 9hrs and you know I have 2-3 hrs left u can feel broken. It really does seem bleak. You question everything. but then I look and she's there and she says what she needs to say to me and I snap out of it. And vice versa.
Lisa: Having Debi out there with me is literally the most important thing.  I have a lot of self-doubt, I walk up to an obstacle and immediately thing no way I can do this, then Debi comes up and tells me how amazing I am and that is totally doable and before you know it she has been believing it, and up and over we go.  We have raced some gnarly courses, Owls Head, and Stoneham to name the worst of the worst.  Those courses are designed to mess with you, and if I was alone they would totally defeat me.  She knows when to push me and more importantly she knows when to leave me alone when I need silence.
Is there anyone within our sport of OCR that motivates you to push harder? if so who is that and why?
Debi: Everyone motivates me. You see all these incredible people just killing it. But I have a tribe. And they inspire me the most. I'm also inspired by women around my age. Cerys Cook is a year younger than me. And just seeing her come top three in her age category at any time helps me to remind me age is just a number it doesn't mean a thing.
Lisa: There are so many women in the sport I admire, a powerhouse like Cynthia Campanaro she is amazing to watch and so nice.  I have a solid group of ladies, that I race with yes, Debi is my main partner but there is a whole crew of ladies I race with Carri, Anne Odree, and Krisstina  they all inspire me each one of them have different strengths and I admire their tenacity and love the bond we all share.  They may not ever podium, but they are all amazing athletes.
Is there anything else you want to share with us about doing events as a team?
Debi: think the last thing I want to share is Lisa is my rock. We reconnected years after losing contact. But there was a reason to. I think the universe needed to show me my potential and it gave me her to show me. I can't say we have a lot of funny stories, but we do have a lot of fun. And remember "love what u do, do what u love." And never let your demons tell u that you can't do it.
Lisa: Our whole racing history is a funny story about two unlikely racers both middle-aged and not the ideal racer body.  One who says anything and everything that pops into her head and the other shrugging and mouthing the word sorry as we pass people. We have a great time out there we laugh and cry as a team. If you see us out on the course say hi we always have beef jerky and pizza and gum.
If someone wants to reach out to you on social media, how do they find you?

Debi: I'm on Facebook under Debi Fish.
Lisa:  I only have a Facebook so look me up under Lisa Stroud.