How do you train for an OCR?
KEVIN LAPLATNEY a.k.a "the mudman", owner of Obstacle Athletics knows the answer.
Obstacle Athletics is Long Island's only Obstacle Fitness and Ninja Warrior training facility. The "playground" opened up its doors earlier this year and has already welcomed several OCR and Americas Ninja Warrior pros. This facility also offers Private Classes, Open Gym, and Groups/Parties. This is the place to go and have a good time with "ninja" friends who love to hang from bananas (literally) and climb really tall-curved walls.
On October 29th, Obstacle Athletics organized their first ever "OBSTACLE ATHLETICS GAMES", a multistage competition, comprised of both "ninja" obstacle skills as well as "tough/spartan" obstacle fitness! This event tested athletes in both styles of obstacle sports. There where three different categories (coed age groups) and prizes were given to the top competitors who finish the time-course.
Divisions:
Kids 9-12
Teens 13-17
Adults 18+
Rules:
Each participant had to run the 10 obstacle-course within a range of 3 minutes. Every obstacle could be skipped but must be at least tried first. Each obstacle was worth 3-5 points after completion, for a possible total of 50 points. The Games were divided into 2 rounds per division, adding up to a possible total of 100 points (Round #1 =  50 points, Round #2 = 50 points). Luckily for the competitors, the organizers did not set up a penalty to be done for failing an obstacle, however, time runs fast so they must decide quickly whether to re-try the obstacle and lose some time or just skip it and keep moving.
Fun Fact: I scored a total of 45/50 points in the first round and 35/50 on the second round, placing 4th overall.
Difficulty:
Was it hard? Yes. Was it almost impossible? Not quite. The obstacles inside this facility are meant to be achievable and enjoyable by anyone, this is why athletes as young as 9 years of age could complete many of the obstacles in the course. Not to mention that they got some help from the wonderful OA staff, but the obstacles are pretty straightforward and one just needs to have the necessary physical and mental skills to achieve them. Obviously, the same obstacles were not given to all three divisions; Teens and Adults had it a little more challenging, but overall the obstacles are easy and fun to conquer. I believe it all comes down to each person's opinion and also their capability to do certain things like being able to pull up their own weight and such.  Some people will say it was hard, some will say it was easy, I found it pretty challenging but fun and different from what I'm used to doing on an Obstacle Course Race.
On that note, I must mention that this gym was designed to be a place to train in order to be able to conquer such obstacles and to improve your OCR and ninja skills overall.
OCR 'Hall of Fame'
For those of you who don't know, Mr. Mudman himself has done 130+ OCR's since 2010 and this is where he keeps his BIB collection. He has completed at least 1 TRIFECTA each year ever since he started doing OCR. Besides these accomplishments, Kevin has also made the Spartan podium quite a few times as well, qualifying for OCRWC several times. Not only this man is a BEAST (in the good sense of the word) but he's also a great person and an admirable human being. It was truly a pleasure to have met him at this event, and I cannot wait for the next OA Games Spring 18′ (shhh… this is still a secret).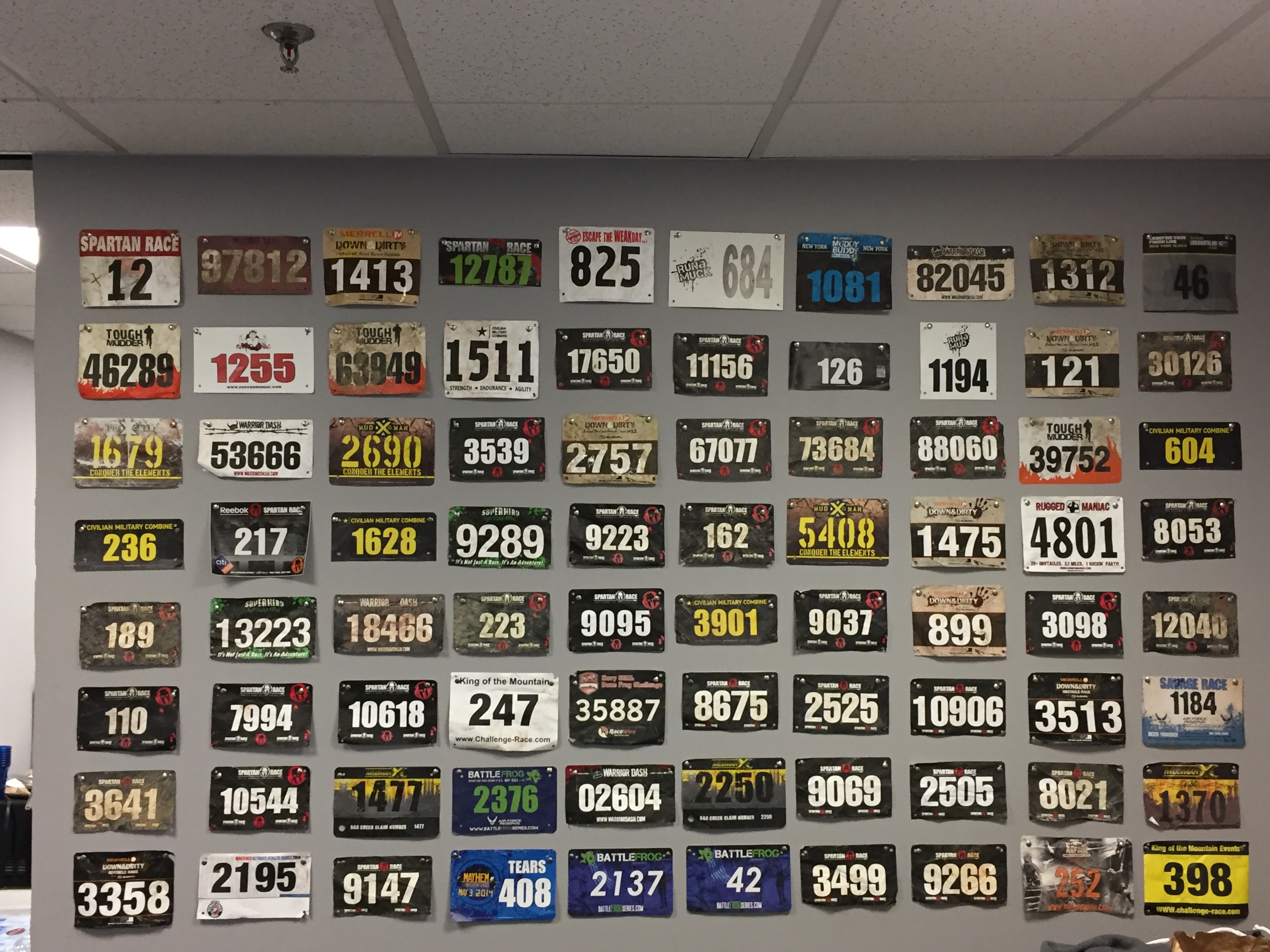 Rating
5/5
★★★★★
Great venue and organization. Prizes were awesome (not to mention the medals though #wejustcameforthemedals)
Met so many cool people that share the same passion as me, and even got to meet, AND be interviewed, by Mr. MeddalAddict himself!
Couldn't ask for more out of this amazing day.