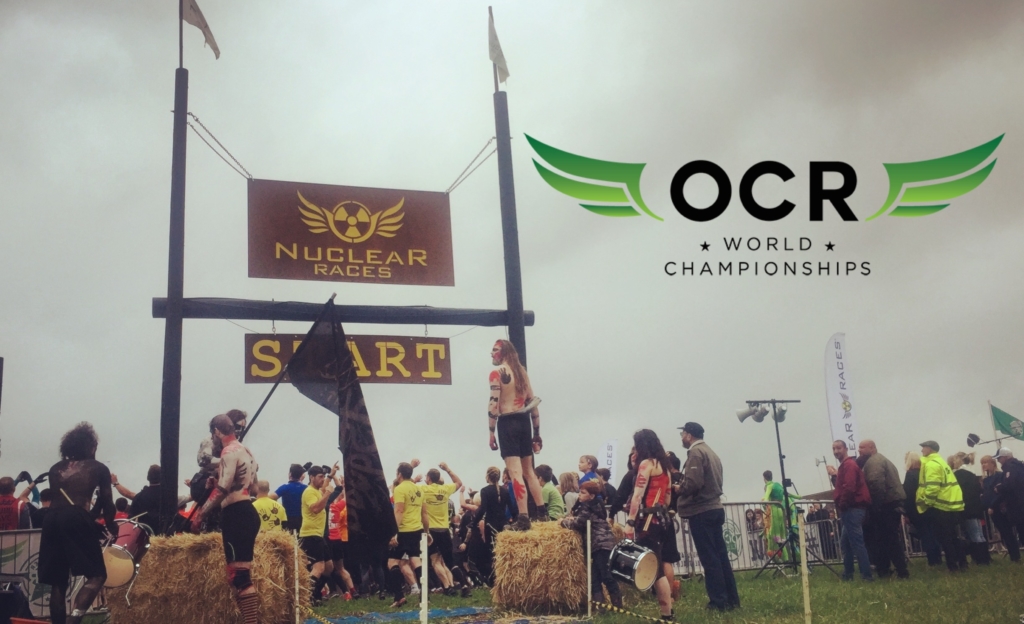 Today, Adventurey the parent company of the OCR World Championships and North American OCR Championships made two announcements for the upcoming season. As many anticipated OCR World Championships is leaving North America for 2018 and heading over to the birthplace of obstacle course racing, the United Kingdom. The 2018 OCR World Championships is now set to take place on the grounds of the Nuclear Race series October 19-21, 2018.
The second major announcement, the former US OCR Championships has been transformed into the North American OCR Championships (NorAm OCR Champs) taking place August 10-12, 2018 at Stratton Mountain, Vermont. Opening up the championships to athletes from all 23 countries in North America.
Registration opened today for both events with a special deal combo deal for the first 250 athletes of $250.00 for entry into the 15K Age Group races at both the NorAm's and World Championships.
Highlights from the announcements include:
OCR World Championships headed to Nuclear Races in the United Kingdom Oct. 19-21, 2018
Ticket Guardian Protection offered as an option for all Adventurey Events
US OCR Championships replaced with North American OCR Championships
North American OCR Championships Set to take place at Stratton Mountain, Vermont, Aug. 10-12, 2018
Journeyman and Journeywoman integrated into Age Groups for NorAm OCR Champs
Two press releases we released today regarding the news below.
---

Adventurey LLC, organizers of the independent Obstacle Course Racing World Championships, announced today the launch of the first North American Obstacle Course Racing Championships (#NorAmChamps) to be held August 10-12, 2018, at Stratton Mountain, in Stratton, Vermont.
The three-day event will consist of a 3k short course championship on Friday, August 10, followed by a 15k standard course championship on Saturday, August 11, and conclude on Sunday, August 12 with the Team Relay event. All distances will feature Pro Division and Age Group Divisions for qualified competitors. Limited Journeymen entries are available for which there are no results criteria (athletes need only participate in any three obstacle course races to qualify).
Journeymen and women will have the opportunity to run at the same time as the age groups at the NorAm Championships. Additionally, "Ticket Guardian" insurance is available for all Adventurey Events which allows athletes a chance to protect their entries in the case of an emergency or other unexpected event coming up.
Additionally, qualifying spots for the OCR World Championships will be awarded for top Pro and Age Group division finishers with the winner of each division receiving free entry to the 2018 event.
"The sport of obstacle course racing continues to grow at an amazing pace with the support of many like-minded companies and individuals looking to bring it to the next level through the creation of the first independent North American Championships," said Adventurey CEO Adrian Bijanada. "With enthusiastic community support, strong partnerships with fellow race organizations, and a deep bench of professionals willing to work together for the betterment of the sport, the #NorAmChamps is poised to be another incredible experience for obstacle course racers from all over the 23 countries of North America."
In an effort to serve the growing community, the previous 2017 US OCR Championships has been transformed into the North American OCR Championships for 2018 featuring obstacles from many North American-based partners, including Green Beret Challenge, City Challenge Race, BoneFrog Challenge, Terrain Racing, Conquer the Gauntlet, Northman Race, Wreck Bag, Indian Mud Run and more.
---

Adventurey, the parent company of the world's first and only independent obstacle course racing world championships announced details for 2018 Obstacle Course Racing World Championships in London, England October 19 – 21, 2018. The premiere event of the obstacle course racing (OCR) season will bring a truly global obstacle racing experience to the English countryside. The fifth year of the event will celebrate the best professional and age group competitors from around the world with athletes from over sixty-five nations expected to participate.
Race weekend will feature a 3K Short Course Championships on Friday, 15K Standard Distance on Saturday, and Team Relay Competition on Sunday, each showcasing the best racers from around the world. The event will build upon an already spectacular permanent obstacle course in Essex to create an international village, a diverse course, and an unparalleled experience for athletes, their supporters, and spectators.
"After four years in North America, we knew that to truly be a global championship we would need to move outside the continent. Our team spent more than a year vetting various venues around the world and found this venue offered a unique opportunity to build something distinctly international, while bringing obstacle course racing back home to the UK," said Adventurey CEO, Adrian Bijanada. "Athletes and their families should expect a world-class course showcasing global obstacle course racing brands, a diverse international village, and contributions from partners that are a reflection of the worldwide obstacle racing industry."

"We're honored & excited to be chosen to host the OCR World Championships in 2018. Obstacle racing originated in the UK so we're very proud to be the showcase venue for this world-class event. Our multi-award winning courses & obstacles will allow the World's team to create a truly epic athlete experience. We're looking forward to working together & welcoming everyone," said James Parrish Race Director at Nuclear Races, which will host the 2018 event.
Full details on how to qualify can be found on the OCR World Championships website. This year over seventy-five race series are set as qualifiers representing over forty countries.
Additionally, for the first time since its inception, athletes will have the ability to purchase "entry protection" insurance for the event. This will provide athletes the opportunity to receive a refund of their entry fee in the event of injury or other significant life events which may prevent them from attending the world championships.
"We recognize that events often happen in life and athletes plan the entire season around the OCR World Championships. The new registration insurance adds a level of protection for athletes when making the critical decision to register for our races. We hope this helps to set an industry standard moving forward." said Rachelanne Gladden, Director of Athlete Services.
The new location and new venue for OCR World Championships are set to create a fresh and vibrant OCR World Championship experience for returning athletes and open the door for a new contingent of global athletes with the move.