Savage Race is filled with challenging obstacles, rugged terrain & grip exercises to your heart's content. For individuals & teams who want a real challenge, this race is for you. There were 25 Heart Pounding Obstacles & 7 miles of Memorable Fun. Ice, Hills, Dirt, Water & Fire! All elements on display!
Houston Update
For a city that experienced hardship with one of the most damaging hurricanes in most recent US History, Houston has recovered quite well. Although there were lots of road work around the city & damaged buildings, the people of Texas & all surrounding communities have pulled thru. Houston Strong! Due to flood damage Event organizers of Savage Race made sure every participant were sent updates on regular bases thru emails & social media platforms leading up to race day informing alternative options to arrive in the race safely despite road closures. I felt very proud to have taken part of this event. Be sure to purchase the Savage Race customized T-Shirt Apparel they have on their website to help Hurricane Relief Victims.
The Terrain & Weather
Rugged trails all around. But very doable. Location is set in the open woods. Dirt paths had potholes for the first 3-4 miles of running. Minimal water crossings & rolling hills. The weather was chilled. In the mid-50s. Slightly windy. Wearing the proper cold race gear & attire makes a huge difference unless you're used to the cold.
What sets Savage Race Apart?
Medals! The legendary Syndicate Medal is the real prize here. For first-timers, earning your first medal is very gratifying & a treat. But earning your very own Syndicate Medal is very unique & a tremendous experience. It's obnoxiously huge & in the middle of the medal, it spins. Hard not to miss. Respect points are convincingly earned with this beautiful medal. State pins are included as a bonus. Two races must be completed within a calendar year or simply you'd race twice within the day of the race. Nice option. In total at the end of the year, after completion, you would have earned 3 medals & 2 state pins. Pure Savage!
My Top 5 Favorite Obstacles:
Sawtooth: Best way to test your grip & upper body strength. Blue ladder rails & green water underneath you. Try not to fall, if not the water is warm. These monkey bars are about 20 ft long distance wise with about 10 ft high ground clearance. Just imagine going to the schoolyard as a kid in elementary. Every kid loved swinging around the Monkey Bars. Bigger than kid size? Yes. Your prayers have been answered.

Kiss My Walls: Rock climbing exercise. Keeping good form, hugging the wall & maintaining a strong grip on small rocks steps is the challenge here. You might even surprise yourself how strong you are.

Mud N Guts: Get dirty! Crawling thru the watery mud with barb wires suspended on top. Straight up military boot camp. Minimal mud in this race. Except this obstacle. Gotta love it.

Savage Rig: Very challenging using your grip & upper body strength. If you've ever watched Ninja Warrior on TV nows your time to shine. Swinging thru rings, ropes & bars. In the end you slap the cow bell. Hell yes!

Wheel World: Saved the best for last. The Signature Savage Race Obstacle. Never seen this in many OCR events. Even the best will fail without a strategy. Trick is to hold yourself up on one arm to the next spinning bar & let momentum carry you till the end.

Event Festival:
Not as huge compared to the Columbus Ohio location I recently attended in June. That was spectacular! Due to the unforeseen circumstances due to Hurricane Harvey, it was pretty understandable. The city is recovering. To ask for more would be selfish. Beer Garden for ages 21 & over adults. Say no more! Finishers get a free beer voucher. Midsize stage announcing top athletes, fun activities for kids & a pretty nice souvenir booth for everyone.

Overall:
Blessed & humbled to have been apart of this event. After completion, I've earned the Legendary Syndicate Finisher Medal & State Pins. Proud of myself & my friend Chris for not giving up when certain challenges tested our limits. Staff & volunteers were great. Environment to compete as an OCR Athlete was fantastic. Many life lessons I learned along the race. Train hard, so when the moments arise you can overcome them. Not just by luck. Thru dedication & consistency anything possible. Defeat is not permanent, it's a choice! Would I recommend Savage Race to everybody? Absolutely. Living on the West Coast this race is not available. Hopefully in the future. Current race locations are on the East Coast, Midwest & South of the US.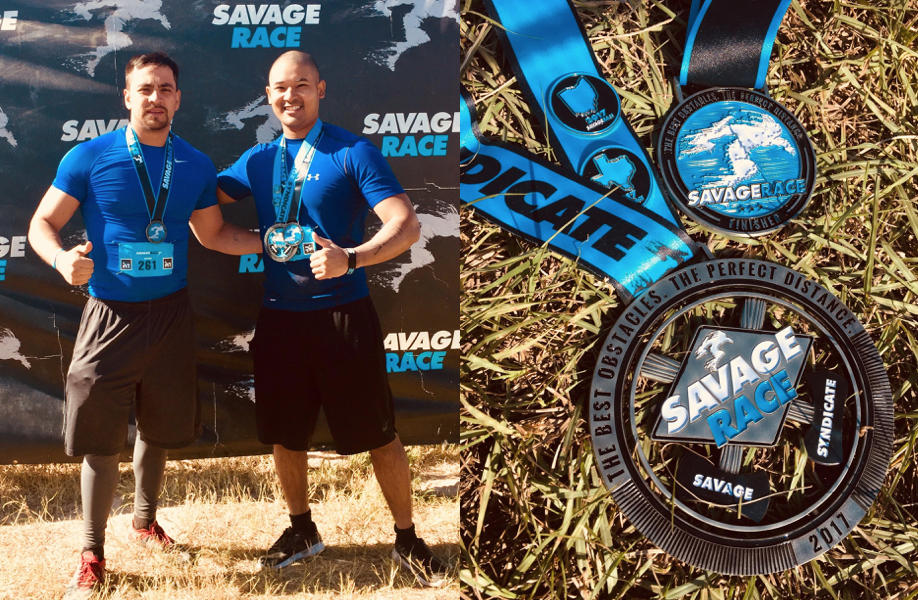 Rating: 4/5
Rating: 4/5
---
Have you done an Savage Race?
Leave your own Savage Race review and feedback...