Over the past couple of years, Smithfest Events have become staple runs for many Obstacle Course Racers living in and around the New England area. They "make it (their) goal to add 'WOW' factor to each event" and Panic In The Dark was no exception. Here is a breakdown of my experience. Hopefully influences you to try something a little different when you are filling out your race calendars for 2018.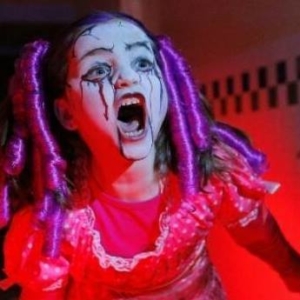 It should be noted that this is NOT a timed event. It is a fun run in the greatest sense of the word. However, if you are a competitive person like I am, Panic in the Dark had several challenges to strive for. One such prize was free race entries for next year to the top 2 competitors with the "Most Laps" in their Unlimited-Lap option.
Registration and Getting Started
Instantly you'll notice that this race is different due to the fact that the Registration and Festival area was at Dudley's Restaurant and Bar and not the typical open field in the middle of nowhere. The DJ was playing popular dance music and the atmosphere was very relaxed as runners affixed their bibs to their costumes or t-shirts. Bathrooms and pre-race beverages were available for anyone who needed them. I was late for my heat but it didn't seem to matter. The friendly volunteer at check-in told me to simply "hop onto the next shuttle when you are ready". A couple of quick stretches and a warm up run back to my car to store my wallet and cell phone and I was ready to board the school bus to the event (FYI I don't know if there was a bag check or not, my car was close so I chose that instead).
The Shuttle was entertaining. A creepy clown handed each participant a single red balloon, ala Stephen King's IT and explained that if you could finish the race with it in hand and still inflated you would be entered into a drawing to win a free race entry for next year. Also, he went on to inform us that if for some reason you are overly frightened and/or uncomfortable with the "Zombies" on course a secret word will protect you from further torment… The safe word: Pineapples. He gave a quick pump up session and we were on our way. A short 3-minute ride and we reached our Final Destination.
Another Sinister costumed character greeted us at the Starting Corral to give us headlamps if needed and tried to freak us out further with tales of horror that previous waves had endured before us. A few jokes and one last motivational speech and we were off and running.
The Course
The runners were treated to unseasonably warm weather for a late October evening in Lowell, Massachusetts which was amazing! The Course was well marked and not too technical with a combination of groomed trails, asphalt, playground "marshmallow" and even tile. Shed Park was an ideal venue for this OCR. Running through trails, baseball fields, the school, and neighborhoods gave it an authentic feel of what you might endure during an apocalyptic event. For the people always trying to find the "perfect shoe", regular running sneakers are probably the best option given the extreme changes in terrain. Hydration packs were not needed as the 2 water stations were plenty for the 5k run.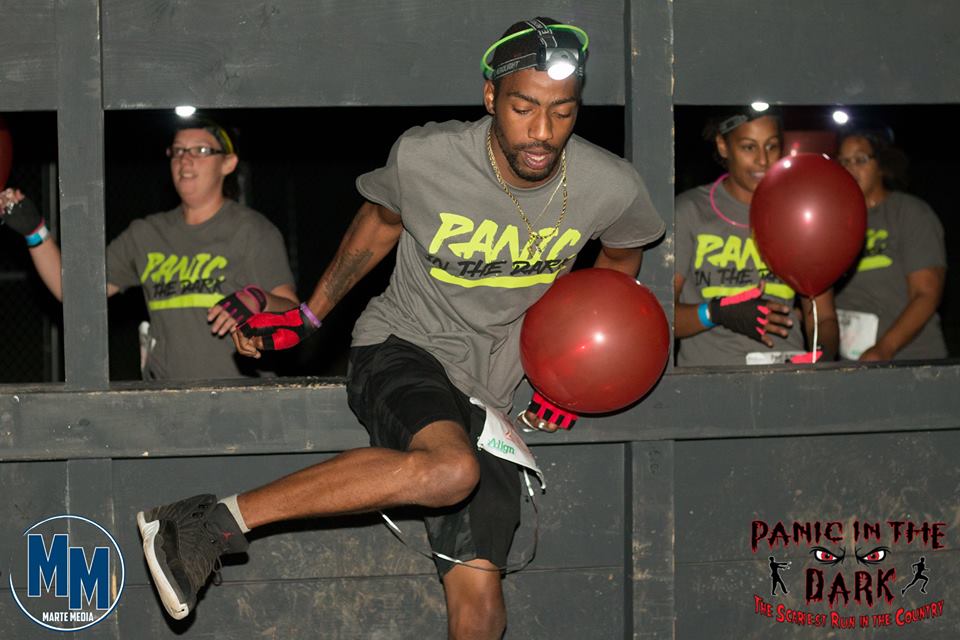 I must say that running at night adds an element to this race that can be both frightening and exhilarating! The crunching of leaves and natural noises from the wooded terrain along with the sounds of screams and sirens of the other runners/victims in the distance mentally put you on edge for your impending Walking Dead encounter. Coupling that with the only visibility you have coming from your headlamp can be a recipe for anxiety. I like that there weren't any undead in the first 3/4 of a mile or so because the anticipation grew before lulling you into a false sense of security and before long… BAMMM!! a zombie would jump out of the darkness and jolt you out of your compression gear!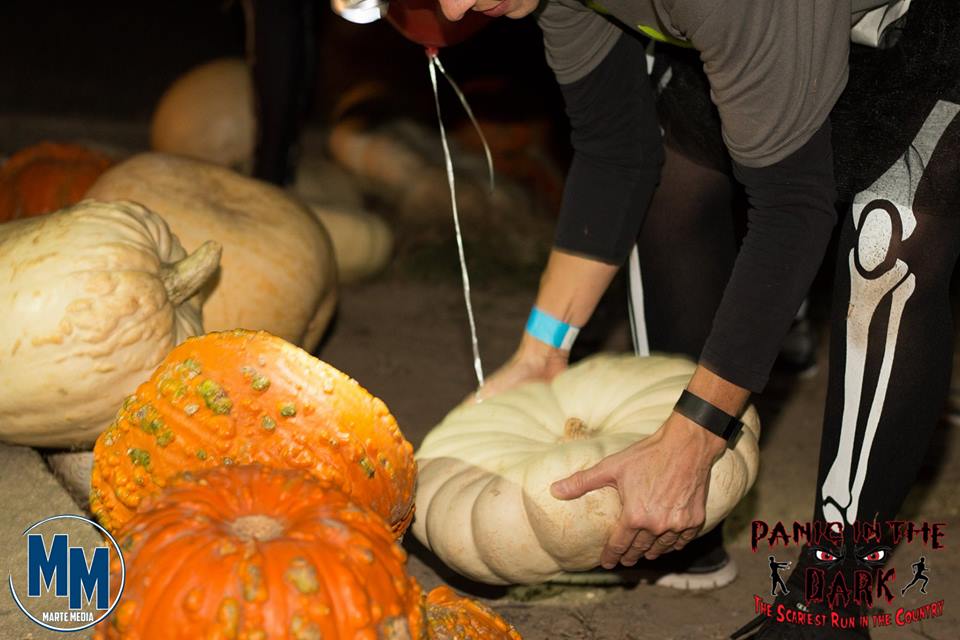 The Obstacles
Obstacles in this run were on the novice side. Since Panic in the Dark is intended for families and people of all skill levels, the runner could choose to make these as easy or difficult as they chose. For instance, the 8ft wall had footholds to help you over so you can choose to use them or muscle-up like some other courses require and the gourd carry had varying weights from the smallest of squashes up to the It's the Great Pumpkin Charlie Brown. But, what these obstacles lacked in difficulty they made up for in creativity: A crawling maze of hay bales, open grave jumping, and picnic table hurdles to name a few all added to the setting. I only experienced a backup at obstacles on 2 separate occasions which weren't all that daunting.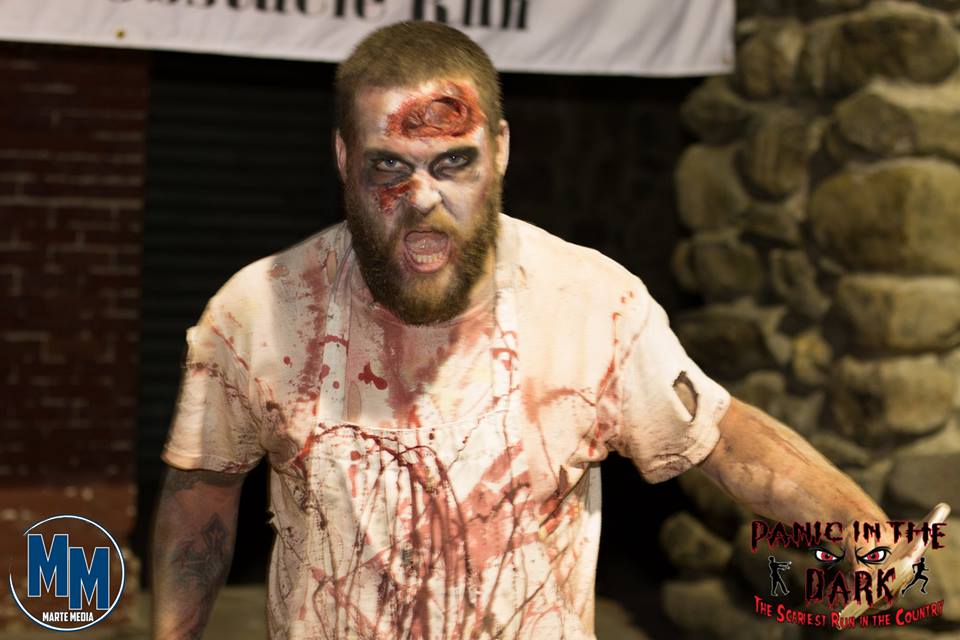 I would be remiss if I didn't mention how great the Zombie/Psychopath volunteers were! They went all out in both costume and performance all while being respectful of the runners by not actually touching them or being in the way. Some moaned and groaned, some would pop out and scream from seemingly out of nowhere, while others spoke of the terrible things they would do to try and get in your head.  The children crept me out the most and the 2 "escaped convicts" did an awesome job playing off of each other and running after you. Each time I passed these guys in my multi-lap run they had new material which was always excellent.
When you finally arrive at the Finish Line you are greeted by a photographer documenting your triumph rock music and your exclusive finisher's medal. I spoke with one of the race directors and he was very passionate about trying to put on the best event possible. We also spoke about their upcoming Blizzard Blast in January which is sure to be another outstanding race. It is also an OCR World Championship qualifier.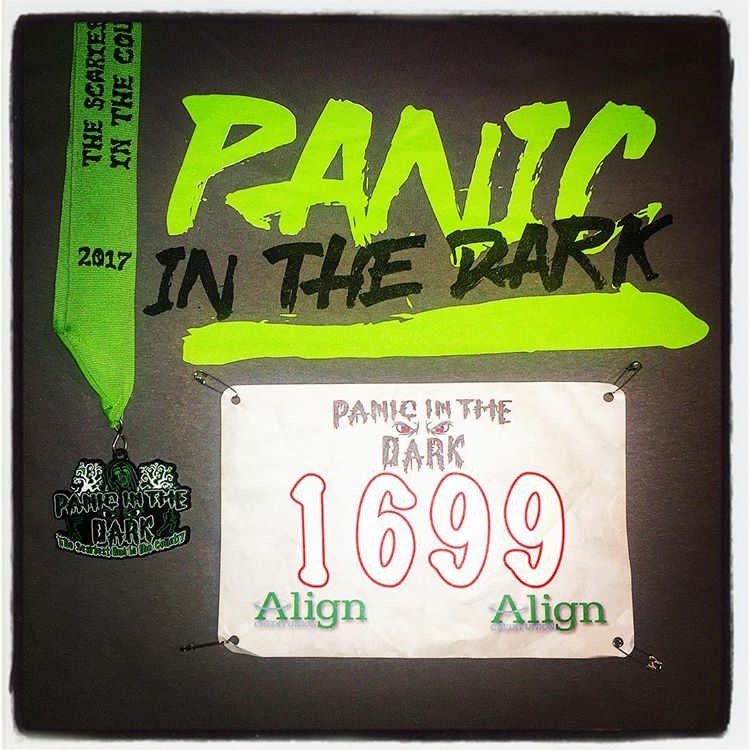 Overall Assessment
With all of that said I'd give this event a 4 out of 5-star rating. I personally prefer timed races and would have liked 1 or 2 obstacles that were a bit more challenging but that's just me. I understand what this race is and for anyone reading this looking for a fun, non-competitive reason to get off the couch who likes all things Halloween this is a run for you. Don't be afraid to sign up… just say "PINEAPPLES".
Rating: 4/5
---
Have you done an Panic In The Dark?
Leave your own Panic In The Dark review and feedback...