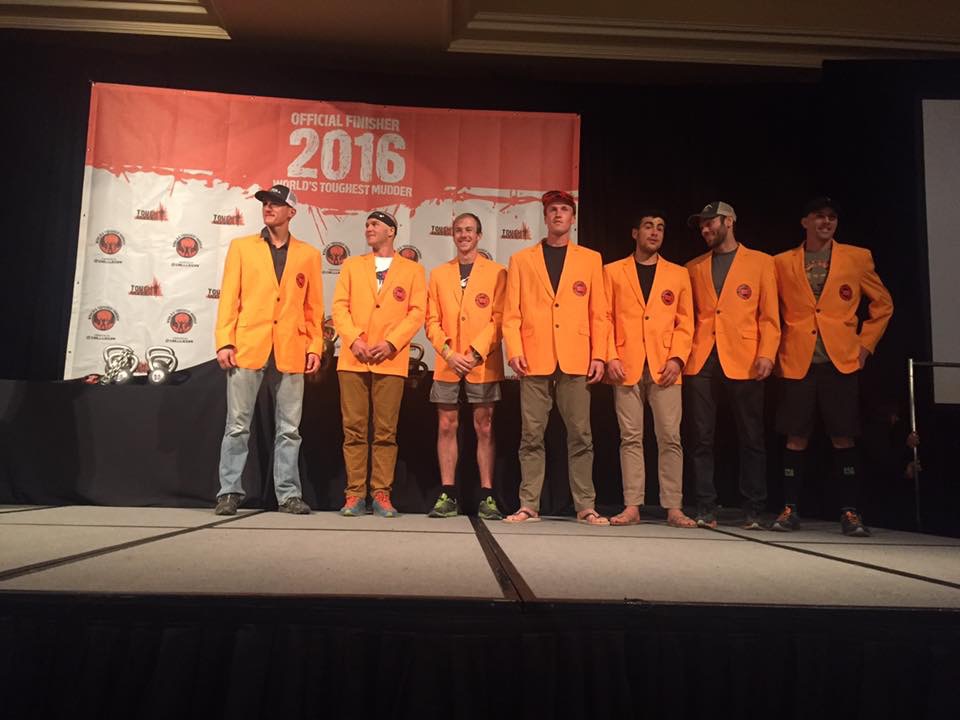 Based on the Tough Mudder website, you'd have been forgiven for thinking that the World's Toughest Mudder men's race was going to be a 5-way titanic tussle between 2 amazing athletes from the USA (Trevor Cichosz, Chad Trammel) and 3 from the Commonwealth (Jon Albon, Ryan Atkins, Austin Azar). Not mentioned on that page is a certain Robert Killian, the only other human to have the coveted 100 miler jacket. However, those 6 men facing off is by no means a done deal even this late in the game…
Until very recently (last week) it was doubtful that Albon – for my money the best OCR racer on Earth the past 4 years – would make the trip. Apparently, he was expected to then also come a week early and race the Toughest Mudder series champs race the weekend before in SoCal. Coming off a grueling month that included 6 championship races and 4 trips across the Atlantic, it was more than understandable that Jon would want/need recovery time. That and maybe seeing his wife again for a bit.
Just last week, Jon decided he'd bite the bullet, pay his support crew's flights and come "play in the desert" for WTM 2017. Crewing for him will be his Dad and Scottish tennis legend Andy Murray's less talented twin brother (aka. Scott). This is great news for the men's race, as everyone who knew anything about OCR and WTM was drooling at the prospect of seeing Albon and Atkins going head-to-head on a course where they had teamed up for 105 miles and had gone 399/400 on obstacle completions just last year. So it's back on and all is well? Not so fast…
Today I learned that fellow Canuck Austin Azar, who was runner-up last year, might be part of the team relay races. I spent a few minutes trying to figure out exactly what categories and requirements exist at WTM 2017 and ended up being confused. Their lineup makes them ineligible for the National Teams relay category, which (other than the Team Rubicon charity category) is the only relay competition in this year's race. I think. Maybe.
So will Azar be racing solo or relay or team? Right now I think nobody knows for certain, including Austin. I selfishly hope he goes solo so that I can talk about the A-Team and the real chance that they could sweep the men's podium.
To further fuzzify this muddifications, I have come across a rumor that Chad Trammell may also be doing something other than solo. Anyone with contradictory or corroborating rumors is asked to comment in the comments section. Alternatively, if anyone actually knows, then please tell the world. Thank you. 🙂
As of this writing, there is no weirdness with respect to Killian, Trevor, and Ryan. All 3 will be there racing solo (happy dance). The Atkins Diet is going for 110 miles – course and conditions permitting – which sounds absurd until you remember how he swept all 4 Toughest Mudder races with 50, 50, 45, and 50 miles over the 8 hours, and how he obliterated the Spartan Race Ultra Beast championship in Tahoe seemingly on cruise control.
In the end, it might all loop back around and we'll be treated to the clash of titans promised on the WTM website.
---
Disclaimer: The viewpoints expressed by the authors do not necessarily reflect the opinions, viewpoints and official policies of Mud Run Guide LLC, or their staff. The comments posted on this Website are solely the opinions of the posters.