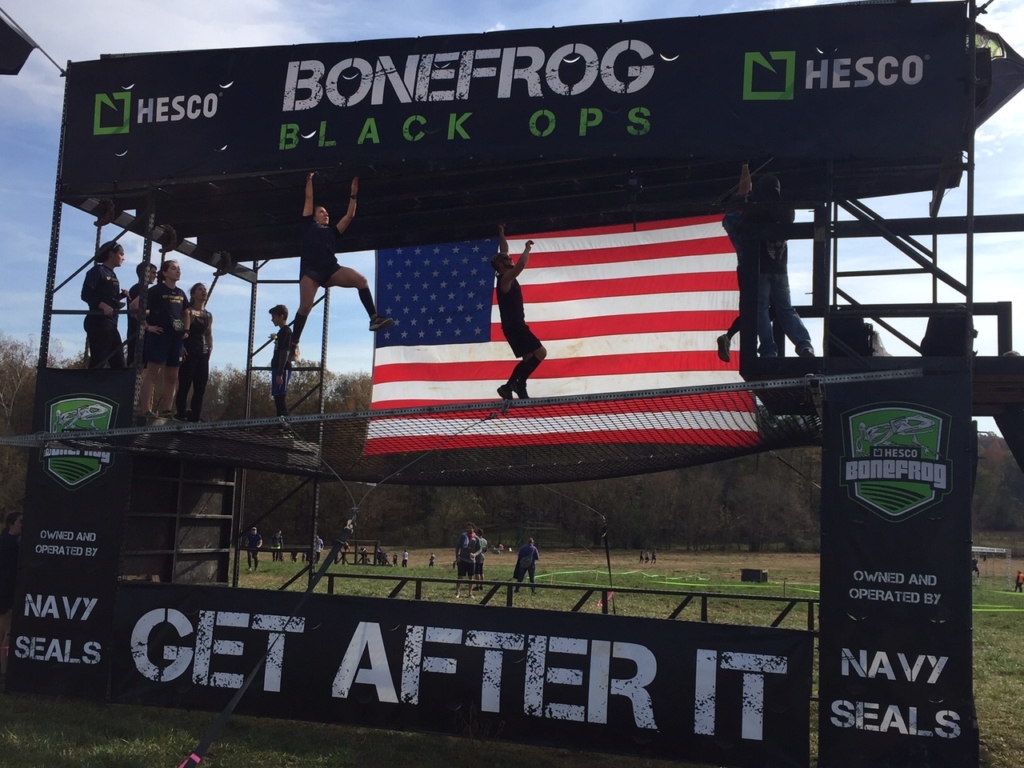 I originally reviewed BoneFrog when they came to South Carolina back in August 2016 – you can find that article here.  The first question I asked BoneFrog founder Brian Carney this year was "why the switch to North Carolina"?  His response: "We looked at the demographics and saw that the majority of runners at the South Carolina event came from the North Carolina/Charlotte area, so it made sense to bring the race to the runners".  Fair enough!
A handy new opportunity this year was that BoneFrog added early packet pickup as an option at a local hotel the night before the event.  I thought this was awesome.  One of the few pains in OCR is long lines for either bib pickup or bag check.  BoneFrog is still a relatively small race (about 1000 participants at this event) – but still, packet pick up the night before was a wonderful thing.  Well done.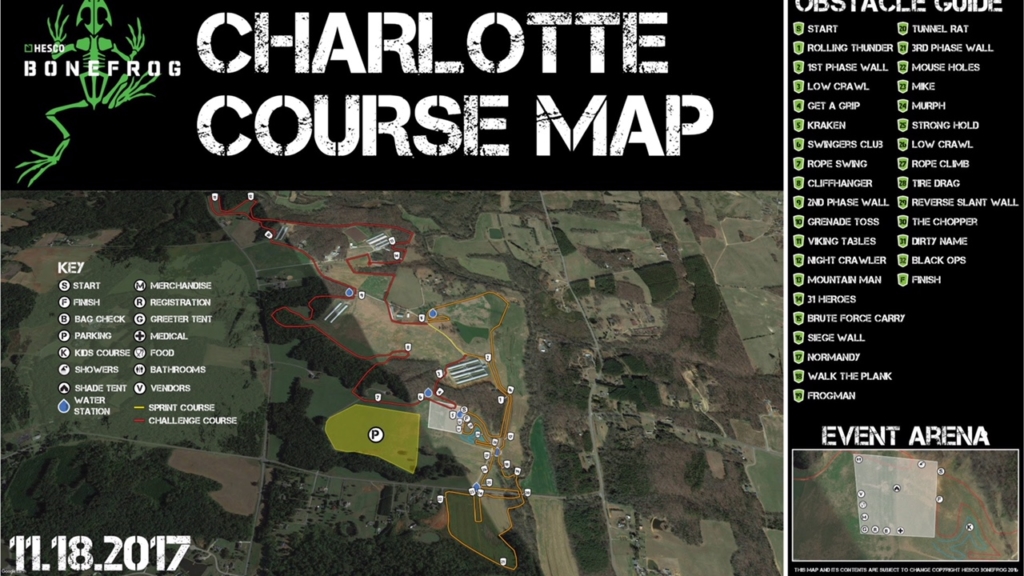 On to the race recap…
Last year I had two big complaints with the South Carolina BoneFrog event: (1) At the SC event it was more of a 9-mile trail run with a bunch of obstacles at the end and also (2) the course was pretty poorly marked which caused some runners to go the wrong way.  I'm happy to say, both problems were corrected!  The obstacles were more evenly dispersed with only a couple of longish obstacle free running only areas and the course was very well marked throughout.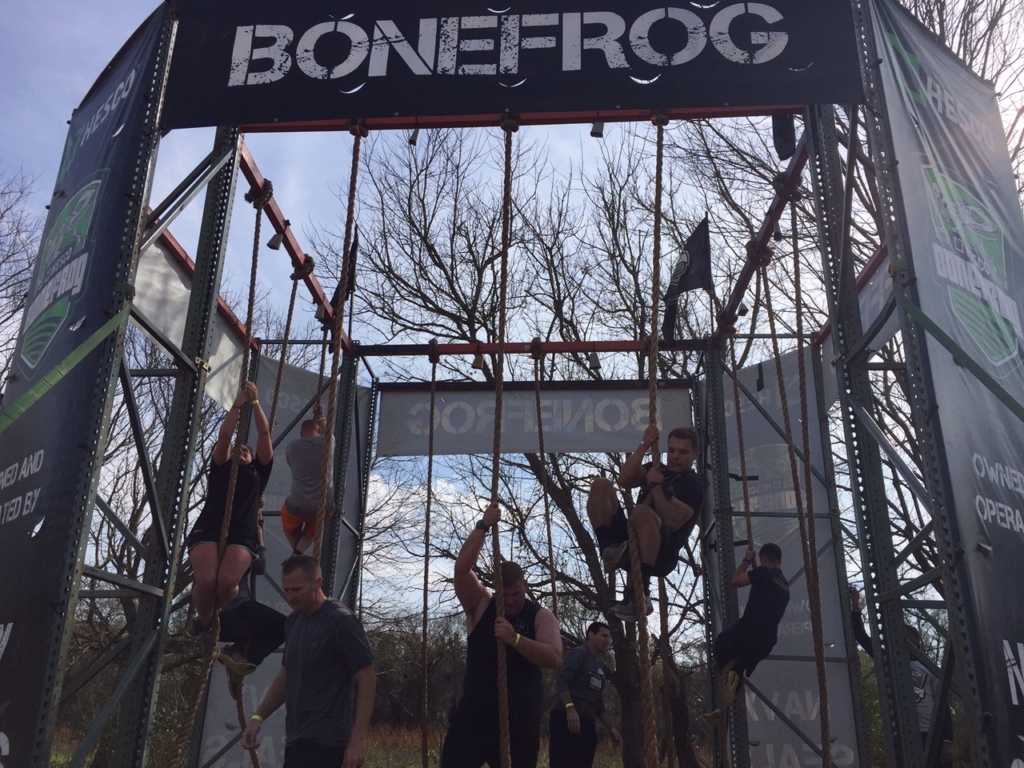 Most, if not all, OCR's have pretty similar obstacles throughout their courses: a few walls of some sort, a heavy carry or two, some form of a crawl you have to endure, a cargo net configuration to climb, etc.  In addition to their own unique takes on the OCR standard obstacle set, BoneFrog added two new distinctive obstacles this year in addition to their iconic course ending obstacle, Black Ops.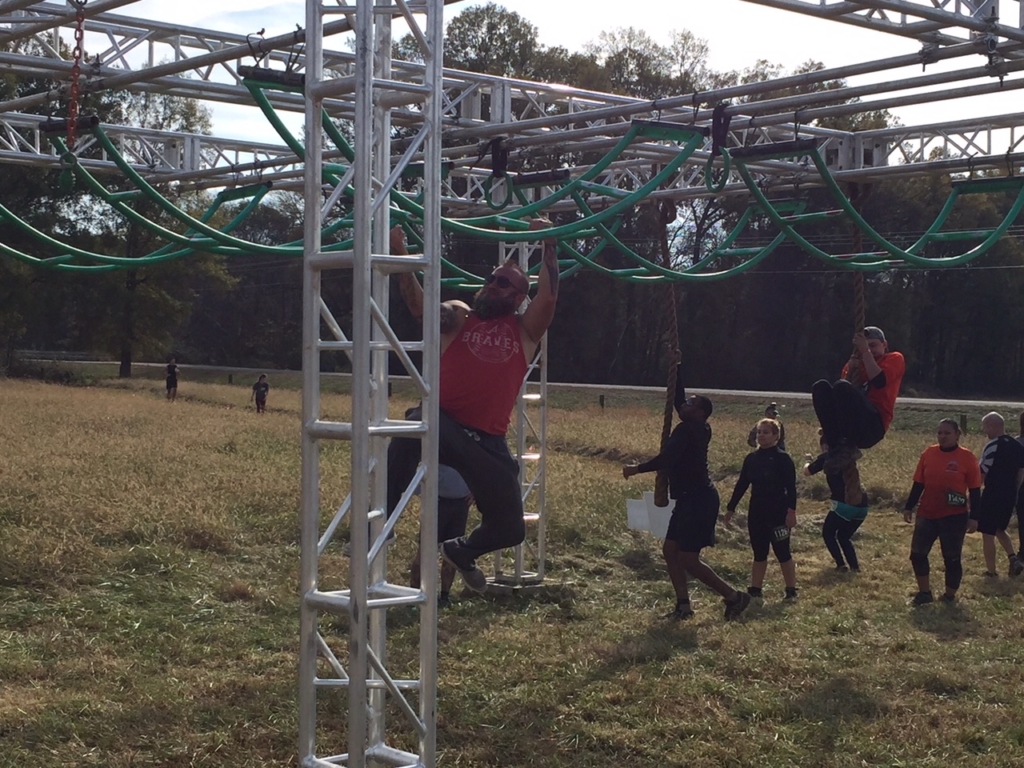 The first new obstacle was Strong Hold.  On Strong Hold, you had to first climb a fairly thick rope (about 2" diameter) and then transfer from the rope to a curved upside down set of monkey bars that swung from chains.  To get from the first curved monkey bar to the next, you had to transfer by grabbing onto an Olympic style ring in between to get you to the next set of bars.  After the last swinging monkey bar, you had to grab onto (or at least kick) a mock hand grenade hanging from a chain to successfully complete the rig.  This obstacle required nothing but grip and upper body strength.  There were some very cool touches on a pretty difficult obstacle.  If you didn't have a good strength to weight ratio – you weren't getting through Strong Hold.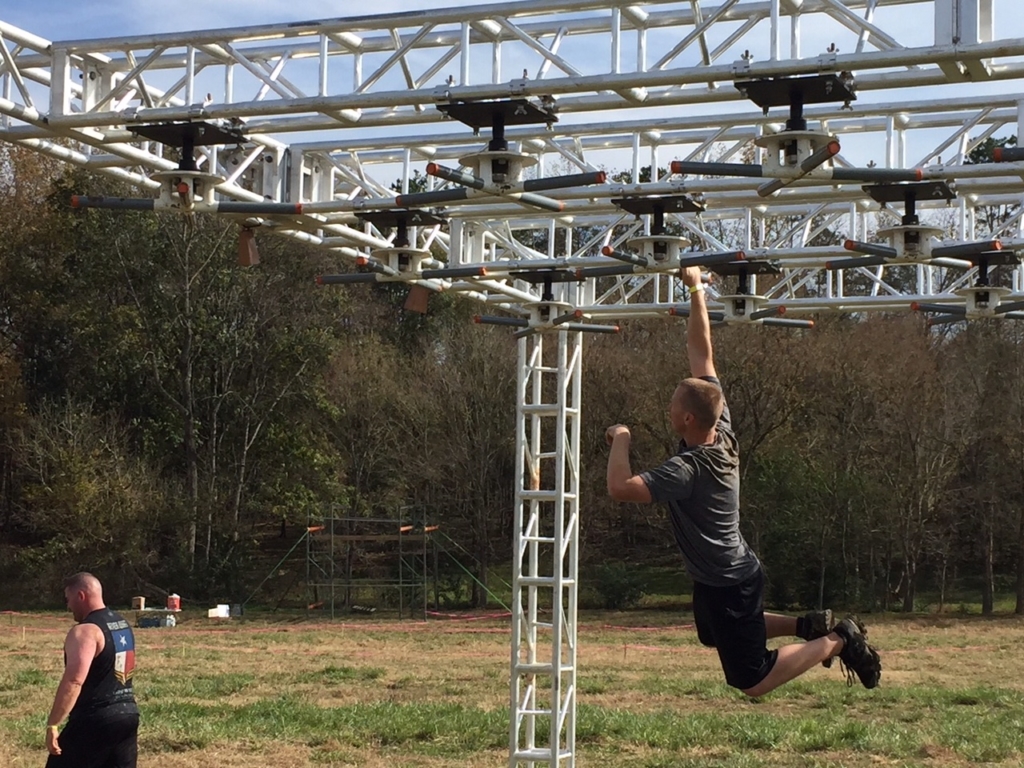 The second obstacle addition was Copter.  The copter was a series of six spinning handles that simulated helicopter blades.  Each handle had 4 round pipe "blades" you could grip onto and each one was about 2 feet apart from the next set of blades.  I watched dozens of people spin helplessly, unable to transition from one blade to the next around the middle of this obstacle.
Pro Tip: Use an "S" pattern to conquer Copter.  Start on the left side of the first blade and let momentum swing you to the right side of the next blade… letting momentum swing you to the left side of the next, etc. navigating the obstacle like a snake weaving through.  Those that were able to use this pattern made it through more often than not.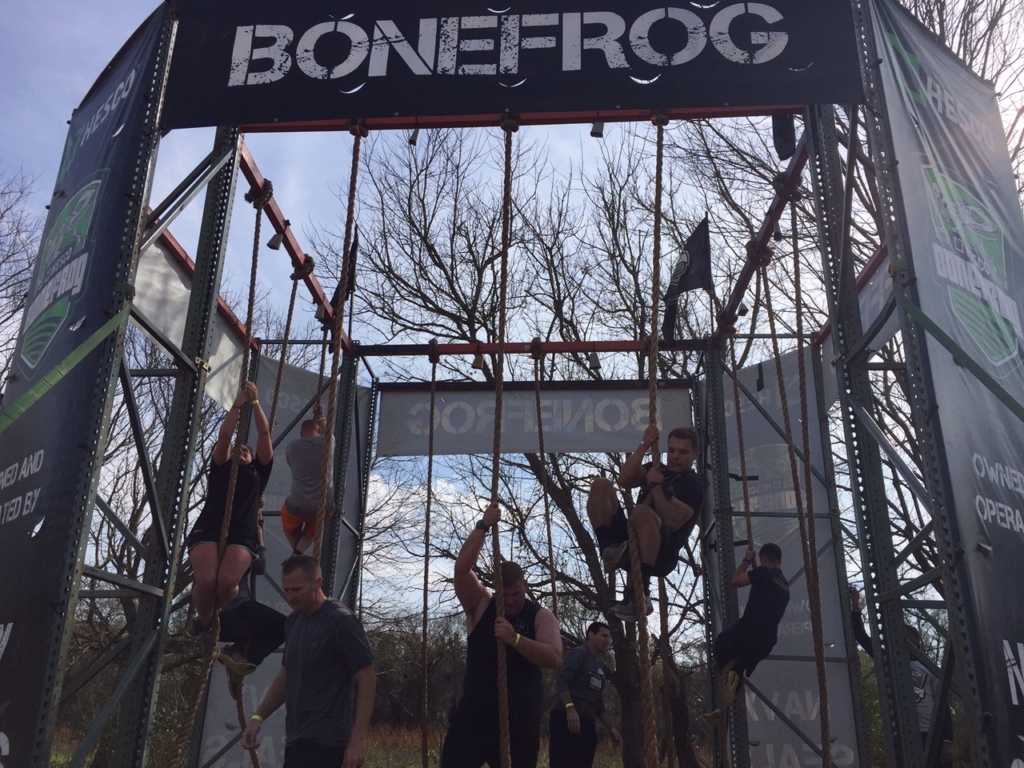 Last year I could only give BoneFrog 3.5 out of 5 stars due to some of the issues I had with the race.  This year I felt that they've matured as a race and whether they read some reviews and took action to improve some areas or not – they fixed the problems I personally had with the race.  Combine that with some of the best obstacles I've run across and that gives them 4.5 out of 5 stars this year.  I'll definitely do this race whenever it comes around my way.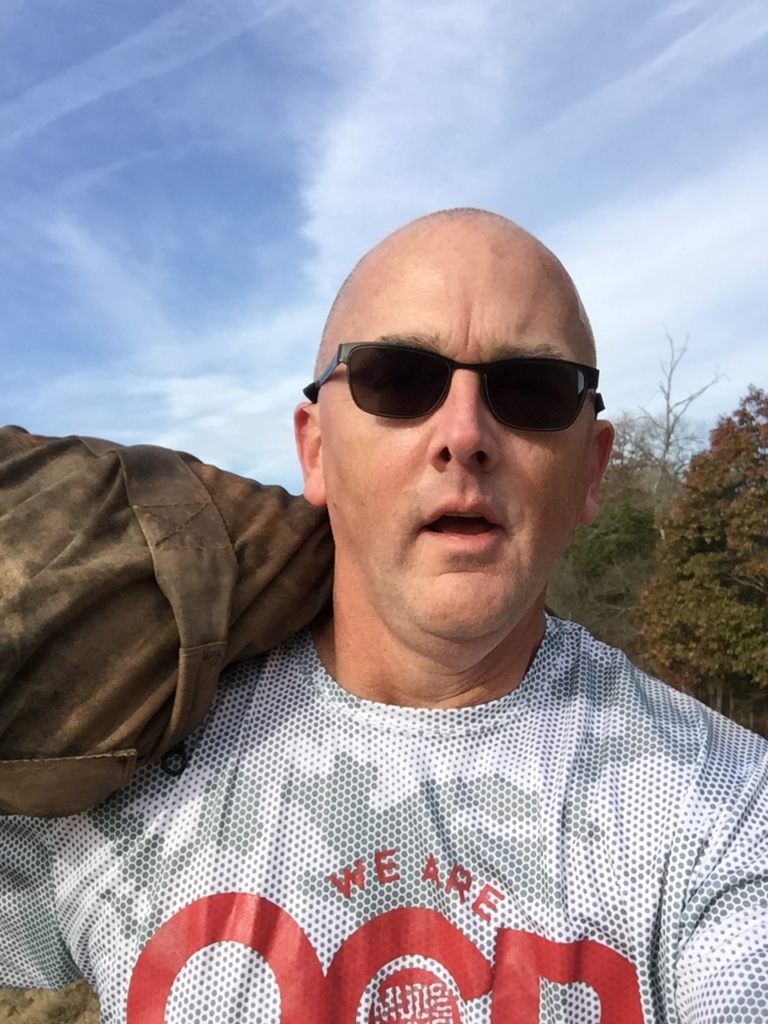 Rating: 4.5/5
---
Have you done an BoneFrog Challenge?
Leave your own BoneFrog Challenge review and feedback...