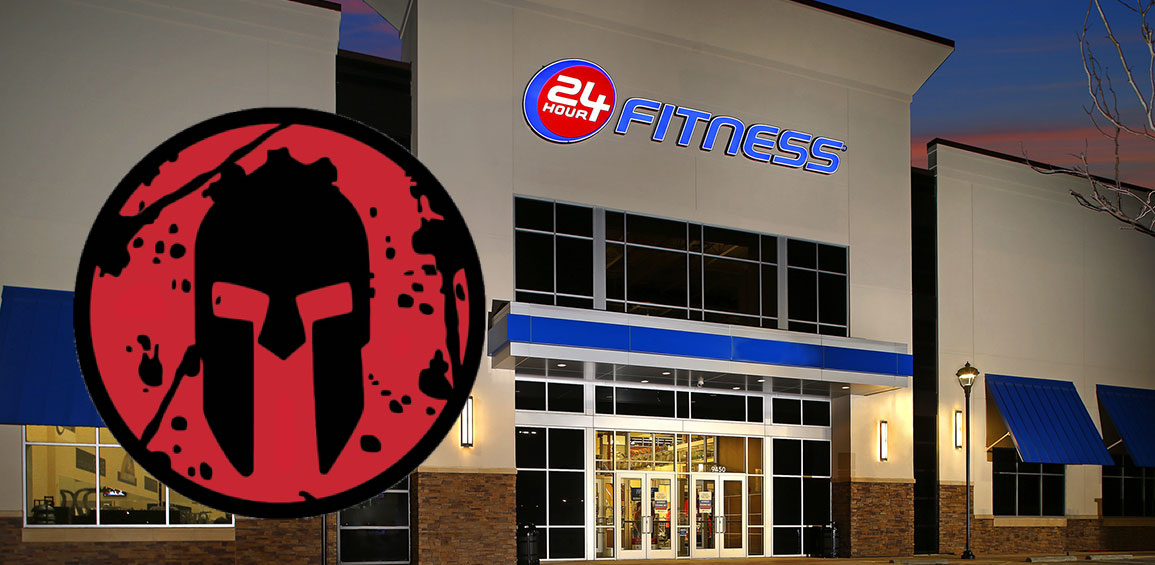 Today, Spartan Race announced it has teamed up with one of the largest fitness clubs in the industry offering integrated training and race experiences for obstacle course racers and fitness enthusiasts. The two companies entered into a multi-year agreement offering a fully integrated partnership. With this announcement, 24-Hour Fitness becomes the official sponsor and training gym for 26 Spartan Race events throughout the United States of America.
Soon 24-Hour Fitness will offer its members the Spartan "SGX" small group training at over 420 locations around the country from certified "SGX Coaches". This new partnership builds on the current training options on Spartan.com and Dailyburn.com.
---
24 Hour Fitness, a leading health club industry pioneer, has entered into a multi-year fully integrated partnership with Spartan, the world's largest obstacle race (OCR) and endurance brand, becoming an official sponsor and training gym for 26 Spartan events throughout the U.S.
As part of the partnership, 24 Hour Fitness will offer its members Spartan's signature "SGX" small group training program, and provide certification to fitness professionals at more than 420 of its health clubs across the country who will be identified as "SGX Coaches."  24 Hour Fitness will also have an onsite interactive presence at the select Spartan events.  Spartan has more than one million annual participants across 200 races in more than 30 countries.
"Spartan race participants are determined, passionate about fitness, relish teamwork, and embrace challenges—important qualities that characterize our members," said Chris Roussos, CEO, 24 Hour Fitness. "A tenant of our 24Life™ philosophy is the belief in our members' capacity to 'do more.'  We intimately understand that success in a physical challenge can inspire confidence in all areas of life.  Spartan helps amplify our philosophy and we're excited to deliver this powerful, new fitness option for our members."
Bringing the grit of Spartan's OCR events into 24 Hour Fitness® facilities, "SGX" is a scientifically supported solution to help people of all fitness abilities to physically and mentally prepare for a race and the activity of everyday life.  The program builds overall athleticism, endurance, strength, and mental preparation.  With the support of fitness professionals and technical instruction, participants learn how to push past their limits, condition the body and conquer the challenging Spartan event course.  The 24 Hour Fitness SGX certified fitness professionals will be trained by Spartan's team of experts and will offer members personal and group training options.
In addition to offering "SGX" training in 24 Hour Fitness clubs, training options will also be offered through 24GO™ the 24 Hour Fitness digital fitness experience, as well as 24Life magazine.  The brand will also activate the partnership at Spartan race and workout events across the country, bringing its certified coaches to the start-line, providing pre-race warm-ups, along with guidance to competitors.
"We're grateful for the strong relationship we have with our members as they advance along their individual fitness journeys," said Allison Steele, Sr. Marketing Manager, Partnerships & Media, 24 Hour Fitness. "The Spartan partnership is a terrific extension of our commitment to creating a rich member experience, both inside and outside of our clubs."

"Spartan and 24 Hour Fitness share a passion for creating community and empowering individuals to lead healthier lives, so a collaboration between the two industry leaders is only natural," said Spartan Founder and CEO Joe De Sena. "We aim to inspire grit and determination among people across the world and with 24 Hour Fitness making a difference in the lives of so many, we look forward to welcoming their members to our Spartan community and joining their journey towards a healthy lifestyle."
The launch of the partnership with 24 Hour Fitness is just the tip of the spear for Spartan, which was founded in 2010. Based on the races it is known for, and the basic training philosophy and nutritional principles of the ancient Spartans, the brand offers free daily training and nutrition programs on Spartan.com and on its social media platforms; a partnership with the Daily Burn on-demand fitness service; and it has certified more than 1,000 Spartan "SGX Coaches," across the world.