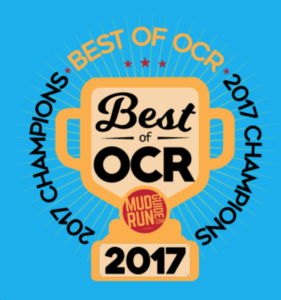 Mud Run Guide held the fourth annual Mud Run Guide Best of OCR Awards in 2017. The process began with an open nomination period where the OCR Community was invited to nominate their favorites over 30-categories for 2017. Mud Run Guide received over 6,000 nominations from over 1,500 individuals. A team combed through all the nominations and narrowed it down to the finalists. Voting opened for to decide the best of the best in 2017. Over 6,000 people voted amounting to over 100,000 votes total.
On December 20, 2017, the winners were announced live on Facebook (catch the replay of the broadcast here). Top honors went to the OCR World Championships winning an impressive 5 awards and Spartan Race taking home top honors in four categories.
"From the whole team at Adventurey and the OCR World Championships we are honored and humbled to be recognized by the OCR Community and the Best of OCR awards this year." said Adrian Bijanada "These awards are a testament to the dedication, passion, and hardwork of dozens of people and partners. It's proof of what can be accomplished when egos are set aside in favor of creating something truly special."
Ryan Atkins and Lindsay Webster were named the top athletes of the year and best regional/club team went to Spartan 4-0.
"Lindsay and I are honored to be recognized by the OCR community and thank everyone who have followed our season. It's been an incredible year for both of us. Lindsay and I both work very hard to be the best athletes we can be, and having this recognition from the community means a lot to both of us. We are already looking forward to 2018" said Ryan Atkins. 
To find out all the results from all thirty-two categories or to catch the replay of the awards announcement click on the link or video below.

Video Replay
.