Today, Warrior Dash announced the 2018 "Elements Tour" and unveils new obstacles for the upcoming season. To mark the tenth season of the popular obstacle race series, Warrior Dash is having participants take on all the elements on each of their 5K obstacle courses. From the iconic bottle open medals returning, kids zone, and one of the best after parties in the industry, Warrior Dash has a lot to offer in 2018.
---
CHICAGO, IL (Dec. 7, 2017) – Warrior Dash, the 5K obstacle course race that more than 3 million people have completed since 2009, will feature 27 stops across the United States beginning in Florida this February. Making its 2018 debut is the Warrior Dash "Elements Tour" where participants will battle Earth, Air, Fire, and Water across 12 new and classic obstacles.
"As we head into our tenth season, we're excited to introduce our return Warriors, and new ones, to the Elements Tour," says Ryan Kunkel, Co-CEO at Red Frog Events, producers of Warrior Dash. "Participants can expect fun, new challenges as they conquer the Elements on the course and head to the festival for the best post-race party in the industry."
Obstacles
New obstacles and variations on signature obstacles will make up the 12 featured in the Elements Tour. Returning obstacles include participant favorites Upslide Down XL, Pallet Jacked, Mud Mounds, Summit Plummet, Down to Earth (previously Trenches), Alcatraz, Warrior Summit, Warrior Roast, and Muddy Mayhem. New to the Warrior Dash obstacle lineup:
Rock Slide: Side step or splash. Shimmy your way across swaying trusses, but watch out for other Warriors swinging your way, too. Keep your balance or you're in for a bath.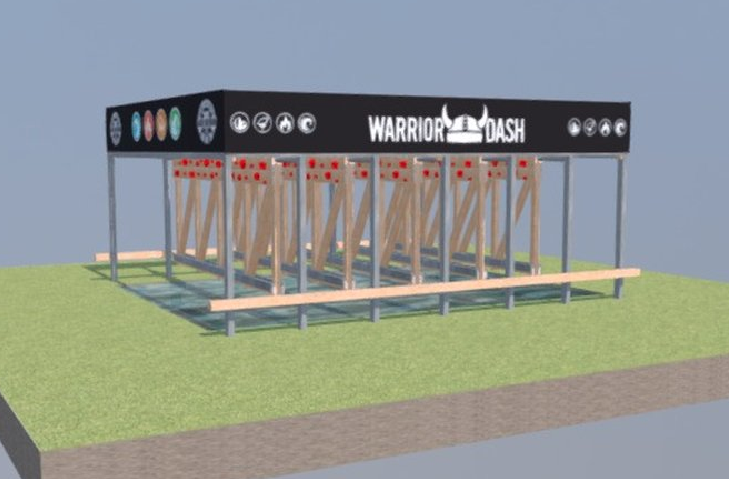 Natural Disaster:  Conquer the Elements. Crawl, climb, and slide through a combination of Earth, Air, Water and Fire.
No Man's Land: Attention! We brought a bit of basic training to the course. Over then under then over again, get going, Cadet.
Super Soaker: Almost like a nice, hot shower. Half balance beam, half ramp climb, and soaking wet from all sides.
Kids Training Grounds:
Little Warriors are welcome to participate in the Kids Training Grounds area at each Warrior Dash location. The Kids Training Grounds features mini obstacles and mud, plus a Warrior helmet for kids to wear and take home. Ages 3-9 can partake in the action (adult supervision required at all times) and all-day access is $10 per child. Children 10 and up are eligible to register and run the Warrior Dash course.
Participant Swag and Medals
After a short hiatus, Warrior Dash's iconic bottle-opener medal is making its return in 2018, featuring the Elements Tour design. Participants will also receive a new, limited edition Elements Tour t-shirt, along with the Warrior Dash signature fuzzy helmet.
Festival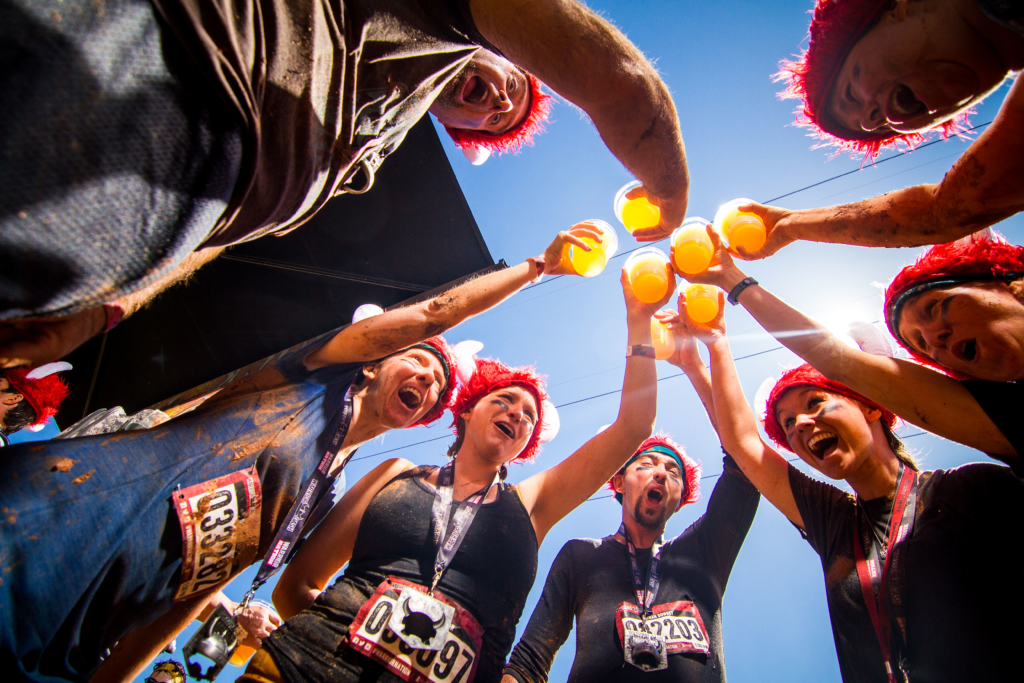 At no cost to spectators or racers, Warrior Dash is proud to host the best post-race festival in the industry. Returning in 2018 will be a live DJ, food and beverages, dancing, games and contests, ample shade and seating to refuel, and plenty of profile picture-worthy photo opportunities. Contests include Stein Standoff, Best Costume, Best Beard, and more. Dogfish Head will be adding a new flavor to the festival bar with their 60 Minute IPA, Namaste White, and the recently named "Beer Product of the Year," SeaQuench Ale.  This session sour is a flavorful, low cal beer brewed to be the most thirst-quenching beverage ever made by Dogfish Head and specifically designed for those that enjoy a delicious indie craft beer while maintaining an on-the-go athletic routine.  Several new brand partners will also be joining Warrior Nation in 2018 and enhancing the participant experience.
Registration
New in 2018, participants will have the option of signing up for a Premium Registration. Benefits of the Premium Registration include choosing any wave time on the day of the race, VIP bag drop, as well as having their bib, an extra beer ticket, and an unlimited re-run wristband mailed to them ahead of the race. Premium Registrations are limited to 100 Warriors per location. The Competitive, Preferred, and Standard wave options remain as registration choices.
St. Jude Children's Research Hospital
Warrior Dash is proud to continue its long-standing partnership with St. Jude Children's Research Hospital. By signing up as a St. Jude Hero, participants can fundraise and receive a variety of perks based on the total raised, including: access to the St. Jude VIP tent with private showers, complimentary gear check, food, non-alcoholic beverages, race registration refund, speakers, and a trail backpack. All donations go towards the lifesaving work being done at the St. Jude Red Frog Events Proton Therapy Center. Since the program began in 2012, Warrior Dash participants have helped raise more than $14 million for St. Jude.
For more information on locations and registration, head to our Warrior Dash organizer page.
Use discount code 5MRGWD12 for $5 off your Warrior Dash registration!