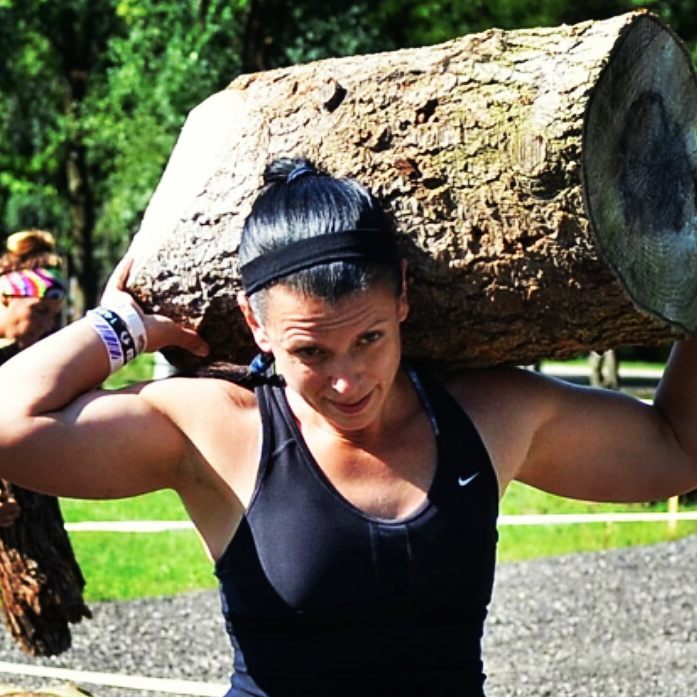 As the Director of people and culture at the PUR Company, Cerys Cook works hard to build and foster an amazing team of individuals. In fact, the PUR Company was recently awarded the 2017 Most Admired Corporate Culture in Canada award. Building the best corporate culture in Canada was not an easy task, and I am sure that Cerys Cook is very proud of the team that she continues to develop.
I wanted to feature Cerys in this "Badass Women of Article Series" as I wanted to share her story with everyone. She works hard in her career to promote a strong, healthy, driven and successful team, but also enjoys getting down and dirty in the OCR world. Like many of us, she started her OCR journey trying as many races as possible, and now she is focusing on a few. I feel she is "Bad Ass" as she is a solo mom that does not feel sorry for herself, and takes the time to work hard professionally and play harder on course. At age 46, she proves there is no age limit in getting active and participate in the sport she loves.
Please tell us a bit about yourself.
I am a solo parent of two amazing young adults, MacKenzie and Anthony. I say "solo parent" rather than "single mother" because first, I'm not single and second 'single mother' has such a negative, almost feel sorry for me vibe to it. I have always provided for my kids by myself, I have always worked hard to show them that no matter what obstacle is in their way that they can overcome and be better people on the other side, period. Kind of like OCR, it parallels life. I do not feel sad or sorry for that, it is our life, it is not missing anything, and it is a great one! Yay team!
I am also engaged to the most amazing man I could ever imagine who is also an OCR athlete (WAYYYYYY better than I am), professionally I am helping to build an unbelievable organization, The PUR Company in the role of Director of People and Culture and ya know, I do a little OCR on the side.
Did you always consider yourself athletic?
When I was younger, yes. I was a competitive gymnast and ran track – I was fast for a short girl which I was told had to do with my strength and flexibility from gymnastics. Sprinting was my thing, the 200m was my specialty. It is interesting because I started training with a running coach in high school who was a long distance running coach. She helped me improve my success in track meets by building my endurance so I could perform as strongly in the final heat of the day as I did in the first heat – and was the reason I fell in love with long-distance running. The fact that she called sprinters 'lazy' probably had a huge impact – nobody was going to call me lazy! (there is a bigger explanation there – it was said in a very positive and inspirational way, she was an incredible woman).
After I had my kids I was focused on them and forgot about fitness for me until they were in their early teens. When I took up running again, about 8 years ago now, I was 40lbs heavier and I could not even make it around the block! So, at that point in my life, no way I would have thought of myself as athletic!
I've come a very long way since then!
How did you get into the sport of OCR?
I believe it is my sister Diane's fault, and when I say fault, I could not be happier that she pushed my comfort zone! Running was pretty much all I did. 5k, 10k, half marathons. I was stuck in that zone. She encouraged me to join a boot camp close to home, we trained together almost every day. I could not do a pushup when I started. I had zero upper body strength and while I had cardio for running, I didn't have cardio for up, down, back, forth, weights and OH MY! Having my sister beside me, well, let's just say it got a little competitive.
For something different we registered in a local obstacle race and from that moment I was hooked! I fell in love with the challenge of always having to push yourself in some way whether it was fear (a big one for me), strength, agility, endurance. There is always something new, something challenging, something to overcome!
What was your first race like? Which one was it?
My first race was eye-opening and simply fun. We did it as a big group – most of the regulars at our Bootcamp and ran it together. It was called Urban Warrior and the obstacles looked like they were made in someone's garage the night before – actually some of them fell apart mid-race – but it was fun and I was hooked.
Tell us about the races you have done so far.
I have done so many races now, it is almost impossible to name them! My obsession went from training all year for one race to about 20 races last season, the final race of the year being at OCRWC. I placed 11th in my age category which is something I am super proud about and worked impossibly hard to achieve – next year I will push for top 10! We plan to go to the UK for the Championships in 2018, super excited for that!
I have participated in probably almost every race series available in Canada and have started venturing over the border to the US to try some of the races there. Fell in love with Savage Race, they do a really great job celebrating all the athletes and I managed to place 2nd in my age division there receiving a super sweet silver medal! Another very proud moment for me.
I love Spartan Races probably the most though because they involve a lot of running and endurance which are my strengths. I have put a lot of emphasis on strength the past year but my base is always my endurance.
What initially drew you into the world of OCR?

Competing in something different outside of a road race. The challenge is what keeps me hooked. Also, very importantly the community! Everyone is so fantastic, encouraging, and supportive – it is like one big extended family. I have met some of my very best friends through this sport.
Do you feel that due to strong women like yourself, that others are more willing to push their own limits?

I hope so. I really do. I try to convince people around me to give it a try or to push beyond what they are doing now, in whatever area in life they want to pursue. We are all capable of so much! I try to live that by example, especially for my kids. I want them to live the fullest lives they can. I hope to show them that nothing is impossible!
On the course what has been your favorite obstacle and why?

My favorite obstacle. I think two that were at Tough Mudder this year because I didn't think I would be able to do them and completely surprised myself. Funky Monkey was one and the other…I can't remember the name but you had to go underneath a platform with monkey bars and then pull yourself over onto a platform (very bad description). It required a lot of upper body strength and I was surprised by how strong I had become. I always love a set of monkey bars though…I've been doing them since I was 3! They are like an old friend.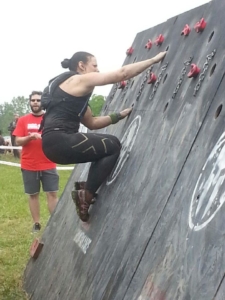 On the course what has been your least favorite obstacle and why?
Slides. Any slide of any kind of any height. I would rather jump off a cliff than slide down a slide. It is completely irrational because as soon as I let go, I am fine, but to let go…ugh…such a struggle. One day I will overcome!
Is there is an OCR or endurance race that you will never do?

I have made the mistake of saying 'never' before and the next year ends up signing up for that very race. There are races that I think I won't do at this point but I could possibly end up doing them eventually. So, I'm going with a tentative no.

Are you someone that plans your race schedule in advance (to take advantage of things such as early bird pricing) or do you sign up for things on the fly?

My fiancé and I just sat down last weekend and planned our entire season. We know what races we are doing and how much they will cost so we can plan our finances around races for the year. It is not cheap! We try to take advantage of early bird pricing but at the same time do not like to book everything too far in advance because you never what can happen in this sport with injuries (knock on wood). Refunds are not typical and deferring to the following year doesn't appeal to me either. We do try to save some money by road tripping with friends and staying as a group. Although sometimes it is our vacation too so we will splurge.
If someone were to give you a plane ticket, and a paid race entry to any event in the world which one would you love to go and do?

24-hour Enduro World Championships in Sydney, Australia. Hands down. OR anywhere in Amsterdam so I can spend some time with my sister, Gillian, who lives there.
With so many amazing women on course this year, do you find yourself becoming more competitive, inspired or both?

Definitely more inspired. The more I see other amazing women accomplish the more I realize I am capable. I find myself cheering them on and wanting them to do even more rather than feeling competitive with them! It is so great!  That said, I was born competitive that is just who I am but it is more with myself, beating my last time or improving my performance in a particular area than it is against other athletes.
What type of training do you complete for OCR training?
So much training. You will see me using the hashtag #alwaystraining on Instagram all the time. It is funny because it is true. If I am not at work, I am probably training.
Specifically, running, a lot of running. As much as OCR is about obstacles if you are not a good, efficient runner, you are not going to be successful. Of course, it depends on your goals so the word 'successful' is relative to those goals. For me, it means to win my age category or at least try. Try being the operative word! There are so many talented women! I am about to start training with Yancy Camp, super stoked about that!
In addition to running, I train out of an OCR specific facility called FreeRun in Mississauga where we work on different skills necessary in racing. Strength, obstacle agility, endurance etc. I will also be training out of One Academy in Toronto for the winter starting in December – an incredible functional fitness facility run by Jesse Bruce.
Lots of different things focusing on different areas to make one complete athlete. Although I still find it a challenge calling myself that, me, an athlete, ha!
As a parent myself, I know it is super hard to get in the time to train/be with the family / and even work. How do you keep a good life and work balance going so that you can spend time with your family?

In a nutshell. Plan, prioritize and be willing to be flexible at a moment's notice.
It really helps that my fiancé is also training all the time for the same sport and we go to races together. My daughter also enjoys traveling to races and supporting us in that way so it gives us a little more time sharing something we all enjoy.
Outside of that, I look at my life holistically rather than this life and that life. It is all me, all part of who I am and what makes me whole. Some days one piece of me needs more attention, other days it is another piece of me. You will not achieve 'balance' every day, the days you do are glorious. It is important to give yourself permission to be imperfect and to understand that today you are putting your energy into the most important priority of that day. Life is a long time. It is important to look at the big picture and not micromanage your own life!
I try to be disciplined about using the time I am given each day to the fullest and I have very clear goals in each area of my life. I know exactly how I want to achieve them, what it takes and how I will get there. Having a plan is important. Being flexible when things do not go according to plan is crucial to your sanity.
The three biggest priorities in my life are my career, my family, and my athletic endeavors. Each one takes a significant chunk of time. I know I cannot do it all alone. I lean on the people around me as support, even my children who, as a result, are incredibly independent, wonderfully impactful, tremendous people who do not feel entitled to anything! Teamwork makes the dream work! Cheesy but true.
If you have one, what is an on the course nickname people have for you?

A lot of people call me Cook, my last name, probably mostly because it is easier to pronounce and remember than my first name.
For someone that is newer to the OCR sport, what is one solid piece of advice that you wish to pass on?

They are called OBSTACLES for a reason, it is what they are and you will eventually be strong enough, brave enough, agile enough to get over, under, through all of them. Just like in life. Everything takes time. You will struggle at many things and those things will constantly change. One race you might be awesome at a certain obstacle and totally fail it the next race. This is all part of the process. You will get better, just keep pushing forward. One foot in front of the other. You've got this!
Who inspires you?
Juan Carlos Obando, my fiancé, every single day. I do not know anyone who works harder, is as focused and determined to be better each day than he is. For anyone who knows him, they know what I am talking about. Driven. That is him in a word.
He is my biggest cheerleader and the first person to kick me in the butt when I am feeling sorry for myself. Get up and try again. Without him, I do not imagine I would be where I am today.
What is one your one A race/bucket list race you want to do?

Right now, the World's Toughest Mudder. This is the year. It is going to happen. I need to see if I have what it takes to do it! I keep dreaming about crossing the finish line for the last time after 24 hours, it brings tears to my eyes. I can't imagine the feeling. I need to experience it.
Is there anything else you want to share with us?

At the age of 46, I am actively participating in one of the most challenging sports in the world, in my opinion! There is no age limit! I have many friends much older than me who inspire me to be better because they are unbelievable!
Because of this sport and how much I love it, I am in the best shape of my life and feel empowered to be strong in other areas of my life. Overcoming obstacles is an incredible feeling and I hope that more people try it out and fall in love, as I have.  I really hope this incredible sport of ours continues to grow and obtains the status it deserves in the sports world.
Whats the best way to reach you on social media if someone wants to reach out?

Facebook: Cerys Cook
Instagram: Cerysocr