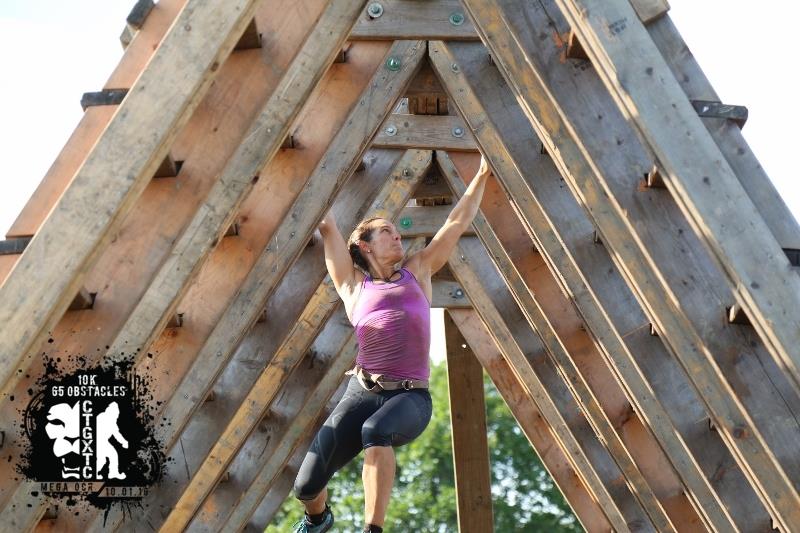 Lisa Nondorf had been brought to my attention before as someone that needed to be profiled for this series. She has a background in competitive gymnastics and diving, which provides her with a versatile skill set for the OCR (mental grit, discipline, and stamina). In this, her third season of OCR she has been able to podium 8 out of 10 races, (including overall female podium sports at Survivor Race Puerto Rico, Conquer the Gauntlet – Atlanta, and Terrain Race Milwaukee). I am excited to share more of Lisa's story and am hoping after you learn more about her, you will agree she is truly a BADASS.
Please tell us a bit about yourself.

I am a 42-year-old Gymnastics Coach and Personal Trainer.  I was a gymnast until I started High School then switched to Diving.  I dove all throughout High School and then in College at a Division 1 School in upstate New York.  I then dove professionally (my record is 85 feet into a 12-foot pool) for several years after.  I have a logic that the things that most fear you (that are irrational fears!) must be addressed so I have done a lot of crazy stuff in my life, including lighting myself on fire for a dive!).  Growing up I was pretty much a daredevil and still am.  I love things that challenge me both mentally and physically!  I am a bit more cautious now but still love a thrill!  After my retirement from professional sports at the age of 33, I stopped doing any type of working out.
Although many people would say I was never really out of shape, I found myself dealing with depression and that funk you go into when you are not happy with yourself.  I started doing local 5k races as a way of staying in shape and being active, in NO way was I fast, but it helped my competitive spirit and introduced me to running, something I had never done until the age of 36!  I ran my first 10k race at the ripe age of 39, remember being so proud of myself for going under an hour because this was the furthest I had ever run before!  It was at this race that I met my good friend Andi Hardy for the first time!  She decided that we would be friends and that I would be trying my first Spartan Race, which happened to be the Bahamas Cruise, at the age of 39!
Did you always consider yourself to be athletic?
Yes, I have been an athlete most of my life.  But it is more in the area of strength and agility!  This running stuff is HARD!  But I am learning to enjoy it!  I have Asthma and am allergic to albuterol so I do not take an inhaler.  It has been difficult finding what works for me and my body.  I am slowly learning this and I am also coming to terms that I might just have a bad breathing day and I have to accept that.  But in general, I am very lucky that I am able to do what I do!
How did you get into the sport of OCR (Obstacle Course Racing)?

As mentioned before, I met my good friend, Andi Hardy, at a local 10k.  I thought this crazy lady is wearing a firefighters costume to run in!  She might be my kind of crazy!  She had a hunch that I might be good at OCR so she invited me to try the Spartan Bahamas Cruise.  I remember going through that race thinking, what in the world was going on!  Fortunately, I was running alongside of Andi most of the race!  I remember failing the spear throw (which was inevitable because I had no idea what I was doing) and having to do burpees (which I had NEVER done before!).  It was at that exact moment that I decided I HATED burpees and would train any way possible to avoid doing them!  I had to do said burpees again at the Z-Wall.  I finished that race in 30 something place and remember being excited because the top 50 earned money.  So I got to say that in my first OCR race I got paid!  My next race was the Las Vegas Super, which I ran in the open wave.  This is my only race to date in the open waves.  It was in my 3rd race at the Colorado Military Sprint that I was so excited that I finally made my spear throw but in return ended up fracturing my ankle.  This stopped me from running and forced me to focus on my upper body strength.  I struggled racing after that because I kept re-injuring my ankle, reasons to take care of injuries!
I ran 2 more races prior to my 40th birthday.  I have been extremely blessed with the guidance I have received from friends, so once I was able to return to racing, I had a good friend that recommended I try a new series called Battlefrog.  He figured my gymnastics and strength background would serve me well.  So my first Battlefrog was in Ohio.  I remember wanting to kill him for recommending this race because to date it was the most difficult thing I had ever done.  However, I kept my band and did not have to retry any obstacles.  This is when I found my new challenge and was excited to get stronger!
Tell us about the races you have done so far.
I have done a lot of different races trying to find my "fit" once Battlefrog closed shop.  I continue to test the waters at Spartan Races but my true love is mandatory obstacle completion races.  The harder the obstacles the better!  I remember the feeling of thinking is this the race I lose my band?  Or pushing past what I thought I was capable of doing just to keep this little bracelet on my wrist!  I have earned podium spots at Conquer the Gauntlet, Spartan Race, Battlefrog Race, Terrain Race, Savage Race, OCRWC, USOCR Championships, and other local events.  I was fortunate enough to be able to race the Battlefrog League Championship Race on ESPN for Team Chicago and was part of the inaugural TMX race on CBS in Minnesota.  I also was so very fortunate to be able to race in Puerto Rico last year!  This was one of the best experiences of my life!  The people I met were some of the most inspirational and motivational people I know!  Watching them pull together through the hurricanes was also something I will never forget!  I love running different series just to keep things challenging!
What initially drew you into the world of OCR?
Initially, I was completely naive as to what OCR was!  I remember doing thinking this will just be something for fun.  Never did I ever imaging being competitive in the sport.  What has kept me in the sport is my love for competition (which is primarily with myself).  What am I capable of doing and how strong am I mentally as well as physically.
Do you feel that due to strong women like yourself, that others are more willing to push their own limits?
I hope so.  And not only with strength but age.  I like redefining what it is like to be a masters athlete.  I am on my 3rd season in OCR and will be turning 43 this year.  I feel great and stronger than I have ever been.  There are so many things that I am so much better at now that I ever was!  I am the strongest I have ever been and that keeps growing!  My goal is that others see me and realize that I did not start down this road until I was already almost a masters.  Age makes no difference, just train hard and smart!  I love being a better version of me and I love having so many around me that push me every day to do just that!
On the course what has been your least favorite obstacle and why?
Carries are my least favorite obstacle!  However, the stronger I become the less I dread them.  So I believe this year those wonderful balance obstacles will take the place of my least favorite obstacle.
Is there is an OCR or endurance race that you will never do?

I cannot imagine myself doing any type of death race.  I get hypothermia extremely easy so anytime being in cold water for an extended period of time is part of the race I know that I need to bow out.  I am not good at races that are able to change the rules midway through the course.  Or those just beat you up type of race.  Mentally I get why people find them fun and how they make you mentally stronger, I just don't.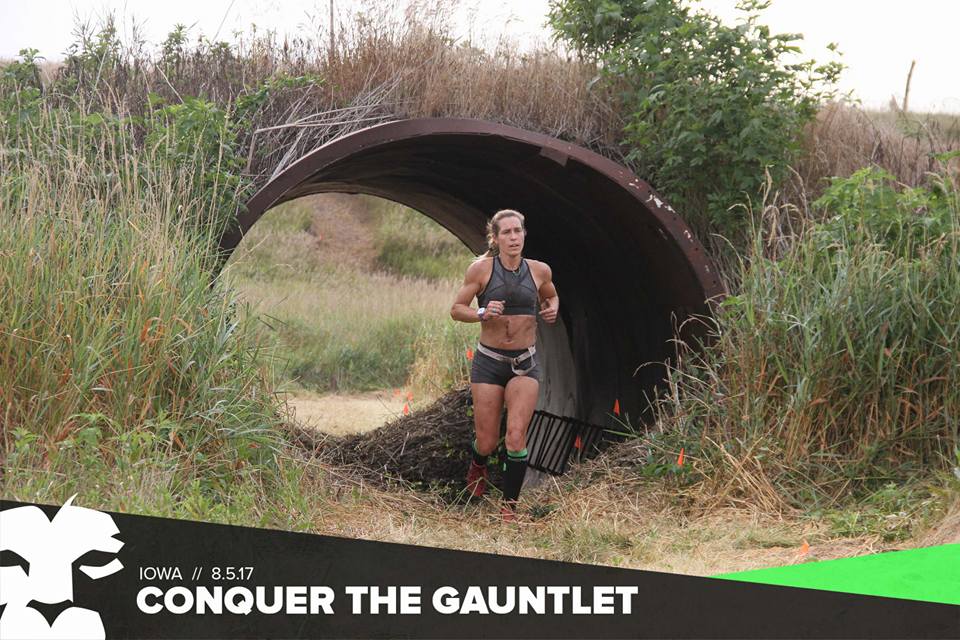 Are you someone that plans your race schedule in advance (to take advantage of things such as early bird pricing) or do you sign up for things on the fly?
I have "A" races that I plan out in advance but then my "B" races are done on the fly.  Depending on if friends are going, how am I feeling, how do they fit into my training plan.  Is there something that I feel I need to test before an "A" race.
With so many amazing women on course this year, do you find yourself becoming more competitive, inspired or both?
Definitely both!  There are so many amazing women in this field!  There are so many times when running a course that I keep thinking how in the world am I running next to them!  Watching them get stronger inspires me to get stronger.  Watching them struggle inspires me to get stronger!  This is what makes this sport so special.  I love cheering on my competition because I know the importance of growing this sport!  The stronger our competition becomes the stronger we will become!  Fortunately, this sport has so many strong and fast ladies!
What type of training do you complete for OCR training?

Currently, I do a LOT of cross training!  I do Crossfit x 5 days a week, running (or some type of cardio)x 6 days a week, yoga 2-3 days a week, and rock climbing or ninja training 1-2 days a week depending on my schedule!
For someone that is newer to the OCR sport, what is one solid piece of advice that you wish to pass on?
Have fun!  I love this sport and being able to enjoy being able to do what you can!  This is an ever growing sport and enjoys the ride!  Also, I would recommend trying different series!  Take the good from every race!
Who inspires you?
Everyone inspires me to believe it or not!  I think every person that gives their all on a course is such an inspiration!  Even those out there just having fun are an inspiration because sometimes as elite athletes we get wrapped up in the competition and forget about the experience!  My most inspirational moments came from a trip to Puerto Rico to help teach obstacle technique.  It was so amazing watching so many people achieve goals and give 100%!
What's the best way to reach you on social media?

Facebook: Lisa Nondorf
Instagram: Lisa Nondorf