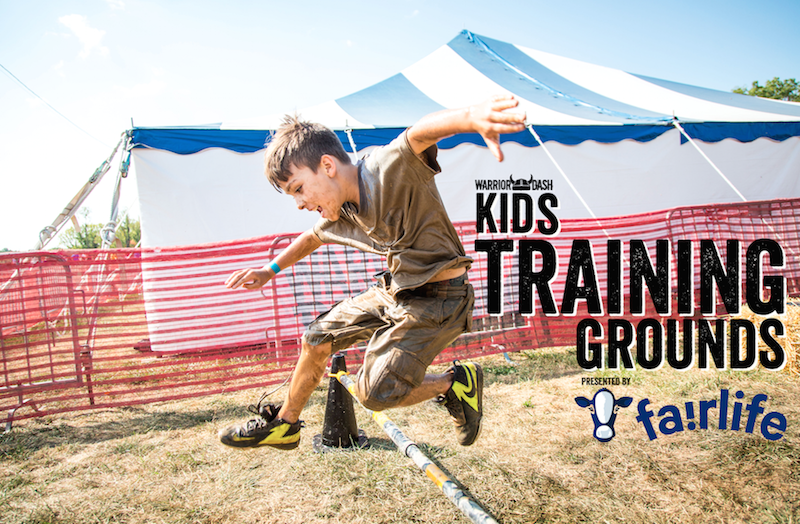 Warrior Dash has long been a favorite obstacle race. The 5K course format is a classic in the industry and the afterparty is legendary. For years only one thing was missing from the Warrior Dash offering, a kids race. While have loved participating over the years, many have lamented that there are no kids offerings. Warrior Dash listened and this year has added Warrior Dash Training Grounds to their race day line up.
Warrior Dash Training Grounds
New in 2018, each Warrior Dash obstacle course location will feature the Warrior Dash Kids Training Grounds, presented by fairlife, and will feature mini obstacles and mud. Kids will receive a Warrior helmet to wear and take home. Ages 3-9 can partake in the action (adult supervision required at all times) and all-day access is $10 per child. Children 10 and up are eligible to register and run the main 5K Warrior Dash course.
With this new addition, Warrior Dash has become the perfect opportunity for the whole family to participate in a Warrior Dash.
"We've noticed that even the youngest kids that come out to our events to watch their parents and older siblings participate want to join in on the muddy fun," said Scott Howard, Vice President of Sales and Marketing for Red Frog Events. "We thought, why not get them out there, too, to share the experience with the rest of the family through a fun, active area dedicated to them."
Fairlife as part of the announcement signed a multi-year sponsorship deal with Warrior Dash. Kids that participate in the Warrior Dash Kids Training Grounds will be able to take a fun photo with their parents in the festival area and sample some of fairlife's nutritious products, including 2% fairlife® ultra-filtered milk and the newly launched fairlife® DHA whole milk, ultra-filtered milk with 125mg DHA Omega-3 fatty acids to support brain health.
Maybe Warrior Dash was your introduction to obstacle racing years ago. With the addition of the kid's event, it gives even the most seasoned veteran in the industry a reason to return to Warrior Dash. Whether it be introducing their children, relatives, or even a friends child into the lifelong sport of obstacle course racing, everyone can now participate in a Warrior Dash.
---
Use discount code MRGWD1518 for $5 off your Warrior Dash registration!