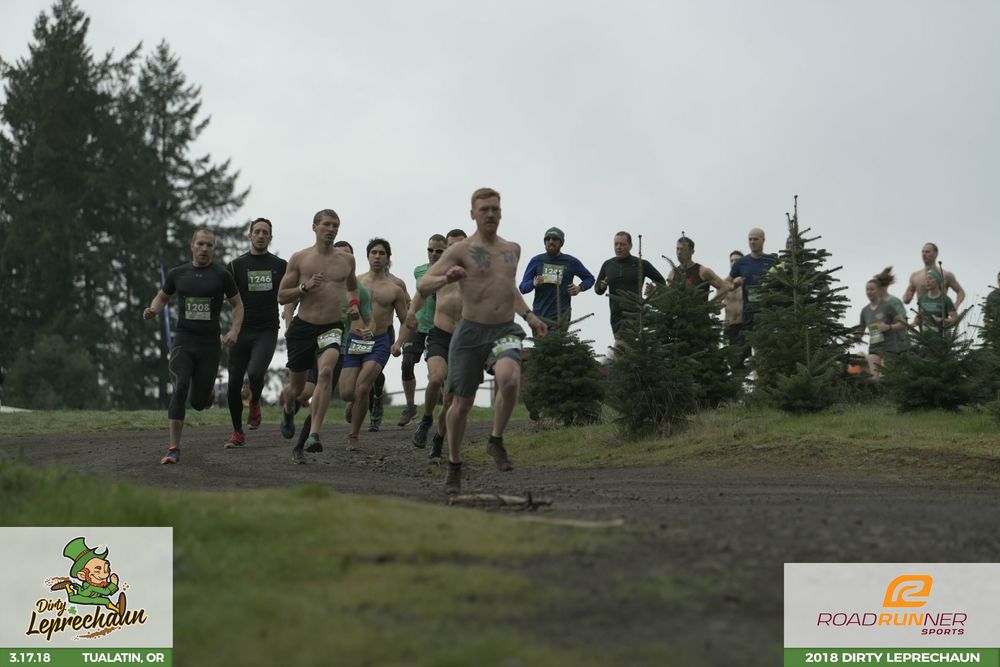 If you were looking for an opportunity to combine your love of OCR with all things green, massive flame thrower-powered fire pits and a few celebratory beers, you'll be disappointed if you missed Terrapin Events' Dirty Leprechaun 5k at Lee Farms, just outside of Portland, OR. A muddy 5K with slick terrain, natural and homemade obstacles and frequent inclines, participants took to the course looking to reach that pot of gold(en delicious beer).
I for one, am a huge fan of the local OCR scene, but the Pacific Northwest has built an amazing reputation for supporting the sport, especially on a local scale. Every opportunity to drive a short distance to engage with your fellow OCR enthusiasts is something we take to heart, especially with the backing of one of the largest communities of racers, Beasts OCR, which has members spanning Oregon, Washington, Idaho Montana and British Columbia, Canada.
Jumping down from my high horse on the PNW OCR lifestyle, the Dirty Leprechaun was a fantastic event! It started from the two parking options, which included an on-site offering for $10, located literally 25 yards from the starting line and festival area, or a free option that was located a mile down the road and supplemented with a free shuttle, which took only a few minutes.
Once you entered the venue, passing an adorable tribe of goats in a pen, you were welcomed with familiar faces surrounding a huge fire pit, keeping all of the racers and spectators warm until their heats began. Yes, it is a little chilly in Oregon in the winter time. Luckily, the famed rainy season took the day off this St. Patrick's Day.
After the children's race began, it was time for the grownups to play, starting with a completely stacked elite heat. If you thought a local race couldn't be on the same competitive page as an OCR juggernaut such as Spartan, you haven't raced in the top left of our country! From the gun, it was a full-on sprint through the mud, under, over and through obstacles, resulting in a podium filled with elites boasting with splits under 6:30! The slick mud alone blows the common person's mind for speeds like that on an obstacle course.
Obstacles included wire crawls, hurdles, walls, a unique welded rig, slip wall-type inclines, a horizontal rope ladder and an interesting take on water-filled yoga balls to roll up a steep, muddy hill.
Of course, there were open heats where participants of all ages and abilities had the opportunity to enjoy all of the excitement at the Dirty Leprechaun. I was fortunate to stand by the finish and watch eager racers cross with a tremendous smile every second throughout the day.
Terrapin Events holds multiple races around the Portland area, including OCR and road races, all ending with delicious beverages and snacks at the finish line. If you're looking for a challenge, or simply a fun run for friends, family or colleagues, this PNW-located OCR enthusiast highly recommends any of their events.
5/5
Rating: 5/5
---
Have you done an Terrapin Adventues?
Leave your own Terrapin Adventues review and feedback...