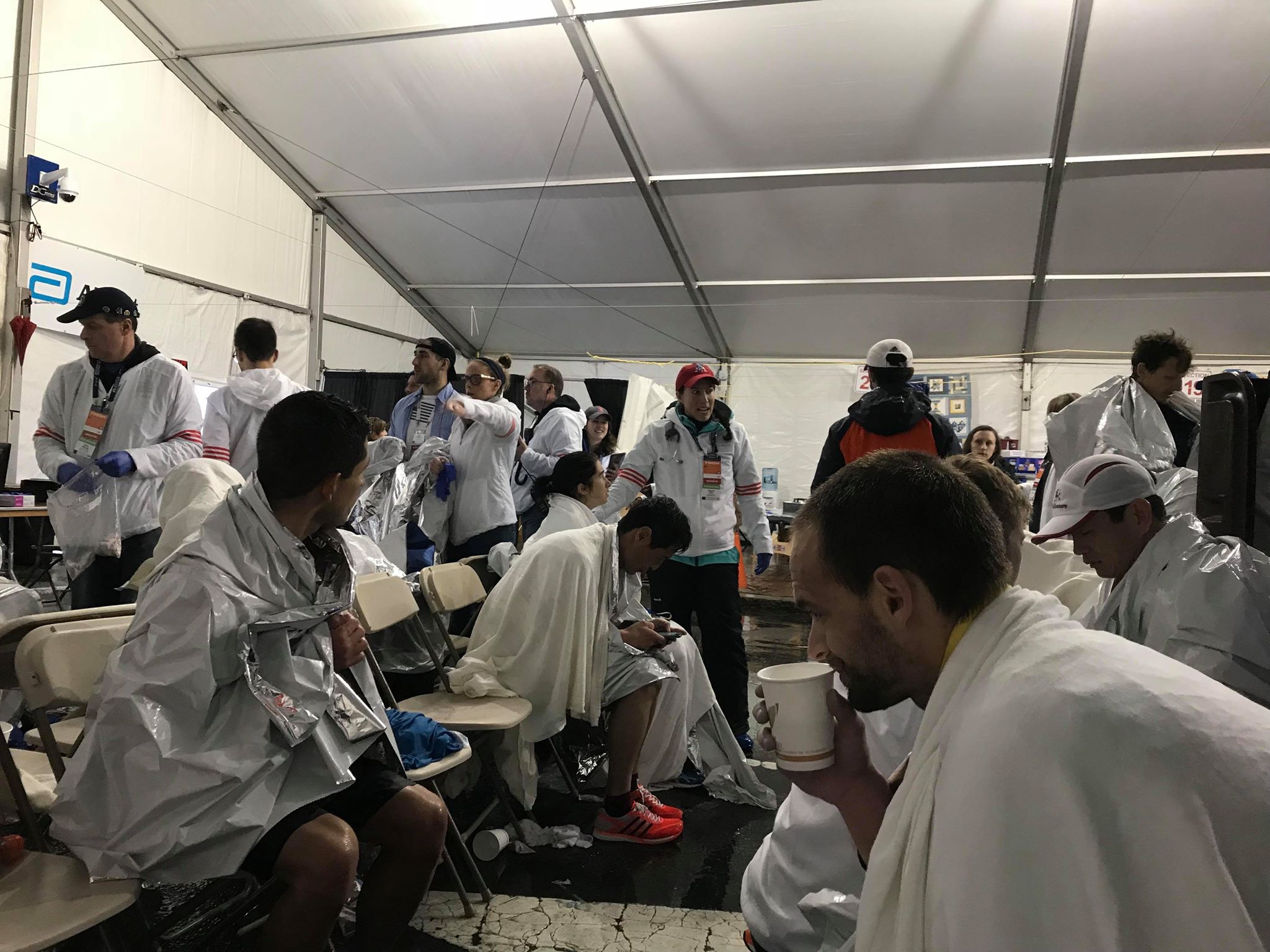 The 2018 Boston Marathon had what many consider the worst race conditions in the event's recent history. Temperatures in the high 30s/low 40s, rain throughout the entire event and headwinds blowing at 26 miles per hour. These conditions turned a road race into a suffer-fest causing participants to drop out and the male winner with the slowest winning time since 1976.
If you are a fan of American distance running though, the race was great. On the Women's side: Desiree Linden (formerly Desiree Devila) won the women's race becoming the first American women to win in 33 years with a time of 2:39:54, American Sarah Sellers finished in 2nd and seven of the top ten females were from the USA. On the Men's side: American Shadrack Biwott finished 3rd and American Tyler Pennell was 22 seconds behind him in fourth making six of the top ten runners from the USA. An epic year no doubt and arguably the best year of American running at Boston in my lifetime.
If you are a fan of Ultra-Obstacle Course Racing (Ultra-OCR), OCRs that are five hours are long, there are some key lessons we can take away from this.  Many of these can be applied to shorter races but I primarily wrote this with Ultra-OCR in mind.  Whether racing for the podium, aiming for a mileage award or just trying to finish, here are some conclusions from 2018's Boston Marathon:
1. Specificity is key:
Boston is a race normally dominated by two nations, Kenya and Ethiopia. I'm going to go out on a limb here and assume the athletes from those two countries primarily train in hot, dry climates. The cold, rainy conditions of 2018's Boston Marathon visibly took its toll on those two nations who normally fill both podiums. For example of Kenyans distance running dominance in 2012, they had 340 athletes qualify for the A standard in the Olympic marathon (sub 2:15 for men and sub 2:37 for women). Those who were used to training in those environments did better on average than those who don't run in those conditions.
Takeaway:
Training how you will race makes your performance on race day more aligned with your potential. If you are used to running and doing obstacles, used to running at night or used to running in a wetsuit, you'll probably do better at Ultra-OCR events, than someone who never trains in a way they race.  Likewise for shorter races, if you have experience completing obstacles with a high heart rate, you'll likely do better than without that background.
2. You can't prepare for you for race conditions last minute:
Piggybacking off the first takeaway, you can't prepare for race conditions last minute. When the Kenyans and Ethiopians saw the weather forecast on race day, it was too late to do any specific training for race day. This means you need to be prepared in advance for whatever you might face on race day.
Takeaway:
Train in a variety of environments so you have some experience racing in whatever conditions race day brings. This makes you more versatile and more likely to do well on event day. If you don't want to listen to me here's a quote from the undefeated King of Ultra-OCR Ryan Atkins when I interviewed him for my book Mud Run Guide's Ultra-OCR Bible "You don't need to go out and try to make yourself uncomfortable. If you are training consistently, those harsher weather conditions will find you and you don't have to search them out or conduct specialized training sessions."
3. Just because you race isn't going well, it doesn't mean you're not doing well:
On race day everyone has to face the same conditions. At 20km in, the eventual winner, Desiree, said she considered dropping out in a post-race interview. She even offered to block with wind for fellow American Shalane Flannigan (which for a pro-runner in her biggest race of the year is essentially admitting it is over). After realizing she was in 3rd or 4th, she hung in the race despite not feeling the best and walked away with the win.  However, 23 other elite marathoners called it quits before the finishing line ending up with a DNF (Did Not Finish).  Rumor is several others saw the conditions and did not start (DNS) but I couldn't find accurate numbers on elite DNS.  (I know of at least two that DNS but according to their statements it was due to injury and not weather.)
Takeaway:
You never know what is going to happen to everyone else in the race. Take a look at the top ten athletes 8 hours into World's Toughest Mudder (WTM), you'll recognize almost all the names in there.  Then look at the final standings, which are missing many of these names because they felt like there were having a bad day and dropped out. By contrast, Logan Nagle, #19 from The Selection, was having stomach issues, tore a lower leg tendon (perineal longus) and had body temperature control issues during 2017 WTM. He still finished 80 miles and finished in the top 10 out of individual males racing. Similarly, I helped prepare some friends for some of the hardest military training that exists and my advice was always this "This is going to sound stupid, but don't quit. Even if you are doing terrible, if you quit you are taking your chances of passing from low to zero."  For shorter OCRs, especially those with mandatory completion of obstacles this can be very important as top contenders get stuck at obstacles and finishing order shifts drastically.
4. If you don't show up, you can't seize an opportunity:
No one would have picked Yuki Kawauchi of Japan to win the marathon this year. Terrible race conditions made it rough for everyone, but Yuki didn't let that bother him running a 2:15:58, the slowest winning time since 1976.
Takeaway:
You never know what it is going to be your day. Whether you are going for a win, a podium or just a Personal Record (PR). Similar story but opposite conditions occurred at World's Toughest Mudder 2016 when nice weather allowed many people to earn colored bibs that were near the outer edge of their physical limits. If you aren't there to seize the opportunity, you may miss your chance.  My teammate, Conquer The Gauntlet Pro Randi Lackey, someone who is used to racing in wet and muddy conditions, was at 2018 Boston and ran a PR by 3 minutes despite the terrible conditions.  A testament to seizing the opportunity and the next takeaway, mental strength.
5. The importance of mental strength:
The Kenyan and Ethiopian athletes that show up on race day are the better athletes in most cases. In the last 30 years Kenyan or Ethiopian athletes have won 26 of the men's races and in the women's race in the last 23 years Kenyan or Ethiopian athletes have won 20 of the races. When athletes from all nations are performing at their best, the Kenyans and Ethiopians dominate. I would argue that the weather had more of a psychological effect on this race than a physiological effect. Those who had the mental strength to persevere despite bad conditions, missing their projected split times and being uncomfortable are the ones that did well. The better athletes lost despite higher lab values (in things like VO2max and lactate threshold), faster historical marathon times and better physical condition on race day.
Takeaway:
Ultra-OCR relies heavily on mental strength. Whether you are multi-lapping at a BoneFrog Endurance, the 8-hour Toughest Mudder or headed to Australia for Enduro 24, your greatest strength is your mind.
---
Looking forward to seeing everyone out on the course of some Ultra-OCR this year. If you are preparing and want to be sure you have the knowledge to do your best, pick-up a copy of Mud Run Guide's Ultra-OCR Bible which including nutrition information (in race/daily diet), three modular training plans, obstacle specific techniques, mental toughness advice, packing lists, racing tactics, overviews of different races and interviews with some of the best Ultra-OCR Athletes in the sport including:
-The Undefeated King of Ultra-OCR Ryan Atkins
-WTM Champion and WTM Podium Finisher at Every Las Vegas WTM Trevor Cichosz
-Multi-Time WTM Podium Finisher/ Toughest Mudder Series Champion Allison Tai
-2017 Spartan Iceland Ultra-Beast Champion and 2016 WTM Podium Finisher Morgan McKay
-WTM and OCRWC Overall Podium Finisher and American Ninja Warrior Amy "Magic" Pajcic
-2017 WTM 2+ Team Podium Finisher and Top 20 All Four Years at WTM Vegas Wesley "Dr. Redtights" Kerr
-Death Race Finisher and Conquer The Gauntlet Pro Christina "Honey Badger" Armstrong
-80+ Mile WTM Finisher/One of Four Finishers from The Selection #19 Logan Nagle
-Top 15 WTM Finisher and the Man That Ran Across The State of Michigan Jordan Smith
ORDER MUD RUN GUIDE'S ULTRA OCR BIBLE HERE

And if you are looking for some great Ultra-OCR training to raise money for a good cause, Folds of Honor, come to Endure The Gauntlet 48 hr OCR event in Tulsa, OK the weekend of 24-26 August.  Run a lap or multiple laps as I raise scholarship money for children whose parents were killed or wounded in military service.
---
Boston Marathon pictures provided by Randi Lackey
Elite Ultra-OCR Athlete photos taken from Mud Run Guide's Ultra-OCR Bible which cites original source for all pictures
---
Disclaimer: The viewpoints expressed by the authors do not necessarily reflect the opinions, viewpoints and official policies of Mud Run Guide LLC, or their staff. The comments posted on this Website are solely the opinions of the posters.