All-inclusive resort and OCR facility, a perfect place for family, friends and a relaxing weekend of racing.
Venue: Viking Obstacle Course at Sunny Hill Resort and Golf Course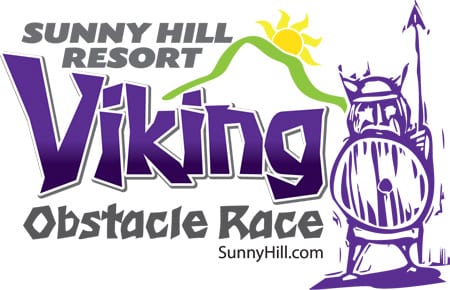 Website: Viking Obstacle Race at Sunny Hill
Location: Greenville, NY
Signature Obstacles:

– Dragon's Tooth –Definitely one of the more challenging monkey bars you will ever see, this unique design (flat, uphill, downhill and then flat again before reaching the far side) will make your hands and forearms burn as you make your way across.
–Asgard Skywalk –A 125 foot multi-lane balance beam that weaves through the woods before turning into a Tyrolean Traverse and then back to a balance beam.
–Traverse walls mixed with balance beams and overhead board traverse: A unique mix of grip strength and balance that is visually appealing to spectators.
–Odin's Tables – Two wooden ramps placed on a hill with 15' rope descent, which is a lot more exciting than it might sound as you try to slowly lower yourself from the top of the structure.
–Robstacles: Obstacle creator Rob Butler, the owner of Shale Hill and Sinergy Sports, helped build obstacles on this course and design the layout. You will recognize many of his unique obstacles sprinkled throughout the course.
Approximate Events Held Annually: 1+
Their only event for 2018 is scheduled for May 6th
Types of Events:
Viking OCR's permanent facility offers an elite wave, double lap wave with mandatory completion, a four-person (one female minimum) team event, and open waves.
Who will love it:
If you want a fun OCR with obstacles that will challenge you but don't seem impossible, this is it. Or if you like Shale Hill but want a more reasonable version of it, this is the course for you.
Reason for Open Wave Athletes to Go:
Wake up and walk to the start line instead of rushing to find parking and get lost training to find the race venue. Plus their team event will be a ton of fun for anyone involved.
Reasons for Elite Athletes to Go:
Cash prizes are offered for their elite race as well as the overall winner getting Thor's Hammer.
Where You May Know Them From:
Viking is a hidden OCR gem in the northeast. They tend to keep a low profile but their facility is absolutely amazing as it weaves through the woods nestled between a golf course and resort activities. In 2016, I used them as Day 3 of my event OCR America.
Bonus Reason for Attending:
Stay for a weekend for this all-inclusive resort that has activities such as rides, concerts, fishing tournaments, wine/cheese mixers, Zumba, water aerobics, fencing, movie nights, monster truck rides, military vehicle rides, yoga and golf scrambles.
Check their website for the latest list of events and details.
---
Use discount code VIKINGMRG for 10% off your Viking Obstacle Race registration!
Logan Nagle picture courtesy of Logan Nagle
Neil Cary pictures from Amy Perperis of Strength & Speed
Obstacle pictures courtesy of Asa Coddington