Back in the offseason, when I was planning and preparing for the 2018 season, I encountered these gloves online and I am more than glad that I did. I only used them for one race this year yet, but I'm sure they will come in handy (lol, see what I did there?) for future races. I signed up for F.I.T Challenge X Race on April 7 at Diamond Hill Park Cumberland, RI. Fun race, very challenging too. Regular gloves wouldn't have made the cut for this race to be honest. This race specifically, demands a lot of grip strength, and when I say a lot, I mean A LOT! Therefore, crappy gloves will just rip off and not help at all. The website where I found the gloves claimed them to be made from a very hard material and let me tell you, they did not disappoint. They also claimed them to be waterproof, which they are, and windproof (not so sure if I agree with this though) but let me explain better.
Here's a pic of me wearing the gloves BEFORE the race: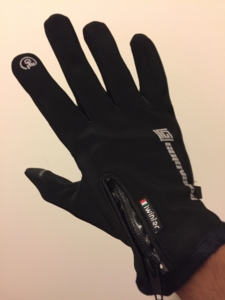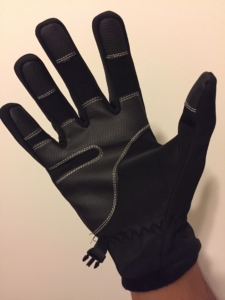 Here's a picture of them AFTER the race: (had to use flash on this one to see all details)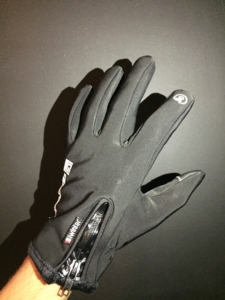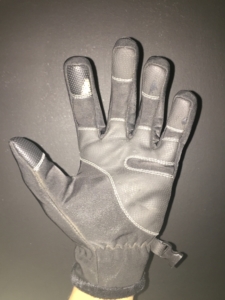 As you can see, they look good still besides from some scratches and dirt (because had not washed them yet) but pretty much intact. The only thing was that a little piece of the touch-screen surface on the index finger did get shaved a little. But it still works well with my phone. And this was because I attempted the "Destroyer 2.0" obstacle like 30+ times (yes, I was obsessed with it and couldn't move on before I conquered it) I'm sure that if I would've attempted this obstacle only once, the gloves would be in perfect conditions.
Another point I want to touch is that these gloves are made from a Thermal Fabric and the inside is made from Flannel and Fleece materials to keep your hands warm. The weather during this race was around the 40 F degrees; trust me, it was COLD. But thanks to these gloves, my hands were kept somewhat warm enough for me not to complain about cold hands for the whole race.
They also come with a small rainproof zipper, which I found to be pretty cool. You can't fit much in there but it's a nice touch to it, given that not all gloves come with a compartment to hold stuff in them. You could only carry things like cash/change, the keys to your car perhaps, maybe an energy gel or two, etc.. The only downside to it is that it is very stiff and it could be a little bit uncomfortable for some people. I didn't carry anything with me so I just left the zipper open, and that gave me more room and comfort to better grab things and hold from monkey bars, etc.
This is how they came packaged, not the most aesthetic look but what else do you expect for $20 gloves? I thought it was okay. Overall, these gloves made the cut for my race. I might not wear them for other races like Spartan Sprints and such, and might not even use them for the most of the season to be honest because the weather is getting warmer and these are gloves made for the cold. Definitely using them again for F.I.T CHallenge Xl in November.
Ratings
Warmth: kept my hands warm enough for me not to complain about it.
Comfort: not the most comfortable gloves but pretty decent feel to them.
Waterproof: definitely waterproof.
Durability: holds scratches and peels, can last for a full OCR season for sure.
Aesthetics: pretty cool design, not too big, and nice color.
Price: cheap, compared to other OCR gloves and Winter gloves out there.
Overal rating: 4/5