Yes, I'm reviewing road shoes here on Mud Run Guide and while it might seem a bit out of place here on the highest-trafficked site in the world for Mud Runs, just think about it – where do YOU log the majority of training miles? We do call them mud runs for a reason, right?
Aside from notching hundreds of road & sidewalk miles during training, more OCR athletes are participating in road running – especially longer distances. Just this year Adventurey, the creator of the OCR World Championships, began producing the Empire State Marathon in Syracuse, NY. This year they will host ESM a week before OCRWC kicks off in London, hoping to attract many North American runners who are not able to travel to the UK to participate. As the race director of this event, I surely hope to see you there!
Salming Running is becoming a familiar name in obstacle course racing as their OT Comp is the Official Shoe of Savage Race, and I had the pleasure of testing & reviewing them earlier this year. I was so impressed with the OT Comp, I contacted the US rep to pick up a pair of the Speed 6.
Testing the Speed 6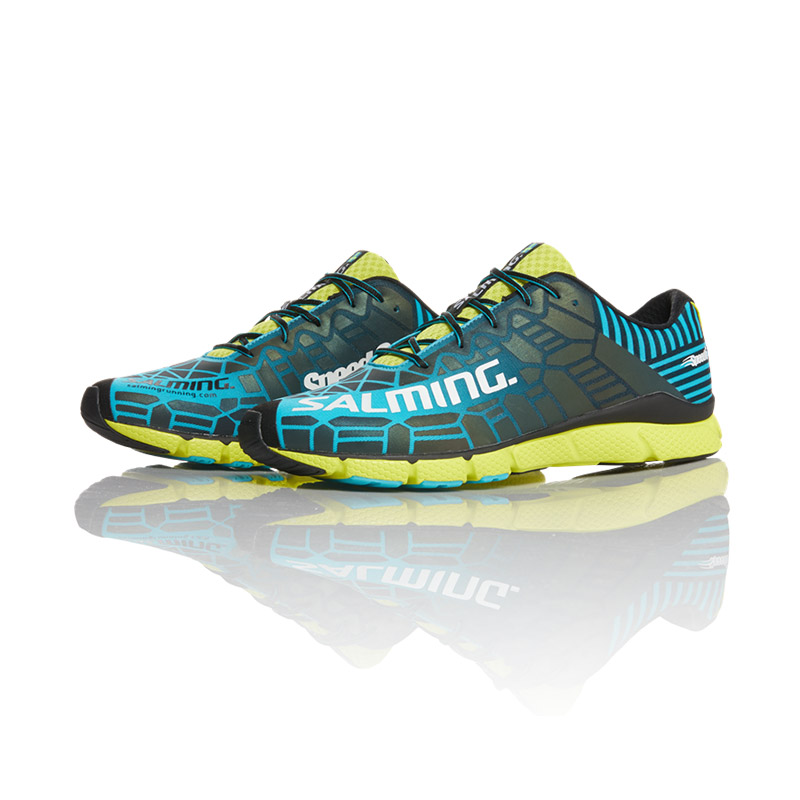 Out of the box, these are stunning shoes and photos don't do the reflective upper overlays justice. The bright pop of tealish blue upper and lime sole & tongue makes a statement for sure, as does the striped pattern on the heel cup & collar. I personally love screamingly loud running shoes, and these absolutely fit the bill while still somehow exuding a bit of refined class in the overall shape and presentation. When in-hand, it's hard not to play with them like a prism and catch the sunlight off the reflective overlays and marvel in their opalescence – a pretty cool touch from a design standpoint, and a TON of rainbow-colored reflectivity on your feet is absolutely not a bad thing when it comes to road running safety.
The stretchy upper feels substantial in your hands, yet is surprisingly light and breathable on your feet. Without large vent holes in the upper, the material still vents exceptionally well while running in temperatures north of 100º here in Arizona. The tongue is also a little bit deceptive, it looks rather full and heavily cushioned, while in reality, it is rather thin and no more noticeable than a minimalist 1-layer tongue found in other lightweight road trainer/racers.
Striking a balance between a lightweight racer and a longer-distance trainer, the sole has a good mix of rubber in the forefoot and heel while exposing the midsole foam quite a bit, especially in the midfoot. As a just-barely-in-front-of-midfoot striker, I'm completely onboard with this blend of cushion when landing and rubbery tread through the transition & toe-off. The 6mm drop from 22mm heel stack height to 18mm in the forefoot puts the Speed 6 right between a low-drop 3mm and a high-drop 9mm, a good middle ground for the average runner that wants a little less drop in a lightweight road trainer/racer with good ground feel. Oh yeah, the ground feel is pretty much what you'd expect from this stack height, minimal rubber, and soft foam (RECOIL midsole, SoftFOAM heel) combination – a pleasurable if not soft ride on roads & sidewalks.
While the Torsion Guide System touts heel-to-midfoot "stability" I do not see these as a motion control or stability shoe, more of a neutral & flexible training mileage and lightweight racing shoe. To me the Speed 6 is a longer-distance racing flat (ok, not "flat" at 6mm drop) that seem like they'll give 400-500 fast, light, and cushy miles. I'm only about 20 miles into testing, so they've got a lot more abuse coming from me!

What Salming Says:
Weight: 

8.1 oz (Men's 9)

Drop: 

6 mm

Gender: 

Men

Color: 

Blue/Lime

Stack: 

22 mm center of heel 16 mm ball of foot

Midsole: 

RECOIL™+SoftFOAM™

Outsole: 

Durable lightweight rubber

Lining: 

Mesh

Sizes: 

UK6.5-12.0, EU40 2/3-48
Speed6 – Build for Speed!
Developed for quick training runs or racing day, the Speed6 has come out on top in its category in several performance reviews, among them Runner's World 2017 Fall Shoe Guide, who deemed it "the lightest and most flexible shoe in this guide". Speed6 is powered by the RECOIL ™ midsole foam – a super lightweight cushioning foam that releases a high rebound energy effect. To enhance the comfort and cushioning properties of the heel impact zone – The SoftFOAM™ area has been added – a heel insert area that has 70% better shock absorbing properties than standard EVA. The black graphic patches on the shoe upper glow in a rainbow of colors when a car's headlights hit them.
Features:
ROOMY TOE BOX

The toe box is roomier in order to provide a possibility for the forefoot to expand properly in the landing phase, making it more effective in a biomechanics perspective.

ANATOMICAL HEELCUP

Our heel cup is specifically designed to add minimal weight to your shoes, creating a transformable, adaptive fit.

TORSION GUIDE SYSTEM 62/75°

The distance from heel to the ball of the foot (62% of the shoe) has been designed with extra stability, which ends in the so-called "ballet" line, a 75° angle. In front of the 75° line, we have equipped the shoe with greater flexibility to stimulate the foot's natural movements. The TGS 62/75° feature assures that the shoe bends in exactly the right places, stimulating the foot's natural lateral and forward movements.

RECOIL™ MIDSOLE

The material in the midsole is a newly developed compound named RECOIL™ – which is a super lightweight cushioning compound that releases a high rebound energy effect.

DROP 6MM

Heel drop is essentially a measurement for how fat a running shoe's heel feels. It's short for "heel to toe drop," shortened to "drop." It tells you how much taller the heel is than the forefoot. Example: A shoe with a 22-mm thick heel and a 16-mm thick forefoot will have a 6-mm heel-toe drop. Salming Running shoes never has higher drop than 6mm as we believe a higher drop negatively interferes with your natural running stride and makes it hard to find a perfect running form.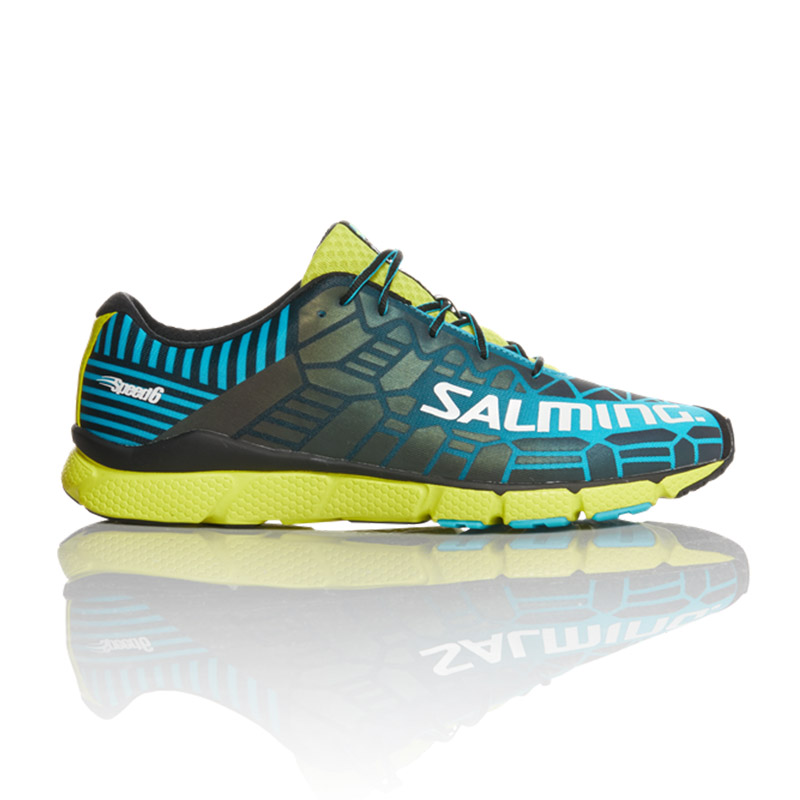 What I Say
The Salming Speed 6 is pretty darn close to perfect for a racing/training shoe, filling out my lineup of daily running shoes by plugging the mid-drop (6mm) gap. As I've mentioned in all of my shoe reviews thus far, I believe in a daily rotation of shoe styles and models to strengthen your legs, hips, and glutes by forcing you to work on your stride in minimalist, high-drop, low-drop, mid-drop, forefoot-cushioned, neutral, stability, you name it. Any halfway-decent shoe with a good fit is fine for 3-5 miles when rotated daily with different styles. If you run every day with one particular style of shoe, especially the same pair day after day you're prone to developing bad habits, relying on the shoe to hide stride defects, and even potentially exacerbating problem areas leading to injury. When it comes to long-distance runs of half marathon and longer, I choose a little more carefully with speed and conditions in mind. The Salming Speed 6 fit nicely in my daily rotation and absolutely have a top spot for longer miles.
If I was running a marathon tomorrow, I'd grab these with no doubts.
If you're a heel striker, you may love the Speed 6 even more than I do, as the SoftFOAM in the heel is pretty springy. While warming up I stretch my stride out for about 1/4 mile and landing on my heels feels bouncier than the RECOIL midsole.
I'm a pretty neutral forefoot(ish) runner with average arches and a standard-width foot and this fit is excellent. The heel cup stays where it's supposed to be without having to overtighten the laces and the tongue provides a decent amount of cushioning if I do choose to crank 'em down a bit. The upper is stretchy without being constricting keeping my foot centered in the ample toe box.
The Wrap-Up
It's rather hard to pick out any negatives with these shoes, so I won't.
I'm impressed with this shoe on a bunch of levels – the look is distinctive, the drop is optimal for me, and the cushioning is amenable to a midfoot-striker while perfect those who spend a little more time back on their heels.
The Salming Speed 6 are lightweight, flexible, fast, and perfect for a neutral runner's training mileage or racing. The materials and workmanship appear to be top-notch so far, the one-piece upper avoids any problem areas or hotspots and the heel cup & collar play nice with my Achilles. I'm a fan!
Available at https://shopsalmingusa.com
Price: $130