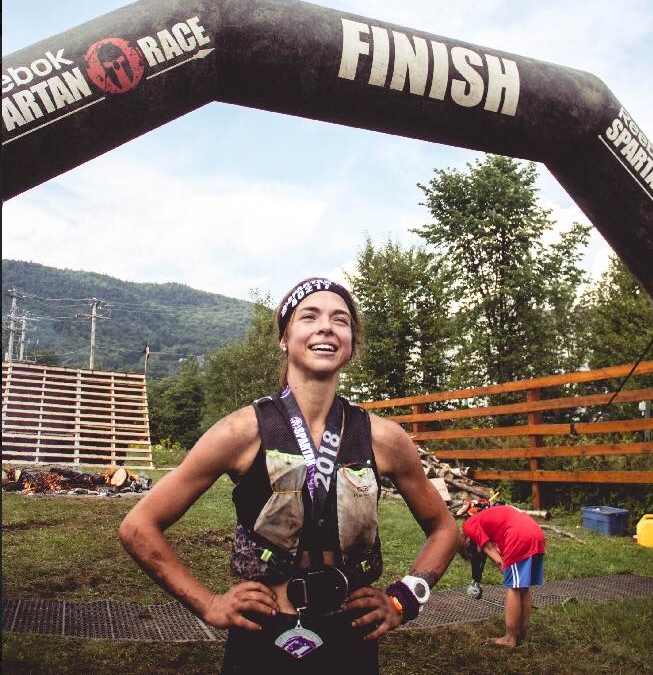 When Anne Champagne toed the line over the weekend at the Spartan Ultra Beast in Stoneham she was ready to run. However, no one expected the what would happen over the next eight hours. Not only did Champagne take home the victory for women in 8:12:55 but also bested all the men in the race with Jean Cardinal finishing over 45 minutes after Champagne in 9:04:29.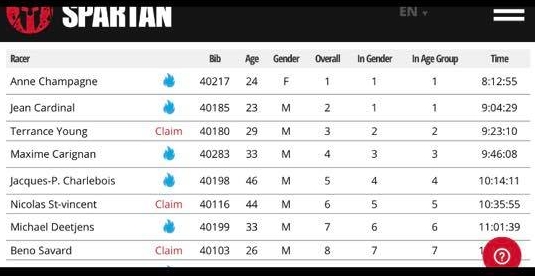 Champagne has been one of the athletes who has competed well in the past across the obstacle racing industry at Tough Mudder events, Spartan Races, and beyond. However, this finish is definitely one for the books. Champagne commented on her Facebook timeline about the win:
Where to begin? Words can not even describe! This day will be engraved in my head forever for several reasons!

In the last year, my racing mentality has changed, I really want to appreciate more! I realized that I am in the know and have been in my direction. I put the time, the effort in the last months, and I could see the result of all these efforts in yesterday's race, where my head and my body were reacting so, where from the beginning to the end mentally, where I attacked every kilometer and obstacle with my biggest smile! I strongly believe that when we do what we love, we are passionate, it shows through our achievements and especially what we release. You attract what you are. 

So it's 8h12min55 that I finished the Stoneham UltraBeast which was 50 km and 4000 m of positive ascent. 1st woman and 1st overall. A race signed Spartan Race, a race more than challenging, mental, I really loved it! Thank you Spartan Race Canada!…

Special thanks to my bodyguards-partners for the last FEW miles, Seb, Ben, Jeff (Thanks for the lives, the best cheerleader, and commentator ever!) you're just amazing guys! You made a difference! We are getting a PARTY soon, no choice !!!! 
Champagne's win is part of a recent trend in extreme endurance sports where women have bested the entire men's field. Courtney Dauwalter shocked many in the ultrarunning world with her outright win of the Moad 200 then followed it up with taking home the win for women at this year's the Western States 100. The trend continues that the longer the race the more level the playing field becomes between male and female athletes.