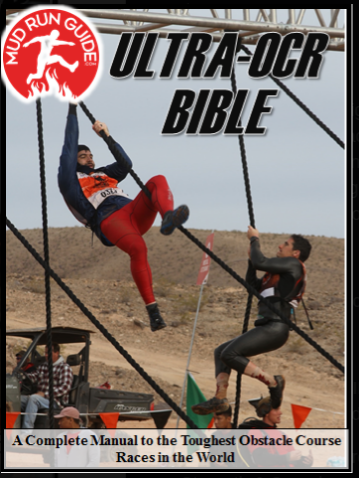 How do you take a sport that the general public sees as a bit extreme and take it to borderline insanity? How about you quadruple the distance/ duration and possibly add in wetsuit running and you have the sport of Ultra Obstacle Course Racing (OCR)! In a sport so varied in its compilation and required skillset it can be daunting to even contemplate how you would prepare for such events but thankfully OCR vet and Special Forces operator Evan Perperis has been doing the dirty work for years and has written it down for all  out there and really done a great job of breaking it all down from training to even how a great pit crew can make or break your race.
Evan covers how you need to be eating as you train so that you can attain maximal performance with minimal gastric distress through practice. He also incorporates a full breakdown of obstacles and how to complete them based on your experience level. Heck, he even includes a complete 18 week periodized training program. Freaking sweet! He then goes into race day prep/planning and dressing for an Ultra OCR. In my opinion, this might be the most valuable part of the entire book. He goes through the necessary gear and how to utilize it to reach your goals. Knowing about items like the Neptune Thermoregulation System, Frogskins, Bleggmits, and how to choose a wetsuit or proper footwear will make getting through your Ultra so much easier and more comfortable… well tolerable. There is even a full gear list for World's Toughest Mudder which can be daunting in and of itself.
Perperis' unique background both in the military and ultra-type events has also provided him with a particular knowledge of mental toughness and how to build this skill. Fortunately for us, Evan goes into this subject pretty in depth as well. During my six World's Toughest Mudder events I have learned that the simple skills like focusing ONLY on the next thing in front of you can make a huge difference in making such an immense task seem attainable. The skills he details along with his goal setting recommendations will help give you the right mindset for the competition which should never be underestimated.
The book concludes with interviews from a number of experienced high-level Ultra OCR racers such as Four-time WTM champion Ryan Atkins and OCRWC Enduro and Spartan Ultra World Champion Allison Tai. These interviews help provide both perspectives as well as a variety of approaches to take into consideration when you are planning for your Ultra events. I think reading about how other athletes attack a race will only help you because there is so much that can happen over a long endurance event that even if you lack experience having a variety of approaches in your arsenal is key.
In the end, I believe your preparation and planning prior to your event OFTEN TIMES makes your race. I also believe taking the time to read this book WILL give you an advantage over the competition, so I guess it makes owning this "how to" manual a no-brainer. Get your copy here.
Good luck and Godspeed!
---
Notes
Recommends eating no processed foods- I don't think this is realistic for an endurance athlete. Too many calories need to be consumed and people are always on the go.
Filled with tips like (how you need to practice eating while running to recommendations on the various nutritional product to use)
The full breakdown of obstacles including and how to complete them based on your experience level
The book includes race plans that are all 18 weeks long use periodization
The book recommends having 2 strength days/ week + 1 obstacle specific day (this is what I do)
Spends time reviewing race day planning, dressing for ultra ocr, covers the Neptune on page 118)
He even gives a general pace guide and pack list for WTM
Also put a crewing guide in there
Mental toughness review (how to best attain/train it).
Goal setting
Preparing for dealing with the cold
Final race prep guidelines (from 3 weeks all the way up through the race)
The book concludes with interviews with other top Ultra OCR athletes like Ryan Atkins and Allison Tai. I think information and approach variations recounted by these athletes is a great way of learning about how to approach an Ulta event so kudos Evan for including this in his book